---
---

Pam Hiebert, MD, FACP, ACP Governor
---
Women in Medicine
We had a great Women in Medicine Meeting with about 25 WWAMI medical students and 13 physicians. We shared stories of our journeys as women physicians and the students asked some great questions. We also discussed the ACP position paper on achieving gender equity.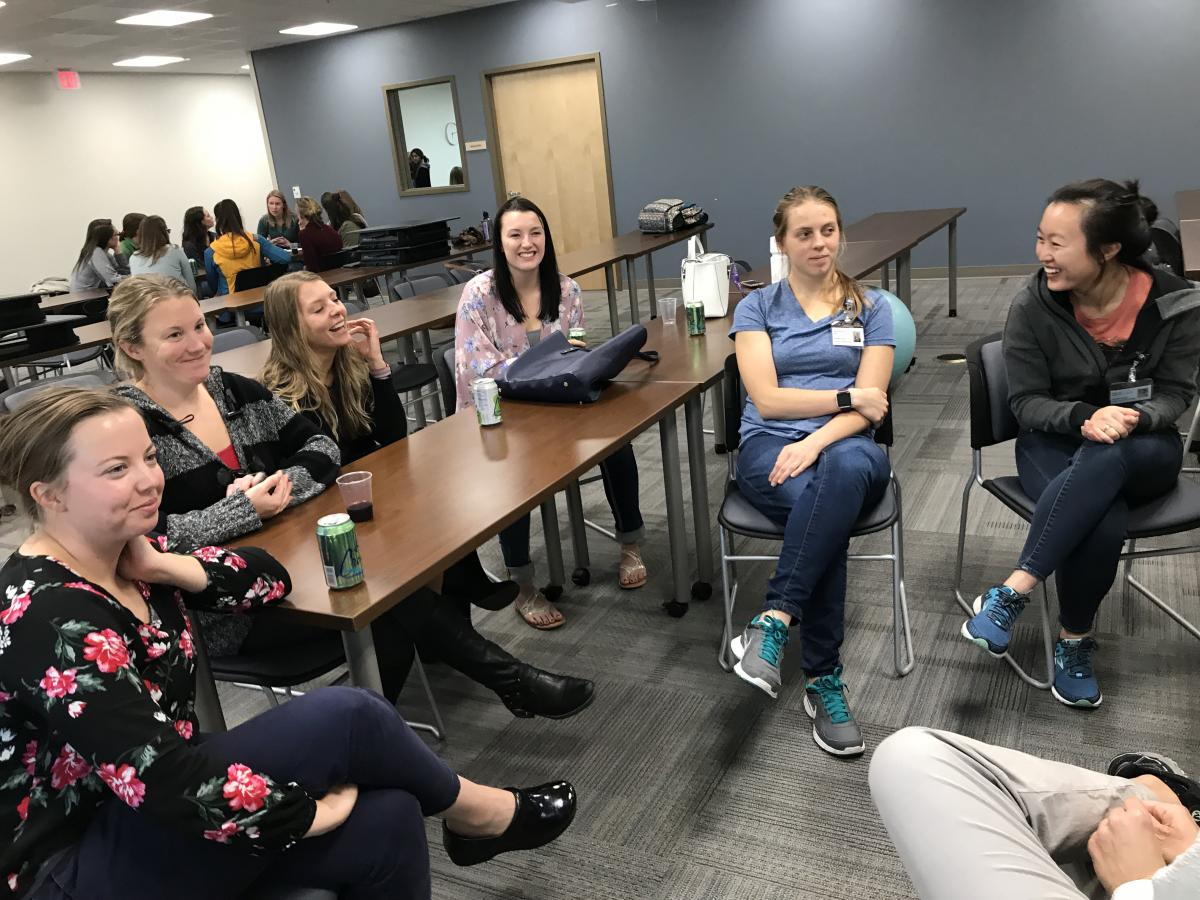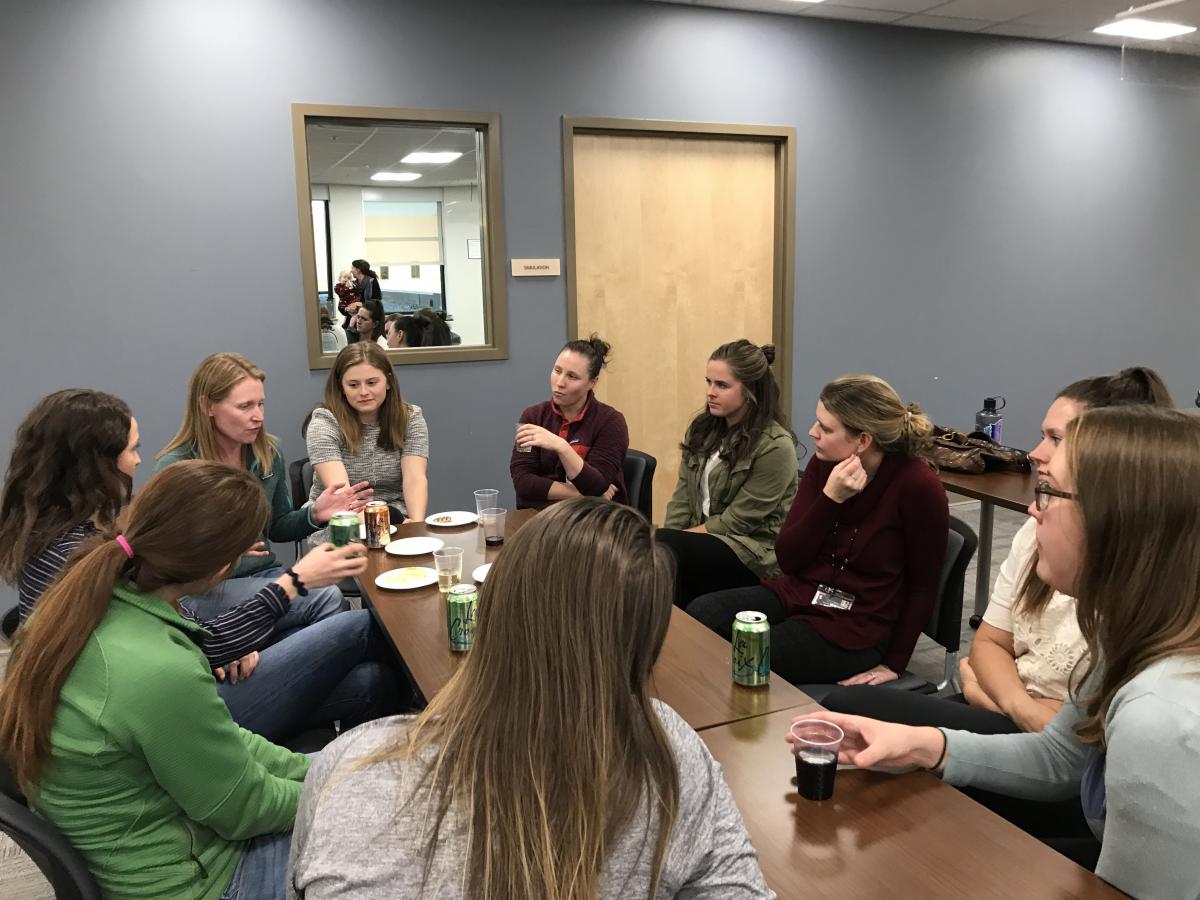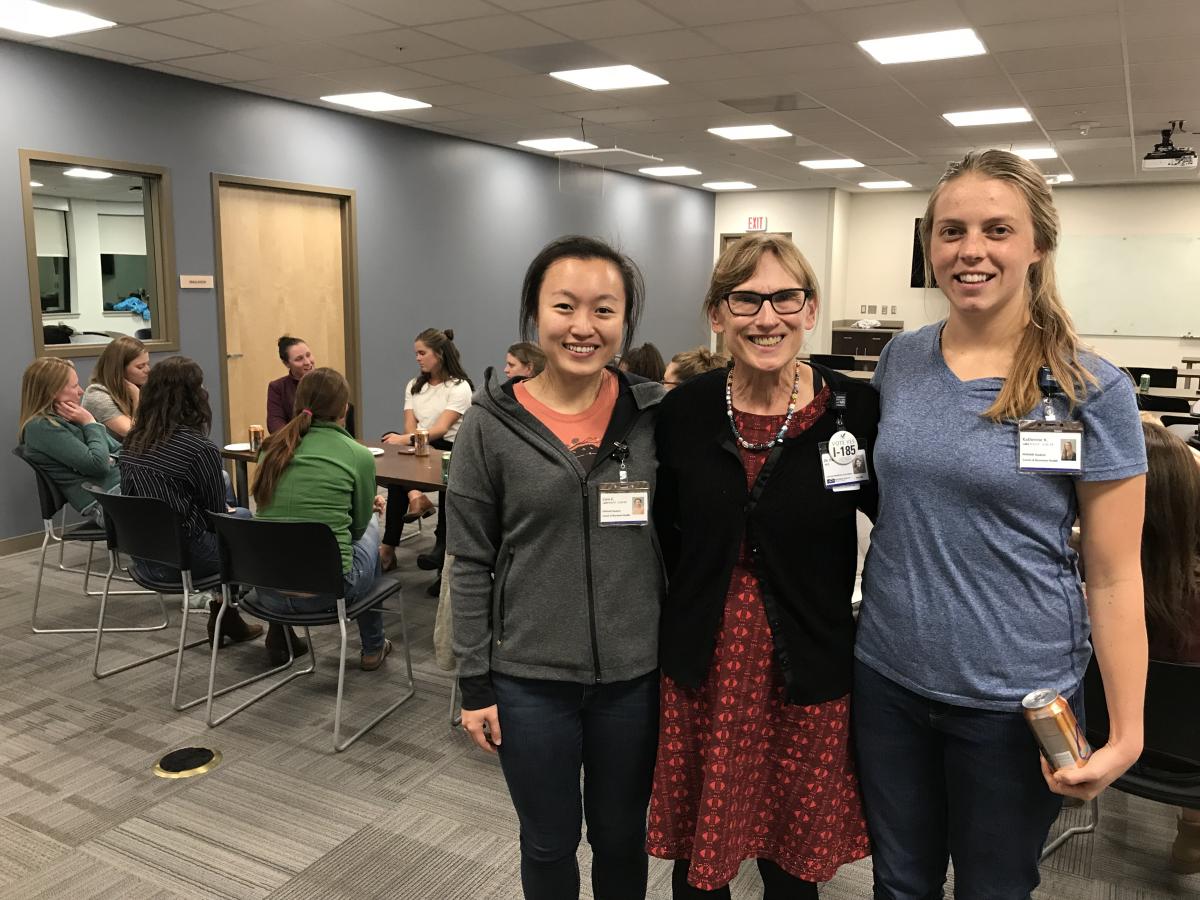 ---
Osler Club
The Osler Club that was held on Monday, November 26th was fantastic. There were 20 students and 20 faculty that attended. Billy Smith, distinguished professor from MSU, gave a riveting description of a ship from Britain traveling through Africa in the late 1700s. Thanks to barrels of water harboring yellow fever laden mosquitos, they were able to launch a pandemic on the East coast of the US. Unfortunately, thousands of people died. His book "Ship of Death" is a page turner outlining the events.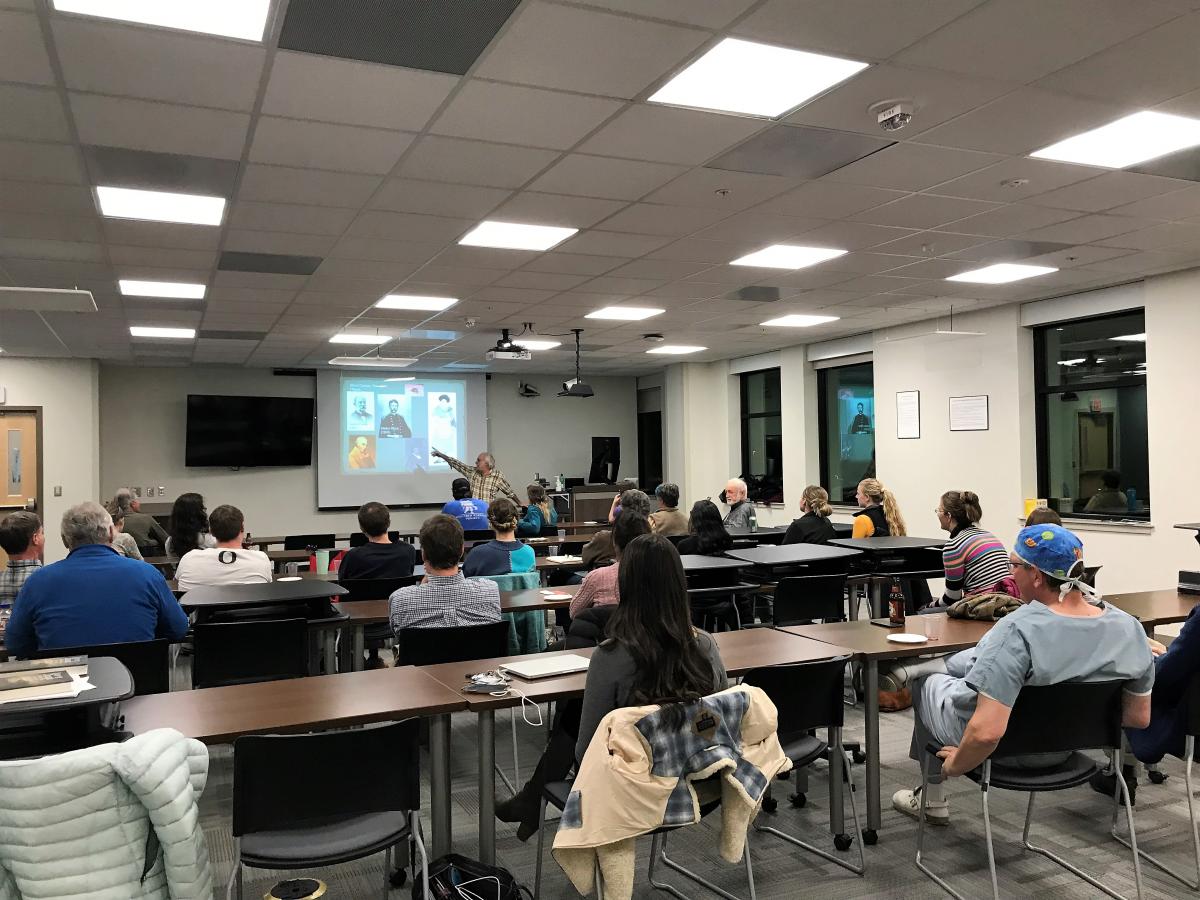 ---
Presentation on Wellbeing, Burnout and Resiliency.
I had the honor of speaking at the PLEP (Physician Leadership Effectiveness Program) sponsored by the MMA on Jan 19, 2019. The session was held at Fairmont Hot Springs. We had a lively discussion on what brings us joy in medicine and what are the causes and solutions to burnout or stress caused by the system. Governmental changes and local institutional changes are needed. We need to continue to speak up for change and be involved in our various medical associations. We should be on the lookout for colleagues in distress and ask about suicidal ideation if suspected. Resiliency training is good, but not enough.
Contact MMA if you want to find out more about PLEP.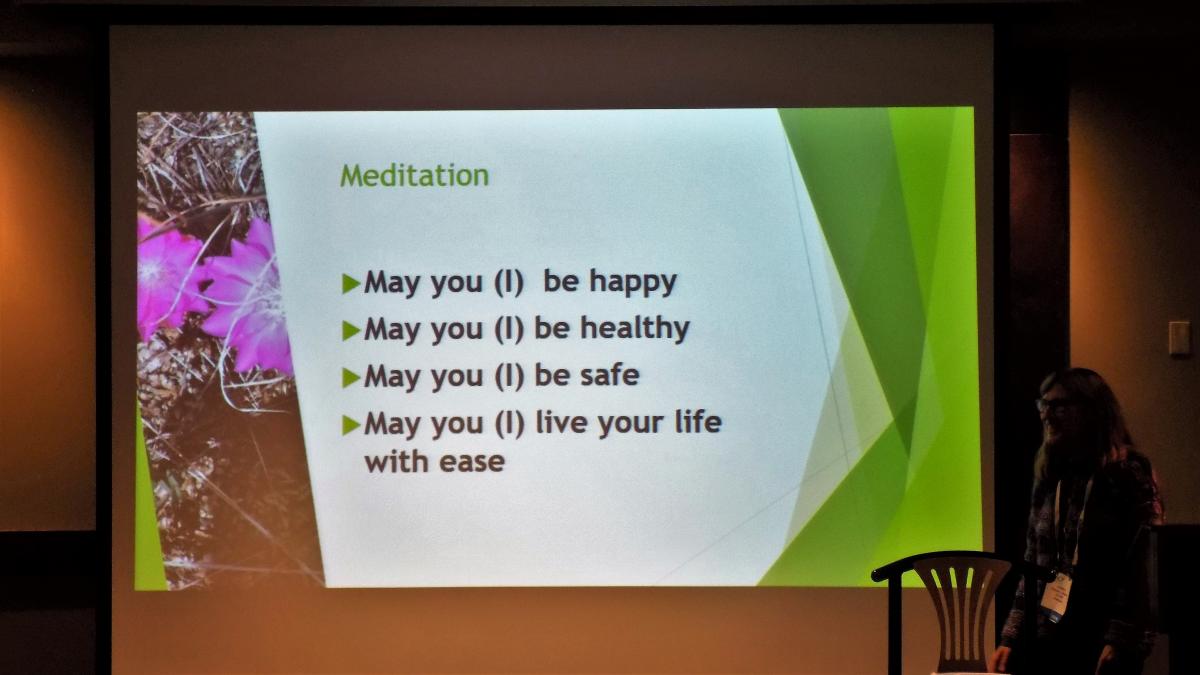 ---
Congratulations to the following new Montana Chapter Fellows
Fellowship is an honor achieved by those recognized for personal integrity, superior competence in internal medicine, professional accomplishment, and demonstrated scholarship. We are proud to have you in our chapter.
Kimberly A. Borke, MD, FACP - Bozeman
Sarah Donahue, MBChB FACP – Bozeman
Jesus Carlos Fabregas, MD FACP – Billings
---
Welcome new Montana Chapter Members
Ryan Adams, MD - Missoula
Susan Askin, MD – East Helena
Ryan Dixon, MD – Missoula
Tyler Ellis, MD – Great Falls
Jonathan Newman, MD - Bozeman
Frank Rosenbloom, MD – Great Falls
Affiliate Members
Erica Brajcich – Great Falls
Jolene Karls – Billings
Medical Student Members
Tara Bachofer – Missoula
Samantha Forrest – Bozeman
Justin Macdonald – Bozeman
Michael Robinson – Bozeman
Kayla Secrest – White Sulphur Springs
Cameron Wallace - Bozeman
---
2019 Montana Chapter Hospitalist Meeting
March 28-30, 2019
Yellowstone Conference Center, Big Sky Resort, Big Sky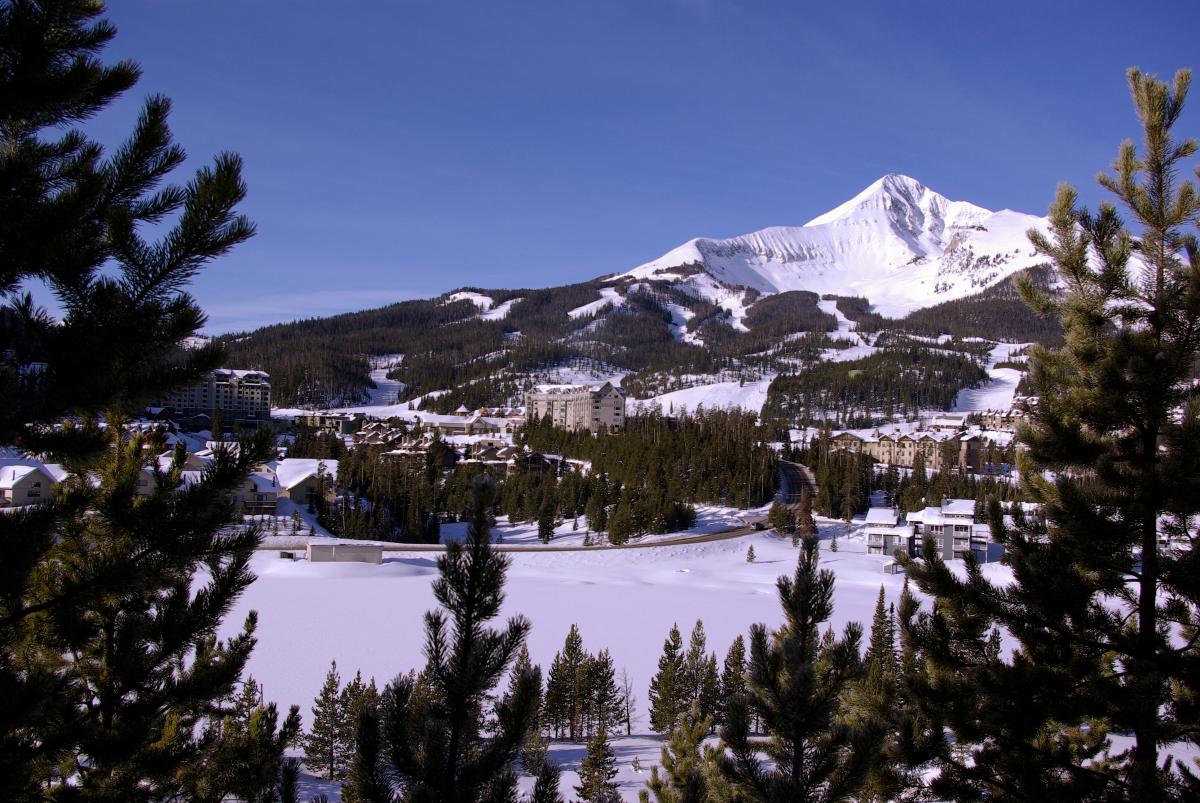 (photo by Gleniss Indreland)
Don't miss out on this great opportunity to earn CME credit, MOC points, and enjoy the snow at Big Sky!
"Medical Complications" is the theme of this year's meeting, and includes presentations on GI, Postoperative, and Pulmonary Complications. Click here to view the full meeting program.
There will also be an opportunity on Thursday evening to enjoy a beverage and light hors d'oeuvres during the medical student's poster presentations.
---
Montana Chapter Financial Report
As of January 2019, the financial statements for the Montana Chapter show an income of $34,702.75, expenses of $22,988.19, with a net income of $11,714.56.
A detailed statement is available by contacting the Montana Chapter treasurer, Brad Bergman, MD FACP, Carrie Reisig, or Pam Hiebert, MD, FACP, Montana Chapter Governor.
---
Internal Medicine 2019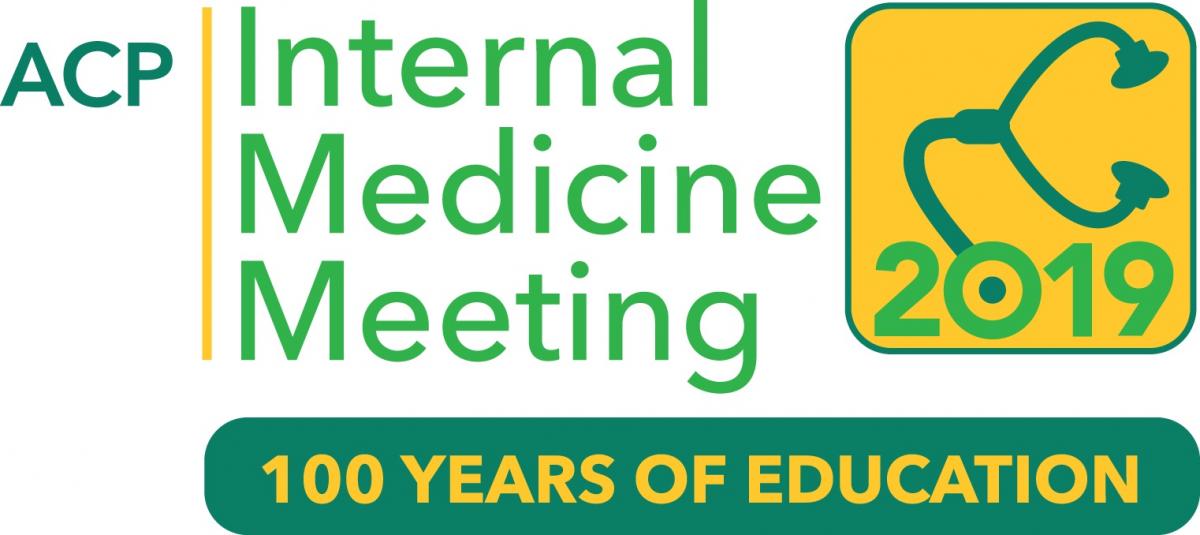 April 11-13, 2019, Philadelphia, PA
Every spring, internists from around the world gather for ACP's Internal Medicine Meeting. From scientific sessions to abstract competitions to Convocation, ACP's Internal Medicine Meeting is a dynamic event that is attended by thousands of physicians.
You and your guest are cordially invited to the Northwest Regional Reception
Alaska, Montana, Oregon, Utah and Washington Chapters
Friday, April 12, 2019 | 6:00 - 8:00 p.m.
Field House Bar & Grill, 1150 Filbert Street
(One block from Philadelphia Marriott, host hotel)
Enjoy a hosted beverage and light hors d'oeuvres
---
Leadership Day 2019 on Capitol Hill
* May 14-15, 2019 * Washington, DC
Mandarin Oriental Hotel
---
Save the Date: 2019 Montana Chapter Scientific Meeting
"Emergencies in Internal Medicine"
September 12-14, 2019
Great Falls, Montana
---
Special thanks to Dr. Ron Loge
Special thanks to Dr. Ron Loge, MD, MACP for his dedication and for all the work he has done for the American College of Physicians Montana Chapter! Dr. Loge has chaired multiple Montana Chapter Scientific Meetings, he served as Governor from 1992-1996, received the Laureate Award in 2003 and currently serves on the Governor's Advisory Council.
Dr. Ron V. Loge, MD, MACP, Country Doctor
(Article provided by the Dillon Tribune)
Dr. Ron Loge arrived in Dillon after graduating from the University of Oklahoma Medical School and training at the University of Washington, ready to start a career in a place he could raise a family. Despite spending years at the University of Montana getting his undergraduate and master's degrees, the St. Regis native had never been to Dillon. A chance meeting with Dillon physician Dan Eudaily, who told him of a job opening at Barrett Hospital, led to his first trip to Dillon. After meeting with the hospital administrator, he called his wife Charlene and said, "I think we found the perfect place." Now 38 years later, Loge has decided to retire at age 70, but admits he still loves what he does. Just a few years back, he would work 50 to 60 hours a week, always dedicated to the needs of his patients. According to a 2015 story by American College of Physicians, that dedication led to travels across Beaverhead County to make house calls. The ACP story told of Loge's weekly trips of 75 miles one way to visit a patient with an inoperable brain tumor. The patient wanted to spend her last days in her log home in the Montana mountains. Loge's visits allowed the patient to fulfill her end of life wishes. Loge estimated that he had traveled nearly every stretch of road and visited nearly every ranch in Beaverhead County over the course of his career. "As a rural practitioner," said Loge in the article, "the people you take care of are the people you know. They are members of your community that you see in town and sing with in church choir." Loge has been aware of the challenges of getting doctors into rural communities like Dillon and has been active in promoting WWAMI, a University of Washington medical school program that focuses in part on improving healthcare in rural and underserved areas. (WWAMI is an acronym for the states involved in the program – Washington, Wyoming, Alaska, Montana and Idaho). Loge's involvement with WWAMI has included teaching medical students and supervising residents. In addition, Loge annually provides tuition assistance to southwest Montana students who are attending or who have been accepted to medical school. This past year, the 12th year of the scholarship, he helped four students with $5,000 grants each. Loge's impact on the community goes beyond his dedication to his profession and improving medical service. Loge is respected and trusted. His words carry weight. On Monday, as he reflected back on his life and times in Dillon, he said would do it all "exactly the same." Dr. Ron Loge is a true Dillonaire. He has made Dillon a better place on a daily basis for the past 38 years.
Honor and Respect
The outpouring of well-wishers for Dr. Ron Loge's retirement reception on Saturday afternoon proved as impressive as his 38- year career practicing medicine in southwest Montana. A reception honoring Loge was held Saturday from 1:30 to 4:30 p.m. For nearly that entire three hours, there was a line of Loge's friends stretching from the reception desk to the front door of former patients, friends and colleagues. Many in attendance traveled from across the state or other parts of the country. Hospital officials estimated Loge shook hands with, hugged and chatted with over 350 friends during the day. There were smiles and stories and a surprising number of people brought to tears by the emotion of the moment.
The reception line was halted briefly at 3 p.m. for a gift presentation to Loge. Hospital employees and board members chipped in to buy Loge a Loop Classic 811 fly rod and an extra day with famed Olympic Peninsula steelhead fishing guide Trevor Covich.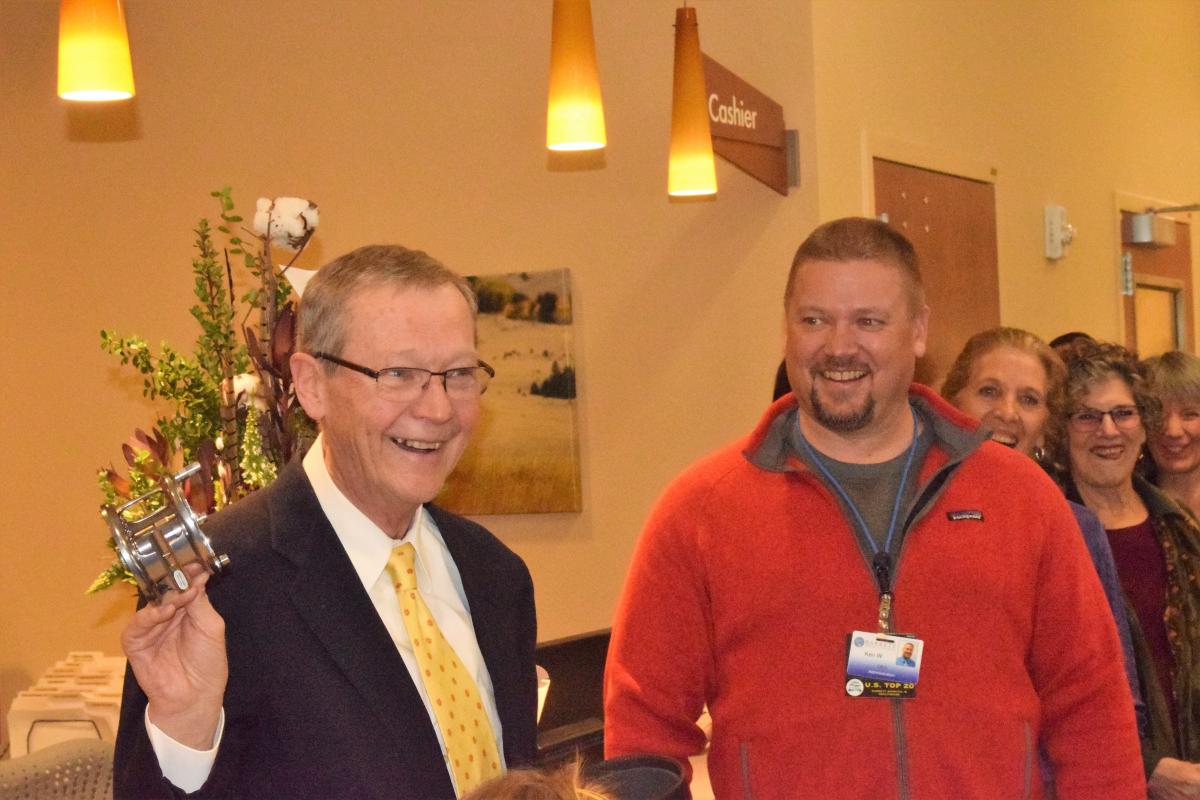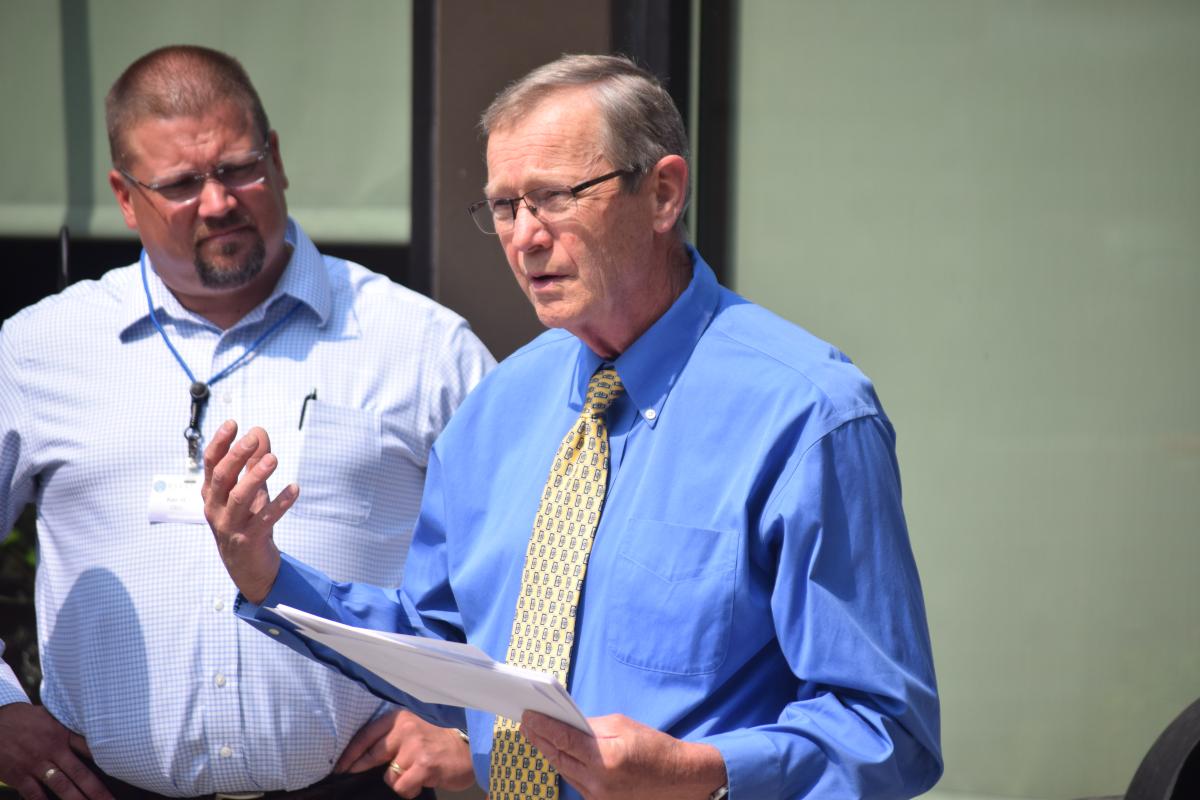 ---
Awards Consideration
So many of our members are doing outstanding work, and thus deserve recognition! Do you know someone who should be nominated for an award? National ACP has several awards with varying criteria. Here are a few examples:
The Laureate Award is designed to honor those Fellows and Masters of the College who have demonstrated, by their example and conduct, an abiding commitment to excellence in medical care, education, and research, and service to their community, their chapter, and the ACP.
John Phillips Memorial Award for Outstanding Work in Clinical Medicine
This award is bestowed for outstanding, lifetime work in clinical medicine which has been innovative and/or had a regional or national impact.
Ralph O. Claypoole Sr. Memorial Award for Devotion of a Career in Internal Medicine to the Care of Patients
The award is given to an outstanding practitioner of internal medicine who has devoted his or her career to the care of patients.
See a full list of National Awards on the chapter website, mtchapter.acponline.org
---
ACP Advocacy at Work in 2018: A Look Back
ACP strives for policy and regulatory change that makes it easier for you to practice medicine and improve your patients' health care. 2018 saw many positive actions, including:
• ACP's arguments contribute to new rules reducing administrative burdens
• Positive response to ACP's advocacy around new Medicare payment rules for 2019
• New opioid law adopts ACP's recommendations
• ACP's policy paper on Reducing Firearm Injuries and Deaths sparks #ThisIsOurLane movement
As we move towards 2019, ACP is steadfastly committed to advocate for policy change that makes a difference.
ACP Advocacy at Work in 2018
See How ACP is Working For You
PS: There is strength in numbers. Join the ACP community to support our efforts.
---
ACP Releases New Edition of Ethics Manual
ACP released the seventh edition of its Ethics Manual on Jan. 15, published as a supplement to Annals of Internal Medicine and available online at annals.org.
New or significantly expanded sections of the ACP Ethics Manual include precision medicine and genetic testing, research and protection of human subjects, telemedicine, electronic communications, social media and online professionalism, electronic health records, and physician volunteerism.
A CME quiz and a MOC module are available at www.annals.org for ACP members and subscribers to Annals of Internal Medicine.
For more information, please contact Lois Snyder Sulmasy, JD, director of ACP's Center for Ethics and Professionalism.
---
Podcasts by Internists, For Internists