Michigan Chapter of the American College of Physicians Call for 2023 Award Nominations
(January 2023) The Michigan Chapter ACP believes that it is important to recognize and honor distinguished internal medicine physicians and colleagues for their teaching, research, service and leadership accomplishments through our 2023 Michigan Chapter ACP Awards. The Awards Committee requests your assistance in recognizing these individuals. Please refer to the information below for the details of each award and please consider nominating a deserving colleague.
You nominate only one candidate for each of the seven awards
Nominations are due by Wednesday, March 1, 2023. Winners will be notified in July and invited to attend the Awards Luncheon at the 2023 MI-ACP Annual Scientific Meeting.
Please click the link to view details for each award and to fill out an awards form.
If you have any questions, please contact MI-ACP Staff, Veronica DeMore
---
(November 2022) A summary of Board of Regents (BOR) actions on resolutions debated at the Fall 2022 Board of Governors (BOG) meeting is now available. Resolutions initiated by ACP members and endorsed by a chapter council and the BOG become ACP policy when adopted by the BOR.
If you have an idea you'd like to suggest to ACP, consider submitting a resolution to your Governor or local ACP chapter. Visit your ACP chapter website for more information on how to contact your Governor or chapter staff about proposing a resolution.
---
Chapter Members Elected to ACP Fellowship
(November 2022) We would like to congratulate our chapter members on election to Fellow of the American College of Physicians. The distinction recognizes achievements in internal medicine.
Ghaith Alhatemi, MBCHB
Afnan T Ammar, MBBS
Ana M Capatina-Rata, MD
Neesha R Griffin-Berry, MD
Matthew Sczepanski, DO
Anita V Amin, MD
Peter R Handley, MD
Ujwala Koduru, MD
Andrew Read, MD
Reena J Salgia, MD
Fellowship is elected upon the recommendation of peers and the review of ACP's Credentials Subcommittee. They may now use the letters "FACP" after their name in recognition of this honor. Please join me in congratulations!
---
Congratulations Ariel A. Jordan, MD on being awarded Joseph E. Johnson Leadership Award
(October 2022) We are excited to share that the [Mastership/Awards] Committee and the Board of Regents have approved Ariel A. Jordan, MD to receive an award recognition during the 2023 Internal Medicine Meeting in San Diego, California.
The award recognizes a Resident/Fellow member of the College who has demonstrated qualities that exemplify the College's mission "to enhance the quality and effectiveness of health care by fostering excellence and professionalism in the practice of medicine."
Congratulations Patrick C. Alguire, MD, MACP on being awarded Mastership
(October 2022) We are excited to share that the [Mastership/Awards] Committee and the Board of Regents have approved Patrick C. Alguire, MD, MACP to receive Mastership during the 2023 Internal Medicine Meeting in San Diego, California.
ACP Bylaws state that MACPs shall be Fellows who have been selected because of "integrity, positions of honor, impact in practice or in medical research, or other attainments in science or in the art of medicine." MACPs must be highly accomplished persons demonstrating impact in practice, leadership, or in medical research. Evidence of their achievements can come from many types of endeavors, such as renown within their field and/or ACP chapter, research, education, health care initiatives, volunteerism, administrative positions, care of patients, and service to their community.
One of the goals of the American College of Physicians is to "recognize excellence and distinguished contributions to internal medicine." As a way of achieving this goal, the College offers 21 awards and a number of Masterships each year. Annually, awardees and MACPs are honored at the Convocation ceremony held during the Internal Medicine meeting.
---
Chapter Excellence Award – Silver Winner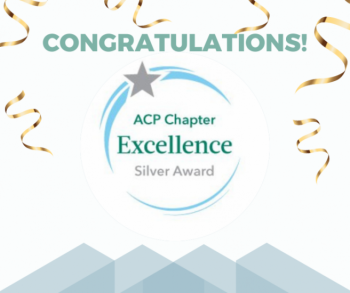 (September 2022) I am pleased to announce that our chapter is in receipt of the Silver Level of the 2022 Chapter Excellence Award! Only 14 chapters received the Silver Award. The award recognizes chapters that achieve excellence in chapter management. In order to achieve the Chapter Excellence Award, chapters must meet twenty Bronze criteria and seventeen Silver criteria. Criteria include such activities as undertaking efforts to increase advocacy efforts, collaborating with stakeholders to increase visibility of the ACP, holding competitions for members, providing chapter financial reports to members, having Medical Student and Resident/Fellow members on the Governor's Advisory council, retaining transitional and unpaid members, giving awards to chapter members. I would like to extend a special thanks to those chapter members who assisted us in all of these endeavors! For their hard work and dedication, we received this award.
---
New Advocacy Resources Available to ACP Members and Chapters
(August 2022) We would like to make you aware of two new advocacy resources available to ACP members and chapters.
Understanding Advocacy and Why We Do It - A Comprehensive Toolkit for Chapters
ACP has created an advocacy best practices toolkit to support engagement in and the efficacy of chapter-level advocacy at the state and federal level. This comprehensive toolkit breaks down the different methods and mediums for advocacy engagement and highlights all the programs and resources offered by ACP to make the most of chapters' advocacy efforts. This toolkit is only accessible to ACP members.
Reproductive Health Toolkit Now Updated
ACP's toolkit for chapters to utilize in navigating issues surrounding abortion rights and related policies in their states following the overturning of Roe v. Wade has been updated. The toolkit now includes sample letters that chapters can use to advocate with state officials and information on recent federal activity.
For questions regarding these toolkits, please submit all requests through this questionnaire to ensure we can track inquiries and respond in the most timely and efficient manner."
Are you a member of the Advocates for Internal Medicine Network (AIMn)? Learn more here.
---