---
---

Alwinn Steinmann, MD, FACP, ACP Governor
---
GOVERNOR'S CORNER
Well, the calendar says it is summer, but it hasn't felt much like it yet! Atypically cool, cloudy days with some intense storms have mostly been the norm over the past weeks. I don't mind not sweltering in 100-degree heat, but a little sun would be nice! For those of us at teaching hospitals, this time of year brings the excitement of new residents, eager to start their training. I hope all the new trainees around our state got off to a great start! It is a time of rebirth and rejuvenation in the medical education world. Perhaps over this summer, we can all experience a little rebirth and rejuvenation – recharge our batteries and reconnect with people and nature. I hope you all get to take advantage of this time of year.
---
LEADERSHIP DAY
We had a very nice Colorado Chapter contingent for ACP Leadership Day this year. Thanks to our chapter scholarship program, we were able to help support 6 resident and student members attend this advocacy event. Joined by members Carl Barnes, Elizabeth Cruse and Al Steinmann the group collectively visited Sen. Bennett's office as well as all 8 Colorado members of the House of Representatives, including an in-person meeting with our newest member of Congress and pediatrician, Dr. Yadira Caraveo (pictured below with our attendees). Many thanks to those who attended, especially our residents and students (Ram Apoorva, Beret Fitzgerald, David Okugbaye, Courtney Olson, Sophia Raia and Madeline Youakim).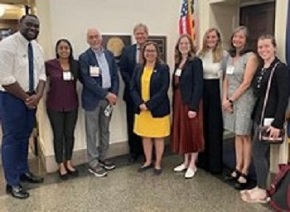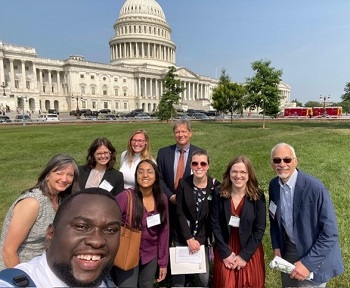 ---
HELP YOUR CHAPTER - GET INVOLVED!
Our Chapter has several needs for volunteers to be on committees and serve the Chapter in other ways. Below, please find descriptions for some of our more pressing needs:
Social Media Monitor
This is a new position we would like to pilot. Chapters are encouraged to have some presence on Facebook, Twitter, LinkedIn and Instagram. Not an extensive presence, just have an account and occasionally post and monitor activity. We would like to have an interested Chapter member champion this, along with input from the Executive Director and Governor. We plan to apply for funding to the ACP and if funds are available, hope to be able to provide some modest compensation.
Finance Committee
Two of our longstanding committee members plan to step down at the end of the current fiscal year (June 30, 2024), including our Chapter Treasurer. It would be great to have a couple new members join the committee this year for there to be some overlap. Please consider joining this important chapter committee. The Finance Committee approves our annual budget and makes decisions on significant expenses and other issues impacting finances that come up and are not accounted for in the budget (extra-budgetary expenses).
Membership Committee
We are always looking for new folks to be involved in our Membership Committee (Chaired by Dr. Mugabe Walker). Given the nature of its work, this committee benefits from new members who bring their own perspective to acquiring and retaining members.
If you are or think you might be interested in any of these opportunities, or would like to know more about other committees and councils in our Chapter, please contact Dr. Steinmann () alwin.steinmann@imail.org – Thank you!!!
---
CHAPTER BYLAWS UPDATE
Our Chapter bylaws were last updated in 2004 and some aspects of those bylaws no longer accurately reflect the governance practices of our Chapter. Over the past several months, the Governor and the Governor's Advisory Council (GAC) have edited and updated the bylaws document to better represent how our Chapter has evolved. The document has been reviewed by our attorney. After our GAC approves the final version, it will go out to our membership for a vote and if approved, then needs to be approved by the national ACP Board of Regents. Please watch for an e-mail in the next several weeks that will include the proposed changes and a request for you to vote.
---
DEA RENEWAL AND NEW TRAINING REQUIREMENT (Courtesy of Denver Health)
As many of you know, last year the DEA eliminated the "X-waiver" requirement for prescribing buprenorphine to individuals with opioid use disorder. At the same time DEA introduced a new one-time requirement for 8 hours of training on the "treatment and management of patients with opioid or other substance use disorders" for all DEA registrants prior to next renewal on or after 6/27/23.
Those board-certified in addiction medicine/addiction psychiatry or who have graduated from medical school within the last 5 years are exempt. The rest of us will need to check a box attesting that we have completed this requirement when we next renew our DEA registrations.
What counts?
Any past trainings you've taken on treatment/management of opioid- or other substance use disorders, even those prior to implementation of the new rule, count towards the 8-hour requirement.
Past "x-waiver" trainings count towards the requirement.
Trainings must add up to a total of 8 hours but don't have to occur all at once and can be in any format.
Here are a few local and national online resources that can be utilized:
FREE
Providers Clinical Support System offers outstanding free trainings, including a SUD 101 Core Curriculum (2023) and trainings specific to Medications for Opioid Use Disorder (MOUD) - PCSS  
The Colorado Consortium for Prescription Drug Abuse Prevention has many short CME-approved education modules created by local practitioners on topics related to pain, opioids, and substance use disorders: Opioid Use Prevention and Pain Management CME Learning Modules - Colorado Consortium for Prescription Drug Abuse Prevention. 
Fee-based
The American Society of Addiction Medicine offers multiple 8-hour curricula including the "Fundamentals of Addiction Medicine" course and several other targeted resources: ASAM eLearning: Addiction Education For Prescribers.
---
NEWS, RESOURCES AND HELPFUL LINKS
ACP's Annual Report of the Executive Vice President and CEO: Read Dr. Moyer's report on the state and activities of our professional society. Annual Report of the Executive Vice President and CEO. 
The ACP launches an initiative to promote internal medicine and further our professional identity: Internal medicine physicians are the foundation of clinical care. We see every connection in the adult human body. Our expertise makes us vital to both patients and medical professionals. Read more here.
Sign up for Health Alert Network (HAN) notifications: Through the Colorado Notification System (https://conotification.state.co.us), you may sign up to receive the CDC's HAN notifications. You may customize which alerts you receive to focus on only those topics that are important to you and your practice.
Invitation from the Colorado Chapter of the American College of Cardiology: The CO Chapter of the ACC will be holding a summit on heart failure on Friday (12/1) followed by a 1/2 day on Saturday focused on prevention of CAD, which is extremely pertinent to primary care. The conference will take place at the Broadmoor from 11/30 – 12/2/23. Here's the good news, its only ~$150 a night to book the Broadmoor and family's all come. They will have a welcome reception Thursday night and family bowling/pool/tons of food are all included. The ACC would love to have our members attend – here is a link to the conference.