---
---

Bert A.Govig, MD, FACP, ACP Governor
---
GOVERNOR'S MESSAGE
Let me commence with extending my sincere thanks to our past Governor Dr. Nadine Lahoud. She has set a high standard, and I endeavour to build upon the successes of our chapter.
Spring habits brought a few surprises to Quebec. I was a bit surprised to find three feet of snow in Abitibi upon returning from this year's ACP meeting and more so seeing 2-3 feet of water in the fields driving out of Montreal!
It appears that our public services did a great job with very little morbidity and no mortality despite the gravity of the situation. Climate change is not making their job any easier.
Our profession is facing challenges from changing political, administrative and professional climates. We have all seen this play out in Québec over the past couple of years and perhaps assumed that our distress and despair was unique to our situation in Québec. IT IS NOT!
Fifty percent of US physicians have symptoms of burnout – the numbers are similar across Canada and throughout the western world (pretty much anywhere it is measured). This pandemic has multiple causes: the ever-increasing complexity of medicine, rapid changes to the health care system including the imposition of EMRs, loss of physician autonomy and job security, amongst others.
As we look for solutions, we must realize that this is not going to be resolved only by individual actions. We can't meditate away the root causes, we should NOT just try to tough it out, nor should we attempt to scapegoat the closest administrator.
I mention all of this because the recurring theme at ACP IM 2019 seemed to be that of physician wellness. I was present where over 50 Presidents and Past Presidents of medical societies from across the globe sat with the CEO and the Executive team of the ACP to brainstorm over this problem. At the same time, over 60 internists, including eight Canadians, two of whom are from Québec (Dr. Stephanie Landry and Dr. Hélène Marchand) were undergoing a two-day training course in physician wellness.
Canada is a world leader in the domain of physician wellness and medical organizations across Canada (CMA, CSIM, ASMIQ, etc.) are already committed to the cause. Stephanie, Hélène, and I are all eager to add our voices and muscle to a movement that is already afoot in Québec. That said, I suspect that there is a lot of knowledge and interest in this area – this is clearly a task that requires a team effort.
If you would like to add your name, energy and brainpower to a Québec physician wellness team, please reach out to me at bert.acpcanada@gmail.com
---
HIGHLIGHTS OF THE 2019 INTERNAL MEDICINE MEETING
The Convocation of the American College of Physicians is an annual ceremony whereby the College recognizes and applauds its new Fellows, Masters and the recipients of various honors. Congratulations to all!

From left to right: Dr. Alexandro Zarruk, New Fellow, Quebec, Dr. Marek Jakubowski, New Fellow, Ontario, Dr. Bert Govig, Governor, Quebec, Dr. John Kachope, New Fellow, Alberta, Ms. Domenica Utano, Executive Director, Canadian Chapters, Dr. Nadine Lahoud, Past-Governor, Quebec, Dr. Narmin Kassam, Past-Governor, Alberta, Dr. Michael Kenyon, Governor, British Columbia
Once again, Canada was well represented at the national ACP Doctor's Dilemma® Competition with teams from Quebec, Ontario, Alberta, and the Atlantic Provinces. Congratulations to the Ontario team for making it to the final round and finishing an amazing 3rd amongst 52 teams!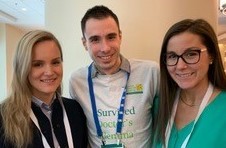 From left to right: Dr. Delphine Leahy, Dr. Gabriel Demchuk, Dr. Audrée Gilbert-Nadeau
---
YOU ARE INVITED!
ACP Quebec Chapter Meeting and ASMIQ 21st Annual Meeting
June 26-28, 2019
MAUI, Hawaii
Information
---
ENHANCE YOUR PERSONAL WELL-BEING
ACP is committed to providing high quality information, resources, tools, and support to help improve member well-being. Click to learn how the ACP is helping.
---
EXCELLENT RESOURCES FOR MEMBERS
Update your Knowledge with MKSAP 18 Q&A A 26-year-old woman is evaluated for left lateral knee and distal thigh pain that began 6 weeks ago. She is a long-distance runner who trains 6 days per week. Read more and guess the answer…
Certificate in Physician Leadership Program. APPLY BY JUNE 1ST. Click for details…
MedEd Bootcamp for Residents – click to learn more…
ACP advocates for you – Read how...
---
CALENDAR OF EVENTS
ACP Quebec Chapter Meeting and ASMIQ 21st Annual Meeting
In collaboration with the ACP Hawaii Chapter
June 26-28, 2019 in Maui, Hawaii
Information
The ACP Atlantic Provinces Chapters Annual Meeting 2019 will be held during the Annual Meeting of the Canadian Society of Internal Medicine
October 2-5, 2019 – Halifax, NS
Information
Call for Abstracts and Awards
CALL FOR TEAMS - Doctor's Dilemma Competition®
Hosted by the ACP Canadian Chapters
During the CSIM/ACP Atlantic Provinces Chapter Meeting
October 2-5, 2019 – Halifax, NS
ACP Western Canada Chapters and Rocky Mountain GIM Annual Meeting
November 14-16, 2019
Banff, AB – The Rimrock Hotel
https://www.rockymountainim.com/
@RockyMtnIM
ACP Ontario Chapter Annual Meeting 2019
November 1-2, 2019
Mississauga – Hilton Garden Inn Toronto Airport
Click for information
ACP Internal Medicine Meeting
Click for future dates and cities
---
WELCOME TO NEW MEMBERS
Fellows
Amal Bessissow, MD, FACP
Alexandro Zarruk, MD, FACP
Members
Christine Caporuscio, MD
David Germain, MD
Goupil Jean-Noel, AHP
Stephanie Landry, MD
Marie-Andree Lesage, MD
Helene Marchand, MD
Hasan Odeh, MBChB
Steven Palanchuck, MD
Marie-Josee Pelletier, MD
---
FACP – BECOME ONE TODAY!
---
BE ACTIVE IN YOUR CHAPTER!
We are seeking residents, students and members to assist with local activities – journal clubs, career nights, educational sessions. Email me at bert.acpcanada@gmail.com
Share your good news or that of a colleague and we will post it in our chapter newsletter.
Follow the ACP Canadian Chapters on Twitter! @ACPCanadian.