This toolkit shares best practices and real-life examples of successful team-based clinical care models that include internal medicine physicians working with Nurse Practitioners (NPs) and Physician Assistants (PAs) and other members of the clinical care team. The resources below can help you foster productive and purposeful internal medicine teams.
Why Should We Practice in Teams?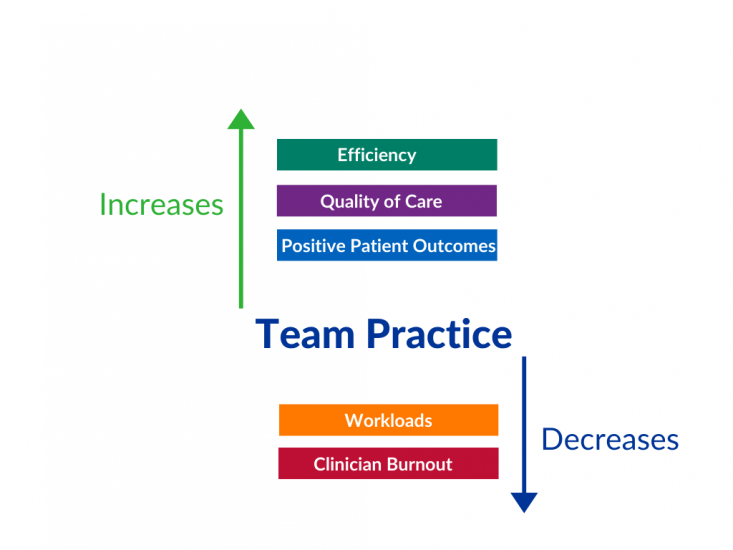 High functioning clinical teams are essential for the delivery of high value healthcare and have been associated with:
Decreased workloads
Increased efficiency
Improved quality of care
Improved patient outcomes
Decreased clinician burnout/turnover
Source: Implementing Optimal Team-Based Care to Reduce Clinician Burnout – from the National Academy of Medicine
What Is Team-Based Care?
A team-based model of care strives to meet patient needs and preferences by actively engaging patients as full participants in their care, while encouraging and supporting all health care professionals to function to the full extent of their education, certification, and licensure.
Actively engaging patients as full participants in their care, while encouraging and supporting all health care professionals to function to the full extent of their education, certification, and licensure.
Health care teams are defined as two or more health care professionals who work collaboratively with patients and their caregivers to accomplish shared goals. For example, an internist and an NP working together to transition a patient with diabetes to insulin therapy.
A health care team may involve a wide range of team members in various settings. For example, a small ambulatory health care team may include an internist and medical assistant working together to improve the rates of influenza vaccination in their practice. A large inpatient team might include a nurse case manager, social worker, clinical pharmacist, physician assistant, several medical residents, several medical students, an attending physician and unit nurse manager meeting daily to run the list of patients on a floor.
Potential members include physicians, nurse practitioners and physician assistants, medical assistants, pharmacists, social workers, trainees, patients and their families, and others identified as persons necessary to help achieve shared goals.
Resources
Access these resources to help you define the team and understand general principals behind team-based care:
Steps to Optimal Team-Based Care Framework
Foster mutual trust and physical and psychological safety
Clarify roles and expectations
Practice effective communication
Track a set of shared measurable goals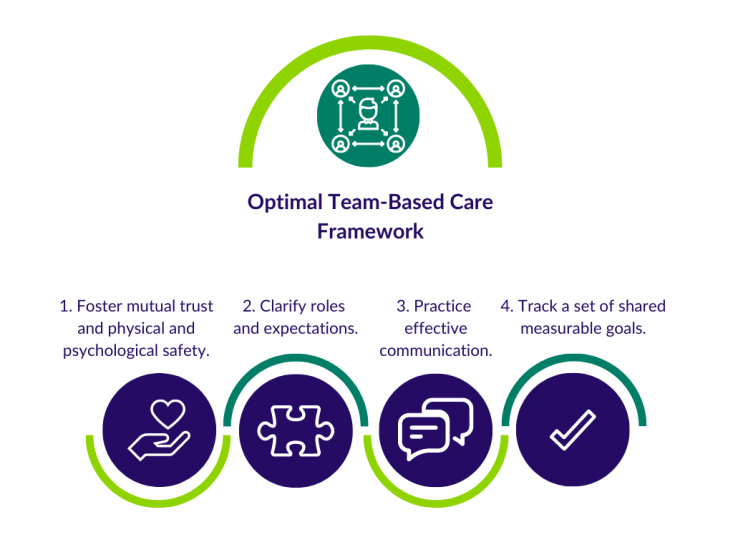 Resources
Access these resources to help build this framework and ensure clinical and administrative systems support team members in their defined work:
Learn More About NPs and PAs
The term 'Advanced Practice Providers' refers to both Physician Assistants and Nurse Practitioners.
An improved understanding of the various roles, training requirements, and scope of work may help internists who are interested in building, expanding, or improving team-based care in their practices. The term "Advanced Practice Providers" refers to both Physician Assistants and Nurse Practitioners. NPs and PAs have very different requirements for both basic science education and clinical experience. In addition, their scope of practice and integration into the healthcare workforce varies significantly by state.
Resources
The resources below may help you with your decision to add an NP or PA to your team or more effectively incorporate the APP's on your team:
Case Studies and Real-life Models of Team-Based Care
Real-life examples of successful team-based care in Internal Medicine showcase ways in which team-based care involving nurse practitioners, physician assistants, pharmacists, and others are working together with patients and caregivers in both inpatient and outpatient settings.
Outpatient
Clinician Well-Being at Virginia Mason Kirkland Medical Center: A Case Study - This case study provides an overview of initiatives that support well-being and reduce burnout in clinicians who work at the Virginia Mason Kirkland Medical Center. The purpose of this case study is to provide readers with tangible information to understand how Kirkland Medical Center has adopted programs and policies that support wellbeing. These include allowing clinicians to practice to the full extent of their education and training and standardizing roles for medical assistants.
Building Teams in Primary Care: 15 Case Studies – This set of case studies explore a variety of practices who successfully implemented teams. Case 11 (page 36-40) specifically addresses the use of physician assistants and nurse practitioners into Harvard Vanguard Medical Associates, a large multi-specialty group practice in the Boston metropolitan area, to successfully manage chronic conditions.

Watch this 3-minute video that describes how they have implemented effective team based primary care at Emory Patient Centered Primary Care.

Team-Based Care – This TCPi Team-Based Care power pack highlights Union Square Family Health Center, a Family Medicine site of the Cambridge Health Alliance in Boston, MA and how they successfully implemented a team-based care model as a sustainable solution to overwork.
Inpatient
Adding an NP or PA to Your Practice
During the hiring process, defining team members' roles can help you empower your team. Oversight and management of a team of advance practice providers is also essential to a highly functioning team.
Resources
These job descriptions and other hiring resources can help you facilitate decisions about which patients see which team members, and the best ways to optimize outcomes while having everyone work at the top of their scope.
Utilize and Train Existing Team Members
Hiring new staff is not always necessary to make the most of team-based care. By compensating and valuing the team you already have in place, you can decrease staff turnover and make more a more successful practice.
Remember the importance of the front desk staff and their role on the team
Medical assistants are often overlooked but crucial members of the team
Standardize work processes

Engage all team members in workflow redesign to get buy in and assure that the new process makes sense
Some examples: standing orders for influenza vaccination during flu season increase rates of vaccination without need for physician involvement; MA's and LPN's take patient portal review shifts to decrease response time and clinician burden; uptrain MA's to scribe encounters in the EHR so that clinicians can focus on patient centered communication and clinical decision making

Clarify roles
Partnering in Team-Based Care with Patients
Patients, families, and other caregivers need a clear understanding of the roles of the interprofessional care team with explanations of which role will serve which purpose in their care. The health care team should provide information to patients, families, and other caregivers so they can make informed healthcare decisions in partnership with their care team.
Resources
The following resources can help patients understand the different roles that make up the interprofessional health care team and how they might interact with each:
Change Management and Sustainable Teams
Physicians, clinicians, non-clinical staff and patients may have some difficulty adapting to team-based care models. Change management principles may ease adoption by stakeholders and help sustain the team and its members over the long term. Ongoing, structured communication and feedback are essential to optimize team performance and help to sustain teams over time. Relatedness and the ability for team members to enjoy each other's company at work should be nurtured and encouraged. High functioning teams have been associated with reduced clinician burnout and improved patient outcomes.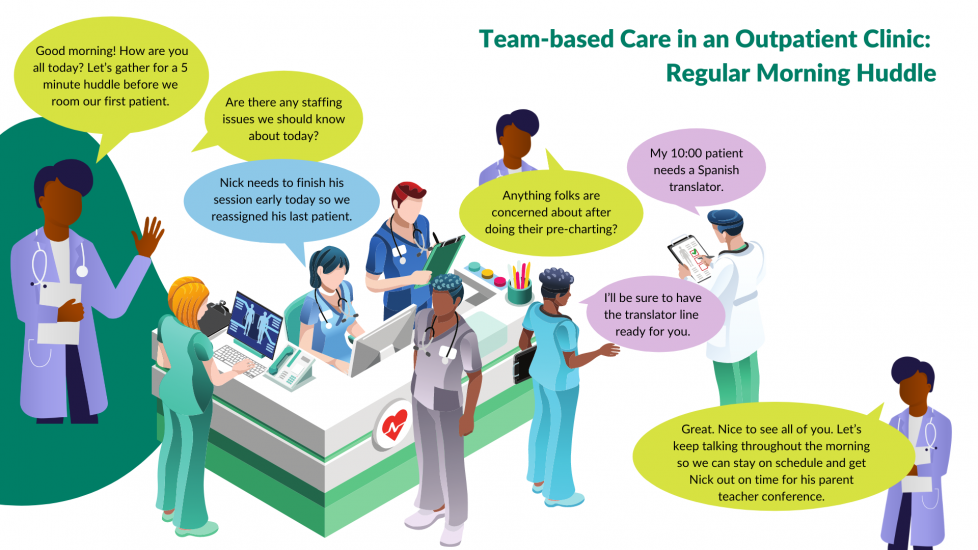 Resources
These resources address how team-based care can reduce burnout and how to sustain team-based care models in the long term.
5 Quick Wins for Team-Based Care
To put the Steps to Optimal Team-Base Care into action, here are five easy-to-implement examples that any care team can put into place:
1. Hang pictures of team members on the wall
2. Invite patients/families to join the clinical team
Both help foster mutual trust and physical and psychological safety
3. Hang a ribbon from each staff person's badge that states their role
4. Include team members and their roles into the new patient visit
Both help clarify roles and expectations
5. Start each clinical session with a short team huddle
Emphasizes the practice of effective communication
These ideas help to enhance team-based care by optimizing the team you already have, and working with intention to involve everyone consistently on the care team.