This payment track builds on traditional fee-for-service payments by adjusting them up or down based on a physician's performance in a new reporting system.
ACP asked and CMS responded! Due to the COVID-19 public health emergency, CMS is providing broad relief from MIPS penalties for the 2022 performance year. Clinicians, groups, and virtual groups may submit a hardship exception application for re-weighting any or all MIPS performance categories through Dec. 31, 2022. Clinicians should note that if data is received on their behalf (such as by an EHR vendor, billing service, or registry) for two or more categories, this will supersede the exception and they will receive a score and accompanying payment adjustment.
Major 2022 Changes:
Two new clinician types have been added to the existing list of MIPS eligible clinicians. Starting in 2022, clinical social workers and certified nurse-midwives are considered MIPS eligible clinicians.
Both the Quality and Cost performance category will be weighted at 30% at the beginning of the 2022 performance year.
The weight for the Promoting Interoperability and Improvement Activities categories will remain the same as 2021.
Performance threshold

Minimum performance threshold of 75 MIPS points to avoid any MIPS penalties
An additional performance threshold of 89 points has been established for exceptional performance
This is the last year for an additional MIPS adjustment for exceptional performance

Payment adjustments

Maximum payment adjustments remain the same at +/- 9%
This will be applied towards a clinician's 2024 Medicare Part B payments for covered professional services
If a MIPS eligible clinician does not participate in MIPS in 2022, they will receive a negative payment adjustment of –9% in 2024

Complex Patient Bonus

CMS will continue doubling the complex patient bonus for the 2021 MIPS performance year. The bonus points will be added to the final score
Complex patient bonus increasing the bonus to a maximum of 10.0 points.

Beginning in 2023, clinicians will also have the option to report via the MIPS Value Pathway (MVPs) framework instead of traditional MIPS
CMS finalized the extension of reporting exemptions through 2022. Please visit our Physician & Practice Timeline to stay on top of these deadlines
Small and Rural Hospitals
The CMS QPP Small, Underserved, and Rural Support (SURS) initiative ended on February 15, 2022, after five years of direct support. Sign up for the monthly QPP Small Practice Newsletter to receive information tailored to small practices. Read the 2022 MIPS Quick Start Guide for Small Practices to get started with 2022 MIPS participation. Read ACP's request to extend critical technical program for QPP-SURS.
Beginning with performance year 2022, small practices will receive automatic reweighting of the Promoting Interoperability performance category to 0%, whether they choose to participate as an individual or as a group.
You will no longer need to submit a MIPS Promoting Interoperability Performance Category Hardship Exception application to request reweighting in this performance category.
The small practice category weight reflects the finalized performance category reweighting and redistribution policies when the Promoting Interoperability performance category is reweighted. When the cost and Promoting Interoperability performance categories are reweighted, Quality and Improvement Activities will be equally weighted at 50%. When both Quality and Promoting Interoperability performance categories are reweighted, Cost and Improvement Activities will be equally weighted at 50%.
2022 Low Volume Threshold
To be eligible for MIPS, clinicians and practices must exceed the low-volume threshold (LVT) during both segments of the MIPS Determination Period to be eligible for MIPS. Participation in MIPS is required if, in both 12-month segments of the MIPS Determination Period if:
Excluded individuals or groups must have ≤ $90,000 Part B allowed charges OR ≤ 200 Part B patients OR ≤ 200 covered professional Part B services.
Segment 1 of the MIPS Determination covers October 1, 2020, until September 30, 2021, and initial eligibility is released on the QPP site in December 2021.
Segment 2 of the MIPS Determination covers October 1, 2021, until September 30, 2022, and final eligibility is released on the QPP site in November 2022.
MIPS - Scoring
The MIPS scoring is a composite score of the 4 performance categories:
Read more on the 2022 quality requirements.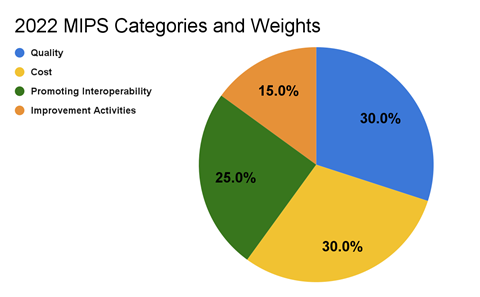 MIPS Value Pathway (MVP)
MVPs will be similar to MIPS, except all of the measures and activities across all four performance categories will be centered around a particular specialty, condition, or patient population. With MVPs, CMS aims to create more harmony across the MIPS performance categories, lessen data reporting, increase clinical relevance, and facilitate a glidepath to APMs. Due to the COVID-19 PHE, CMS delayed implementation of an initial set of MVPs until at least PY 2023. MVPs will start as optional, but CMS may eventually require participation in MIPS through either MVPs or the new APP (see below). CMS is working with stakeholders to design MVP bundles. ACP submitted two MVP proposals on preventive care and chronic disease management. We continue to actively engage with CMS on design and implementation of these specific MVP proposals and MVPs overall. For more information, check out the following:
ACP analysis of the 2022 PFS/QPP rule
ACP comments to CMS for MVP Stakeholder Town Hall
MIPS APM Performance Pathway (APP)
In 2021, CMS replaced the "MIPS APM scoring standard" with the new "MIPS APM Performance Pathway (APP)." The APP is designed to be an optional pathway for clinicians that participate in an APM but still participate in MIPS either because: 1) their model does not meet the criteria to be considered an "Advanced APM;" or 2) they fall short of Qualified Advanced APM Participant (QP) Thresholds. Category weights under the APP resemble those under the APM Scoring Standard: Cost: 0%; Promoting Interoperability: 30%; Improvement Activities: 20%; and Quality: 50% (unless reweighting applies). Under the APP, data can be reported at the APM Entity, group, or clinician level. All clinicians under the APP will be scored on the same six quality measures (if available/applicable). For more, read ACP's analysis of the 2022 PFS/QPP final rule and access this CMS fact sheet.
MIPS Resources
ACP Resources:
Visit ACP's COVID-19 advocacy page for the latest on what ACP is doing to protect and provide relief for clinicians during these uniquely challenging circumstances.
CMS Resources:
Have more questions? Email us at policy-regs@acponline.org.