You are here
Merit-Based Incentive Payment System (MIPS)
Merit-Based Incentive Payment System (MIPS)
Background:
The Medicare Access and CHIP Reauthorization Act of 2015 (MACRA) established the Medicare Quality Payment Program (QPP) to reward high-value, low-cost care. Eligible clinicians annually choose to participate in one of two payment tracks, the first is called the Merit-Based Incentive Payment System (MIPS). Under MIPS, eligible clinicians continue to be paid on a fee-for-service basis and report cost and quality data. Following each performance year, clinicians are evaluated on their performance relative to other clinicians in the country and receive a positive, neutral, or negative payment adjustment to their Medicare Part B payments two years later. For example, 2020 performance will impact 2024 payments.
MIPS is budget neutral by design- so the standard bonuses are paid out depending on the amount of penalties collected. Through the 2024 payment year (based on 2022 performance), there will be an additional $500,000,000 distributed annually to those that score above the exceptional performance (EP) threshold in addition to standard MIPS bonuses.
2020 Payment Adjustments
Because only 2% of eligible clinicians earned a penalty in 2018 and 84% of eligible clinicians scored above the exceptional performance threshold, bonuses were small and it took a very high score to earn a bonus over 1%.
Payment Adjustments Distribution:
| Penalty | Neutral Adjustment | Bonus | Bonus + EP Bonus |
| --- | --- | --- | --- |
| 2% | 0% | 13% | 84% |
Score/Payment Adjustment Conversion: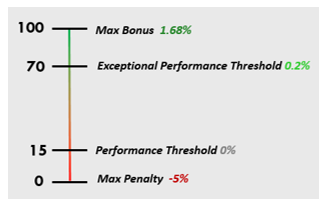 2020 Scoring
2020 category weights will remain the same as 2019. The standard and exceptional performance thresholds both increased from 2019- by 15 and 5 points respectively. The maximum 2020 penalty is 9% and will remain there indefinitely, barring future legislative changes. Scores between 0 and 11.25 points will earn the maximum penalty. Bonuses will be determined based on the amount of penalties.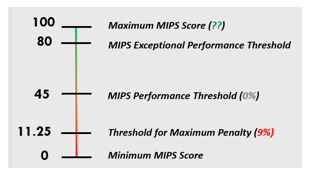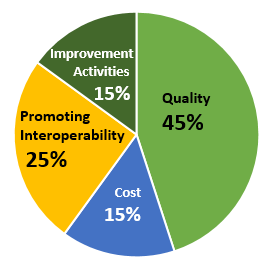 2020 Major Changes by Performance Category
Quality
Cost
Improvement Activities (IA)
Promoting Interoperability (PI)
Data completeness threshold increased from 50% to 60% for most reporting methods
New registry vendor & measure criteria
42 "low value" measures were removed
10 new episode-based measures
Revamped Total Per Capita Spending & Medicare Spending per Beneficiary measures
Group reporting threshold increased from 1 clinician to 50% of clinicians in group (may report for different 90-day periods)
New opioid measure offered as bonus
Querying PDMP measure now optional & attestation-based
New group-level hospital-based exception
MIPS Alternative Payment Model (APM) Scoring Standard
Clinicians may be evaluated under the MIPS APM scoring standard if they:
Participate in an APM that does not qualify as an Advanced APM; OR
Fall short of the Qualified APM Participant (QP) threshold, but meet the lower partial QP threshold and elect to participate in MIPS.
Clinicians who are evaluated under the MIPS APM scoring standard receive certain scoring advantages as credit for participating in Advanced APM, including:
Streamlined MIPS reporting and aggregate scoring at the APM Entity level
Automatic full credit toward the Improvement Activities Category
Different performance category weighting (50% Quality; 0% Cost; 20% IA; 30% PI)
Looking Ahead: MIPS Value Pathway (MVP)
Following successful ACP advocacy efforts, CMS announced in the final 2020 Physician Fee Schedule rule its plans to replace the current MIPS Program with a new system called the MIPS Value Pathway (MVP). With the MVP, CMS intends to improve on the current MIPS framework by creating sets of aligned measures that center on a certain condition or scope of practice and help to transition clinicians to APMs. Specifically, the MVP will:
Streamline the four MIPS performance categories.
Provide more frequent, actionable performance feedback.
Ease reporting burden by reducing the number of performance metrics.
Limited details were provided in the rule. CMS intends to "co-develop" the new MVP with ACP and other stakeholders in 2020. The MVP will begin to be implemented in 2021. Check back for updates.
CMS Resources:
Have more questions? Email us at policy-regs@acponline.org.