You are here
Merit-Based Incentive Payment System (MIPS)
Merit-Based Incentive Payment System (MIPS)
Resource Spotlight:
For MIPS Program deadlines, visit our Physician & Practice timeline
For a detailed breakdown of MIPS 2021 changes, read ACP's detailed analysis of the 2021 Medicare Physician Fee Schedule (PFS)/Quality Payment Program (QPP) Final Rule
For a glimpse at ACP advocacy on this subject, access ACP's comments on the 2021 PFS/QPP final rule and comments on the proposed rule.
COVID Flexibilities:
In response to ACP advocacy, CMS extended the MIPS extreme and uncontrollable circumstances exception due to COVID-19 through 2021. Applications for the 2021 performance year are due Dec. 31, 2021. Find more information here.
Background:
The Medicare Access and CHIP Reauthorization Act of 2015 (MACRA) established the Medicare Quality Payment Program (QPP) to reward high-value, low-cost care. Eligible clinicians annually choose to participate in one of two payment tracks, the first is called the Merit-Based Incentive Payment System (MIPS). Under MIPS, eligible clinicians continue to be paid on a fee-for-service basis and report cost and quality data. Following each performance year, clinicians are evaluated on their performance relative to other clinicians in the country and receive a positive, neutral, or negative payment adjustment to their Medicare Part B payments two years later. For example, 2021 performance will impact 2023 payments.
MIPS composite scores are evaluated out of 100 points. Every year, CMS sets a MIPS performance threshold. Clinicians who hit this threshold earn a neutral or 0% adjustment. Clinicians who score below this threshold earn a penalty. The lower the score, the larger the penalty. Those who score above this threshold earn a bonus. The higher the score, the larger the bonus. For the 2021 and 2022 performance years, clinicians who score above the "exceptional performance threshold," earn an additional bonus. MIPS is budget neutral by design- so the standard bonuses are paid out depending on the amount of penalties collected.
2021 MIPS Payment Adjustments (Based on 2019 Performance)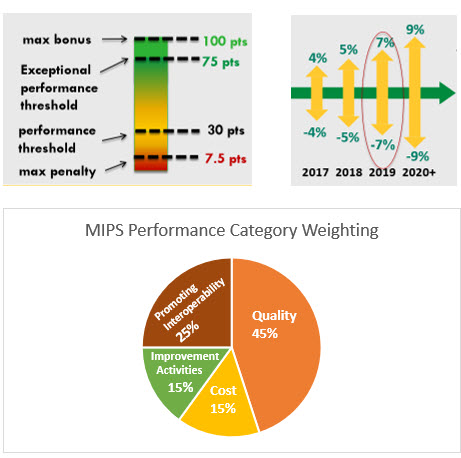 2021 Performance (Will Impact 2023 Payments)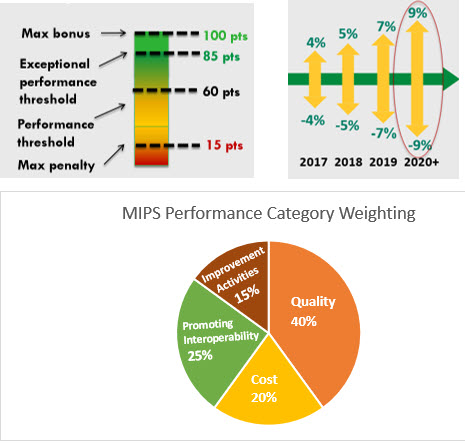 MIPS Value Pathway (MVP)
MVPs will be similar to MIPS, except all of the measures and activities across all four performance categories will be centered around a particular specialty, condition, or patient population. With MVPs, CMS aims to create more harmony across the MIPS performance categories, lessen data reporting, increase clinical relevance, and facilitate a glidepath to APMs. Due to the COVID-19 PHE, CMS delayed implementation of an initial set of MVPs until at least PY 2022. MVPs will start as optional, but CMS may eventually require participation in MIPS through either MVPs or the new APP (see below). CMS is working with stakeholders to design MVP bundles. ACP submitted two MVP proposals on preventive care and chronic disease management. We continue to actively engage with CMS on design and implementation of these specific MVP proposals and MVPs overall. For more information, check out the following:
ACP analysis of the 2021 PFS/QPP rule
ACP comments to CMS for MVP Stakeholder Town Hall
MIPS APM Performance Pathway (APP)
In 2021, CMS replaced the "MIPS APM scoring standard" with the new "MIPS APM Performance Pathway (APP)." The APP is designed to be an optional pathway for clinicians that participate in an APM but still participate in MIPS either because: 1) their model does not meet the criteria to be considered an "Advanced APM;" or 2) they fall short of Qualified Advanced APM Participant (QP) Thresholds. Category weights under the APP resemble those under the APM Scoring Standard: Cost: 0%; Promoting Interoperability: 30%; Improvement Activities: 20%; and Quality: 50% (unless reweighting applies). Under the APP, data can be reported at the APM Entity, group, or clinician level. All clinicians under the APP will be scored on the same six quality measures (if available/applicable). For more, read ACP's analysis of the 2021 PFS/QPP final rule and access this CMS fact sheet.
Have more questions? Email us at policy-regs@acponline.org.