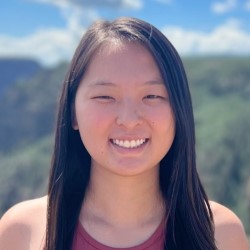 Brittany Tu
ACP Council of Student Members and Texas ACP Medical Student Council Co-Chair

— MEDICAL SCHOOL —
Texas Tech University Health Sciences Center, Lubbock, Texas

— GRADUATING CLASS —
2025

Like many medical students, I did not have a specialty in mind when applying to medical school. And when school started, I was just grateful to have made it and terrified by the information that came blasting my way as if out of a fire hose. The first semester of school passed in a blur. Before I knew it, officer applications for student organizations started to drop. I was vaguely interested in internal medicine, so I wrote a small essay about why I wanted to learn more, included some basic ideas for club events, and submitted the application hours before it was due—and that was it.
I served as Internal Medicine Interest Group (IMIG) President from February 2021 to February 2022. My tenure was complicated by the back end of coping with the pandemic and what that meant for student organizations, but it was a great year. The transition to President was a little slow. I was immediately bombarded by deadlines and mandatory training. I spent the first 2 months renewing our student organization status with my institution, rewriting our constitution, navigating funding policies, and trying to learn more about internal medicine. There is quite a bit of "behind-the-scenes" work that goes into running a student organization.
Planning events was slightly more difficult than I had anticipated, especially with my school restricting all student organizations to virtual meetings throughout my time within the club leadership. Starting small for our first event, we hosted a virtual MS4 Match Panel a week after Match Day to hear firsthand experiences from students going into internal medicine. This ended up being one of our most popular events; students from each year of school attended, from recently accepted MS0s to MS3s preparing to apply. Our second spring event was eventually canceled: due to COVID-19 restrictions, we were unable to utilize our clinical practice areas. We had planned to do a lumbar puncture clinic with the residents. This is where the American College of Physicians (ACP) started to have a bigger impact on our IMIG chapter.
ACP has this IMIG Sponsorship Program, with amazing resources for students and interest groups. I started to look around the website more as it was about time to apply for funding. Although their website has a ton of resources for both new and established IMIG chapters, I found the list of 60+ event ideas particularly helpful. I had been struggling to think of virtual events that were more than a lecture. During the summer, I brainstormed with my officer team to come up with some fun events before our tenures ended.
Like many schools, our school year started with a student organization fair for new students. Through the IMIG Sponsorship Program, we were able to get a packet of recruitment materials and funding. The "I.M. Proud" badge reels were a huge hit—our advisor even swiped a couple for his chief residents. One of the most common questions I got at the student organization fair was, "What is the difference between internal medicine and family medicine?" So, we structured our entire first meeting around that topic. We had a Q&A session with our associate program director and two chief residents on "Internal Medicine 101." Our next event was the virtual Texas ACP Annual Scientific Meeting, which was free for all students, so we encouraged all of our members to attend. There was a lot of confusion about what ACP was and what it meant to join as a student member (which is FREE). Through one of our amazing faculty members, I connected with Dr. Sue Bornstein, Chair of the ACP Board of Regents, and she attended one of our meetings. She spoke about her experiences in primary care and how she got involved with ACP.
Learning about ACP from one of the experts and understanding how students can get involved inspired us. A few other officers and I reached out to our state chapter to attend a committee meeting. We sat in on a Texas ACP Health and Public Policy Committee meeting. I loved to see how practicing physicians get involved in public policy. In my position as President, I'd had minimal exposure to the Texas ACP Chapter: as the Texas Tech representative on the Medical Student Council, I once volunteered for their Internal Medicine Residency Program Showcase. So, it was great to witness how physician members get involved with the chapter.
When I started exploring the ACP website, looking up committees and student resources, and learning about internal medicine, I was sold. My interest in both ACP and internal medicine had been building up over the year, and I felt like I had found my people and the field I wanted to pursue. By complete chance, I had not deleted an ACP announcement e-mail about the Council of Student Members. Applications were open and due in less than a month. I was excited and ready to be more involved with ACP, so I went for it. My experience with the Council could be its own article, so I will leave y'all with this: Getting involved in student leadership takes a small jump and can lead you to amazing places.
If you would like more information about the ACP programs and resources I have discussed, here are several next steps you can take:
Get involved with your IMIG chapter OR start one of your own. ACP has resources for existing and new chapters, including international ones.
Contact your local/state chapter. They love to hear from students and are great contacts.
APPLY FOR the Council of Student Members! Applying to the Council was one of the best decisions I have ever made.
Back to the October 2022 issue of ACP IMpact