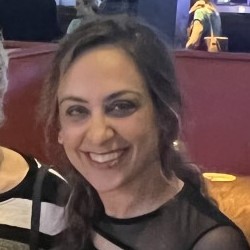 Grace Nassim, MD, MPH
— OCCUPATION —
Hospitalist at Wesley Medical Center and Locum Hospitalist at Robert J. Dole VA Medical Center, both in Wichita, Kansas

— MEDICAL SCHOOL —
University of Balamand in Beirut, Lebanon

— RESIDENCY —
Internal Medicine Residency at the University of Kansas (KU) School of Medicine
What is your current position?
I work as a full-time hospitalist at Wesley Medical Center and a locum hospitalist at the Robert J. Dole VA Medical Center, both in Wichita, Kansas.
Where did you attend medical school and post grad training?
I attended medical school at the University of Balamand in Beirut, Lebanon. Then I moved to Wichita, Kansas, and completed my postgrad training in internal medicine at The University of Kansas (KU) School of Medicine.
Why did you choose to become a physician?
I chose to become a physician because I love helping others. What better feeling can one have than seeing the gratitude in patients' eyes for making them feel better?
What field of internal medicine did you select and why?
I enjoy working as a hospitalist because it covers a large portion of medicine. The patients have acute illnesses and the pace is fast. I enjoy doing the investigative work to figure out what's wrong with each patient and initiate the appropriate treatment.
Please describe a typical day in your practice.
A typical day starts with dropping my kids off at school and heading to work by 8:00 a.m. I start reviewing my patient charts then start rounding. I first start in the ICU where the sickest patients are, then move on to the patients who are ready for discharge. I contact their primary care providers and make sure their medications are ready at their pharmacy. Finally, I get back to the rest of the patients, including those admitted throughout the day. Meetings and huddles occur at various times depending on the day.
What are some of your special interests professionally?
I am interested in becoming a Fellow of ACP to continue my contribution to this successful organization. I would like to stay on board the Health and Public Policy Committee at the ACP Kansas Chapter. I am also enthusiastic about any opportunity that involves women's empowerment.
What are your interests and hobbies outside of medicine?
Outside of medicine, I enjoy designing and decorating cakes. I enjoy spending time with my kids and traveling with them: they do bring a lot of joy after a long tiring day at work.
What advice would you like to share with medical students or what do you wish someone would have told you while you were in medical school?
The best advice I could share is for women seeking to pursue medicine as a career: enjoy your lives and always believe in yourselves. There is nothing impossible if you have the will and the stamina to do it. Life is short, so do whatever makes you happy! You are the artist of your own life so paint it the way you like! Always challenge yourself and never compare yourself to others. Everyone is special and unique in their own way.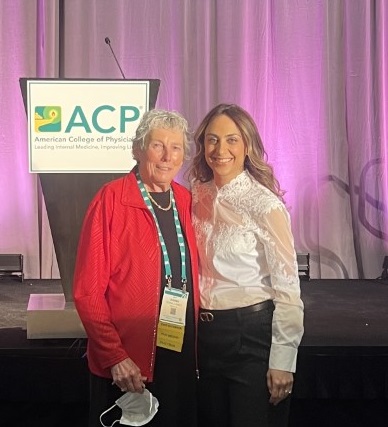 Which living person do you most admire?
I admire my mentor and professional role model, Dr. Donna Sweet. She is a professor in the Department of Internal Medicine at the KU School of Medicine-Wichita. She is a delegate to the American Medical Association, a member of the leadership for ACP, and past chair of the ACP Board of Regents. She is an HIV specialist and has more than 40 years of service and contributions to health care. I admire her personality and how her patients love her and listen to her. No matter how much I write about her, it is never enough. Dr. Donna Sweet is a legend and a blessing who has taught generations of physicians!
What do you consider your greatest achievement?
My greatest achievement would be my completion of residency and education while taking care of my beautiful family and three kids.
What is your most treasured possession?
My education is my most treasured possession. Achieving my goal of becoming a doctor is the most important thing I have done.
What is your motto(s)?
"If you cannot fly, Run! If you cannot run, Walk! If you cannot walk, Crawl! But by all means, keep moving!"
Back to the October 2022 issue of ACP IMpact
More I.M. Internal Medicine Profiles