---
---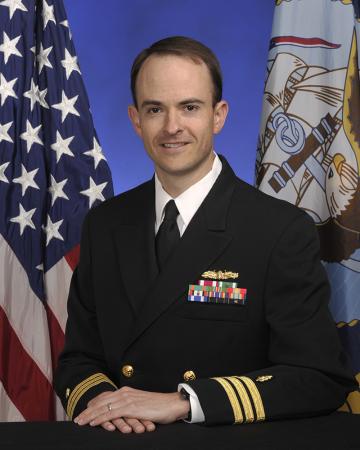 CDR Mark P Tschanz, DO, FACP, ACP Governor
---
Governor's Welcome
Navy ACP Colleagues,
I hope this summer newsletter finds you and your families well! The Navy and the world continue to adapt to life during a pandemic, and the ACP and Navy Chapter continue to work to meet the changing needs of Navy Internists and our patients. This newsletter contains important information about the upcoming virtual triservice meeting, as well as a message from the Navy Internal Medicine Specialty leader to update our community about the recent travels of many of our community.
I apologize for the late notice with details of the Tri-Service meeting. We have never undertaken a meeting of this size in virtual fashion, and want to make sure we capture the spirit of an in-person meeting. I am very excited about the topics, speakers, and format – and I hope you will be able to join! The meeting will be free this year – so thank you for your ACP dues!
The Navy Internal Medicine knowledge, skills, and attributes (KSAs) have been recently published, and have stirred an important discussion in our community. From an educational perspective, the Navy Chapter will focus CME and training opportunities to align as much as possible with the KSAs. In future meetings, you can expect a skills lab for those interested in learning or refreshing procedural skills.
Finally – much is mentioned in this newsletter about the Navy Internist response to COVID-19. I want to include a special thank you to all the reservist chapter members who have both deployed at a moment's notice and responded to COVID in their civilian jobs – thank you and Bravo Zulu!
Very Respectfully,
Mark
CDR Mark P. Tschanz DO, MACM, FACP
Governor, Navy Chapter, American College of Physicians.
---
Triservice Virtual Meeting
Who: All Military ACP Members and non-members
What: Virtual meeting with a series of plenaries, break-out sessions, subspecialty sessions, podium competition
When: September 9-11, 2020
Where: Virtual (Zoom)
Time: 1300 – 1800 EST
Cost: Free! (your ACP dues at work!)
The meeting will kick off at 1300 EST on September 9, 2020 with our very own CAPT Ryan Maves with "Outbreak! Role of Military Medicine in Pandemics". The meeting will run in 5-hour blocks over 3 days to try and capture as many different time zones as possible. It will have a mix of pre-recorded sessions and live session, with the option to watch pre-recorded sessions after the meeting to maximize CME credit.
Different than past Navy meetings, there will be continuous plenary sessions in the "big" room, as well as concurrent sub-specialty breakout sessions in a separate room. If you want to see 2 topics at the same time, you will be able to go back and watch the recordings.
Registration is open! You will need to make sure you are able to use Zoom in the location you choose to attend.
As usual, we will have awards announced and meetings with the Specialty Leader. Doctor's Dilemma will occur as a separate event after the meeting.
Please let me know if you have any questions.
---
Message from the Navy Specialty Leader
Navy ACP Community,
This year 2020 has been a busy year with Navy Internal Medicine stepping into the spotlight with in the fight against COVID-19. Just this first half of the year we've seen around 40% of our Internal Medicine Community deployed. We've sent our internists all over the world and even here a home. Currently, we have internal medicine doctors deployed to Japan, Micronesia, Texas, New York, Los Angeles, New Orleans, Florida. They are located on Navy Hospital Ship COMFORT and MERCY as well as warships: CVNs, LHAs, LHDs, LPDs, LSDs, and even DDGs.
In March of this year, we first deployed internists in support of the national COVID response: to Los Angeles on board the USHS Mercy, to New York on board the USHS Comfort, and as part of Expeditionary Medical Facility (EMF) – M to New York, Dallas, and New Orleans. This first wave of deployments included a total of 30 IM physicians.
In June, As COVID began to spread and infect our ship-based service members, the Secretary of Defense directed that all large Navy ships (CVN, LHA, LHD, DDG) be manned with medical personnel with the capability to hold critical and ventilated patients for several days pending MEDEVAC. These COVID Ship Response Teams relied heavily on the expertise of our IM and IM/CC physicians, along with a Critical Care RN, Respiratory Technician, Pharmacy Technician, Preventive Medicine Officer, and Preventive Medicine Technician. Due to the rapid nature of these deployments and a mandatory 2-3 week Restriction of Movement, many of these deployed with only a few days' notice.
With the second wave of COVID infection throughout the country in mid-June, BUMED required the creation of Acute Care Teams (ACT) and Rapid Rural Response Teams (RRRT) modeled after the mental health SPRINT team missions. The ACT is a 50-bed mobile inpatient ward staffed with 4 hospitalists and 24 med/surg RNs. The RRRT is a mobile ICU with 1 Critical Care Physician and 5 Critical Care RNs. These teams were tasked with responding to any medical critical care crisis in the world within 96 hours, either as standalone units or to augment civilian facilities. Currently, we have a team of internal medicine specialists deployed along five counties bordering the Texas-Mexican border.
By early July, Navy Internists were requested to support more shipboard COVID response efforts worldwide. These requests have included tasks as diverse as shipboard treatment for a four-nation exercise in the Arctic Circle to clinic support for the medical home port in Okinawa. Additional asks have been for internists to partner with physicians in Fiji and Micronesia to train local physicians on the management of pre-ventilated COVID patients and a request for critical care support across Africa. On the home front, we currently have fifteen more Internal Medicine teams standing on prepare to deploy orders to assist anywhere within the US.
Since the first deployments at the end of March, nearly 40% of the IM community has deployed; this has included all of the deployable critical care physicians, numerous of whom have now been named for 2 deployments. The feedback from the Fleet is that the IM community has been stepping up and doing a great job supporting the Navy in this time of need. Bravo Zulu to our Internists who have deployed and to those who have held down the fort in garrison!
CAPT Andrew Lin, MC, USN
Specialty Leader, Internal Medicine
---
Congratulations to the chapter's newest fellows!
Please join me in congratulating the new FACP physicians in the Navy Chapter. I hope to see you all in 2021 to walk in the convocation ceremony!
LCDR James A. Fisher MD, FACP
LCDR Judith Generoso DO, FACP
---
College Update
Upcoming Webinars
There are a great number of excellent educational opportunities through the college. As these are virtual, and most are recorded, you should be able to attend from anywhere.
Achieving FACP through the ACP Guided Fellowship Program
Tuesday, August 25, 2020, at 3:00 p.m. ET
Achieving the FACP credential is a significant milestone for post-training physicians—one that shows leadership and commitment to excellence in the practice of medicine. In this one-hour webinar, Saba A. Hasan, MD, FACP, member of the ACP Credentials Committee, will provide an overview of ACP's Guided Fellowship Program. Open to members who finished residency in June 2020, this program provides a framework toward meeting professional development goals, along with guidance and mentorship, in order to obtain the FACP credential over three years.
Communication Skills for Effective Presentations
Wednesday, September 2, 2020, at 9:00 a.m. ET
Developed especially for ACP's international and IMG members, this one-hour webinar will explore best practices for presenting information effectively to a variety of audiences. Speaker George M. Abraham, MD, MPH, FACP, FIDSA, ACP President-elect, will review the delivery skills needed to make presentations more informative, engaging, and successful for both face-to-face and virtual formats. CME will be available.
Webinar Recording: Innovations in the Care of Outpatients with COVID-19
Moderated by Heather E. Gantzer, MD, FACP, Chair of ACP's Board of Regents, this webinar explored innovative approaches in care delivery to COVID-19 outpatients, including how to address health disparities and the challenges related to the diverse presentations of the disease.
Kristen Kopski MD, PhD, and Margaret Doose, MD, of HealthPartners Minnesota, reviewed that system's response to the COVID-19 pandemic, including a discussion of transitions of care best practices as well as how to develop a better understanding of this patient population. Following, Christopher Kellner, MD, and David Putrino, PhD, of the Mount Sinai Health System, New York, discussed innovations in remote patient monitoring and how to apply these technologies to patients with COVID-19.
To claim CME credit for this watching recording, please go to: www.acponline.org/leadership-academy-cme
The American College of Physicians (ACP) is accredited by the Accreditation Council for Continuing Medical Education (ACCME) to provide continuing medical education for physicians.
The ACP designates this other activity (blended) for a maximum of 1 AMA PRA Category 1 Credit(s)™. Physicians should claim only the credit commensurate with the extent of their participation in the activity.
Webinar Recording: Addressing and Supporting Physician Mental Health During Challenging Times
Presented in partnership with the ACP Well-being and Professional Fulfillment Program, this webinar will describe psychological and behavioral responses to crisis events as well as discuss a follow up framework for individual, peer, and organizational interventions that promote healthcare worker well-being and sustainment. Speakers Kerri Palamara, MD, FACP, and Joshua C. Morganstein, MD, will list individual, peer, and team actions that facilitate self-care, connection, and recovery. Participants will learn to identify actions that can help them to be better prepare for future crisis events.
Kerri Palamara, MD, FACP, is an Assistant Professor of Medicine at Harvard Medical School and practices as a primary care general internist at Massachusetts General Hospital. Dr. Palamara leads the American College of Physicians "Physician Coach Training Program", which focuses on training physicians to integrate coaching techniques into their quality improvement and well-being initiatives.
Joshua C. Morganstein, MD, is Associate Professor and Assistant Chair in the Department of Psychiatry and Assistant Director at the Center for the Study of Traumatic Stress (CSTS) in the Uniformed Services University of the Health Sciences and a Captain in the Commissioned Corps of the U.S. Public Health Service.
The ACP Leadership Academy will present several free member webinars during the summer and fall. We encourage you to participate. More information and registration for one or more of these webinars here
---
ABIM Call for Nominations – Governance Members
If you have an interest in advancing the practice of Internal Medicine, and would like to be involved in the IM and Specialty boards, please consider this opportunity. ABIM has published their annual call for governance nominations with a number of open positions on their Specialty Boards and Item-Writing Task Forces. The positions are outlined on the ABIM website. Please consider these positions and distribute this call broadly to others.
The ABIM is looking to better reflect the diversity of the physician community within ABIM boards and task forces and strongly encourages physicians from underrepresented groups in medicine and those practicing in a community setting to apply for these openings. ABIM believes it is essential to ensure these populations are well represented, as they are valuable voices in the community.
Information on the competencies ABIM is seeking, an explanation of the roles and responsibilities of service, and additional details on how to apply can be found in the Call for Nominations. If you have questions, please contact please contact Governance Services at GovernanceServices@ABIM.orgo: or 215-446-3614.
---
Health and Human Services Provides Learning Opportunity around Telemedicine
The U.S. Department of Health and Human Services has created a Telemedicine Hack, a multi-week learning community to accelerate telemedicine implementation by ambulatory providers, with the goal of supporting wide adoption of telemedicine. The peer-to-peer learning community, taking place weekly through Sept 23, 2020 from 12:00-1:00pm ET is comprised of:
- Remote learning sessions on key topics (e.g., workflows, documentation, reimbursement) highlighting best practices and case studies from the field
- Virtual "office hour" discussion panels with case presenters, government agencies, topical experts, and stakeholder associations responding to your questions
- Inter-session peer-to-peer learning facilitated via virtual discussion boards and ad hoc interest groups
ACP is an official sponsor of the Telemedicine Hack. For more information, click here. This might be a good opportunity for those new division officers and department heads who are trying to figure out how to integrate telemedicine into their clinic. CME credits are available for attending, at no cost to participants.
---
Clinical Corner
What has been published recently that your residents know before you???
It seems all the clinical updates right now are COVID-19 related.
COVID-19 related topics:
If you haven't seen the latest version of the DoD COVID-19 Clinical Practice Guideline, I recommend you check it out – we are up to version 5! Visit the DHA website and search or scroll down the "DoD COVID-19 Practice Management Guide Version 5". I would recommend you link this page, as this is a living and frequently updated document. If you are deployed or shipboard and cannot download, please let me know and I will send it to you!
Non-COVID-19 related topics:
Low Back Pain:
Yes – this is complaint we used to see occasionally in clinic. Perhaps you have not seen this condition since February, so this is a great time to brush up on the evidence-based and cost-effective approach. Please see the recent article in the Annals of Internal medicine by Dr. Qaseem and colleagues. Interestingly, they make a strong recommendation for topical NSAIDs as first line therapy.
Nonpharmacologic and Pharmacologic Management of Acute Pain From Non–Low Back, Musculoskeletal Injuries in Adults: A Clinical Guideline From the American College of Physicians and American Academy of Family Physicians https://www.acpjournals.org/doi/10.7326/M19-3602?_ga=2.141731506.1883282816.1597874549-1855286083.1597874548
Gabapentin in treatment of alcohol use disorder:
I found this article interested. Gabapentin has been studied for treatment of alcohol withdrawal in hospitalized patients, but this article looked outpatients with positive findings. Check-out the article!
Anton RF, Latham P, Voronin K, et al. Efficacy of gabapentin for the treatment of alcohol use disorder in patients with alcohol withdrawal symptoms: a randomized clinical trial. https://jamanetwork.com/journals/jamainternalmedicine/article-abstract/2762700 JAMA Intern Med. 2020;180:1-9.
Fecal transplant for IBS:
Yes – we will end with presenting the THIRD trial exploring fecal transplant for irritable bowel syndrome symptoms. I will let you read the article, but the evidence is now 2 trials for and one against this intervention!
El-Salhy M, Hatlebakk JG, Gilja OH, Bråthen Kristoffersen A, Hausken T. Efficacy of faecal microbiota transplantation for patients with irritable bowel syndrome in a randomised, double-blind, placebo-controlled study. https://www.ncbi.nlm.nih.gov/pmc/articles/PMC7229896/ Gut. 2020;69:859–67.