---
---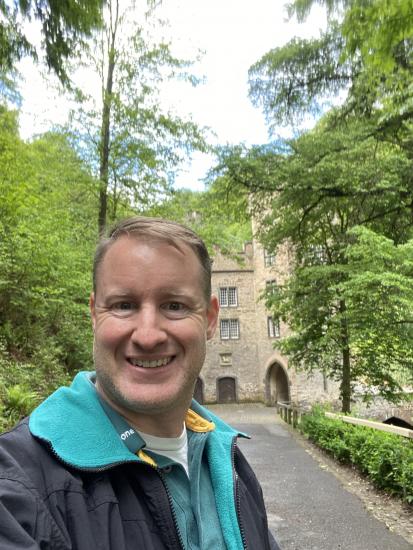 COL Joshua S. Hawley-Molloy, MD, FACP, ACP Governor
---
Message from the Outgoing Governor
Dear Chapter Members,
This is my final newsletter to you as your Governor of the US Army ACP Chapter! I have been truly honored and humbled to represent you, and Army Medicine, to the American College of Physicians over the past four years. We have come a long way in evolving the Chapter into a robust, professional group of Army Internist and Internal Medicine Subspecialists.
A few highlights of the last few years:
A return to face-to-face meetings, co-sponsored with the Air Force Chapter, with a unique focus on Operational Medicine
A sudden return to a Virtual Meeting in response to the COVID pandemic
The first TriService ACP Chapter meeting in nearly a decade
Development of a Diversity Policy and DEI Chair on the Governor's Council
Selection of two Wellness Representatives, who received special training from National ACP
Creation of a Chapter Council of Resident and Fellow Members, and a Chapter Council of Early Career Physicians
Addition of a Medical Student Abstract Competition
From the CRFM, the introduction of virtual National Grand Rounds and a Day of Service
Four out of the last five years, we have won a Chapter Excellence Award from National ACP
This year, we were one of only 8 chapters to win an Evergreen Award, victory shared with the Air Force and Navy Chapters for our virtual meeting
We have seen membership in the chapter grow as well
Thank you to all of you who have dedicated your time, efforts, thoughts, and energy to making our chapter the professional home for Army Internists!
I am very happy to hand over the reins to COL Joshua Hawley-Molloy and I am excited to see where he takes us next!
COL Cristin Mount
Immediate Past-Governor, US Army Chapter
---
Message from the Incoming Governor
Dear Army Chapter Friends and Colleagues,
I am excited to begin my term as Governor of this storied Chapter! I am an Infectious Diseases specialist and Internist currently stationed at Landstuhl Regional Medical Center, where I am the Deputy Commander for Medical Services. My background and passion is in GME, with 12 years' experience as an APD and PD at TAMC and SAUSHEC. My husband, Johnathon, and my kids (Kylie, 8, and Kaelen, 4) and I moved here last summer. We have enjoyed the transition to living in Germany, despite the lockdown we have been in since November. It's a bit of a homecoming for me, as I lived in this area for four years when I was an Army brat myself. We are hoping that things start to open up here later this summer, so we can finally get busy exploring Europe.
I am very grateful to COL Mount for her hard work to reinstate the TriService Meeting, strengthen our Chapter and expand our offerings over the last four years. My goals for my term as Governor are:
To develop a new post-pandemic model for our meetings (with a hybrid of both in-person and virtual offerings to ensure as many of you as possible can be involved)
To continue our efforts to make our Chapter membership and activities reflect the diversity of Army Internal Medicine (we are generalists, subspecialists, academicians, operationalists, scholars, and clinicians from multitude of backgrounds—but we are all Army Internists)
To make this chapter your Professional Home of choice.
I will need engagement from each of you to ensure our chapter is meeting your needs. Although I know many of you already, if we have not met, please feel free to drop me a note to introduce yourself! I look forward to working with you!
Best,
COL Joshua S. Hawley-Molloy
Governor, US Army Chapter
---
Chapter Kudos!
Congratulations to our planning committee members for the 2020 TriService Chapter Meeting, including Chapter Members LTC Rob Walter, LTC Tatjana Calvano, MAJ Kelly Chohonis, CPT Kimberly Fabyan, and COL Cristin Mount. Based on their outstanding efforts as well as the other ongoing virtual events throughout the year, the three military chapters were recognized with a prestigious 2021 John Tooker Evergreen Award from ACP! This award is presented to only a few of the ACP's chapters annually.
Congratulations to the SAUSHEC Doctors' Dilemma Team, CPT Lisa Townsend, CPT Carl Kay, and CPT Andrew Wilson, who boldly represented the Chapter at the virtual national ACP Doctors' Dilemma Competition on May 14. Although they did not win the national title, they will always be champions in our hearts—in particular for their obviously correct Final Round answer of "Go Army, Beat Navy!"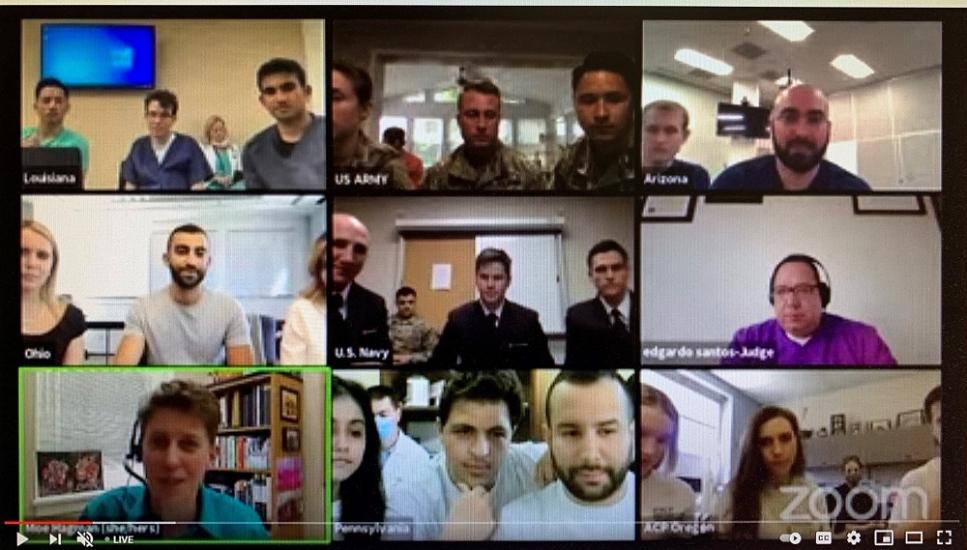 Congratulations to new USU graduate, CPT Emily Baird, whose poster was a Clinical Vignette Winner at the national ACP Medical Student ePoster competition. CPT Baird's winning poster, entitled "A Case Study Demonstrating Tolerance of the Gut to Large Volumes of Enteral Fluids in Burn Shock," earned CPT Baird a $300 prize—way to go, CPT Baird!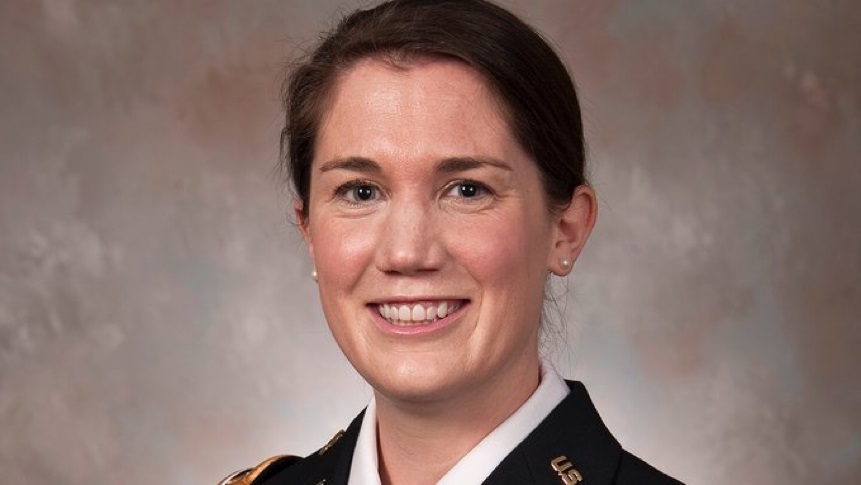 ---
Call for Awards Nominations!
The time of year has come to begin the process of recognizing our members for their outstanding achievements as clinicians, teachers and mentors across the spectrum from the MEDCEN to the benchtop to the operational environment. We have simplified the awards submission process this year, to make it easier to nominate deserving Chapter members for the following awards:
The COL Lisa L. Zacher Award for Mentorship of Women in Medicine
The COL William Crosby Research Award
The Master Teacher Award
Excellence in Operational Medicine Award
The Moser Award for Clinical Excellence in Early Career Physicians
Laureate Awards
Please review the award submission requirements on the Chapter Website and consider nominating eligible members.
MTF IM Residency Program Directors – please submit your MTF Teacher of the Year Awardee's name directly to the Chapter Awards Committee Chair at ian.c.mcinnis.mil@mail.mil
The deadline for award submissions is June 30th, 2021.
---
First Call for Abstracts for the TriService ACP Chapter Meeting!
This is the 2021 Triservice ACP Chapter Meeting first call for the Resident, Fellow, and Early Career Physician (ECP) abstract competitions. Each role will have its own competition, with 5 abstract categories as described below.
Abstract Competition Categories:
- Basic (Bench) Research
- Clinical Research
- Quality Improvement/Process Improvement
- Clinical Vignette
- High Value Care
As in years past, all Resident abstracts for presentation in a competition will be selected at the program level. Each program will select their top abstract for each of the following categories, and submit them directly to the abstract coordinators via e-mail
All Fellow and ECP abstracts, as well as noncompetition Resident abstracts (abstracts for breakout sessions and the open poster session), should be submitted directly from the authors to the ACP abstract portal
Authors should select their desired category from the list above.
Please use the attached template for your abstract submission and be sure to indicate your competition category, your role (i.e. resident, fellow, ECP) as well as subspecialty breakout categories of interest. There is a 450 word limit (not including title and authors).
Subspecialty Breakout Sessions:
- Cardiology
- Pulmonology/ Critical Care
- Nephrology
- Gastroenterology
- Infectious Disease
- Rheumatology
- Hematology/Oncology
- Endocrinology
- Operational/Military Medicine
- COVID-19
- General IM
The final deadline for submission will be COB Friday, 9 July 2021.