---
---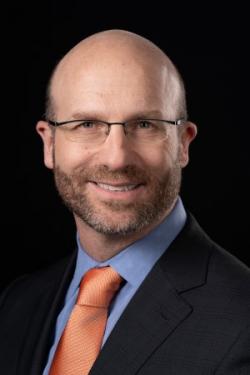 Scott C. Woller, MD, FACP, ACP Governor
---
Greetings from the Governor
Dear ACP Utah Members:
It has been an action-packed quarter since my last update.
I could not have been more privileged to join your health and public policy committee leaders, Dr. Matthew Mulligan, MD, FACP (Committee Chair), Dr. Winston Bokor, MD FACP (Committee member) and engaged ACP members Dr. Tony Musci, MD, FACP (Chapter Treasurer), Dr. Sydney LeGuyader, MD, Dr. Yoon Kim-Butterfield, MD, and Dr. Mary Tipton, MD, FACP, to name a few, at the 2022 Utah Medical Association House of Delegates meeting that was held at Thanksgiving Point September 9-10. You will be delighted to learn that your ACP Utah Chapter Delegate representatives provided impactful feedback that informed and improved on House resolutions in the interest of Utah Internal Medicine specialists. If you have never had the occasion to join a UMA House of Delegates meeting, I strongly encourage you to do so. This was a pivotal meeting where interests from a wide range of specialties had a voice to influence the provision of care and the creation of policy that affects how Utah physicians' interface with our legislature and representatives.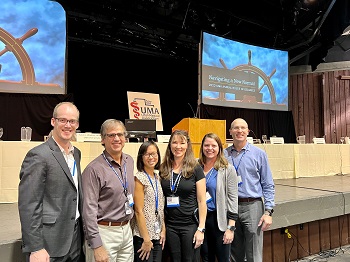 I was grateful to represent our Utah Chapter at Fall ACP Board of Governors meeting. While this event was slated to have occurred in Savannah, GA, Hurricane Ian had other plans. Alas, the work of the College was achieved via Zoom nonetheless. Key initiatives included a resolution to study amending the current requirement for paying dues for 3 consecutive years to 3 out of 4 years being current, as well as other stipulations, advocating for safety culture for reporting diagnostic errors, and recognizing gerrymandering as a public health risk. A link to resolutions will be made available shortly.
The Utah Chapter ACP Clinical Vignette Competition was held during University of Utah Internal Medicine Grand Rounds on Thursday, October 20. Under the leadership of Dr. Emily Signor, MD, FACP and University of Utah Chief Medical Resident, Dr. Ben Harris, MD, this year featured a record-breaking 24 submissions by housestaff, students, and fellows with representatives from Rocky Vista University, Noorda College of Medicine, and the University of Utah School of Medicine. The 6 finalists that presented included Brian Zenger, (Winner), Roman Kovtun, Heidi Wellenstein, Adeline Browne, Dharmikkumar Jadvani, and John Marsiglio. If you were unable to attend the grand rounds, a link to the presentations is here and a link to a pdf of all submitted cases may be found here. Mark your calendar for the Utah Chapter Poster Competition which will occur as part of or Chapter Meeting March 9, 2023.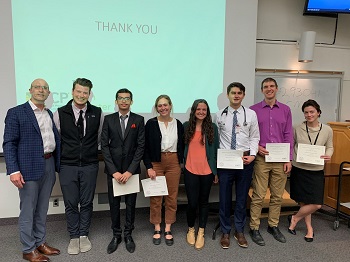 Again this year on October 4, Dr. John Inadomi, Jon M. Huntsman Presidential Chair and Chair of the University of Utah Department of Internal Medicine along with our ACP Utah Chapter Medical Student Interest group led by Dr. Katie Lappè, MD, FACP (Chair IMIG Committee) and Dr. Caroline Milne MD, FACP (HPP Committee Member) hosted an Internal Medicine Interest Group Social at the Inadomi home. It was a treat to chat with interested and engaged medical students inquisitive to learn about the breadth of experience and professional fulfillment of electing internal medicine as a career. A special thanks to Dr. Inadomi and Kristine Frassett for their graciousness and for opening their home.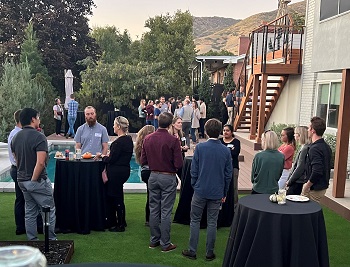 Opportunities to serve our Chapter as a member of a committee exist! We welcome Dr. Kamal Sahu, MD, Hematology & Oncology Fellow at the Huntsman Cancer Institute as Co-Chair of the Early Career Physicians committee. We are especially interested in engaging committee members from community practice outside of the Wasatch front. Will you please let us know if you would like an opportunity to collaborate in ACP Utah Chapter leadership by emailing contact@utahacp.com.
It is my privilege to share that the award of Master in the American College of Physicians was conferred upon Dr. John P. Burke, MD, MACP. Dr. Burke, a lifelong supporter of the ACP and a pioneer in antimicrobial stewardship is one of only 7 living recipients of Mastership in the Utah Chapter. You may read more about Dr. Burke's illustrious career and contributions to internal medicine at the College here.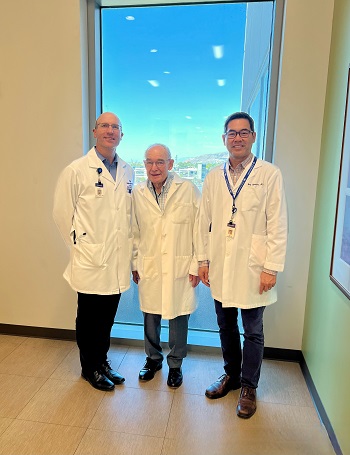 Permit me to close this newsletter with a note of gratitude acknowledging the service of Selma Lopez as our Chapter Executive Director over the last 5 years. We could not be more delighted to welcome Cami Bills as our new Executive Director of the ACP Utah Chapter. Cami is expert in executive administration, and we are so fortunate to have her. Cami may be reached at: contact@utahacp.com.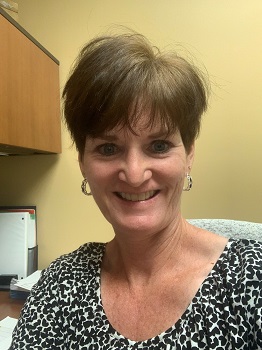 I wish you and your loved ones an active, healthy, and safe holiday season.
Sincerely,
Scott C. Woller, MD FACP FCCP
---
CHAPTER MEETING
SAVE THE DATE: 2023 Utah Chapter Annual Scientific Meeting
Early-bird registration discount is available! Register before JANUARY 15th and SAVE! Mark your calendars for the 2023 Utah Chapter Annual Scientific Meeting, March 9-10th, 2023. Details and registration will be posted on the News and Meetings Page soon.
CHAPTER AWARDS—A CALL FOR NOMINATIONS
Our Utah Chapter has so many individuals that have contributed to the advancement of our chapter and internal medicine. Please consider your colleagues that you believe are meritorious of recognition. Click here to enter a nomination. Award recipients will be announced at the Chapter Scientific Meeting. All nominations are due no later than November 18, 2022.
---
HOT TOPICS
Newly Published ACP Paper Advocates to Improve Health Support in Indigenous Communities
A new position paper published in Annals of Internal Medicine, "Supporting the Health and Well-being of Indigenous Communities: A Position Paper from the American College of Physicians" addresses the health disparities that are prevalent within Indigenous communities due to limited access to and funding for equitable health care support and services.
ACP offers recommendations for public policymakers at the federal level to strengthen the health and well-being of Indigenous populations, including increased funding, improved support for wellness promotion and chronic disease prevention, and community-based collaboration to improve the health and welfare of these communities.
New App Library Offers Diet and Weight Management Apps for Patients
ACP, the American Telemedicine Association, and ORCHA have developed a new App Library that can help you find safe and effective weight management apps to recommend to patients. All diet and weight management apps included in the library have been reviewed and meet or exceed the criteria of the Digital Health Assessment Framework (DHAF). DHAF is a comprehensive set of criteria designed to find high-quality, safe, and effective apps.
ACP members can register for free access to the app library through their ACP accounts using upgrade code ACPPRO. Registered members can also share this resource with their staff by sharing the ORCHA website and using the upgrade code.