---
---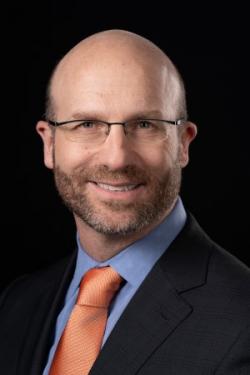 Scott C. Woller, MD, FACP, ACP Governor
---
GREETINGS FROM THE GOVERNOR
Dear ACP Utah Members:
I could not be more delighted to report that with the guidance of our Scientific Meeting Chairs, the 2022 ACP Utah Chapter meeting will now be held on May 5-6, 2022 IN PERSON at the University Guest House! Mark your calendars—it will be a delight to see you.
More information for our Utah Chapter Meeting can be found below. While as of this time there will be NO VIRTUAL attendance offered, we very much welcome seeing you in person. Should COVID-19 circumstances change this anticipated format we will let you know.
With your feedback and the leadership of our Utah Chapter is co-sponsoring Resolution 4-S22: Advocating for Ethical Business Models That Promote Safety in the Care of Vulnerable Elders. THANK YOU to each of you who provided feedback that has been shared with National. You input strengthens the process and improves the effort! Click here to read all resolutions in detail.
ACP 2022 will be held April 28-30, in Chicago at the McCormick Place and details including a link to registration is available here.
Wishing you and your loved ones an active, healthy, and wonderful spring,
Sincerely,
Scott C. Woller, MD FACP FCCP
Governor, Utah ACP Chapter
---
HEALTH AND PUBLIC POLICY
The Health and Public Policy Committee is engaged in important policy and advocacy work related to the promotion of primary care here in Utah. A while back we joined the Utah Primary Care Spend Coalition in Utah led by the Utah Academy of Family Physicians to understand current spending towards primary care in Utah and collaborate to facilitate expansion of high value primary care. Since this coalition's creation, we wanted to announce two exciting successes.
Release of a report on primary care spending in Utah by the Utah Department of Health utilizing the All-Payer Claims Database.
Legislative victory: H.B. 210 Primary Care Spending Amendments, which will create an annual report on primary care spending in Utah, passed both the House and the Senate.
These two important victories will allow for our coalition to craft future policies to support high value primary care in Utah to improve population health and create more equitable health outcomes.
If there are any questions about this project or those would be like to be more involved, please let me know.
Matt Mulligan, MD
Health and Public Policy Committee, Chair
---
CHAPTER MEETING
SAVE THE DATE!
2022 Utah Chapter Meeting – REGISTRATION OPEN
May 5-6, 2022 | Salt Lake City | University Guest House
We are pleased to announce registration is now open for the annual 2022 Utah Chapter Meeting! To learn more and register online here.
Below is a preview of the agenda…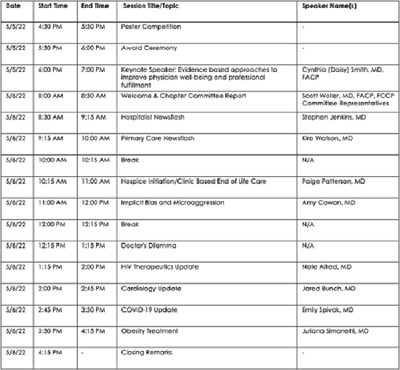 RESIDENTS/FELLOWS/MEDICAL STUDENTS
Call for Poster Submission for ACP UT Chapter Meeting 2022
We invite medical students, residents, and fellows to submit a poster for our Utah ACP Poster Competition! Your poster can detail an interesting patient case, or your research/quality improvement work related to topics in Internal Medicine. All submitted posters will be presented during our ACP Chapter Meeting May 5, 2022.
Judges will select 2 semi-finalists winners from both poster categories – Clinical and Research – who will receive a cash prize. If you are scheduled for a clinical rotation during the competition, there may be coverage available to allow you to present. The grand prize winner (selected out of the 4 semi-finalists) will present their work at ACP 2023 in San Diego, CA, and receive $600 towards travel expenses and free attendance at the meeting. You will categorize your poster among the following categories: Clinical Vignette or Research (Clinical, Basic Science or Quality Improvement/Patient Safety).
Poster submissions for the Spring 2022 meeting will be accepted from now through Friday, April 8, 2022 at midnight.
FAQs:
How do I submit an abstract or a poster?
For our Spring poster competition, please submit a Power Point file of your completed poster to contact@utahacp.com. Please note this is a poster competition, in contrast to our fall competition for written abstract submissions.
Any Utah medical student, intern (categorical Internal Medicine, preliminary or transitional year), Internal Medicine resident (also open to preliminary or transitional year interns) or fellow within an Internal Medicine specialty can submit.
What if I cannot attend the poster competition?
Every effort will be made to arrange for coverage if you have conflicting clinical duties. All finalists must be present for the poster competition.
What is expected of finalists?
Finalists will give a brief oral presentation of their posters for judges during the ACP Poster Competition on Thursday, May 5th from 4:30 – 5:30 pm.
When will I find out if I am a finalist?
You will be notified once preliminary judging is complete no later than April 18, 2022.
Can I submit my poster if it has been presented elsewhere?
You can submit work that has been (or is planned to be) presented elsewhere but presentation at ACP may jeopardize presentation before another society. Posters previously submitted to an ACP poster competition (local or national) are ineligible. Posters based upon work that has been published as a full paper are not eligible.
---
HOT TOPICS
Save the Date: Leadership Day 2022 (May 17-18)
Mandarin Oriental, Washington, DC
As we look to 2022, we are making plans for an in-person event at the Mandarin Oriental Hotel in Washington, DC on May 17-18 for Leadership Day 2022. Please mark your calendars so you can join us!
Leadership Day enables the College to increase its presence on Capitol Hill and bring our issues of concern to U.S. lawmakers. ACP members will receive two days of in-depth briefings on the College's legislative priorities and an opportunity to meet with elected officials.
Due to continued COVID-19 concerns and because the safety of our attendees is important to us, we will continue to closely monitor and adhere to CDC and local guidelines as we plan this event.
If you have questions regarding Leadership Day, please contact Shuan Tomlinson at stomlinson@acponline.org or 800-338 -2746, ext. 4547.
Annals "On Being a Doctor" Story Slam at Internal Medicine Meeting 2022
For more than two decades, Annals of Internal Medicine has published personal essays by physicians in a series called, "On Being a Doctor." Building on this popular series, Annals developed the "On Being a Doctor" Story Slam, to be held in the Marriott Marquis Chicago, Great Lakes Ballroom E-G on Wednesday April 27th from 5:30-7:30 p.m. CST during ACP Internal Medicine Meeting 2022 in Chicago. Registration is required.
To learn more and register for this unique event please do so here.