You are here
South Carolina Governor's Newsletter March 2018
South Carolina Governor's Newsletter March 2018

---
---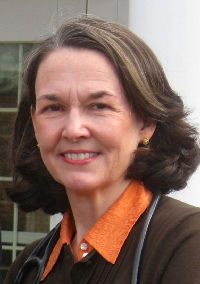 Patricia E. Sadler, MD, FACP, ACP Governor
---
South Carolina Chapter Meeting October 2017
Our thanks to our program chairs, Drs. Kim Davis and Mary Beth Poston, and our executive council for another enriching, satisfying educational meeting in Charleston that included timely presentations by our regent, Dr. Jacqueline Fincher, and our inaugural Charles S. Bryan Lecture in Humanities keynote speaker, Dr. Charles Bryan. Our state's fellows, residents, and students did another spectacular job of enlightening and educating us. Congratulations to the winners of our abstract competition listed below:
Resident/ Fellow Poster Clinical Vignette
First Place
Brett Tomashitis, MD, MUSC. Not All Patients Are Textbook: A Case of Acute Interstitial Pneumonia Presenting With Digital Clubbing
Second Place
Deepthi Vinnakota, DO, USC. Lactic Acidosis In A Unique Presentation of Diffuse Large B Cell Lymphoma With Extra Nodal Involvement
Third Place
Michael Whitlow, MD, MUSC. A Blistering Case of Rhabdomyolysis
Resident/Fellow Poster Research
First Place
Sheena Henry, MD, Greenville Hospital System. Jumping Into Diabetes Control
Second Place
Laura Roache, DO, Greenville Hospital System. Could Addiction and Opioid Abuse Intervention Have A Role During Hospital Admission: Exploring Readmissions of Drug and Alcohol
Third Place
Henry Schwartz, MD, Greenville Hospital System. Utilization of An Interdisciplinary Communication Tool As A Means To Improve Hospital Discharge Efficiency
Resident/Fellow Oral Research
First Place – Overall Winner
Ryan Dean, MD, Greenville Hospital System. Advanced Physical Exam Series for Medical Students
Second Place
Shadi Khalil MD, MUSC. Interactions Between Benign Prostatic Hyporplasia and Prostate Cancer In Large Prostates: A Retrospective Date Review
Third Place
Kizer Crum, MD, Greenville Hospital System. Assessing the Impact of Shared Decision Making On Patient Education Using Statins
Resident/Fellow Oral Clinical Vignette
First Place
Megan Tate, MD, Greenville Hospital System. A Zebra's Hoofbeats: A Clinical Report of Vipoma Presenting As Septic Shock
Second Place
Jamario Skeete, MD, USC. When A Puff of Smoke Chokes the Heart – Myocardial Infarction Complicating Moyamoya Disease
Third Place
Michael Haden, MD, USC School of Medicine. Fungal Endocarditis
Students
First Place – Overall Winner
Will Duffy, MS, MUSC. The Intussusception Deception: An Unlikely Case of Intussusception In An Adult
Second Place
Noah Smith, MS, Greenville Hospital System. Yoga As An Exercise Option for Type 2 Diabetes
Third Place
Kelly Engle, MS, USC. Intrahepatic hemorrhage In A Patient With Previously Unknown Diffuse Hepatic Artery Saccular Aneurysms
Look up South Carolina Chapter of ACP on Facebook for pictures!
Become a fan of the ACP South Carolina Chapter Facebook page!
SC Chapter of ACP Twitter Feed
Congratulations to our Chapter awardees:
Early Career Physician Award - Eric G. Meissner, MD, PhD, FACP
James McFarland Award - William P. Moran, MD, MS, FACP
SC Chapter Laureate Award – Steve P. Saunders, MD, MBBS, FACP
Mastership – Bruce W. Usher, Sr., MD, FACC, FACCP, MACP
We are grateful for your leadership, expertise, and excellence.
---
Thank You for Helping ACP Achieve Big Advocacy Wins in the Budget Agreement
In a rare stroke of bipartisanship, Congress passed a budget agreement in February 2018 that delivers on many of ACP's top advocacy priorities. This came after a brief government shutdown, the second of the year that fortunately did not result in much of a disruption. The Bipartisan Budget Act of 2018, which has since been signed into law, extends short-term government funding through March 23, and creates a multi-year framework to secure and increase funding for essential health programs, reduces administrative burdens on clinicians, and expands Medicare coverage for services provided to patients with multiple chronic diseases. But, it does even more than that! Read ACP's reaction to passage of the bill.
Key ACP Policy "Wins" in the Budget Agreement:
Extends CHIP: Reauthorizes the Children's Health Insurance Program (CHIP) for another four years, in addition to the 6-year extension already enacted by Congress; thereby, funding the program for a total of 10 years.
Allows Greater Funding for Health Programs: Increases budget caps (statutory dollar limits on how much Congress is allowed to spend) in 2018 and 2019 for both domestic spending and defense spending, with billions of dollars more being specifically directed to the Centers for Disease Control and Prevention (CDC), the National Institutes of Health (NIH), and programs to address the opioid epidemic.
Extends Key Workforce Programs: Reauthorizes for two years the National Health Service Corps (NHSC), the Teaching Health Center Graduate Medical Education (THCGME) program, and Community Health Centers (CHCs)-all of which provide valuable resources for vulnerable communities across the nation and help train the next generation of primary care physicians.
Improves Coverage for Chronic Care and Telemedicine Services: Extends the Independence at Home Medical Practice Demonstration Program, which provides a home-based primary care benefit to high-need Medicare beneficiaries with multiple chronic conditions; allows Medicare Advantage plans to offer a wider array of targeted supplemental benefits to chronically ill enrollees; expands coverage of telemedicine services by Medicare Advantage Plans and Accountable Care Organizations; and beginning in 2021, payments will be authorized to physicians furnishing telehealth consultation services in all areas of the country for the purposes of diagnosis, evaluation, or treatment of symptoms of an acute stroke, eliminating current geographic restrictions.
Reduces Administrative Burden: Eases Medicare's regulatory burdens on clinicians, removing the mandate that EHR meaningful use/Advancing Care Information standards become more stringent over time. It also makes several other important improvements in Medicare's Quality Payment Program.
These wins for internists and your patients resulted from many months of intense advocacy by ACP and our allies, and especially, the phone calls, emails, meetings and other efforts from our Advocates for Internal Medicine members like yourself! Of note, the agreement delivers on 4 of our top priorities from last year's Leadership Day on Capitol Hill: reducing Administrative Burdens: Advancing Chronic Care Management; addressing the Opioid Use Epidemic; and Supporting Funding for Essential Health programs. We couldn't have achieved so much without you.
As much as you and we accomplished in the budget agreement, ACP is disappointed that the final agreement did not ensure that Deferred Action for Childhood Arrivals (DACA) recipients (including medical student and IM resident members of ACP) would be allowed to continue their studies and employment and have a path to citizenship; the agreement contains a substantial cut to the Prevention and Public Health Fund; and no policies were included to help stabilize the insurance markets. ACP will continue to advocate for these and other priorities; we know we can continue to count on you to do your part!
---
Looking for Physicians to Support New Opioid Initiative
The American College of Physicians has partnered with the American Academy of Addiction Psychiatry (AAAP) and many others in a new Substance Abuse and Mental Health Services Administration of the U.S. Department of Health and Human Services (SAMHSA)-funded initiative to tackle the opioid crisis. We are implementing a Technical Assistance effort focused on the specific needs of states and local jurisdictions in addressing the opioid crisis in their areas. Read more information about the initiative .
ACP and AAAP are seeking to recruit physicians with at least two years' experience in prescribing medications for addictions who can serve as a Technical Assistance (TA) consultant to address opioid use disorder in their region. If selected, TA consultants would receive $100/hour for up to 10 hours a week. If you have any members who might be interested in this opportunity, we encourage you to please share the invitation letter from AAAP with them. For more information, please contact Selam Wubu.
---
Patient Education Resources for Blood Clot Awareness Month
Blood clots claim over 100,000 lives annually in the United States. Many at-risk patients often do not understand or are even aware of their risks for developing blood clots. ACP has developed FREE patient-centered education resources about Deep Venous Thrombosis (DVT) and Pulmonary Embolism (PE) blood clots, including:
A web-based tool for assessing personal blood clot risks . Patients can:
Take this quick and easy quiz at home or with their doctor
Answer simple questions to learn about risk factors and ways to reduce them
Print out a final summary of their risk for blood clots to use for patient-doctor discussion
What You Should Know About Blood Clots guidebook available in English and Spanish topics such as:
Risk Factors: What factors increase risk for blood clots
Blood Clot Symptoms: Swelling, pain, redness, trouble breathing, chest pain and rapid heart beat
Prevention: Quitting smoking, staying hydrated, and regular movement/exercise
Treatment: Blood thinners, surgery, and other procedures
Patient FACTS information sheets about DVT and PE blood clots.
Simple, streamlined, patient-tested, and easy-to-read 8 ½ x 11 tear-off sheets
Written at or below a 6th-grade reading level
Include information about DVT and PE blood clots including: symptoms, diagnosis, and treatment options
Offer relevant questions that patients can ask to help facilitate communication with their doctor
Office Poster available in English and Spanish .
16"x20" brightly colored poster that encourages patients to "Go With the Flow" and know their risks for blood clots
Instructs patients to speak to their doctor and to visit ACP's web-based tool to assess personal risk
View all of ACP's patient resources .
---
Welcome to our incoming Governor, Dr. Mary Beth Poston
Dr. Poston will be installed on April 21, 2018 in New Orleans during the IM 2018 meeting. We look forward to her leadership and expertise that she has showcased to this chapter as the Chair of our Abstracts Committee. We thank her in advance for continued guidance to keep our chapter moving forward to educate our membership and to advocate for our physicians and patients.
It has been my privilege to serve as governor for the past four years. My esteem for this membership and for the members representing us at the national level is incalculable.