You are here
Chapter News
Chapter News
RI ACP Chapter has an Anti-Racism Statement
(August 2021) Thanks to Drs. Vidya Gopinath and Sarah Freeman, RI ACP Chapter has an Anti-Racism Statement which is below. We don't want this to be words only. We want this statement and the commitments within to motivate us to be a better and more diverse chapter. We commit to assessing our success toward meeting these goals at the Governor's Council Meetings.
RI ACP stands with national ACP in our commitment to anti-racism. As an organization of nearly 1000 physicians members, we commit to addressing racial disparities in health care both nationally and in Rhode Island. Hispanic Rhode Islanders are five times more likely to be uninsured (24%) compared to their white counterparts (5%). Black RI residents are twice as likely to be uninsured (9%) compared to the white population, but over 20% do not have a physician. In the state of RI, there have been 19,000 covid cases per 100,000 Hispanic individuals compared to 12,800 cases among Black individuals and 7,800 among white individuals. We recognize there is no biologic basis for these differences but rather these outcomes are due to systemic racism and bias in the access to and delivery of health care.
We apologize for our lack of attention and failure to address systemic racism. Within our organization, we recognize that we must prioritize diversity among leadership and membership in RI ACP.
RI Chapter of ACP is committed to enacting change to become an anti-racist organization with the following actions:
We will work to achieve greater diversity in membership as well as increase involvement of Black, Indigenous, and People of Color (BIPOC) in all leadership roles in the RI chapter.
We will increase involvement with Warren Alpert Medical School to support advancement of BIPOC medical students and help facilitate diverse participation with ACP at both the local and national level.
We will advocate for legislation that supports health equity and access to care. We will strengthen our partnerships with other local medical organizations to support a cohesive anti-racist policy agenda.
---
New Fellows
(July 2021) Congratulations to the following members who have advanced to ACP Fellowship:
July
Kyla A Dewar, MD FACP
March
Joanne Pauline Szczygiel Cunha, MD FACP
---
Rhode Island Chapter Delivers Food to Residents and Hospitalists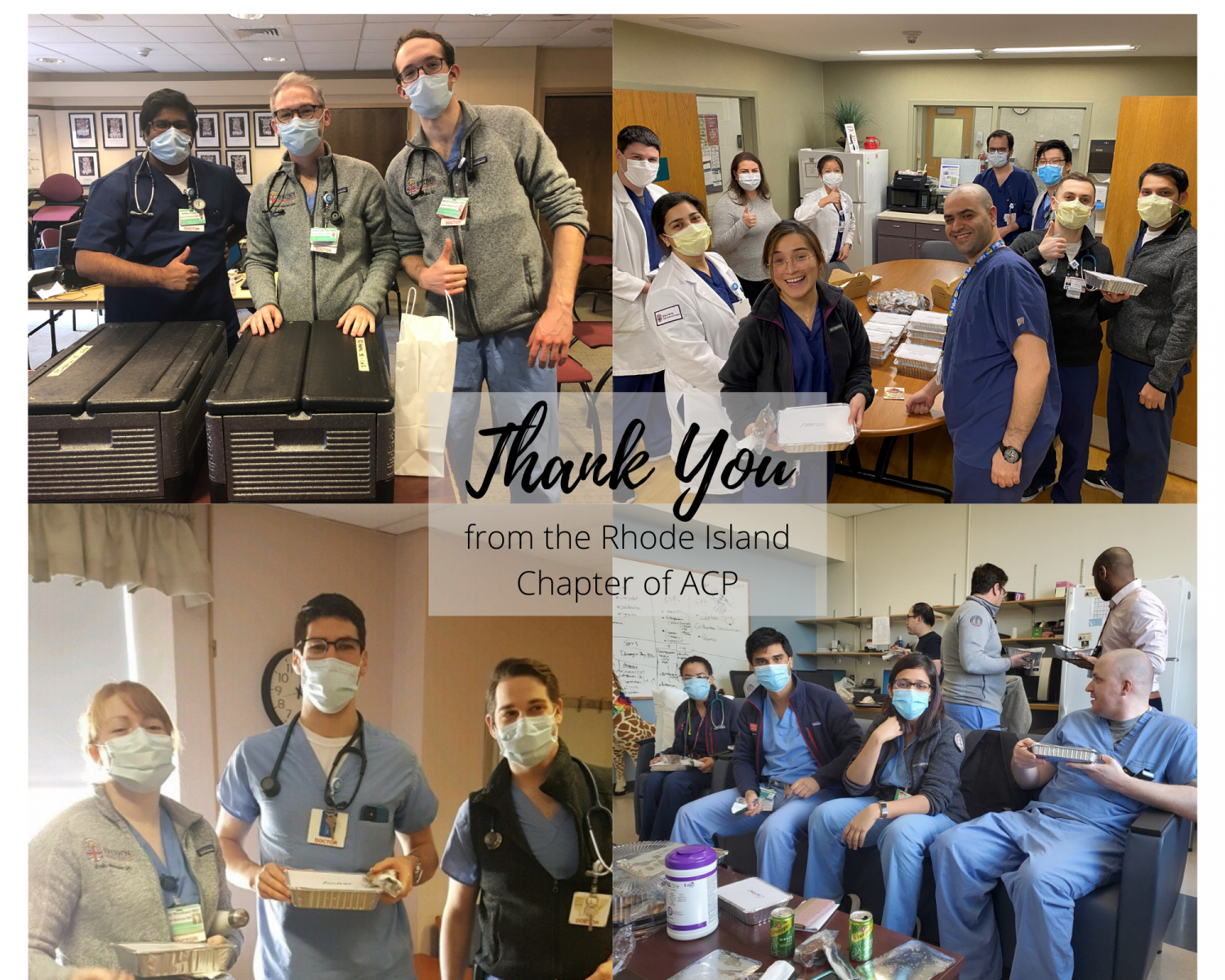 Dear Chapter Members:
(Spring 2021) Dr. Kelly McGarry, our Chapter Governor, shared the following:
We are in a new world and new words have entered our vocabulary, like "social distancing," "quarantine," and "isolation." Not words that make us feel more connected, but a necessary part of our current existence.
I am sure I speak for many when I acknowledge a multitude of feelings - sadness, anxiety, anger, loneliness and fear. Over the past few weeks watching so many rise to this crisis and chaos, have experienced so many other feelings to offset the negative - heroism, sacrifice, pride, warmth, and human kindness. I hope we can remember the acts of kindness and caring we have all witnessed and to bring those feelings out and share them with others as coronavirus fades (I certainly hope that is soon).
Thanks to all for all you are doing to care for your patients during this unique time in history. I want those in our community whose lives have been personally affected by coronavirus to know that our hearts go out to you and your loved ones. In some hospitals, the bulk of the care of COVID-19 patients is currently being provided by our pulmonary/critical care colleagues and hospitalists. I want to give them a special shout out of thanks for all of the hard work they are doing.
The Chapter wanted to show thanks to all the residents and hospitalists on the front lines across the state, including the Miriam Hospital, Kent County Hospital, RI Hospital, the Roger Williams Medical Center and the Veterans Hospital, by donating dinner to them last week.
Remember, the ACP is here to make a difference for all RI physicians and I welcome input and ideas from individuals even during this crisis. Please see below for helpful links.
Thanks again for all you are doing and please stay safe. Please remember to take care of yourselves.
---
Welcome to our new HPPC Co-Chairs and Resident Council and IMIG Leaders
(February 2021) We are grateful to the following members of our Chapter for stepping forward into leadership roles.
HPPC Co-Chairs
Drs. Kenneth K. Chen, MD, FACP (Division Director of Obstetric & Consultative Medicine, Women & Infants Hospital, Assistant Professor of Medicine, Warren Alpert Medical School), Julio Defillo-Draiby, MD (Director of Clinical Programs, Lead Geriatrician for the Acute Care of Older Adults, Kent Hospital, Assistant Professor of Medicine, Warren Alpert Medical School), and Jonathan Leviss, MD, FACP, FAMIA (Physician Site Lead—Prairie Ave. Center Providence Community Health Centers, Clinical Asst. Professor of Medicine, Brown University) as our new and very enthusiastic co-chairs of our Health and Public Policy Committee. They have met together, exchanged ideas, and are hoping to hold an HPPC meeting for current committee members and anyone else wishing to join. If anyone has any ideas they wish to share with them at Ken Chen , Julio Defillo , or Jonathan Leviss .
Resident Council Leaders
Kashyap Cherala (Lifespan/RIH/TMH), Dany Debs (Roger Williams) and Christelle Nzugang (Kent County)
Internal Medicine Interest Group (IMIG) Leaders
Jane Chen, James Heinl, Kanika Malani and Aneeqah Naeem