---
---
Heather C. Brislen, MD, FACP, ACP Governor
---
Governor's Welcome
Welcome to the dog days of summer, New Mexico ACP!
As I write this, it seems like we will be getting some reprieve from the record-setting heat and maybe even rain in the coming days. For our newest resident members, many of whom have just arrived in New Mexico for the very first time, welcome to the high desert and our wacky weather!
It feels wonderful to continue our trend towards more normal life as COVID cases continue to fall. Even though we had incredible success getting vaccinations out early, let's not forget that getting the remaining New Mexicans vaccinated is an important and ongoing effort – and a high hurdle. We continue to see evidence that physician counseling is likely the most powerful tool in fighting vaccine information, and I hope that NMACP can help empower each of you to embrace that role and help us vaccinate "the long tail." The NM DOH and HSD are still working tirelessly – here are several of their resources (I think the first link is ESPECIALLY useful.)
COVID-19 New Mexico
Vaccination Calendar: https://vaccinenm.org/public-calendar.html
Vaccine Registration: https://cvvaccine.nmhealth.org/
Testing: https://www.togethernm.org/
Opportunities in the NMACP chapter:
The NMACP chapter needs your energy too! We will be electing new councilors to the NMACP council at the annual meeting in November, and holding elections for council President, Treasurer and Secretary. If you are interested in increasing your involvement in ACP, have questions about serving or would like to nominate someone, please be in touch!
Always and in general, please don't hesitate to reach out if you have questions or ideas for the chapter. I am eager to hear from you, at: brislen@gmail.com The NMACP chapter website also has links to upcoming programs, resources, and other contact info you may find helpful.
---
Chapter News:
Education Committee – Dr Eva Angeli, chair
Our new streamlined annual meeting is coming soon!
Nov 5-6 2021 will be our annual chapter meeting from 11:00am to 5:00pm.
All of the CME content will be on Friday Nov 5 via zoom, and will featuring enduring favorites: Inpatient & Outpatient Medicine Update, Dr. Scrase's Thieves' Market and a state health policy update. We also have a fabulous keynote lined up – Dr. Doug DeLong speaking on The Medical Consequences of Climate Change. On Saturday, the poster session, vignettes, and social events will be (hopefully, fingers crossed) in person. Stay tuned for details!
We've also launched a collaborative project with our neighbors to the north. The first inter-chapter Journal Club was hosted by the Colorado ACP in June, and it was a great success. Three articles were analyzed in a dynamic and high- quality 30-minute Zoom session. Regular journal club sessions are planned and announcements will be forthcoming – stay tuned!
*The Education Committee is soliciting suggestions for additional educational content to be offered throughout the year. Contact angeli.eva@gmail.com with any ideas for speakers and topics.
Health and Public Policy Committee - Amanda L. Collar, MD-PhD Candidate, Chair
The New Mexico ACP had a dream-team of participation at virtual Leadership Day 2021 (May 25-26th). We had the pleasure of meeting with staff from Representatives Yvette Herrell and Teresa Leger Fernandez and Senators Martin Heinrich and Ben Lujan's offices. The NMACP was able to have really productive and wide-ranging conversations with all offices about expanding telehealth and broadband access, lowering prescription drug prices, supporting trainees and GME through loan deferment and increasing residency slots to address physician shortages, and social justice (including extreme risk protections.) We were able to directly thank members for supporting the COVID-19 Hate Crimes Act, Equality Act, Bipartisan Background Checks Act, and George Floyd Justice in Policy Act.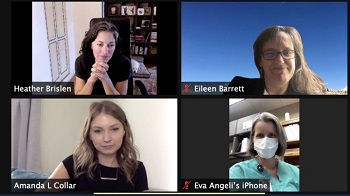 caption: Your NMACP Leadership Day 2021 delegation: Drs. Brislen, Barrett and Angeli, and Ms. Collar, HPPC Chair. (Mable the dog did not participate.)
Additionally, two NMACP members were recognized nationally at Leadership Day 2021 for their contributions and commitment to health policy. Dr. Heather Brislen was awarded the 2020 Richard Neubauer Advocate for Internal Medicine Award and Dr. Eileen Barrett was awarded the 2021 ACP Services PAC Distinguished Service Award.
If you are interested in learning more about advocacy within the ACP and current health policy issues, I recommend reading The ACP Advocate Blog, written by Bob Doherty (Senior Vice President of Governmental Affairs and Public Policy, ACP).
Additionally, if during your day of seeing patients, you've found something you wish was different (haven't we all?), you might have a great topic for an ACP resolution. ACP resolutions are a meaningful way to effect change for our practice and patients, alike. If you'd like to submit, or need help writing, a resolution for the Spring 2022 Board of Governor's meeting, please contact Amanda Collar collaral@salud.unm.edu .
Wellness Committee – Dr Liz Lawrence, chair
Here are two infographics - Strategies to address zoom fatigue and e-mail overwhelm. Thanks to UNM HSC Communications, for graphics and Dr. Diane Sliwka from UCSF for 50-minute meeting content. Stay well!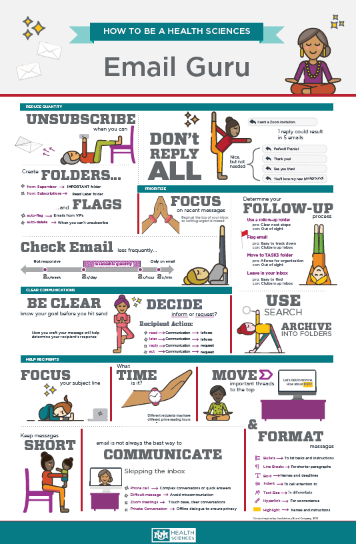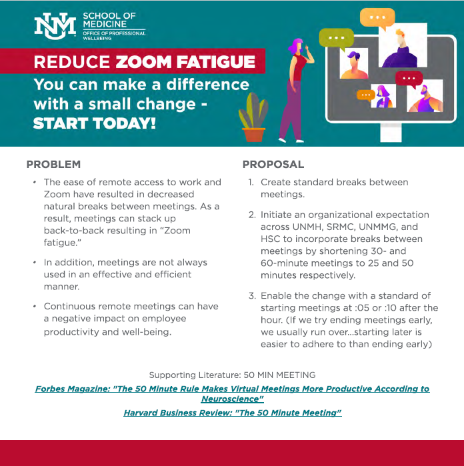 ---
The 2021 NMACP Virtual Meeting Registration is OPEN!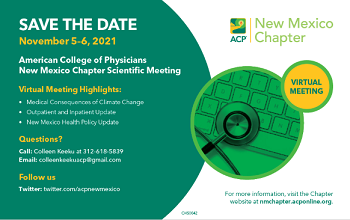 Register HERE
THE 2020 Virtual Meeting is still available!
And, because of the magic of our newly digitized lives, all of that content – and CME and MOC – is still available, including 5 hours of required Pain-related CME that meets the NMMB requirement.
The content and CME/MOC can be accessed via the Meeting Hub.
---
Join your Colorado Colleagues for a ACP Journal Club!
The virtual ACP journal club will be held on July 13th from 5:30 - 6:00 pm. Papers for discussion to follow along with the links to the papers.
We look forward to a wonderful kick-off meeting and discussion! Look for the link and articles in your email!
---
Do you know a New Mexico ACP member deserving of recognition?
Laureate Award
Community Service & Volunteerism Award
Excellence in Teaching Award
Community Mentorship Award
Early Career Physician Leadership Award
Outstanding Student and Outstanding Resident or Fellow Award
I'm so proud of this community, and we all know a colleague that deserves special recognition for outstanding work. Don't forget that you can nominate your colleagues for an NMACP award – Nomination deadline is July 31. You may submit a nomination by emailing brislen@gmail.com the name of the person you are nominating and a short statement about them (even just 2-3 sentences is great.) We want to recognize and celebrate all that you do!

Awards are presented at the annual meeting in November, and past awardees are listed here.