2023 Doctor's Dilemma Recap
(February 2023) We were once again impressed with our Doctor's Dilemma® contest held at our Chapter meeting over the weekend. We had 11 teams - 6 heats with over 250 questions answered in the process, 15 judges this year, and several hardworking Chief Residents and Students who were able to adapt to our situation effortlessly.
We are pleased to note that Johns Hopkins Broadway was our first place winner (Drs. Ayotola Fatola, Abhi Gami, Michael Rose, and Olive Tang). Our finalists included Sinai Hospital (2nd place) with Drs. Rishabh Bansal, Paul Dy, Rao Hashim, Devvrat Yadav (Alt. Nymisha Boddeti, and Ayesha Zahid, and in 3rd place for Johns Hopkins Bayview were Drs. Sunwoo Park, Anna Shah, Daniel Thomas and Meiyappan (Karthik) Udayappan. Congratulations to all of the teams that participated in this year's contest including an all-PGY-1 team from our state's newest residency program at TidalHealth Peninsula! It was a joy to witness the incredible knowledge, but just as much joy to watch the camaraderie and sportsmanship of all who were part of the activity. We are delighted to have the strong support of all of our programs in this contest.
Thanks to the following:
The Judges and Moderators who spent their Saturday afternoon ensuring that the contest was run in an above-board and fair fashion.
CRAB members, co-chairs and some amazing students who manned the buzzers, kept score and made sure that the grid for the contest all went smoothly.
Our IronMed chief residents from Walter Reed who spent much time to make the questions both informative and interesting!
Kudos to Ironmed Winners:
This year, our IronMed Competition ended in a tie with Drs. Laxman Wagle (St. Agnes Ascensio) and Meiyappan (Karthik) Udayappan (Johns Hopkins/Bayview).
FINALLY and most importantly:
Big thanks to Dr. Janaki Deepak who back in October begins the process of developing questions and making sure that the meeting is run perfectly – we could not do this without her! It is a bear to organize, as you can imagine, and Janaki does so with skill and love. Dr. Hameem Kawsar was also key in ensuring questions were of the highest quality, and indeed they were.
So, it takes a village to run Doctor's Dilemma, but thank goodness we have the greatest of all villages to work with here in our Maryland ACP chapter!
Photos from this event are shown below. We look forward to seeing everyone in 2024!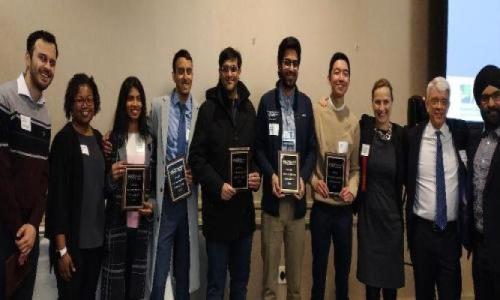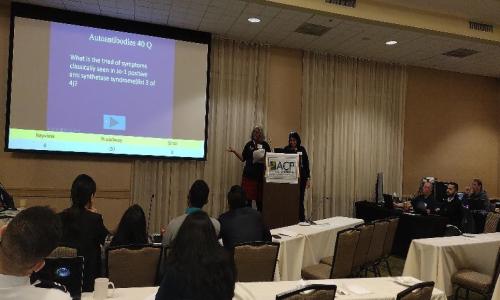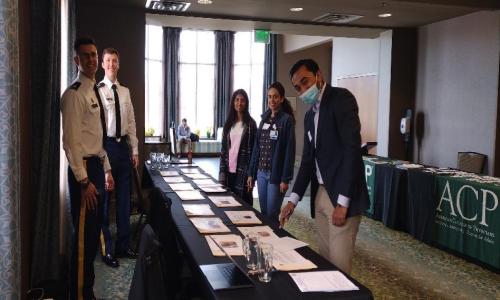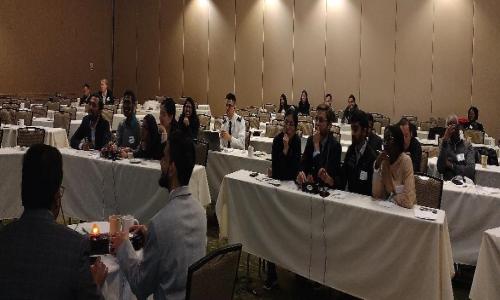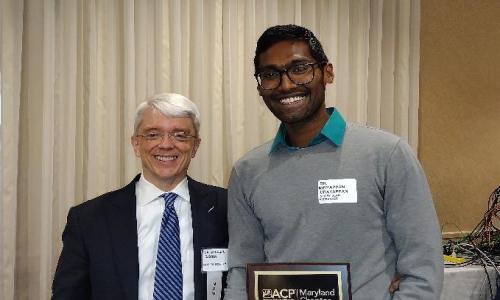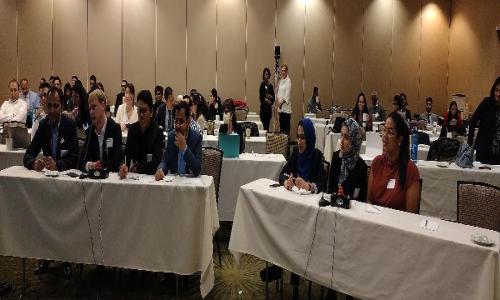 Nuts & Bolts of Poster/Abstract Writing Workshop Recap
(February 2023) We had a very informative and well implemented Nuts & Bolts of Poster/Abstract Writing workshop. Thanks to all of our presenters who gave of their valuable time to allow us to present this informative workshop. It was amazing!
The recorded presentation can be viewed at https://www.youtube.com/watch?v=mMyr8pYZ8X0.
Looking forward to seeing all of this good information put to use with our Williams Student Workshop on February 18th at Midtown Towers and the Mulholland Mohler Residents meeting on May 11th at St. Agnes Hospital. Meeting information and registration can be found on the chapter website.
CRAB Advisory Group
Mary Bieter All Star Awards Voting Open
(December 2022) For the past 30 years, ACP has celebrated chapter-led programming through an annual awards program known as the John Tooker Evergreen Awards. This year we are celebrating the 30th year anniversary of this program through a special recognition program. The Mary Bieter Evergreen All-Stars Award program recognizes exceptional and sustained chapter-initiated programs that has supporting and adapted to the Internal Medicine landscape in the United States and around the world.
The goals of this program are to:
Celebrate chapter-initiated programs that align with ACP's priority themes;
Increase prominence of chapter programs by granting ACP's 161,000 membership base autonomy to select All-Star winners
Our chapter recently submitted "New Skills for Navigating the Virtual Interview Season" and we need your help. For the first time in 30 years, ACP's 161,000 membership will be asked to vote on the All-Star nominations they believe are the best. If you're a Chapter  member, you have 3 votes. Review the nominations at acponline.org/allstars and vote today! Voting ends January 31, 2023.
---
(November 2022) A summary of Board of Regents (BOR) actions on resolutions debated at the Fall 2022 Board of Governors (BOG) meeting is now available. Resolutions initiated by ACP members and endorsed by a chapter council and the BOG become ACP policy when adopted by the BOR.
If you have an idea you'd like to suggest to ACP, consider submitting a resolution to your Governor or local ACP chapter. Visit your ACP chapter website for more information on how to contact your Governor or chapter staff about proposing a resolution.
---
Chapter Members Elected to ACP Fellowship
(November 2022) We would like to congratulate our chapter members on election to Fellow of the American College of Physicians. The distinction recognizes achievements in internal medicine.
Alicia I. Arbaje, MD, FACP
Rahul Bhoite MBBS, FACP
Serena M. Ogunwole, MD, FACP
Fellowship is elected upon the recommendation of peers and the review of ACP's Credentials Subcommittee. They may now use the letters "FACP" after their name in recognition of this honor. Please join me in congratulations!
Chapter Excellence Award – Silver Winner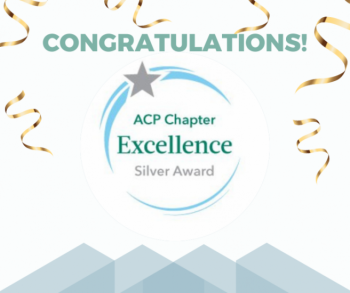 (September 2022) I am pleased to announce that our chapter is in receipt of the Silver Level of the 2022 Chapter Excellence Award! Only 14 chapters received the Silver Award. The award recognizes chapters that achieve excellence in chapter management. In order to achieve the Chapter Excellence Award, chapters must meet twenty Bronze criteria and seventeen Silver criteria. Criteria include such activities as undertaking efforts to increase advocacy efforts, collaborating with stakeholders to increase visibility of the ACP, holding competitions for members, providing chapter financial reports to members, having Medical Student and Resident/Fellow members on the Governor's Advisory council, retaining transitional and unpaid members, giving awards to chapter members. I would like to extend a special thanks to those chapter members who assisted us in all of these endeavors! For their hard work and dedication, we received this award.
---
Wellness/Potluck/Holiday Event Recap
Another Rewarding and Wonderful CRAB/Student Event - Be Sure to Use Some of These Wellness Tips!
Our Chapter hosted a Wellness/Potluck/Holiday party at St. Agnes Hospital on December 1. We not only presented stories about other cultures and their holiday traditions, but we gave our attendees some good insights into how to use wellness as an engagement tool for our patients, co-workers, and hospital staff.
Below are a few pictures from this party. Thanks to the CRAB co-chairs who were instrumental in arranging this event with lots of good food and interesting company.
Here are some ways that our residents and students incorporate wellness into their daily activities:
Giving myself flowers
Sharing some happy moments with my friends and family and spending quality time traveling with them
Yoga in my apartment and workouts in the gym
Dinner party with friends
Allowing myself some "free" time between work and home
Being a content creator for YouTube
Cooking
Walking in my neighborhood
Playing volleyball, soccer, hiking, running
Please consider adding some of these activities to your daily routines as they are interesting ways to make yourself "feel better."
MD ACP CRAB Advisory Group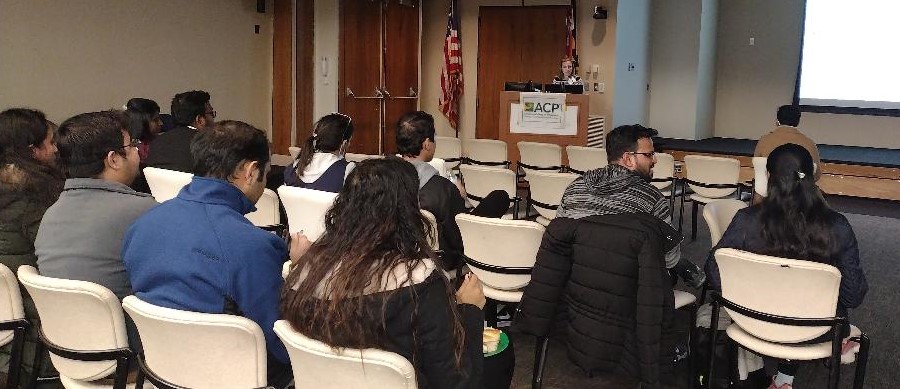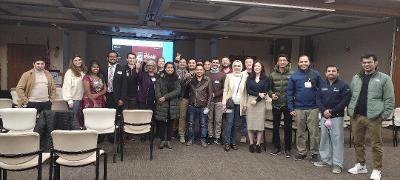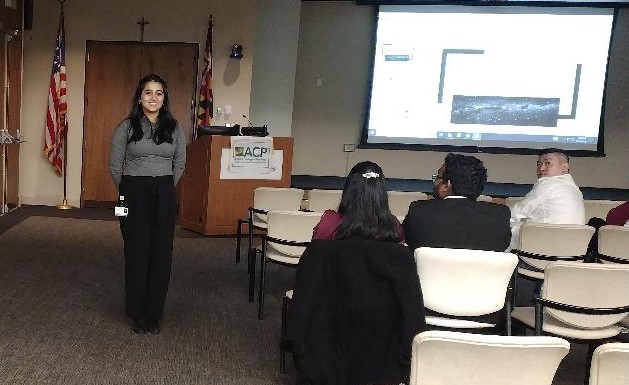 ---
Financial Wellness Workshop
Our Chapter and the Society of Hospital Medicine held a very informative and lively workshop presented by Dr. Stanley Liu, Assistant Professor of Medicine at UMSOM.
Dr. Liu has taken on the role of helping our students, residents and Faculty with issues that involve our Financial Wellness, a subject that is not always taught during medical training, but is so very important to all of us as we journey through our medical careers.
The session was very well attended and many thought-provoking questions were asked of Dr. Liu. We thank him for providing our attendees with some very down to earth and much needed information.
The presentation was recorded and can be found on our YouTube page.  Be sure to share this with everyone and take the opportunity to view it yourself.
Below are a few pictures from this event.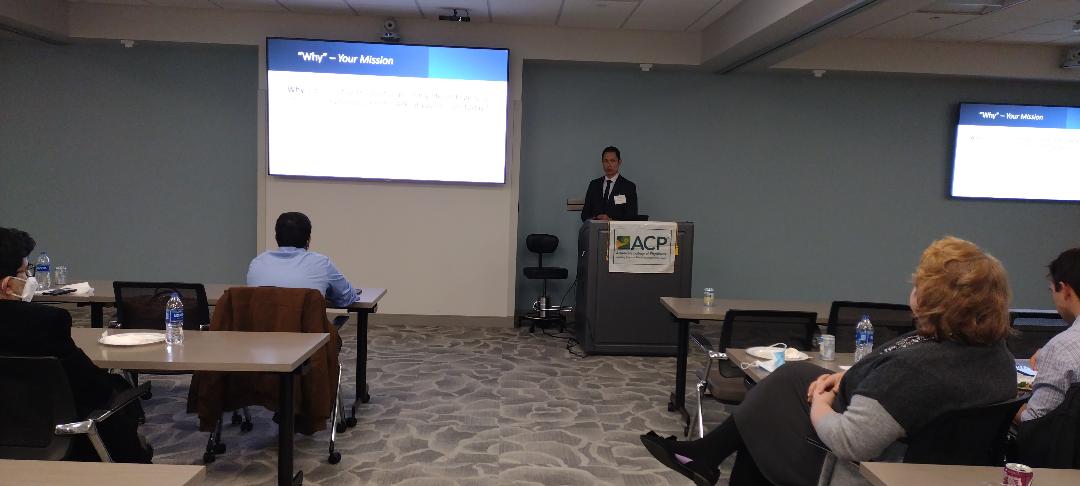 Colleen Christmas, MD, FACP
Governor, ACP Maryland Chapter
---
2022 Resident Soccer Tournament Recap
(October 2022) The Chapter once again hosted a very enjoyable and fast-paced soccer tournament.  There were 6 teams this year and one group – MHIM - included 22 residents joining the tournament.  As you can see from the pictures, there was a very large contingent of residents - over 80! How incredible is that?!
But, of course when the soccer balls were finally at a standstill, we did have a winner and second place for this tournament.  Congrats to the first-place winners, University of Maryland/VA, who had to fight through the "loser's bracket" to become our 2022 winners.  Congrats also to St. Agnes Hospital as our second-place winners.  As usual, the SAH residents came ready to play and win.
Thanks to all of the programs who participated and helped make this such a fun and successful event - UMMC/VA, UMMC/Midtown, GBMC, St. Agnes, Sinai and MHIM. 
This event is now into its eighth season and seems to grow each year. We really appreciate all of our programs and CRAB members who supported this amazing event!
Kudos to all!
Colleen Christmas, MD, FACP
Governor, ACP Maryland Chapter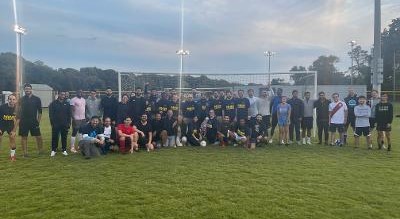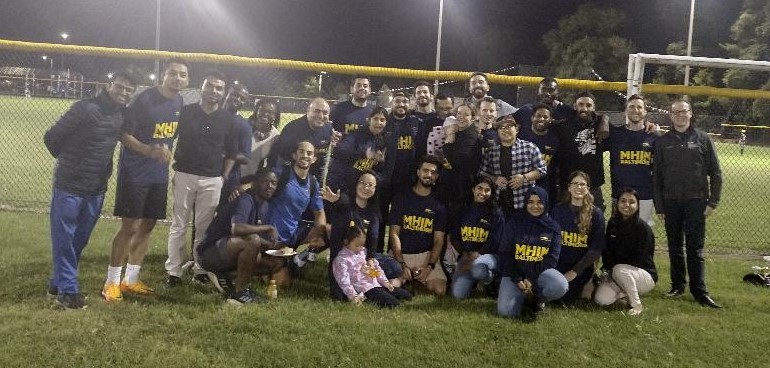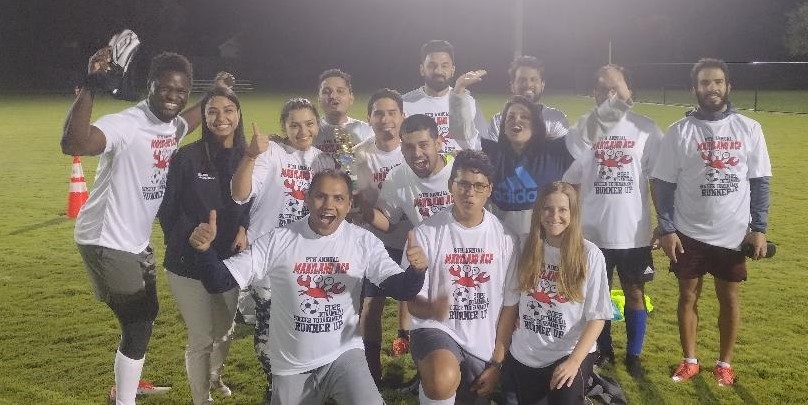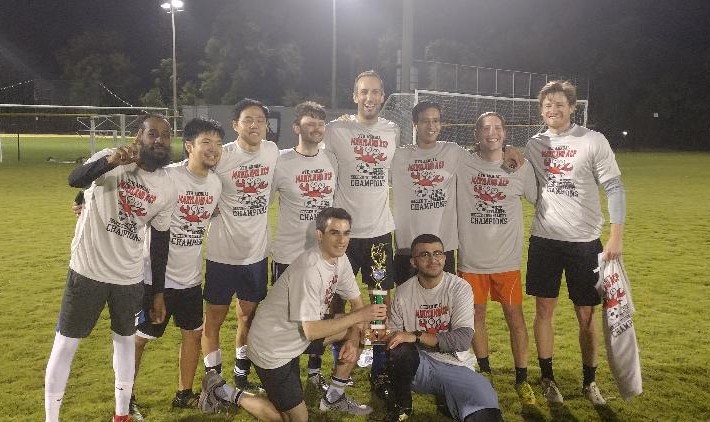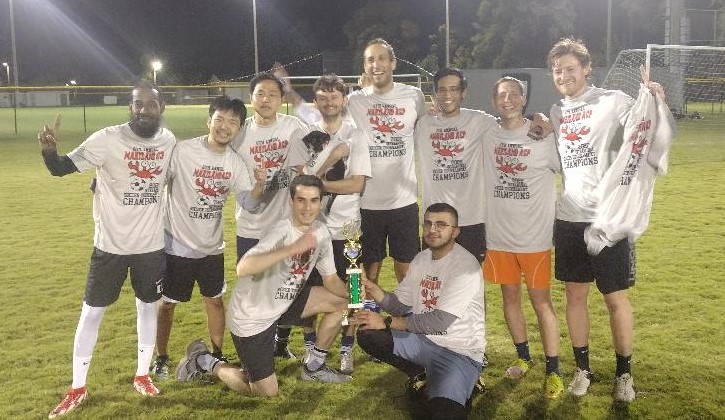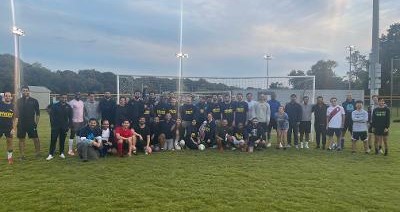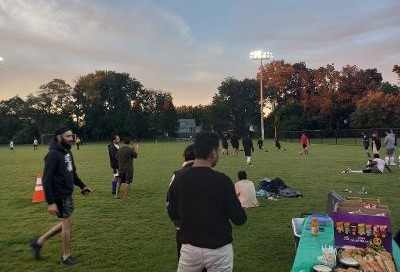 ---
Navigating the Residency Interview Recap
(August 2022) The Chapter workshop on "Navigating the Residency Interview" was once again very informative and engaging.  We had over 80 students join and stimulate great discussion. The presentation struck a really nice balance between talking about what all programs will be looking for and also giving a flavor of how they are also different. We think the attendees took away important parts of these presentations to help them on their journeys. 
Kudos to our ECP co-chair, Dr. Sam Kant, for once again arranging such an informative session.  Thanks to Dr. Janaki Deepak, our moderator, who also ably handled the chat room so that all of the questions asked were answered.  Special thanks to our presenters – Dr. Dobbin Chow, PD at UM/Midtown Campus; Dr. Sapa Kuehl, PD at Ascension St. Agnes Medical Center, and Dr. Natash Chida, PD, Osler Medical Residency at JHUSOM.
Please view the link to this year's Student Interview and our YouTube link which contains many different workshops that might be of interest to you!
---
New Advocacy Resources Available to ACP Members and Chapters
(August 2022) We would like to make you aware of two new advocacy resources available to ACP members and chapters.
Understanding Advocacy and Why We Do It - A Comprehensive Toolkit for Chapters
ACP has created an advocacy best practices toolkit to support engagement in and the efficacy of chapter-level advocacy at the state and federal level. This comprehensive toolkit breaks down the different methods and mediums for advocacy engagement and highlights all the programs and resources offered by ACP to make the most of chapters' advocacy efforts. This toolkit is only accessible to ACP members. 
Reproductive Health Toolkit Now Updated
ACP's toolkit for chapters to utilize in navigating issues surrounding abortion rights and related policies in their states following the overturning of Roe v. Wade has been updated. The toolkit now includes sample letters that chapters can use to advocate with state officials and information on recent federal activity. 
For questions regarding these toolkits, please submit all requests through this questionnaire to ensure we can track inquiries and respond in the most timely and efficient manner." 
Are you a member of the Advocates for Internal Medicine Network (AIMn)? Learn more here.