---
---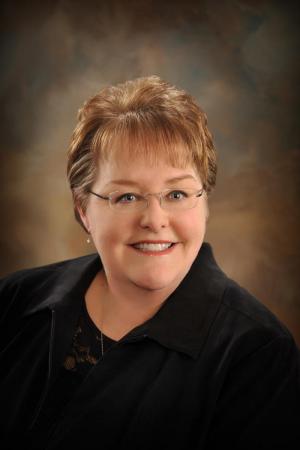 Stacy C Zimmerman, MD, FACP, FAAP, ACP Governor
---
Governor's Message
"Mentoring is a brain to pick, an ear to listen, and a push in the right direction." John Crosby
Greetings,
Spring is around the corner, and the pandemic subsides as my term as governor rolls into the last year. I will pass the torch to our esteemed Governor-Elect, Dr. Keyur Vyas, in 2023, whose talents will undoubtedly take our ACP Chapter in many new directions!
Serving as your Governor for the past four years has been an honor and highlight of my career. It took much resilience and persistence to develop virtual options amid the challenges of a raging COVID pandemic! The necessity of a medical community and mentorship was my most important lesson. Isolation is not a trait becoming of the physician. In short, physicians are not wired to be solitary creatures but instead beings of collaboration and community. The COVID pandemic created an unnatural environment and challenge for the physician. It forced us into closed spaces creating barriers of frustration for our patients. We learned patient care fell short in an absolute virtual environment. Lifelong learning became a system of virtual processes devoid of spontaneous collegial interaction. During this period, I realized the importance of ACP as a medical community. I am also impressed with how ACPonline.org has adopted these change ideas into its website. I encourage you to browse through the learning and CME modules on ACPonline.org. I'm sure you will notice the changes too!
I hope to see many of you in Chicago for our ACP Internal Medicine Annual Meeting on April 28th-30th! May your work-life balance fulfill your mental wellness. Stay safe and healthy!
-Stacy Zimmerman, MD, FACP, FAAP
---
Save the Date! ACP Arkansas Chapter Meeting 2022
We are excited to announce we will be meeting in-person on October 14th at the Double Tree in Little Rock. More information coming soon!
---
I-Raise the Rates March Newsletter
The March issue includes Opportunity to Participate in ACP Quality Improvement Initiative to Increase Adult Influenza Immunization Rates, Resources to Increase Adult Immunizations, and Article on Social Media Behavior Informing How to Increase Vaccine Rates.
---
New Advocacy Toolkit
ACP has developed a new state Advocacy Toolkit Addressing the Rising Workforce Violence Against Physicians and Health Care Workers to enable chapters to advocate with state officials to enhance state laws to protect physicians and all health care workers from workplace violence.
---
Black Women Physicians Virtual Wellness Summit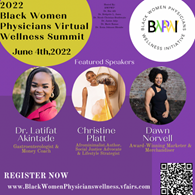 Registration is now open for the Black Women Physicians Virtual Wellness Summit on Saturday, June 4 from 10:00 am until 4:00 pm ET. Help champion wellness in Black Women Physicians across all medical specialties. The Black Women Physicians Virtual Wellness Summit is a place for networking, fostering leadership, providing career advancement, stimulating scholarly activity, creatine pipelines, and celebrating wellness. Please see the flyer for the Black Women Physicians Virtual Wellness Summit with featured speakers and link/QR code to register. This is a free virtual conference.
Grant support provided by Women's Wellness through Equity and Leadership and the Physicians Foundation.
---
CDC/IDSA COVID-19 Clinician Call this Saturday, April 9 (3:00-4:15 PM Eastern Time)
The CDC and IDSA will be holding a COVID-19 Clinician Call this Saturday, April 9 entitled, "All About Paxlovid; Plus Update on Variants." The call will feature experts from FDA, ASPR, CDC and IDSA who will provide practical prescribing information and advice for clinicians about Paxlovid and drug-drug-interactions. It also will include an update on the BA.2 variant from CDC. Please visit their website for additional information and to register .
About the COVID-19 Clinician Calls: CDC and IDSA have been holding COVID-19 Clinician Calls on Saturdays since the start of the pandemic. Delivered via Zoom webinar, the calls are intended for clinicians on the front lines caring for patients with COVID-19. We are routinely drawing 800-1,000 attendees per call from a variety of backgrounds including specialists in infectious diseases, pulmonary/critical care, emergency medicine, internal medicine/primary care, pediatrics, oncology, and others. The calls are recorded and available for later viewing on the IDSAwebsite.
---
Support ACP Members Running for AMA Council Positions
ACP is proud to sponsor and support Dr. Doug DeLong's candidacy for AMA's Senior Physician Section (SPS) Governing council. A past Chair of ACP's Board of Regents, he's been a strong advocate for physicians at ACP and we believe he would be an asset to the AMA's SPS Governing Council. If you are an AMA member 65+, please check your inbox for an email with the subject line: Elect your AMA SPS Governing Council members today. If you did not receive a ballot and are eligible to vote, you can request one at this link. Voting ends April 22.
In addition, ACP proudly supports Dr. Parag Mehta, Governor of ACP's New York Brooklyn/Queens/Staten Island Chapter in his candidacy for AMA's International Medical Graduates Section (IMGS) Governing Council. Dr. Mehta has been a fierce advocate for IMGs throughout his career. If you are an IMG AMA member, check your inbox for an email with the subject line: AMA-IMGS Governing Council members today! If you did not receive a ballot and are eligible to vote, you can request one at this link. Voting ends April 23.
We encourage you to share with your chapter members and personal networks and thank you in advance for your support.