You are here
Chapter News
Chapter News
Potential ACP Governor-elect Candidates
Nominations Due by April 14, 2022
(March 2022) As you know, the ACP national office is conducting a Governor-elect election for our chapter this year. The Local Nominations Committees will be responsible for identifying up to two candidates who are willing and able to serve a four-year term (April 2024 - April 2028), in addition to a year of training as Governor-elect (April 2023 - April 2024).
We are looking for a dynamic leader who exhibits integrity, shows commitment to the College and demonstrates dedication to the Chapter and the medical community. The successful candidate will work with Chapter members and with leaders in internal medicine at the national level. A Governor typically spends several hours per week on College Business with the support of executive administrative staff. Serving as an ACP Governor can be an extremely rewarding and life changing experience.
Click here to view the Governor Job Responsibilities.
Only ACP MACPs and FACPs are eligible for consideration. If you would like to submit the name of a colleague or self-nominate, contact Chapter Staff.
All potential candidate information must be submitted by Wednesday April 14, 2022.
---
BOR Action on Fall '21 BOG Resolutions
(December 2021) A summary of Board of Regents (BOR) actions on resolutions debated at the Fall 2021 Board of Governors (BOG) virtual meeting is now available. Resolutions initiated by ACP members and endorsed by a chapter council and the BOG become ACP policy when adopted by the BOR.
If you have an idea you'd like to suggest to ACP, consider submitting a resolution to our chapter.
---
Congratulations to Dr. Guillermo L. Acuña on Mastership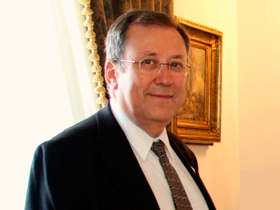 (October 2021) Con mucha alegria les comparto que nuestro querido Dr. Guillermo Acuña ha recibido la categoria de Mastership of the American College of Physicinas (MACP).
Ser denominado MACP es uno de los mas altos honores que otorga el College, a aquellos Fellows que demuestran integridad, profesionalismo y excelencia en la practica medica con impacto en colegas y estudiantes.
El Dr. Acuña internista e infectólogo, fue el gobernador del capitulo entre 2004 -2008 y cumple sin dudas esas características; ha sido un ejemplo para muchos, un gran colaborador en el College y en especial en nuestro capitulo.
Es un muy merecido honor que enaltece a nuestro capitulo.
Felicitaciones Dr. Acuña!!!
New Fellows
(July 2021) Congratulations to the following members who have advanced to ACP Fellowship in the past six months:
Andres Aizman, MD FACP
Marcelo C Llancaqueo Valeri Sr, MD FACP
Victoria Novik Assael, MD FACP
Ivan Perez Hernandez, MD FACP
Andres Soto, MD FACP
Omar Valenzuela, MD FACP