You are here
News & Meetings
News & Meetings
Communications

Upcoming Events and Meetings
Piel: una puerta de entrada a la Medicina Interna
Martes 18 de Enero de 18 a 21 hrs
Los invitamos a una Jornada de actualización del Capitulo Chileno del American College of Physicians, organizada por el Comité de Regiones, Zona Austral.
La Jornada "Piel: una puerta de entrada a la Medicina Interna", se realizará el Martes 18 de Enero de 18 a 21 hrs en formato Online.
ACP Chile Chapter 53° Annual Meeting: Internal Medicine during COVID times
May 24-28, 2022
Information and Registration will be available soon.
---
Past Meetings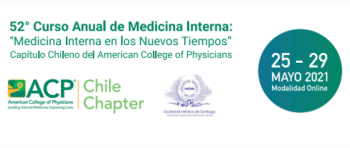 52° Curso Anual Del Capitulo Del American College of Physicians: "Medicina Interna En Los Nuevos Tiempos"
May 25-29, 2021