---
---
Desde el Escritorio del Gobernador

Estimados Amigos:
Durante el Primer Semestre de este año 2015 se han desarrollado diversas actividades:
Se constituyó el Advisory Council del Gobernador con los siguientes miembros:
President, Governor of The Chapter, Guillermo Conte, MD, FACP
Vice president, María Eugenia Pinto, MD, FACP
Governor Elect, Luis Miguel Noriega, MD, FACP
Director Educational Program, Luz María Letelier, MD, FACP
Students Committee, Paulina Avila
Resident Fellowship Committee, Christian Von Muhlenbrock
Associates Committee and Secretary, Arnaldo Marín, MD, Associate
Membership Committee, María Eugenia Pinto, MD, FACP
Awards and Nominations Committee, José Adolfo Rodríguez Portales, MD, FACP
Fellows Committee, Claudio Liberman, MD, FACP y Jaime Labarca, MD, FACP
Scientific and Annual Meeting Committee , Sylvia Echavarri MD, FACP
President, Sociedad Médica de Santiago, Jorge Vega, MD, FACP
Hospitalist and Early Career Physicians, Gonzalo Navarrete, MD, Member
Advisor, Verner Codoceo, MD FACP
Treasurer, Raimundo Gazitúa, MD, Member
---
Internal Medicine Meeting 2015, Convocation Ceremony, Boston
Este año el ACP celebró los 100 años durante su IM 2015, donde debemos destacar se realizaron actividades culturales y sociales, con la edición de un libro que conmemora este aniversario tan significativo.
El Capítulo Chile, tuvo una activa participación en todas estas actividades, destacando que en la ceremonia de Convocatoria realizaron su compromiso de Fellow y renovaron los votos de la misión de promover la excelencia de la medicina en beneficio del paciente. La delegación fue presidida por la Dra. María Eugenia Pinto, Past-Governor ya que el Dr. Guillermo Conte ocupaba el cargo de Marshal. Realizaron el juramento de nuevos Fellows los doctores: Fernando Chuecas, Claudia Cortes, Sylvia Echavarri, Patricia Gomez, Helia Morales, Hans Muller, Luis M. Noriega, Alejandro Pacheco, Vicente Valdivieso y Carlos Zuñiga.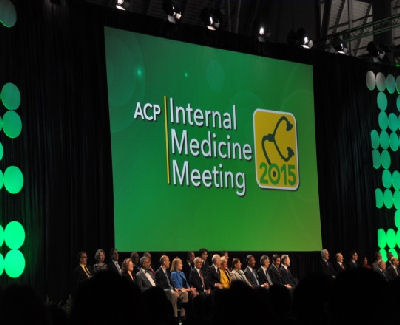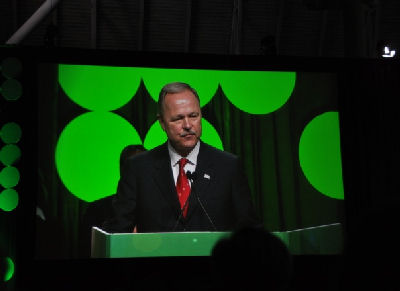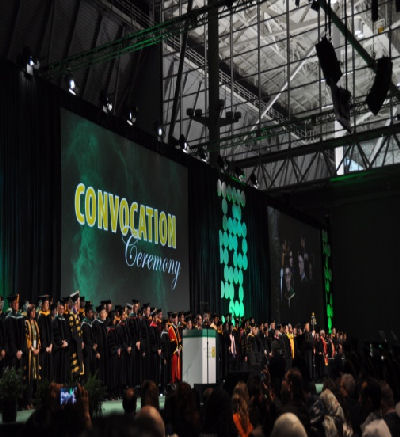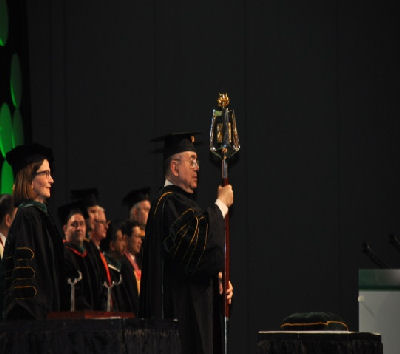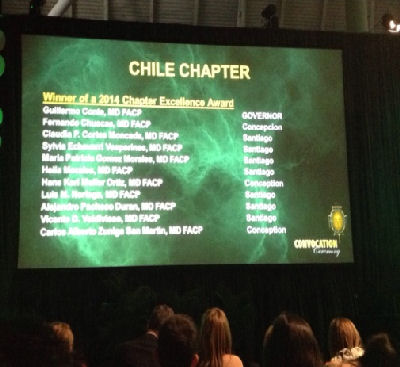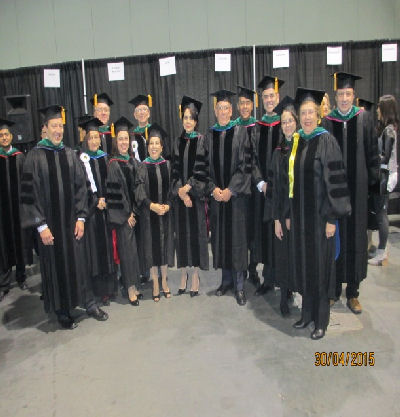 ---
Chapter Leader Workshop
El 29 de Abril se realizó el Chaper Leader Workshop, donde participaron los Gobernadores: actual Dr. Guillermo Conte y Dr. Luis Miguel Noriega como electo, junto a representantes de los Early Carrier Physicians, Dr. Raimundo Gazitúa, Residentes/Fellow, Dres. Arnaldo Marín y Christian Muhlenbrock y Estudiantes, Srta. Paulina Avila. Se estableció una planificación estratégica para el próximo año, que fue presentada durante la Reunión Anual del Capítulo en Chile.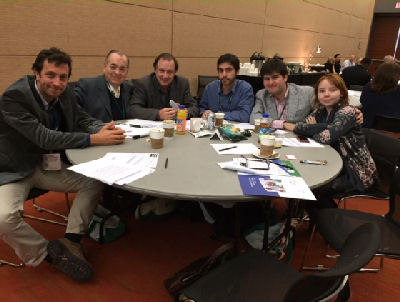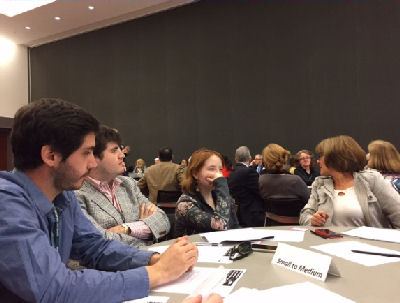 ---
Reunion Anual ACP 2015
El Curso Anual del American College of Physicians-Sociedad Médica de Santiago 2015, que se realizó en la Ciudad de Santiago el 04 y 05 de Junio de 2015, en el Centro de Eventos Club Manquehue. Se debe destacar, en primer lugar, la participación de el Dr. Robert Jackson, FACP, como representante del American College of Physicians, Gobernador de Texas, región Sur, quien nos informó del actual plan estratégico, junto a dos conferencias sobre High Value Care, que representa una visión de la eficiencia en el uso de recursos tanto en el área diagnóstica como terapéutica y una segunda conferencia "Utilizando la tecnología en la Práctica Clínica Diaria". En las imágenes se destaca nuestro invitado especial del American College of Physicians, el Director del Curso Dr. Raimundo Gazitua, Member, el Governor y el Dr. Claudio Liberman, FACP, Vice-Presidente de la Sociedad Médica de Santiago y la Dra. Helia Morales, FACP, quien fue destacada con el premio de Profesor Distinguido. Así también el Dr. Gonzalo Navarrete, Director del Curso ACP 2016, el Dr. Jaime Labarca, FACP, La Dra. María Eugenia Pinto, Past-Governor del Capítulo Chile, El Dr. Guillermo Acuña, FACP, Former Governor.
Durante la Reunión de los miembros del ACP se debe destacar el premio Centennial Award al Dr. Enrique López Caffarena, el cual fue presentado por el Dr. Jose Adolfo Rodrìguez y el Dr. Robert Jackson, FACP entrego Chapter Excellence Award al Dr. Guillermo Conte, FACP
Esta reunión culminó con la presentación del Libro "ACP American College of Physicians en Chile: Seis décadas de colaboración con la medicina interna nacional". El Dr. José Adolfo Rodríguez, MACP, es el autor de este Libro. Este incluye los antecedentes de la formación del Capítulo Chileno del ACP y de los Cursos que antecedieron al inicio del Capítulo. Junto a la historia de todos los gobernadores desde Dr. Enrique López Caffarena hasta Dr. Guillermo Conte. Además de anécdotas y temas de las distintas reuniones organizadas. Se distribuyó a los miembros del ACP en el marco del Curso Anual 2015.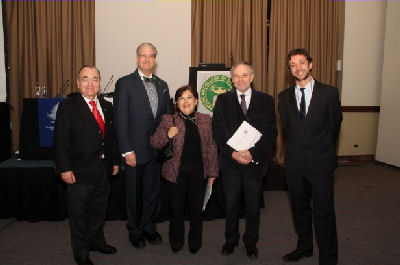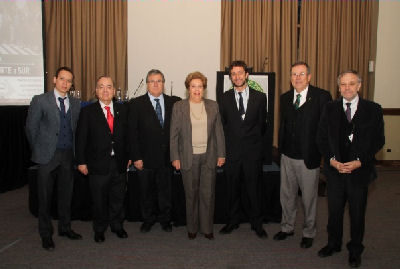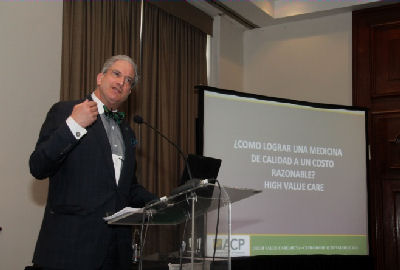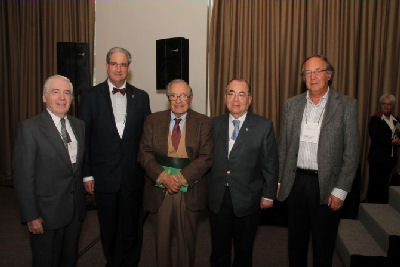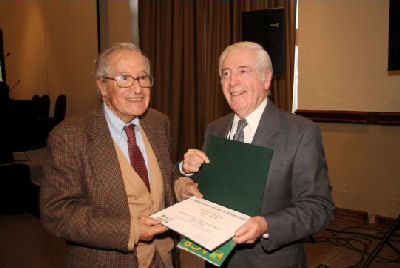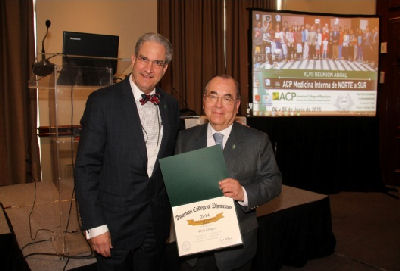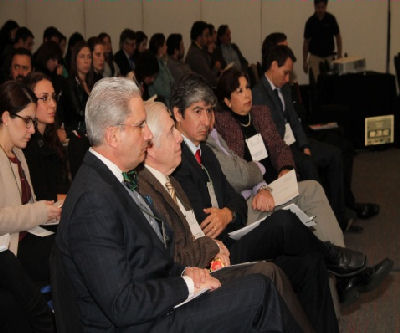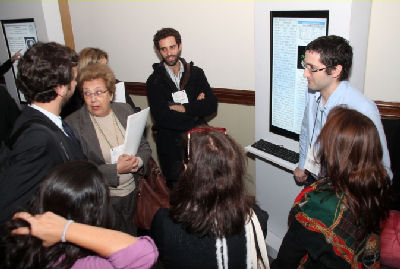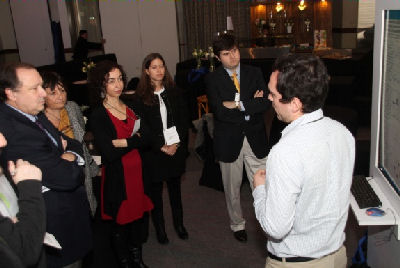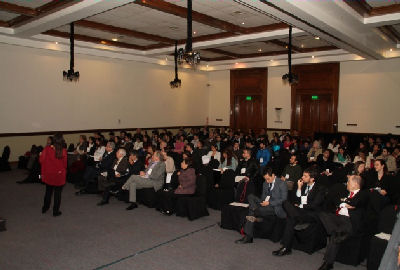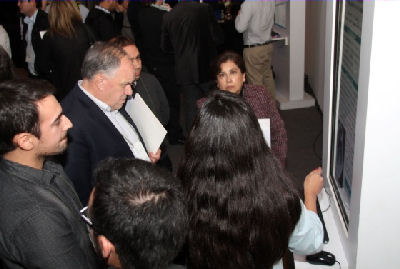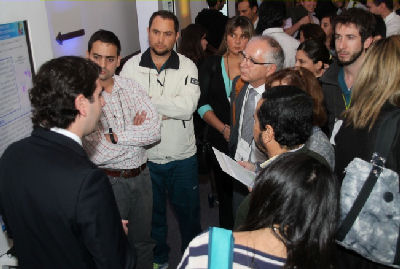 Estos dos días con un total de 301 asistentes, de los cuales un 83% fueron médicos y un 17% estudiantes de medicina, se caracterizó por la interacción de los diferentes estamentos de Fellows, Miembros, Residentes, Associates y Estudiantes, donde se desarrollaron conferencias y sesiones interactivas en diversas áreas de la medicina interna, neurología y habilidades comunicacionales.
La sesión de Poster que coordinó la Dra. Sylvia Echavarri, FACP contó con un número de trabajos que superó los años anteriores. En la ceremonia de clausura se otorgaron los diferentes premios:
Premio Indiana Chapter al Mejor Trabajo ACP Resident/Fellow: "Prevención del daño Microcárdico por reperfusión en infarto agudo de miocardio mediante la atenuación del estrés oxidativo. Jaime Gonzalez, Roberto Brito, Gabriel Castillo, Juan Guillermo Gormaz, Nicolás Valls, Juan Carlos Prieto, Rubén Aguayo, Cristobal Ramos, Gastón Dussaillant, Angel Puentes, Ramón Rodrigo. Laboratorio de Estrés oxidativo y nefrotoxicidad, Programa de Farmacología Molecular y Clínica, Facultad de Medicina, Universidad de Chile.
Presentado por Dr. Jaime González Montero.
Premio al Mejor Caso Clínico presentado por un ACP Resident/Fellow: "Pancolitis en paciente con LES". Lira Ji, Julio V., Castañia F., Silva J., Salinas E., Hospital Base de Valdivia.
Presentado por Dr. Juan Ignacio Lira Brown
Premio al Mejor Caso Clínico de ACP Student: "Sindrome antisintetasa: Poliartritis y Pseudocitolisis Hepática como manifestaciones iniciales. Discusión en base a un caso clínico. Guillermo Martínez Salinas, Areny R. Unidad de Reumatología Servicio de Medicina, Hosp. Felix Bulnes Cerda, Universidad Mayor.
Presentado por Guillermo Martinez Salinas.
---
Cursos Regionales 2015
Durante el semestre se están programando los siguientes cursos con participación de Early Carrier Physicians y Fellows del Capítulo:
HEMANORTE 2015 "Novedades y Controversias": Se realizará el 3 y 4 de Julio en Antofagasta, luego de ser cancelado por el aluvión que sufrió el norte de chile a fines de marzo.
Curso ACP Iquique: Octubre de 2015
Curso ACP Curicó: Agosto de 2015
HEMASUR: Octubre de 2015, Concepción.
---
Resident/Fellow
Preside el Comité el Dr. Arnaldo Marín, con un programa de mentoria de alumnos en las diferentes escuelas de medicina.
---
Students
Meet the Professor
Curso de Medicina Interna en Pequeñas Dosis", 17, 18, 24 y 25 de Abril de 2015, Facultad de Medicina de la Universidad de Chile. Organizado por la Academia Científica de Estudiantes de Medicina de la U. de Chile y el Council of Students-Chile, del American College of Physicians. Este Curso contò con créditos CME otorgrados por la Facultad de Medicina de U. de Chile y el American College of Physicians, Capítulo Chile.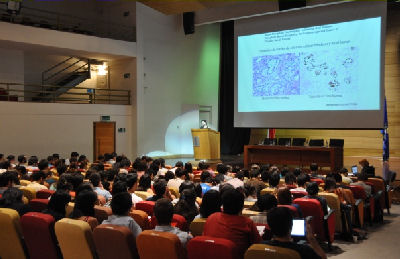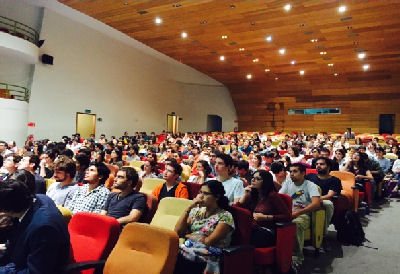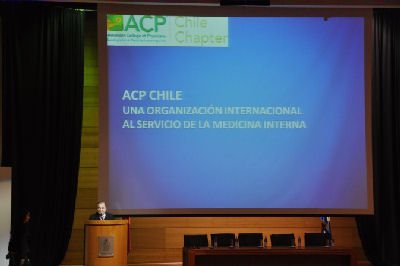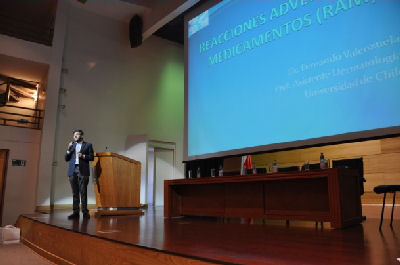 Reunion Actualizacion En Medicina Interna, 09 de Abril, Auditorio de la Clínica Universidad de Los Andes. Tema: "Neutropenia febril, desafío para el internista"
Becas Para La Reunión Anual ACP 2015
En acuerdo con el Gobernador Dr. Guillermo Conte, se decide con la Directiva del Comité de Students, otorgó becas para transporte de regiones en el al Curso Anual.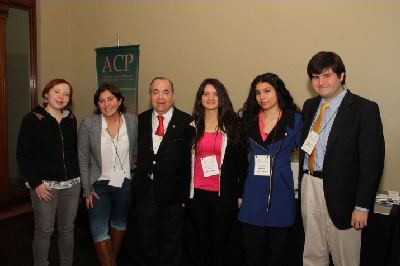 ---
Membership Commitee Update
La Dra. María Eugenia Pinto ha desarrollado una activa campaña de incorporación de nuevos miembros en los diferentes estamentos.
La Campaña 30x30 actual realizada por los Students en las siguientes universidades, alcanzan un total de 186 inscritos:
Universidad de Chile: 126
Universidad de Los Andes: 18
Universidad Diego Portales: 11
Universidad Finis Terrae: 7
Universidad Católica del Maule: 6
Universidad Católica: 4
Universidad del Desarrollo: 4
Participan además la Universidad Mayor, Universidad Andrés Bello, Universidad Católica del Norte, Universidad Austral, Universidad de Talca
.
---
En resumen …
En resumen este primer semestre fue lleno de actividades que comprometieron a todos los estamentos del Capítulo Chileno del ACP, lo cual nos deja como reto continuar con la misma energía y entusiasmo para los próximos meses.
Un afectuoso saludo,
Guillermo Conte, MD, FACP
Governor ACP, Chile Chapter