---
---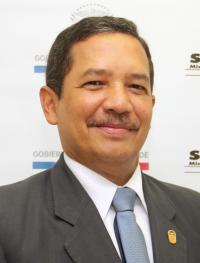 Eric Javier Ulloa Isaza, MD, MMM, FACP, ACP Governor
---
Excellence Award
El capítulo de Centroamérica se hace acreedor nuevamente al premio dorado de excelencia (Gold Excellence Award). Este premio reconoce la labor y liderazgo de los miembros del capítulo en áreas como compromiso, educación, comunicación, aumento de la membresía y uso de las herramientas del ACP. Felicitamos a todos los miembros y al Consejo Directivo por este reconocimiento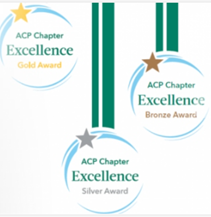 ---
Nuevo Master del Capítulo
El capítulo se distingue a partir del 1 de Octubre con un Nuevo Master, el Dr Jorge Sinclair, MACP. El Dr Sinclair es médico internista e intensivista destacado. El reconocimiento como Master distingue a algunos Fellows que se han distinguido por su integridad, excelencia, conducta intachable e impacto profesional. Cada año el American College of Physicians, a través de su comité nacional de premiaciones, reconoce a unos cuantos Fellows tanto de Estados Unidos como de los capítulos internacionales. Actualmente nuestro capítulo cuenta con 12 Masters. Felicitaciones al Dr Sinclair y a sus familiares.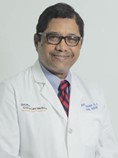 ---
Nuevos Fellows
Desde el 1 de Septiembre, el capítulo se honra con dos nuevos fellows:

Dr Alexander Romero, FACP
Especialista en Medicina Interna y Cardiologia

Dr Jose Luis Carvallo, FACP
Especialista en Medicina Interna
Felicitaciones a ambos!
---
Asistente del Gobernador
Desde el pasado 15 de agosto, nuestro capítulo cuenta con la Dra. Francis Fusumada Collins, quien asume funciones como asistente del gobernador. Entre sus funciones estará el apoyo de los diferentes consejos en sus actividades y reuniones.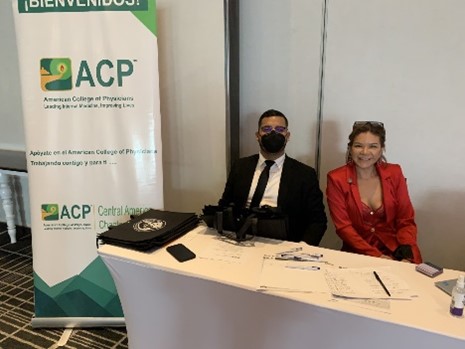 Pueden contactarla al mail panchi88@gmail.com o al whatssap +507 6982 8448
---
CAMI 2022
Recientemente la Sociedad Panameña de Medicina Interna celebró su XX CAMI los días 2 y 3 de septiembre en el Hotel Sortis. Nuestro capítulo participó en el mismo con el segmento "Bienestar del Médico" que fue organizado por nuestros tres well being champions: Dra Ligia González, FACP; Dra Linda Navarro, FACP y Dr Eric Ulloa, FACP. Contó con una sección de "Contando historias, experiencias de pacientes que influyen en la vida del médico…";
Resultados de encuestas de Burnout en el Complejo Hospitalario Metropolitano; Aplicando la Compasión, por la Dra. Ligia González, FACP, y Errores en la Práctica Médica, por el Dr Eric Ulloa.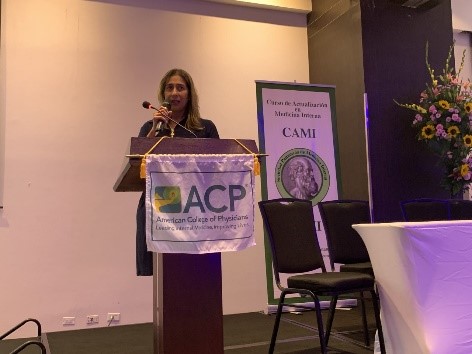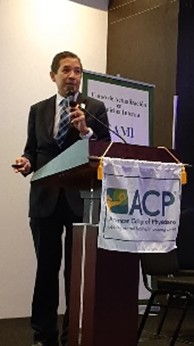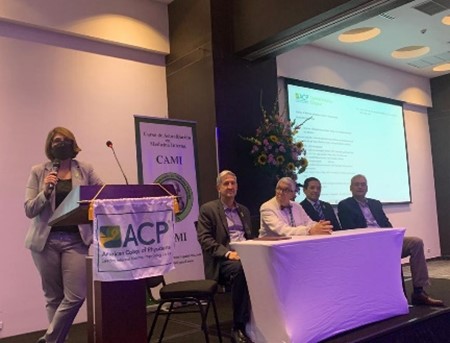 Durante la celebración de dicha actividad tomó posesión la Nueva Junta Directiva de la Sociedad Panameña de Medicina Interna, presidida por el Dr Omar Castillo, FACP. Le acompañarán en la directiva la Dra Linda Navarro, FACP; la Dra Lisbeth López y la Dra Katiana Castillo. Les deseamos éxitos a la nueva directiva y continuaremos la cooperación que ha existido entre la SPMI y el ACP Centroamérica
---
Actividades Docentes
Se han realizado múltiples actividades docentes:
Como hacerte fellow y otras oportunidades y herramientas para el desarrollo profesional
Consejos prácticos para concurso de póster del ACP
Casos Clínicos de Medicina Tropical
Síndrome Hepatorrenal, entre otras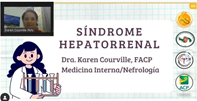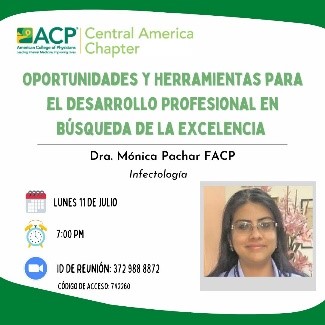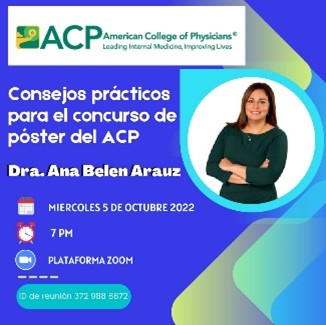 ---
Congreso de Medicina Interna de Guatemala
Se celebró en forma virtual del 27 al 29 de julio de 2022. En el marco de dicho congreso el American College of Physicians (a través de nuestro representante Dr Carlos Nitsch, FACP, hizo entrega de Certificados y pines por más de 40 años de pertenecer al Capítulo de Centroamérica a los doctores:
Dr Federico Alfaro, MACP con 47 años de membresía
Dr Abraham García-Kutzbach, MACP con 47 años de membresía
También se celebró una trivia de médicos residentes de Guatemala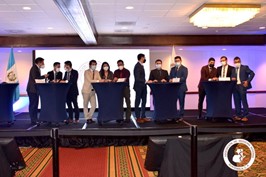 Felicitaciones a nuestros hermanos de Guatemala
---
Elecciones del Capítulo
El período de elección inicia el 30 de septiembre de 2022.
Ya es hora de votar por nuestro próximo Gobernador del Capítulo.
Los elegibles para votar incluyen MACP, FACP, Miembros y Miembros Residentes / Compañeros con una fecha de elección del 1 de Septiembre de 2020 o anterior.
El Gobernador sirve como representante oficial del Colegio para el capítulo, proporcionando un vínculo entre los miembros a nivel local y el liderazgo a nivel nacional. Este año tenemos dos excelentes candidatos que se postulan para Gobernador electo, Jose Luis Franceschi, MD, FACP y Monica Pachar, MD, FACP. Quería reconocerlos y agradecerles a ambos por su entusiasta trabajo en nombre de nuestro Capítulo a lo largo de los años.
Para obtener más información sobre sus antecedentes y experiencia, consulte sus biografías y declaraciones de candidatos, que están disponibles en el sitio web de nuestro Capítulo, en la sección de Chapter news. (Central America Chapter ACP Global en su buscador). Las elecciones se llevarán a cabo entre el 30 de septiembre y el 4 de noviembre. Los miembros pueden votar en línea o por boleta por correo. La boleta se le enviará por correo e incluye su número de miembro ACP y el código de acceso de la elección que se requieren para que pueda depositar su voto.
---
Recursos del ACP: Telesalud
Los invitamos a utilizar los múltiples recursos que le ofrece el American College of Physicians. En esta ocasión destacamos los recursos para Telesalud, donde encontrarán gran información (gratis para los miembros) para la práctica de la atención a distancia de pacientes mediante recursos tecnológicos. Pueden encontrar la información en el siguiente link:
https://www.acponline.org/practice-resources/business-resources/telehealth
---
Reunión anual del Capítulo 2023
El próximo 26-28 de Enero de 2023, se celebrará el congreso anual de nuestro capítulo en el Hotel Sortis. El día 26 de Enero tendremos un Seminario de Cuidados Neuro-Críticos, con la participación de la Dra Melissa Motta, MD, MPH del Neurorecovery Clinic de la Universidad de Maryland, y el Dr Victor Urrutia, MD, del Global Center for Organized Stroke Care, de la Universidad de John Hopkins.
Los días 27 y 28 de Enero tendremos temas variados de Endocrinología, Enfermedades Infecciosas, Oncología, Medicina Interna, Gastroenterología entre otros. Contaremos con la presencia del Dr Ryan Mire, MACP, presidente del American College of Physicians, quien será el embajador del colegio en nuestra reunión anual. Además tendremos otros invitados como el Dr Fred López, FACP, médico de Enfermedades Infecciosas de Louisiana, y el Dr Ricardo Correa, FACP, médico endocrinólogo panameño, radicado en Estados Unidos, y que funge como presidente del Comité de Internistas Jóvenes del American College of Physicians. Además contaremos con varios colegas panameños como el Dr Alexander Romero, FACP; Dr Miguel Mayo, FACP; Dr Alvaro Pachón Burgos; Dr Omar Castillo, FACP, presidente de la Sociedad Panameña de Medicina Interna; Dr Juan Barrios, FACP; y el Dr Eric Ulloa, FACP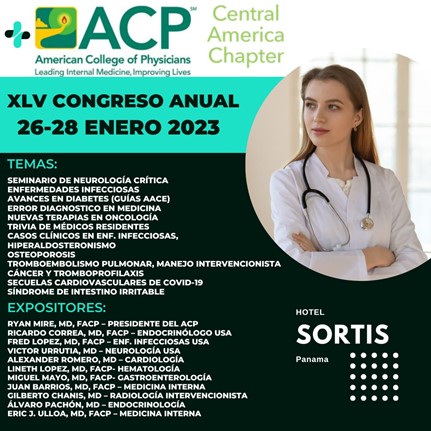 La agenda completa y las instrucciones de inscripción serán publicadas en la página web próximamente.
---
Save the Date
El próximo congreso anual IM2023 del Colegio en Estados Unidos será del 27-29 de Abril del 2023 en San Diego, California. No se lo pierdan