---
---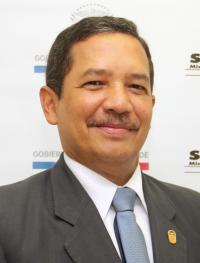 Eric Javier Ulloa Isaza, MD, MMM, FACP, ACP Governor
Saludos a toda la membresía. A partir del 3 de Septiembre dirigimos el Capítulo de Centroamérica del American College of Physicians. Primeramente quiero agradecer al Dr. Nestor Sosa y al Dr. Aron Benzadón, exgobernadores que nos ayudaron en esta transición, así como a nuestro enlace del ACP, Amanda Gogno, y la dirección ejecutiva del ACP por todo el apoyo recibido.
---
Reunión Anual del Capítulo 2020
Al Dr Aron Benzadón y al Comité Directivo del Capítulo las gracias por haber prácticamente montado el Congreso Anual del próximo año 2020. Este congreso será en conjunto con la Sociedad Panameña de Medicina Interna, y será del 13 al 15 de Febrero de 2020 en el Hotel Sortis. Los temas a tratar serán Avances en Medicina Interna, Hematología, Cardiología, Reumatología, Neumología, Endocrinología, Oncología y Gastroenterología. Contaremos con invitados especiales como la Dra. Ana María López, MACP, Past President del Colegio; el Dr. Juan Viles González, cardiólogo, y el Dr. Marc J. Kahn, MACP. Además, el día jueves 13 la Sociedad de Medicina Interna nos traerá al Dr. Emilio Castariego Vales y la Dra. Maria Salome Pilheu. Acompañados además por un conjunto de especialistas Panameños que nos deleitarán con los últimos avances de la medicina interna. No dejen de asistir este año.
---
ACP IMPACT
ACP promueve la imagen del internista en sus distintos ámbitos. Los invitamos a leer el perfil de este mes, donde nuestro gobernador el Dr. Eric Ulloa Isaza, FACP nos cuenta algunas de sus anécdotas como internista y médico en su vida profesional y de hogar:
haga clic aquí
---
Reunión de Gobernadores del American College of Physicians
Recientemente, del 25 al 28 de septiembre de 2019 se celebró la reunión del Board de Gobernadores del American College of Physicians en Tucson, Arizona. En esta reunión compartimos con la regencia del capítulo, y los diferentes gobernadores, discutiendo estrategias para aumentar y mantener la membresía, los sistemas de comunicación, y se discutieron resoluciones importantes para las políticas de salud y la práctica del internista.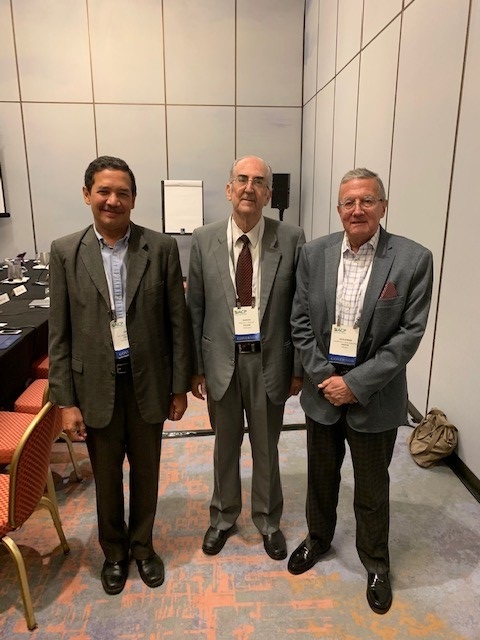 Dr. Eric Ulloa Isaza, gobernador capitulo Centroamerica, Dr. Marcos Troccoli, gobernador, capítulo de Venezuela, Dr. Guillermo Ruiz-Arguelles, gobernador capítulo de México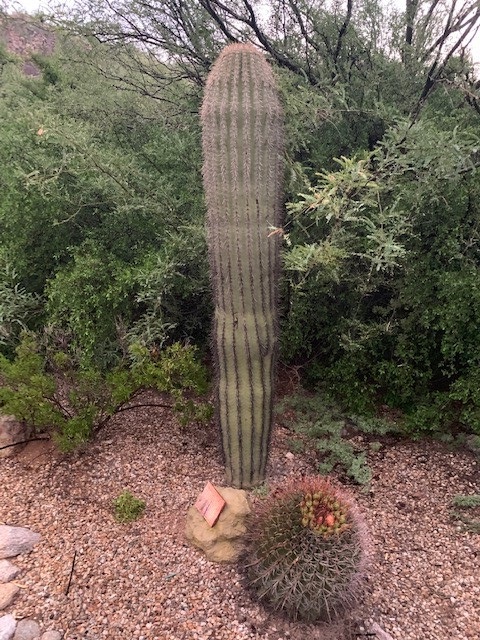 ---
Nuevos Fellows del Capítulo
Queremos felicitar a los nuevos Fellows electos del Capítulo:
Panamá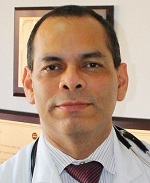 Dr. Omar Castillo Fernandez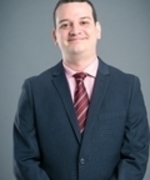 Dr. José Castro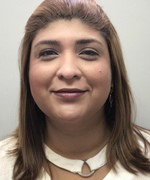 Dra. Anarellys Quintana
Guatemala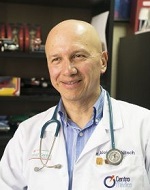 Dr. Alejandro Nitsch
Nos unimos en el reconocimiento de la excelencia por sus trayectorias.
---
Promoción del ACP entre residentes del Complejo Hospitalario Caja de Seguro Social
Recientemente en el mes de Agosto, tuvimos un almuerzo con los residentes del Complejo Hospitalario de la Caja del Seguro Social, donde se presentaron las ventajas que tiene la membresía del ACP, y se explicaron los diferentes beneficios para el grupo de residentes y jefe de residentes.
---
Promoción de la Mujer Médica
ACP quiere resaltar la labor de las mujeres en el campo de la medicina. En esta ocasión queremos resaltar la labor de la Doctora Reina Roa.
El día 30 de septiembre de 2019 en el marco del 57° Consejo Directivo de la Organización Panamericana de la Salud, la Dra. Carissa Ethiene, directora, entregó a la Dra. Roa el premio OPS a la Gestión y Liderazgo en Salud como reconocimiento a su labor en la salud publica en Panamá, en particular por su trabajo para el desarrollo y la ejecución sobre la legislación sobre el control del tabaco en el país. Gracias a la gestión de la Dra. Roa, Panamá fue el segundo país de la Región en ratificar el Convenio Marco para el control del Tabaco de la Organización Mundial de la Salud.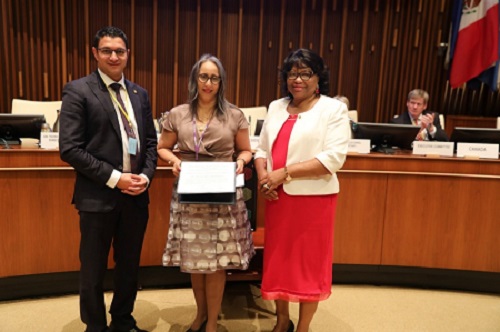 ACP Centroamérica se une a las felicitaciones a la Dra. Roa.
---
Promoviendo la Resiliencia y Bienestar en la Profesión Médica
En la medicina actual, la sobrecarga de trabajo, el ambiente organizacional, la tendencia de los noticieros a resaltar los resultados no satisfactorios en el sector salud, han creado un ambiente de agotamiento y desesperanza en algunos de nuestros colegas (fenómeno de burnout). Es importante que aprendamos a fortalecernos como persona y contribuyamos en nuestro hogar y trabajo con herramientas que nos ayuden a fortalecer nuestros valores y la oportunidad de crear ambientes de trabajo saludables para nosotros y nuestros pacientes.
El ACP promueve herramientas que nos ayudan a fortalecer la resiliencia, y que pueden visitar en el siguiente link:
Physician well-being and Professional Fulfillment
Taller de Planificación Estratégica del Capítulo
El día 14 de septiembre realizamos el primer taller de planificación estratégica del capítulo. Contamos con la participación de un grupo de estudiantes, residentes, internistas jóvenes y miembros del Comité Directivo del Capítulo. El objetivo fue revisar la Visión y Misión del capítulo, revisar las Fortalezas, Debilidades, Oportunidades y Amenazas del mismo. Se elaboró un plan estratégico para aumentar las membresías y se reforzaron comités de estudiantes, residentes, internistas jóvenes. Plan de actividades incluirán retención de membresía, educación, participación en la comunidad y redes sociales. Agradecemos a todos los participantes por esta actividad de fortalecimiento del capítulo. En esta reunión participaron además el Dr. Carlos Nitsch, representante de Guatemala, y la Dra. Karina Alvarez, como representante de Costa Rica.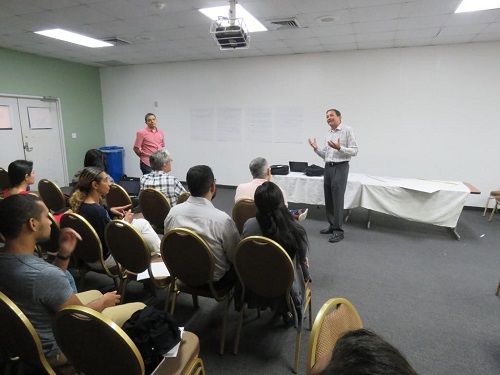 ---
Nuevos módulos educacionales
El centro de aprendizaje del ACP, Online Learning Center, tiene nuevos módulos que incluyen aspectos del Ultrasonido en la cama del Paciente (POCUS). El Ultrasonido en la cama del paciente se está convirtiendo en una herramienta importante del internista. Esta actividad es gratis para miembros del ACP y ofrece cursos de educación médica continua. Lo invitamos a conocer estas nuevas iniciativas, visitando el Online Learning Center:
https://www.acponline.org/cme-moc/online-learning-center
---
Separa la fecha: Reunión Anual ACP IMM 2020 en Los Angeles, California

La reunión anual del American College of Physicians del próximo año se celebrará del 23 al 25 de Abril en Los Angeles, California. Una magnífica oportunidad para conocer los avances de Medicina Interna y compartir con colegas y expertos mundiales de la medicina interna. Además, podrán disfrutar con sus familiares de las atracciones que ofrece esta acogedora ciudad de los Estados Unidos. Los esperamos. Para mayor información, visite la página del ACP:
https://annualmeeting.acponline.org/