---
---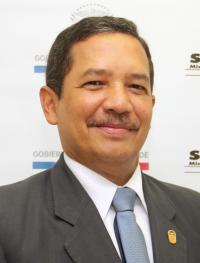 Eric Javier Ulloa Isaza, MD, MMM, FACP, ACP Governor
---
COVID-19
Estimados miembros del American College of Physicians. Sabemos que todos estamos en tiempo de crisis por el SARS-CoV-2 y COVID-19. Como trabajadores de la salud todos debemos apoyar en la lucha contra la difusión de la enfermedad, inicialmente cumpliendo nosotros mismos las medidas de higiene y protección personal, y la educación de nuestros pacientes y familiares sobre cómo prevenir el contagio y que hacer ante cualquier sintomatología que pudiera sugerir que hemos sido contactos de una persona con la enfermedad. Los esfuerzos que ha hecho el Ministerio de Salud, y su grupo asesor, la Caja del Seguro Social, al igual que las diferentes sociedades médicas son invaluables y si seguimos sus consejos podemos ayudar a disminuir el contagio y con el tiempo llegar a controlar la enfermedad. Pero requiere un esfuerzo continuo de toda la población.
Los invitamos a revisar la literatura amplia que hay respecto al Coronavirus y COVID-19. En el sitio web del ACP existen recursos para médicos, al cual pueden acceder gratuitamente miembros y no miembros, y es revisado cada dos o tres días. Incluye herramientas como Telemedicina que puede ser una herramienta importante durante esta epidemia del Coronavirus.

Pueden acceder en el siguiente link: https://assets.acponline.org/coronavirus/scormcontent/#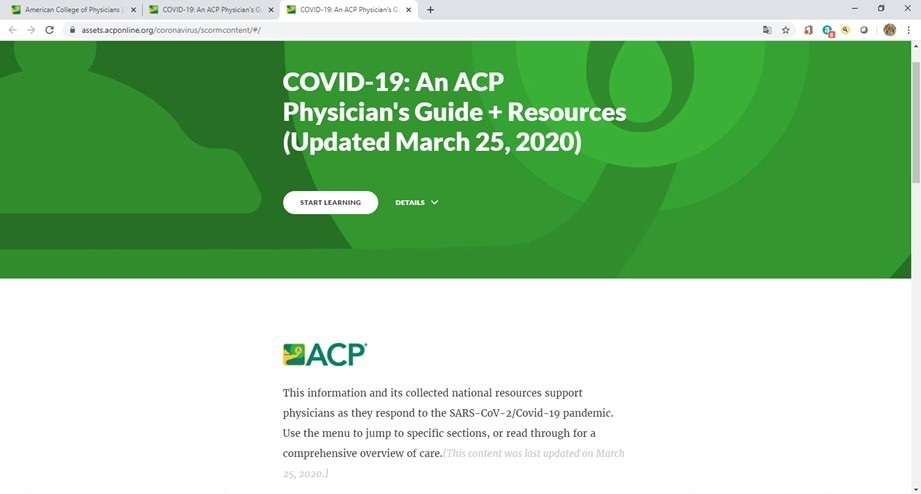 ---
Webinar: Covid-19: Practical Advice and Support from Internists on the Front Lines
The ACP Leadership Academy and ACP Well-being and Professional Fulfillment program will co-present a special, one-hour webinar, "COVID-19: Practical Advice and Support from Internists on the Front Lines," on Monday, March 30, 2020, at 3:00 p.m. ET.
El webinar se grabará y estará disponible en la página del ACP para aquellos que no puedan unirse.
---
Internal Medicine Meeting 2020:
Como fue comunicado a todos los miembros la reunión anual a realizarse en abril en Los Ángeles tuvo que ser suspendida debido a las amenazas del Coronavirus. El Colegio nos hará llegar una disertación del Dr Nirah Shah, quien era el invitado de honor en la Ceremonia de Apertura del Congreso. En la página web del Colegio se encuentra la información para acceder al reembolso de la inscripción. El Colegio está preparando un paquete virtual de contenido educacional con diversos tópicos tanto de medicina hospitalaria como ambulatoria, y contendrá muchas presentaciones que se iban a dar durante la reunión anual. Este CME 30 package puede ser obtenido en lugar de recibir el reembolso de la inscripción por aquellos que así lo deseen. El mismo estará disponible en mayo.
Las líneas aéreas están ofreciendo reembolsos, o posibilidad de utilizar los pasajes en el futuro sin cargo adicional. Verifiquen con su línea aérea.
---
XLII Reunión Anual del Capitulo:
Como saben hace un poco mas de un mes concluimos nuestro congreso anual, que este año celebramos en conjunto con la Sociedad Panameña de Medicina Interna. Con una asistencia aproximada de 400 personas, el mismo fue todo un éxito. Contamos con la participación de la Dra Ana María Lopez, embajadora del Colegio, cuyas charlas fueron muy gustadas, sobre todo la de la Salud de la Mujer, y sobre el cáncer de mama. Nos acompañó en todo momento, incluso en nuestro Town Meeting desayuno, donde converso con algunos de nuestros miembros, y disfrutó la Trivia de Conocimientos Médicos (Dr's Dilemma) y nuestra celebración y entrega de reconocimientos. El Doctor 's Dilemma estuvo bastante reñido, quedando al final los equipos de Guatemala y el Complejo Hospitalario, logrando finalmente estos últimos llevarse el primer lugar (doctores Isaac Chang Checa, Dr Hiram Adiel Guevara, y Dr Ricardo Manuel Moreno). Debido a la suspensión del IMM 2020, no se realizará el Doctor 's Dilemma este año, pero el colegio está estudiando las alternativas y nos la hará saber posteriormente. El premio al mejor trabajo de investigación, fue para el trabajo "Manifestaciones mucocutáneas en Diabetes mellitus tipo 2", presentado por el Dr. Luis Carlos Morales Godínez, del Hospital San Juan de Dios, de Guatemala. El Dr Morales Godínez recibió el premio William James y le corresponderá viajar a Estados Unidos el próximo año a presentar el trabajo en la reunión anual IMM 21 en Orlando.
El Dr Jose Luis Franceschi, FACP, recibió la distinción de Laureado del Capítulo, por su trayectoria científica y humanitaria y su participación tanto en la Sociedad Panameña de Medicina Interna como en nuestro capítulo del ACP.
También tuvimos la oportunidad de entregar el premio Lidia Sogandares a la mujer médico del año, que recayó en la Dra Reina Roa, por su contribución a la lucha contra el tabaquismo en Panamá, y mejoras en la calidad de vida de todos los panameños. En relación a este premio, desde este momento queda abierta la convocatoria para el premio del próximo año. Como consta en el acta constitutiva, este premio inicialmente será ofrecido a la república de Guatemala, y en caso de no haber un candidato aceptable para el comité de premiaciones, se ofrecerá a la república de Costa Rica.
Esperamos que todos se mantengan saludables junto con sus familias en estos tiempos de la pandemia del Coronavirus, y todos juntos contribuyamos a disminuir la propagación de la misma.