---
In this Issue:

COVID19 en el Hosptial Santo Tomás, Dra Monica R. Pachar F., MD, Member ACP, Chair, Early Career Physicians
Resident's Corner: La educación del medico residente en tiempos de COVID, Dr Hiram Guevara, MD, Chair, Resident Council
Desde la Región de Guatemala: Presentación de Historia Clinica y Hoja de Flujo para pacientes con COVID, Dr Carlos Nitsch Montiel, MD, FACP
---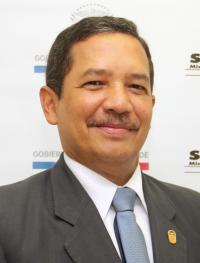 Eric Javier Ulloa Isaza, MD, MMM, FACP, ACP Governor
---
COVID-19
El SARS-Cov-2 ha cambiado nuestras vidas a nivel mundial. A pesar de que en nuestro país se realizó una cuarentena estricta, los números de casos siguen aumentando, y actualmente se está haciendo un seguimiento comunitario más estricto de los contactos y un aumento de las pruebas. La detección temprana de casos trata de evitar que casos graves lleguen en etapa avanzada, rebosando nuestra capacidad hospitalaria.
Este aumento en el número de casos está afectando a la comunidad médica y profesionales de la salud, con algunos signos de agotamiento. Es importante, por lo tanto, reforzar nuestra capacidad de resiliencia y nuestra salud mental.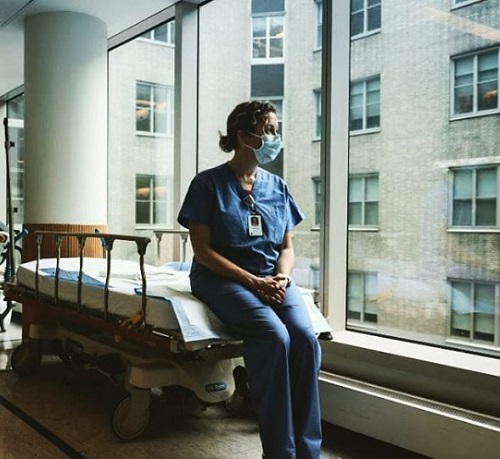 El Webinar del ACP, "Addressing and Supporting Physician Mental Health during Challenging Times, presentado el martes 16 de Junio por los doctores Kerri Palamara, MD,FACP y Joshua C. Morganstein, MD, muestra en forma muy importante los ciclos por los cuales pasa el personal de salud en tiempos de contingencias, y las formas de apoyar a los colegas y a nosotros mismos a superar estos problemas como los que estamos pasando con el COVID-19.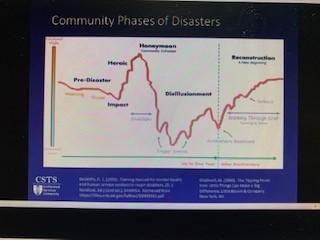 Otro de los webinars relacionados con el COVID:
Es importante saber que la mayoría de estas actividades dan CME credits.
Wednesday June 24, 2020, from 5:00-6:00 pm ET (4:00 PM Panama), Moderated by Heather E. Gantzer, MD, FACP, Chair of ACP's Board of Regents, this webinar will explore innovative approaches in care delivery to COVID-19 outpatients, including how to address health disparities and the challenges related to the diverse presentations of the disease. Kristen Kopski MD, PhD, and Margaret Doose, MD, of HealthPartners Minnesota, will review that system's response to the COVID-19 pandemic, including a discussion of transitions of care best practices as well as how to develop a better understanding of this patient population. Following, Christopher Kellner, MD, and David Putrino, PhD, of the Mount Sinai Health System, New York, will discuss innovations in remote patient monitoring and how to apply these technologies to patients with COVID-19.
Tuesday, June 30, 2020, 12:00 PM ET (11:00 AM Panama) COVID-19, Moving Forward Together. Description: Presented in collaboration with the European Federation of Internal Medicine, this webinar will discuss what is needed to globally manage the COVID-19 pandemic, how to come together to find solutions as a worldwide internal medicine community, and be better prepared for future pandemics. Register Now
Moderator: Darilyn V. Moyer, MD, FACP, FRCP, FIDSA, ACP Chief Executive Officer and Executive Vice President
Speakers:
Carlo La Vecchia, Professor of Medical Statistics and Epidemiology, Department of Clinical Sciences and Community Health, Università degli Studi di Milano
Ashish K. Jha, MD, MPH, Director, Harvard Global Health Institute
---
Well-Being
El día 8 de Junio de 2020 nuestro capítulo presentó el Webinar titulado Burn-out, Suicidio y Bienestar (well-being) del médico, via Zoom, con los expositores: Dra Linda María Navarro, FACP (representante well-being del Capítulo; Dr Miguel Mayo Di-Bello, FACP (conocido por sus tweets y participaciones sobre salud preventiva y autor del libro "Prevenir o Sufrir", y el Dr Eric Ulloa Isaza, FACP, gobernador del Capítulo. El evento fue muy gustado, y fue atendido por estudiantes, residentes y médicos jóvenes del capítulo.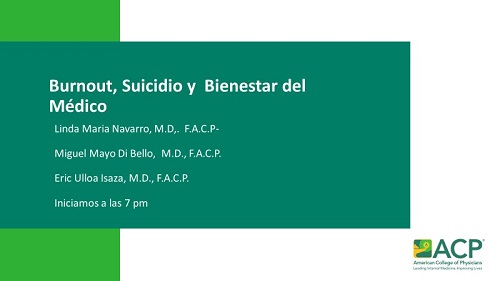 En esta misma línea, el Departamento de Bienestar Médico y Crecimiento Profesional del ACP ofrece créditos de educación médica continua en su sitio web
en actividades cortas y que también incluyen algunos recursos del COVID-19.
Entre los títulos que podrán encontrar:
Addressing and Supporting Physician Mental Health during Challenging Times
Mini but Mighty Skills for Well-being
COVID-19: Practical Advice and Support from Internists in the Front Lines
Positive Psychology in Time of Crisis
Optimizing Well-being Practice Culture, and Professional Thriving in an Era of Turbulence
Building your Resilient Self
Mindfulness in Medicine: What Physicians need to Know
---
COVID19 en el Hosptial Santo Tomás, Dra Monica R. Pachar F., MD, Member ACP, Chair, Early Career Physicians
El 13 de marzo de 2020 se declaró en Panamá un estado de emergencia debido a la pandemia de COVID19. Ese mismo día, por iniciativa de médicos funcionarios de enfermedades infecciosas y neumología, se crea la Unidad de COVID19 del Hospital Santo Tomás, se elaboran los primeros protocolos de atención en sala de estos pacientes, se designa un área de atención en sala de infectología y se crean roles de turnos de 24 horas de manera voluntaria.
Panamá cumplió los 100 días del estado de emergencia COVID19 lo que nos sirve para reflexionar lo que ha sucedido en este periodo de tiempo. Hemos contado con la participación de especialistas en medicina interna, neumología, reumatología, cardiología, gastroenterología, neurología, endocrinología y de enfermedades infecciosas en el cuidado de pacientes COVID-19 moderados y severos. La unidad ha sufrido cambios en la forma de trabajo y en los integrantes del grupo, actualmente nos encontramos organizados en dos roles de turnos (A y B) compuestos por un grupo multidisciplinario, con duración de 24 horas, los 7 días de la semana. Cabe recalcar que durante este periodo de tiempo varios médicos han enfermado y se han dado de baja de nuestra unidad, la disponibilidad de camas se encuentra en una situación crítica y existe el peligro inminente de escases de recursos.
A pesar de las dificultades y el futuro incierto de esta pandemia, ha sido un honor poder trabajar hombro a hombro con médicos que fueron mis maestros y que han formado generaciones de médicos en nuestro país; y que, a pesar de los riesgos a su salud personal, respondieron al llamado y han estado en el frente de batalla contra COVID-19 siguiendo la tradición humanística del Hospital Santo Tomás.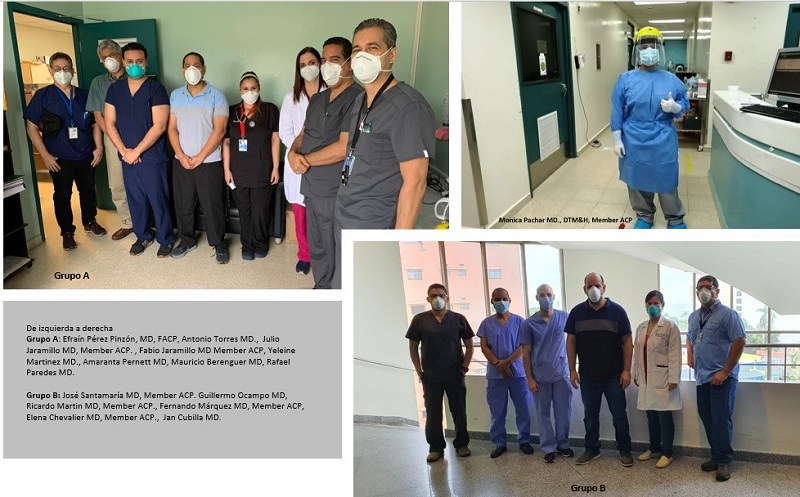 ---
Hospitalist's Corner: El papel del internista hospitalista, Dr Rolando Binns Halman, MD, FACP
Cuanto diversos los problemas diagnósticos y terapéuticos que enfrentamos cada día en nuestras rondas de sala, cambiando de una patología a otra, tanto así es la pasión que sentimos por tratar de resolver dichos enigmas y devolver la salud y tranquilidad a los seres humanos inmersos en su vorágine bio-psico-social. Procuramos integrar la púrpura de la anamnesis y el examen físico minucioso con el auxilio de los estudios de laboratorios e imágenes para alcanzar esta meta. No pocas veces la naturaleza de la enfermedad nos afrenta adversamente, y socava nuestros sentimientos de impotencia.
Sumada a esta titánica labor, nuestros colegas de otras especialidades nos confían la oportunidad de participar en la solución de sus dudas diagnósticas, sugerencias clínicas y terapéuticas, y acompañarlos en el curso de las mismas, compartiendo éxitos y derrotas. Así describo el papel de un internista hospitalista.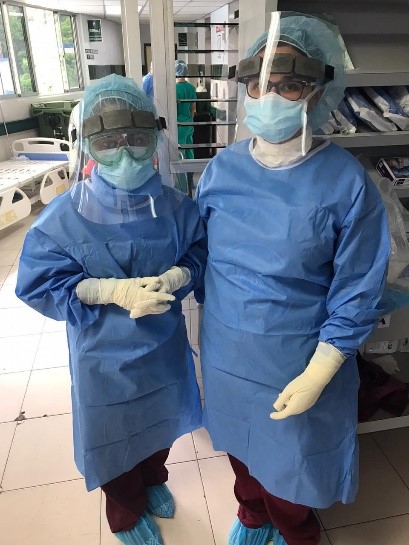 ---
Medical Anecdotes: Heroes, Dr Daniel R Pichel, MD, FACP, FAHA, FACC
Héroes… Esa es la palabra que mucha gente usa para referirse al equipo de salud que convive con la pandemia en la primera línea de contacto. Un ejército de médicos, enfermeras, auxiliares, laboratoristas, técnicos, paramédicos, conductores de ambulancia, camilleros, personal de trabajo manual, aseadoras, terapistas y tantos otros. En algunos lugares todas las noches la gente sale a aplaudirles, cantarles y manifestarles su admiración por lo que hacen. Ya era hora…
Pero todo ese personal del equipo de salud no son "héroes". Son personas comunes y corrientes, que optaron por una profesión que viene con esas reglas. Personas comunes y corrientes, con virtudes y defectos como todos. Que están llenos de miedos, dudas e incertidumbres. Al salir del hospital se bañan, restregándose casi que, con odio, porque tienen terror de llevar el virus a su casa, conde conviven con sus parejas, sus hijos, sus padres, y posiblemente sus abuelos. Ya no es tan fácil "aislarse por dos semanas", porque alguien tendrá que atender a los pacientes. Su trabajo no puede ser reemplazado de un día para otro. Ellos tienen sus destrezas muy particulares que no están disponibles sin un montón de tiempo de estudio y entrenamiento. Y al día siguiente…, volverán al hospital, exactamente con los mismos miedos, dudas e incertidumbres. A seguir cumpliendo con su deber. ¡No son héroes, son el personal de salud cumpliendo con su trabajo y su vocación!
---
Resident's Corner: La educación del medico residente en tiempos de COVID, Dr Hiram Guevara, MD, Chair, Resident Council
La educación del médico residente de medicina interna en esta era de la Pandemia se ha visto afectado a gran escala debido a la reducción de pacientes no COVID-19 en las salas, rotaciones que no pueden ser realizada por el hecho que: uno, no acepta residentes, no tienen consulta externa, no tienen una sala o que ya no realizan el procedimiento pertinente que se realizaba en esta institución, pero por estas circunstancia no se llevan a cabo. A pesar de realizarse docencias virtuales para al menos mitigar un poco esta circunstancia, no es lo mismo porque se pierde el trato con el paciente y al no rotar dicha especialidad con un numero adecuado de pacientes, la formación optima se pierde.
Básicamente estos ultimo meses casi solo se ha manejado Covid y cada día que pasa son más los casos que llegan a esta institución y eso ha fraccionado los residentes: a unos cubrir salas generales y otros áreas de COVID, lo cual en sala generales no nos damos a basto para suplir toda la demanda del resto del hospital. Como conclusión la formación del residente de medicina interna ante esta pandemia no es la adecuada debido a que no se puede cumplir con el plan de estudio de residencia por falta de rotaciones, pacientes y docencia. No es fácil ver un paciente morir por déficit de espacio, o ver un compañero enfermarse y luego quedar ingresado como paciente. Es agotador y en parte deprimente, ya que luego de culminar una jornada, no podemos regresar a casa por miedo a contagiar a nuestras familias.
Pero lo que, si es cierto, es que esta experiencia nos hará médicos más fuertes y resilientes, pues hemos tenido que aprender a cuidarnos nosotros además de cuidar a nuestros pacientes, y hemos conocido la solidaridad para con nuestros compañeros que han sido afectados. Es una lección de vida y de formación...
---
Desde la Región de Guatemala: Presentación de Historia Clinica y Hoja de Flujo para pacientes con COVID, Dr Carlos Nitsch Montiel, MD, FACP
El Dr Carlos Nitsch Montiel, FACP representante de Guatemala en el Consejo Directivo del Capítulo, participó de un Webinar donde expuso un formato de Historia clínica y seguimiento de pacientes admitidos al hospital por neumonía Covid-19. En este webinar participaron médicos de toda la región de Centroamérica y del Caribe, con unos 1500 conectados.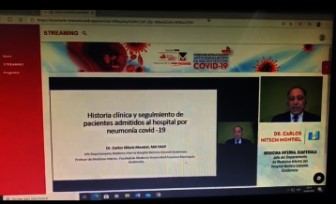 Nos dice el Dr Nitsch:
El problema actual de salud por el que el mundo atraviesa actualmente requiere de de una visión amplia que pueda integrar todos los aspectos clínicos a fin de poder ofrecer a los pacientes un enfoque completo para evitar al máximo las complicaciones que puedan presentarse. Desde el momento de la admisión de los pacientes al hospital durante su estancia y poder hacer consideraciones clínicas que impacten en su diagnóstico y tratamiento.
Por esto hemos elaborado un formato de evaluación de los pacientes y una hoja de evaluación de seguimiento diario a fin de que pueda ser de utilidad en las áreas designadas para la atención de los pacientes con neumonía covid-19. Este documento queremos compartirlo a fin de que pueda ser de ayuda a todo el equipo de internistas que se encuentra trabajando intensamente.
Lo que recomendamos hacer luego de descargar la información es: la hemos colocado en computadoras que se encuentran instaladas en las áreas de aislamiento y establecimos una conexión remota a computadoras fuera de esas áreas de tal manera que no se maneje documentación en papel, los médicos tratantes que no están en el área pueden analizar la información desde fuera y hacer sus anotaciones de la misma manera. Protegemos entonces a nuestro grupo de médicos y enfermeras reduciendo en parte su exposición, pero a la vez obtenemos información constante de los pacientes conforme la hoja de evolución se va actualizando diariamente. De esta manera tendremos una panorámica clara combinando la telemedicina con la medicina clínica. Pueden acceder a los documentos a través del link anotado abajo.
https://1drv.ms/u/s!AhAFqpIkGT2vg1y6cxcYFwtRPhOt?e=eVRq6a
---
Medical Student's Corner: Samuel Moreno, Chair, Medical Student Council
El Consejo de Estudiantes, junto con los Internal Medicine Interest Groups (IMIG) de la Universidad Nacional, Universidad Americana, Universidad Latina y la Universidad Interamericana de Panama, han estado muy activos en esta época de COVID. El día 25 de Abril de 2020, presentaron un webinar con la participación del Dr Nestor Sosa, MD, FACP, exgobernador del Capítulo y actual Jefe del Departamento de Enfermedades Infeccionas del Hospital de la Universidad de New Mexico. La charla fue sobre COVID-19, Epidemiología, Clínica y Manejo.
El 9 de Mayo de 2020, presentaron un Webinar sobre "Inducción al Internado", con la participación de las doctoras Lisa Angulo, MD, y Adriana Sosa, MD, médicos residentes de Dermatología del Complejo Hospitalario de la Caja del Seguro Social y del Hospital Santo Tomás respectivamente. El día 30 de Mayo de 2020, presentaron la segunda parte sobre "El Segundo año de Internado" destacando características de varias regiones del interior, y tambióen se mencionó la posibilidad de aplicación a plazas de investigación en el Instituto Conmemorativo Gorgas como parte del segundo año de internado.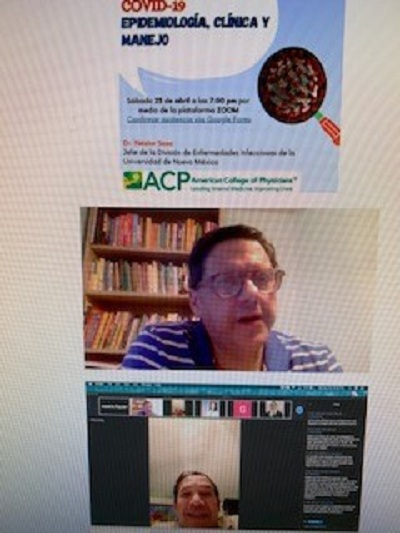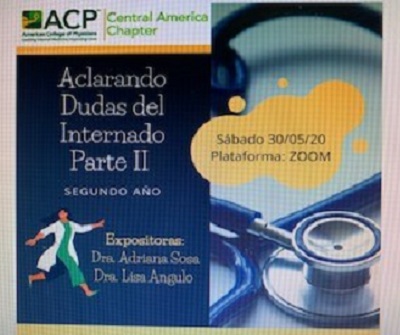 ---
Governor's Note
Finalmente quiero insistir en que aprovechen las herramientas que el American College of Physicians actualiza frecuentemente sobre el COVID-19 y el Bienestar y Resiliencia del Médico, con muchos cursos gratis para los miembros y que además dan créditos de educación médica continua.
Eric Ulloa Isaza, MD, FACP
Governor