---
---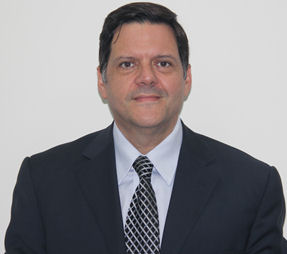 Nestor Sosa, MD, FACP, ACP Governor
---
Mensaje del Gobernador
Un saludo cordial a toda la membresía del Capítulo de Centro América del American College of Physicians.
Mi nombre es Néstor Sosa, y soy su nuevo gobernador. Para los que no me conocen, soy internista e infectólogo, trabajo como Director del Instituto Conmemorativo Gorgas en Panamá.
Me siento honrado de tener la oportunidad de servirles durante este período del 2016 al 2020. Tengo la fortuna de tener como consejeros y amigos a varios ex-Gobernadores de nuestro capítulo, me acompañan además en esta gestión un grupo extraordinarios de medicos de varios países de Centro América. Como si fuera poco cuento con la invaluable ayuda y compañía de Giselle Rodriguez, MD, FACP, mi querida esposa, internista y entusiasta colaboradora del ACP.
Pueden contactarme directamente a mi correo electrónico.
Quiero presentarles nuestro Newsletter y agradecerles de antemano a todos por su contribución y por ayudarnos a promover la excelencia y el profesionalismo en Medicina Interna.
---
Congreso Anual del Capítulo de Centro América del American College of Physicians 2016
Como ya es costumbre, la reunion annual fue todo un éxito, con la asistencia de más de 500 paticipantes y excelentes conferencistas. A destacar la participación del Presidente del ACP Nitin Damle, del Gobernador de Chile el Dr. Guillermo Conte y el famoso neurólogo de la Universidad de Harvard Martin Samuels.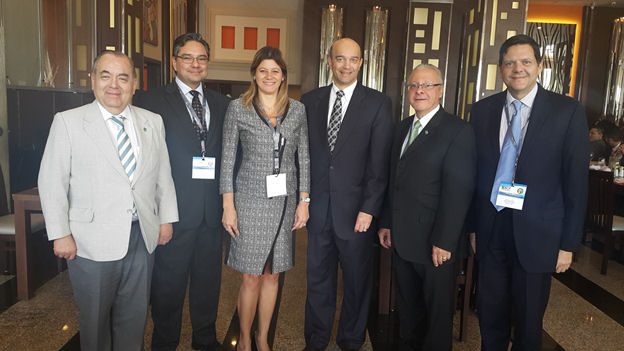 De Izquierda a Derecha: Drs. Guillermo Conte, Luis Lara, Giselle Rodriguez, Nitim Damle, Aron Benzadon y Nestor Sosa durante el Chapter Meeting en Panama 2016
---
Laureados del Capítulo en el 2016 y Agradecimiento al Dr. Benzadon
Durante la Cena de Gala de nuestra reunión capitular se hizo entrega del Laureate Award a los Doctores Percy Nuñez de Panamá y Orlando Quesada Vargas de Costa Rica. Sin duda dos profesionales excepcionales, ejemplos a seguir y orgullos del Capítulo.
El Dr. Nuñez con una brillante carrera, uno de los pioneros de la Cardiología Panameña. y el Dr. Quesada Vargas un tremendo académico con una contribución invaluable al conocimiento médico con su publicación electronica: ampmd.
Durante esta cena, se incluyó como sorpresa un merecido homenaje a nuestro Gobernador saliente Dr. Aron Benzadon. Leimos un mensaje de agradecimiento y felicitaciones por parte de los líderes de ACP. El Dr. Nitin Damle, Presidente del ACP destacó igualmente la contribución del Dr. Benzadon durante el acto, y los estudiantes que trabajaron en la organizacion de los eventos le ofrecieron un obsequio significativo.
Gracias Aron por haber contribuido al crecimiento y mejoramiento del Capítulo!
---
Nuevo Master y Nuevos Fellows del Capítulo en el 2016
El Dr. Rosendo González ex-gobernador de nuestro capítulo recibió su merecido ascenso a Master del ACP durante el "Convocation Ceremony". El Dr. González prestigioso internista y gastroenterólogo panameño se convirtió así en la novena persona en recibir tan importante distinción.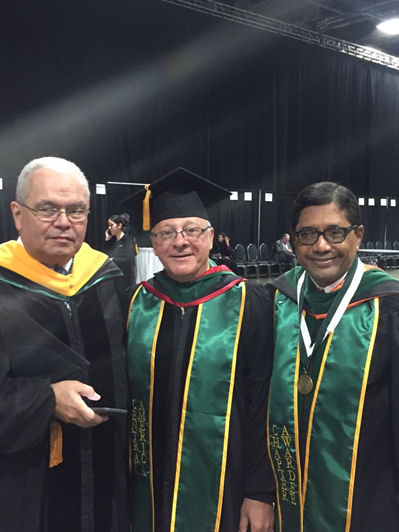 En la foto observamos al Nuevo Master Rosendo González acompañado por el Dr. Aron Benzadon Gobernador Saliente (centro) y el Laureado Dr. Jorge Sinclair.
Con gran orgullo desfilaron también este año en el "Convocation Ceremony" los nuevos Fellows del Capítulo. Inspirados por el discurso del Presidente saliente del ACP Dr. Wayne Riley y el aplauso y vítores de los familiars y amigos que los acompañaron a Washington D.C.
Los Fellows invitados este año fueron: Enrique Adames Almengor, Nuvia Batista, Evelia Gomez, Ligia Gonzalez, Miguel Mayo, Julio Toro, Nelson Novarro, Daniel Murillo Castro, y Lorenzo Diaz.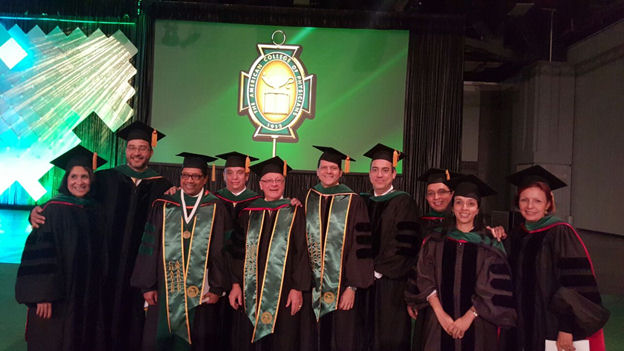 Foto de Nuevos Fellows, un Laureado y los Gobernadores (Convocation Ceremony 2016). De izquierda a derecha: Drs. Ligia González, Nelson Novarro, Jorge Sinclair, Lorenzo Diaz, Aron Benzadon, Néstor Sosa, Miguel Mayo, Enrique Adames, Nuvia Batista y Evelia Gómez.
---
Internal Medicine Meeting 2016 en Washington, D.C.
Este año el Internal Medicine Meeting se realizó en la ciudad de Washington D.C. El contenido académico del evento fue extraordinario. La asistencia, especialmente de miembros de los capítulos internacionales fue muy alta. La representación de nuestro capítulo superó los 30 participantes.
La nota más sobresaliente sin duda la ofrecieron los residents del Complejo Hospitalario Metropolitano de la Caja del Seguro Social de Panamá quienes clasificaron a la ronda de los mejores 20 equipos de la competencia de Doctor's Dilema (ver más abajo).
Durante el ultimo día del evento, en el "Business Meeting", en una ceremonia sencilla se dio el cambio oficial de Gobernadores e inciamos con entusiasmo nuestro período.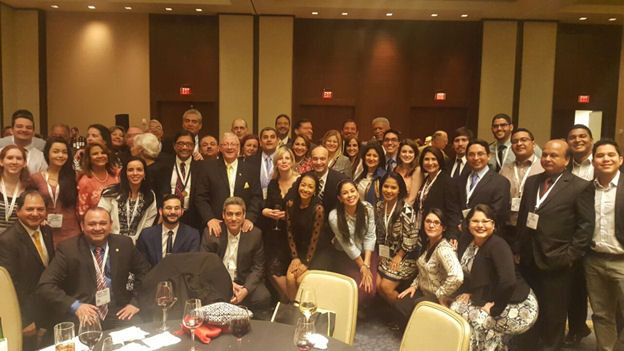 Delegación multitudinaria y entusiasta del Capítulo de Centro América del ACP en la Recepción Internacional con algunos colegas de India, México, el Presidente del ACP Dr. Nitin Damle y su esposa Diane (en el centro)
---
Actuación del Equipo de Residentes del Capítulo en el Doctor's Dilema en Washington, D.C.
Este año, nuestro equipo de residentes (José Solis, José Castro y Hernán Cortez) lograron avanzar, en una emocionate competencia, a la ronda semifinal y estuvieron a un punto de pasar al "final four". Con un aplomo indescriptible y muchas respuestas acertadas, superaron a prestigiosos representantes de los mejores hospitales del mundo. Realmente una actuación histórica. Felicidades a nuestros campeones!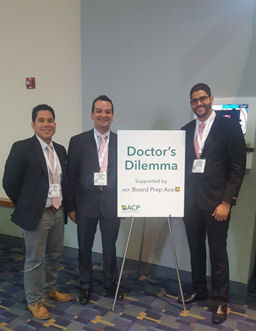 Foto de Nuestros Campeones! (José Solis, José Castro y Hernán Cortez)
---
Creación de la Página de Facebook y la cuenta de Twitter del Capítulo de Centro América del ACP
Para mejorar la comunicación y promover las actividades y logros de nuestro Capítulo hemos creado una página de Facebook (American College of Physicians Central American Chapter) y una cuenta de twitter:@InternistasACP.
Una de las primeras notas colocadas en la página de Facebook fue vista por más de 17 mil personas. El número de seguidores en ambas plataformas sigue creciendo. Síguenos, participa e informate!