---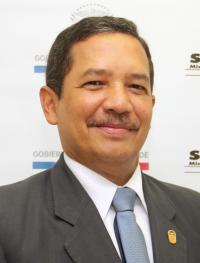 Eric Javier Ulloa Isaza, MD, MMM, FACP, ACP Governor
---
Gold Excellence Award
El Capítulo de Centroamérica es reconocido nuevamente con un Premio a la Excelencia de Oro. Gracias a la participación de todos los miembros que colaboran con el capítulo, somos reconocidos nuevamente por el Liderazgo con el Premio a la Excelencia.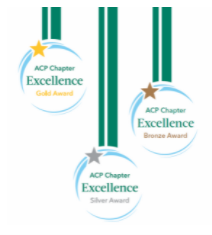 XLIV Congreso del Colegio Americano de Médicos en colaboración con la Sociedad Panameña de Medicina Interna.
Del 17 al 19 de febrero de 2022 se celebró nuestra reunión anual, por primera vez en modalidad híbrida, con una asistencia de 303 personas. Tuvimos como embajadoras del American College of Physicians a la Dra Marianne Parshley, FACP, regente del colegio, y a la Dra Janet Jokela, FACP, tesorera electa del colegio. Además, contamos con la participación del Dr Steven Nissen, MACP, uno de los investigadores más influyentes de la literatura científica, conocido por sus trabajos en arterosclerosis, y colaborador de la FDA en seguridad de medicamentos. Además, participaron muchos de nuestros colegas locales, como el Dr José Rogelio Méndez, MACP, Dra Mónica Pachar, FACP y chair de nuestro comité de internistas jóvenes, Dr Antonio Cachafeiro, FACP, director de Pacífica Salud; Dra Lorena Noriega, FACP y Dra Elsa Rueda, médico residente; la Dra Karen Courville, FACP; la Dra Ana Espinosa De Ycaza, FACP y la Dra Anarellys Quintana, FACP, secretaria del congreso. Además, tuvimos el precongreso de Manejo del Dolor, con el currículo del ACP, impartido por la Dra Lorena Noriega, FACP, Dr Edwin Rangel, miembro afiliado del capítulo, y Dr Eric Ulloa, FACP, gobernador.


Doctor's Dilemma
La competencia de conocimientos médicos se dio entre los equipos de Costa Rica, Guatemala, y Panamá. El equipo del Complejo Hospitalario Metropolitano Dr Arnulfo Arias Madrid de Panamá, resultó Ganador y nos representara en la competencia en IM2022 en Chicago.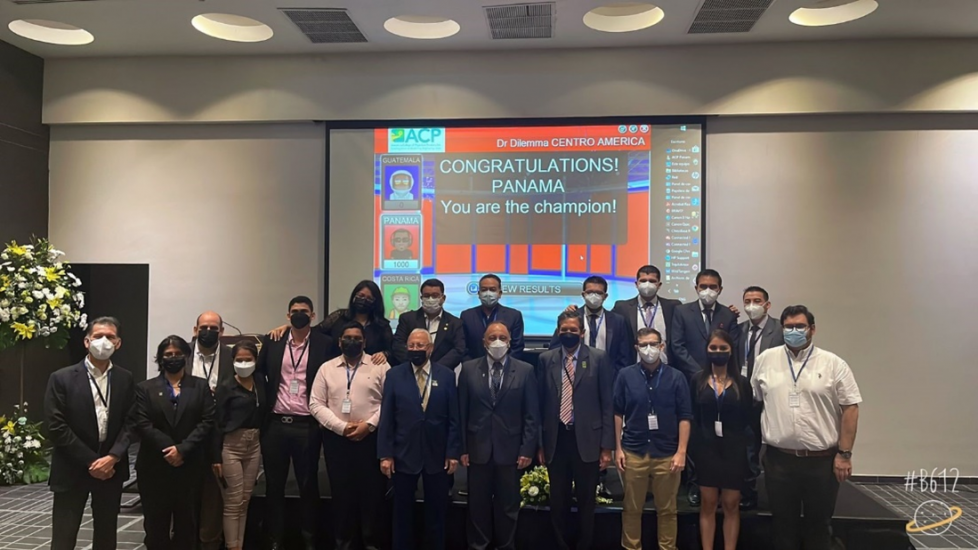 Concurso de Posters
Mejor trabajo de Investigación: "Factores relacionados al desarrollo de endocarditis infecciosa en pacientes en hemodiálisis en el CHDrAAM 2010-2020", por el Dr Harold Bravo Thompsom, quien se hace acreedor al premio William James, y nos representará en IM2023 en San Diego, California.
El mejor caso clínico: "Proptosis y Escleritis recurrente como única manifestación de granulomatosis con poliangeitis", Dr Alam Eduardo Guerra
Premios del Capítulo
Honramos a nuestros miembros destacados durante el año 2021:
Laureado del Capítulo: Dr Carlos Nitsch Montiel, FACP (GUAT)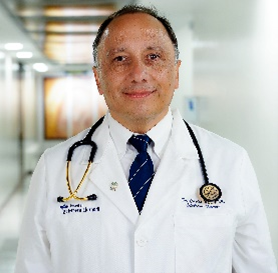 De izquierda a derecha…
Premio a la Mujer Médica: Dra Nuvia Batista, FACP
Premio al Educador médico: Dra Lorena Noriega, FACP
Premio a la internista joven del capítulo: Dra Lisbeth Rodriguez, ACP member
Premio de Medicina Preventiva: Dr Miguel Mayo Di Bello, FACP
Premio al médico residente destacado: Dra Elsa Rueda, ACP resident member
Premio al Voluntariado: Dra Mónica Pachar, FACP
Premio al estudiante de medicina destacado: Daphne Samaniego, ACP student member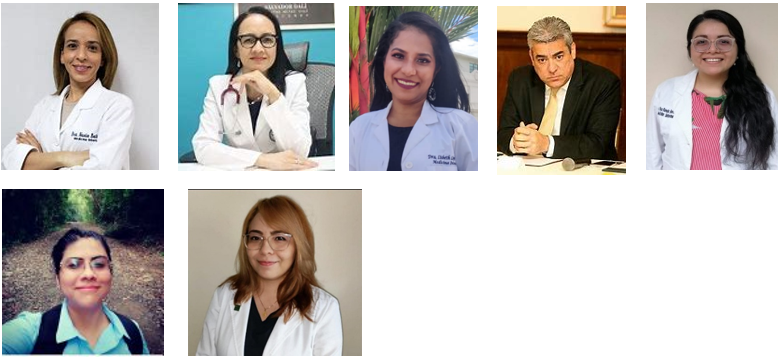 Reconocimiento a los Miembros Seniors
Con el apoyo del Leadership del American College se honró a los miembros del capítulo que han permanecido en forma continua por más de 40 años, todos recibieron su diploma de reconocimiento por su membresía firmado por el presidente del American College of Physicians y un pin que reconoce sus 40 años de membresía.
De izquierda a derecha: Dr Jorge Motta, MACP (PAN); Dr Manuel De Ycaza, MACP (PAN); Dr Arturo Aviles, FACP (SALV); Dr Abraham García Kutzbach, MACP (GUAT); Dr Federico Alfaro, MACP (GUA); Dr Jacobo Bassan, FACP (PAN).

Escogencia del Gobernador Electo del Capítulo (Governor-Elect)
Este año nos toca escoger el nuevo gobernador que nos acompañará durante el año de 2023 en transición, para iniciar su período en abril de 2024, luego de la reunión de IM2024 en Boston.
Potential ACP Governor-Elect Candidates
Nominations Due by April 14, 2022
As you know, the ACP national office is conducting a Governor-Elect election for our chapter this year. The Local Nominations Committees will be responsible for identifying up to two candidates who are willing and able to serve a four-year term (April 2024 - April 2028), in addition to a year of training as Governor-elect (April 2023 - April 2024).
We are looking for a dynamic leader who exhibits integrity, shows commitment to the College and demonstrates dedication to the Chapter and the medical community. The successful candidate will work with Chapter members and with leaders in internal medicine at the national level. A Governor typically spends several hours per week on College Business with the support of executive administrative staff. Serving as an ACP Governor can be an extremely rewarding and life changing experience.
Click here to view the Governor Job Responsibilities.
Only ACP MACPs and FACPs are eligible for consideration. If you would like to submit the name of a colleague or self-nominate, please send the name and contact information to Nuria Tortosa, MD, FACP, e-mail:
All potential candidate information must be submitted by Wednesday April 14, 2022.
IM2022
Aun estas a tiempo de participar en la reunión de Medicina Interna más completa anual, que este año se celebra en la ciudad de Chicago, Illinois.


Para mayor información, copia y pega el siguiente link:
https://annualmeeting.acponline.org/