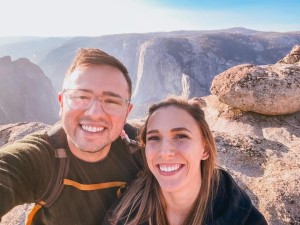 Adam Bumgardner, MD
Combined Internal Medicine and Psychiatry Resident
National Capital Consortium, Walter Reed National Military Medical Center
What is your current year of training?
I am in my fifth year of residency in the National Capital Consortium Combined Internal Medicine and Psychiatry Residency Program at Walter Reed National Military Medical Center.
Why did you choose internal medicine?
My decision to pursue internal medicine was shaped by a desire to understand and treat patients in their entirety. I firmly believe that effective health care isn't just about treating specific symptoms but embracing a more comprehensive approach. This means considering patients' physical well-being, along with their social and behavioral aspects, which is what internal medicine allows me to do.
What lesson(s) did you learn in residency that can help you for the rest of your career?
Residency has been a rewarding experience filled with crucial lessons that will be with me for my entire career. Here are a few:
Creating a supportive and encouraging learning climate is the foundation for delivering and receiving effective teaching.
Everyone has the power to make positive systemic and institutional changes.
Always check in and see how you can help the team.
"Learning medicine is like throwing mud on the wall. Some will stick, and some will fall off, and that is okay." – Jeff Gray, MD
What are your plans for after residency? Are you becoming a chief, going into fellowship, or starting as an attending? What factors or advice from mentors contributed to your decision?
I'm still figuring out the details for next year. I want to pursue a role in graduate medical education, specifically in advocating for trainee wellness. Being a resident or fellow is a phenomenal experience but is challenging at times. Determining avenues to create a supportive, efficient, eustress-filled training environment is a force multiplier in making work (and life!) more enjoyable.
Down the line, I want to pursue a hospice and palliative medicine or general internal medicine fellowship.
So, while I'm still determining exactly what's around the corner, I'm excited about what's ahead and eager to keep learning and growing. 
How has being a member of ACP helped you in your professional life? What resources have been most helpful to you?
ACP has helped me the most through the many incredible individuals I have met within the College, including my fellow CRFM members and people in leadership and on the Physician Well-being and Professional Fulfillment (PWPF) Committee. They lead by example, are change agents at all levels, and passionately advocate for improving medicine! A few resources I have used consistently are MKSAP, DynaMedex, and the PWPF page, which has tools to create and sustain change within your sphere of influence.