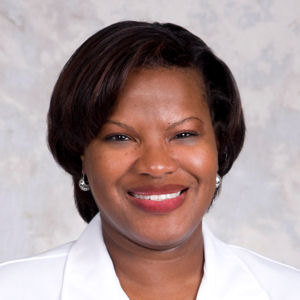 Stefanie Brown, MD, FACP, FAAP, Med–Peds for Life (#MP4L)
Internal Medicine Residency Program Director
University of Miami/Jackson Health System
Someone once told me, "The problem with life is that it has no table of contents. You can try to write your story, but it always turns out differently than you plan it." That was true for me, especially as it relates to my career. I entered medical school with the idea that I was certain about my future career in medicine. I wanted to be a private practice family medicine physician in New Jersey. What I am now is the Internal Medicine Residency Program Director at the University of Miami/Jackson Health System program, clinically practicing ambulatory and inpatient medicine and pediatrics; in my other administrative roles, I am the Section Chief for Med–Peds and Pediatric Hospital Medicine.
My initial draw to family medicine was the ability to provide health care for families and a desire to provide continuity of care. My first clerkship of my third year in medical school was in internal medicine. I was paired with a new intern named Howard Sobel. Howard was the complete package. He was incredibly smart and clinically savvy and seemed to know everything. He was also compassionate, caring, and fun. I found myself thinking, "I want to be that guy." Howard asked me what I wanted to do with my life, and I told him I wanted to do family medicine. He replied, "Why don't you do med–peds?" As my first resident partner, he was a perfect role model and unwitting mentor, and I am forever grateful for his introduction into med–peds.
As I moved through third year and into fourth year, I was certain I wanted to do med–peds. I loved caring for adults and children in the same space, but I also really enjoyed inpatient medicine and potentially subspecialty training. I realized that entering a family medicine residency would significantly limit the options for those aspects of clinical care. I matched as a med–peds resident at Rutgers–New Jersey Medical School. It was there that I fell in love with academic medicine—teaching and mentoring as Howard did for me. And I knew then that private practice was no longer my path.
The benefits of being a physician trained in med–peds are innumerable and ever evolving. Most notably, during the COVID-19 crisis, we became some of the "experts" for our fellow pediatricians thrust into adult care.
I moved to the University of Miami in 2008 as the med–peds residency program director, where I had the opportunity to innovate and evolve a residency program. I became an agent of change. In 2015, this opportunity came again in the form of the internal medicine residency. I said, "Of course," because that is the med–peds way. We are change agents and leaders. We bridge gaps in not only patient care but also academia and administration. We are both chameleons and unicorns. We are 100% medicine, 100% pediatrics, and 300% med–peds. The whole is more than the sum of its parts.