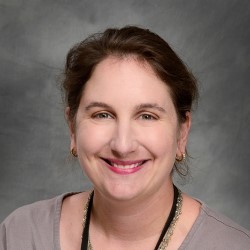 Lauren Beste, MD, MSc, FACP
— OCCUPATION: —
Deputy Chief, General Medicine Service, VA Puget Sound Health Care System, Seattle, WA; Director of the Data & Analytics Group for the national HIV, Hepatitis, and Related Conditions Program Office for the Department of Veterans Affairs (VA); Associate Professor of Medicine, University of Washington School of Medicine, Division of General Internal Medicine, Seattle, WA

— MEDICAL SCHOOL: —
The Johns Hopkins University School of Medicine, Baltimore, MD

— RESIDENCE: —
The Warren Alpert School of Medicine at Brown University, Providence, RI

What is your current position?
I have several roles. I am the Deputy Chief of the General Medicine Service at the VA Puget Sound Health Care System in Seattle, WA. I am the Director of the Data & Analytics Group for the national HIV, Hepatitis, and Related Conditions Program Office for the Department of Veterans Affairs (VA). Lastly, I am an Associate Professor of Medicine at the University of Washington School of Medicine, Division of General Internal Medicine. I absolutely love working for the VA health care system. It feels amazing knowing that I can care for my patients without them having to fear being bankrupted by medical expenses. I love the VA's wraparound approach to health, which includes mental health, housing support, transportation, and even dental care.
Where did you attend medical school and post grad training?
I attended The Johns Hopkins University School of Medicine and I did my internal medicine residency at The Warren Alpert School of Medicine at Brown University. Then I moved to the Pacific Northwest where I completed a master's in health services research at the University of Washington in 2009.
Why did you choose to become a physician?
It took me a while to figure out what I wanted to do professionally. For a long time, I thought about becoming an anthropologist or a writer. Then I realized what a privilege it is to be present with others as they make some of the biggest decisions of their lives, and I knew medicine was for me. It is an honor to have a part in the big health events that define other people's lives. I never come home at the end of the day wondering if I wasted my time.
What field of internal medicine did you select and why?
I am proud to be a general internal medicine physician. I really like solving complex problems. I think problem-solving and strong communication skills are probably the two most important qualifications for anyone interested in internal medicine.
Please describe a typical day in your practice.
I spend the majority of my time doing administrative work these days, overseeing a large primary care department of 144 providers and over 600 staff at 9 different locations. Administrative work is a whole different type of complex problem-solving compared to clinical medicine, but I really enjoy it. I spend about a quarter of my time seeing patients, and the remaining quarter working on data-and-analytics projects related to HIV and viral hepatitis.
What are some of your special interests professionally?
Early in my career I became obsessed with viral hepatitis. This interest began during my residency continuity clinic, which was located at a local homeless shelter in Providence, RI. So many of my patients died from cirrhosis, especially from hepatitis C virus. It felt wrong that so very few of my patients were considered eligible for antiviral treatment. After I joined the VA, I became deeply involved in national efforts to expand hepatitis C treatment to more patients. As a generalist involved in what was then considered a specialty practice niche, I had a lot to say about the potential of general medicine providers to provide antiviral treatment for hepatitis C. Nearly any of us have the capability to do so with a bit of training, especially after oral medications for hepatitis C were approved. My early interest in hepatitis C virus eventually spun off into educational interventions, many research projects, and a role at the national HIV, Hepatitis, and Related Conditions Program Office.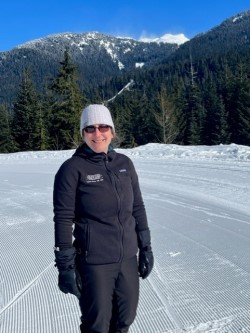 What are your interests and hobbies outside of medicine?
I have too many interests for my own good! My two daughters keep me busy with their activities like soccer, kung fu, and Girl Scouts. I do a lot of volunteer work with the Girl Scouts and at other organizations that support education for girls. I love backpacking and I do many trips in the summers. During the winter, I do a lot of snowshoeing, Dungeons & Dragons, and baking.
What advice would you like to share with medical students or what do you wish someone would have told you while you were in medical school?
I was discouraged from trying to apply for medical school by my college advisor. He encouraged me to consider a field that was "less competitive," even though I had straight A's and was highly qualified to apply. Although I can't be sure of his reasons, I highly doubt he would have given the same advice to a male student with a similar background. Hearing an authority figure question my career goals really made me doubt myself, but luckily it did not derail my application. Since then, I've made it a priority to mentor other women and offer support to those who tend to get overlooked—because I almost was one of those people. My advice to anyone just starting out is that there is a place in medicine for all of us. Other people will almost certainly doubt you at some point in your career, especially if you are doing anything in the least bit daring. When it happens, listen to their feedback, use anything useful, and then ignore the rest. Let other people's doubts simply fuel your fire.
Which living person do you most admire?
I deeply admire my husband, Terapat. He is an engineer, but he truly has a poet's romantic soul. He is extremely organized, and you will never meet anyone kinder or more honest. He has put up with my shenanigans since we met back in ninth grade!
Which talent would you most like to have?
I have the world's worst sense of direction. I don't even need to have a special talent. I would just love to not get lost all of the time.
What is your most treasured possession?
Even though it sounds like a cliché, time is literally my most precious resource. Above all else, I treasure time with my family, especially my kids, since I know they will soon be grown and gone. I can't think of any possession I own that even comes close to time with my family.
What is your motto?
I love this great quote from Louisa May Alcott: "I am not afraid of storms, for I am learning how to sail my ship." We as physicians are capable of doing hard things. In fact, it is what we are born and trained to do! I also love this quote because it reminds me that we are forever "learning to sail our ship." Nobody has it all figured out, but that does not mean we are helpless. This motto gives me the courage to dive in and do my best to tackle challenges, even when problems seem daunting.
Back to the July 2023 issue of ACP IMpact
More I.M. Internal Medicine Profiles