Dear Colleague,
When my family immigrated to the United States from Nepal in 2011, we had no place to live, no support system, and no experience with the American educational system. We were starting from scratch. I knew that I wanted to be a physician, but I didn't know where to start. I enrolled at a local community college and, thankfully, I found professors and mentors along the way who brought clarity to a process that was otherwise opaque and scary. Under their guidance, I participated in what is now the Summer Health Professions Education Program at the University of Nebraska Medical Center, where I shadowed physicians and medical students. I also interacted with physicians who came from disadvantaged backgrounds, which gave me confidence that I was capable of becoming like them. I graduated from community college and received a Cooke scholarship to attend Cornell University. I graduated from Cornell and did post bac research fellowships at Harvard and Johns Hopkins. After that, I decided to enroll at the University of Nebraska Medical Center College of Medicine, the same institution where I'd participated in the summer internship program.
I feel fortunate to have received such incredible opportunities and mentorship along the way. However, throughout my journey, I also realized that as minority students, we face individual, institutional, and structural discrimination in many facets of our everyday lives. I would like to say that the world is a fair and just place, and that if you get accepted into medical school, you should be able to get through it easily. I am not encouraging you to become cynical, but I also know in my heart that this simply isn't the truth. Some of you might be immigrants and first-generation medical students like me; others might be from low-income backgrounds or what the Association of American Medical Colleges describes as underrepresented in medicine. Many of us have overcome obstacles in one way or another to reach this point, and these challenges will probably continue as we journey toward becoming physicians.
Our individual experiences might be different, but as a group, we have more similarities than differences. I am one of you. And today, from the bottom of my heart, I would like to congratulate you for all the things that you have done and continue to do and the commitment you have made to enter the noble field of medicine. As you progress through the years in medical school, I encourage you to keep the bigger picture in mind. Oftentimes, we are lost in the overwhelming details of the preclinical curriculum and trapped in the competitive nature of medical education. Our focus is primarily on numbers and standardized exams. I am not saying that those aren't important; of course, they are. What I am saying is that being a physician entails more than just numbers. I would encourage you to stay away from this bubble of hyper-competition. Be competitive but with yourself. Challenge your own limitations. Be a better medical student today than you were yesterday. Be a trailblazer and help others along the way.
Early in medical school, you will learn how to perform a physical exam and take a good history. Later in your clinical years, you will collaborate with a diverse team and take care of patients during the most vulnerable period in their lives. When you walk into the examination room and start interacting with the patient, you will realize that compassion, cultural competency, and relatability count the most. At that very moment, you will appreciate that your background as a minority student, the path you have traveled, and the obstacles you have overcome are not your weaknesses but your biggest strengths.
The great Dr. Martin Luther King Jr. once said, "Faith is taking the first step even when you can't see the whole staircase." You have already taken that first step. Now let that faith lighten your journey to becoming a compassionate and culturally competent physician.
Best wishes,
Sagar Chapagain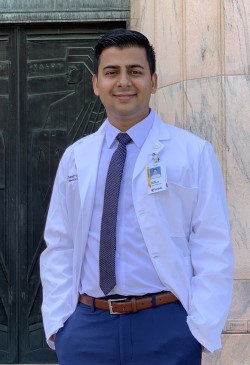 Sagar Chapagain is a Jack Kent Cooke Scholar and currently a medical student at the University of Nebraska Medical Center College of Medicine.
Back to the July 2022 issue of ACP IMpact