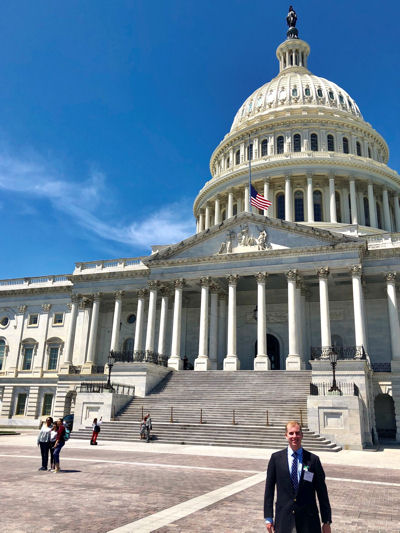 In May, over 400 ACP members gathered in Washington, D.C., to advocate on behalf of physicians and patients from all over the country. The two-day event featured opportunities to learn about ACP's public policy priorities and engage with congressional lawmakers by sharing personal experiences. This year, issues included the physician shortage, gun violence, the high cost of prescription drugs, and GME funding. Almost half of the participants were medical students, an indicator of the immense interest in national policy among young adults. In fact, many of the legislative staff on the receiving end of our stories are the same age, giving us an edge in building rapport.
May is an active month on Capitol Hill, featuring a slate of committee hearings and votes before Congress breaks for Memorial Day and returns to the home districts. ACP is just one of several groups–including physician groups–that convene in Washington. The primary reason so many physicians advocate in our nation's capital is because we are the most qualified to discuss pertinent health care issues. To quote the musical Hamilton: We want to be "in the room where it happens." The future of U.S. health care is at stake, and we want our elected officials to make the most informed decisions. Borrowing another aphorism: "If not now, then when. If not us, then who."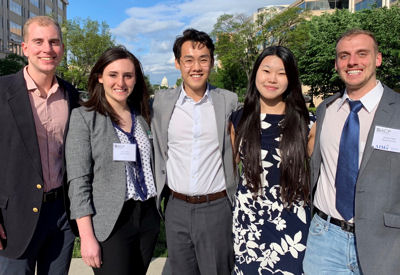 Leadership Day is itinerant: Each state delegation has meetings with the state's senators and representatives. The meetings last from 10 to 30 minutes and sometimes taken place as lawmakers walk to their next meeting. Here are three reflections shared by medical students who participated this year:
---
As I stood in the halls of the Capitol to advocate for solutions to major issues in health care, I was inspired by the power of organized medicine. Hundreds of physicians, residents, and students met with senators and representatives from their home states to share stories of our patients, painting a picture of why these issues are critical. I shared a story of my patient who presented with diabetic ketoacidosis and was found to have lost 30 pounds since his last admission the year before. On further questioning, I learned that he was starving himself to pay for his insulin. The price of insulin has increased approximately 10-fold since 2001, and such astronomical price increases can be devastating to our patients. Sadly, a statistic is not always as compelling as a story, and as health care providers, we are on the front lines listening to these stories firsthand. Our experiences with patients who inspire joy, grief, and hope have the power to influence our legislators. This is why advocacy in medicine is so important. I encourage my medical student peers to get involved with their local ACP Chapters and consider attending this conference next year to learn how we can be the catalyst to change the laws that govern health care in our country.
Alana Freifeld
CNU College of Medicine, Class of 2020
Council of Student Members, American College of Physicians
---
As a first-time Leadership Day attendee, I was nervous about meeting with such important political figures for Texas and our nation. I wouldn't describe myself as particularly active politically; I read the news and try to have educated opinions on political issues, but I had never been directly involved in any major advocacy efforts in the past. I certainly had a case of "impostor syndrome," wondering if I was the right person for this job as I flew into DC. Fortunately, exposure to the advocacy process through the first day's sessions and workshops helped me feel better suited to represent Texas medical students for our state's legislators.
We were fortunate to have meetings with the offices of both Senators Cruz and Cornyn and many of our representatives. Each meeting began with a member of our group introducing the senator, representative, or their staff to ACP. We would then take turns bringing up issues ACP was seeking support for. Usually a physician in the group would take the lead, introducing an issue like prescription drug costs and share relevant national and state-specific statistics. Then a resident or I would take turns sharing stories from our patients and our clinical experiences to make the importance of the issue clear and relevant. For example, I shared anecdotes of my work with patients whom I saw on my third-year internal medicine clerkship. I had one patient who would ration his heart failure and diabetes medications to avoid paying high drug prices and ended up having an exacerbation of his diseases and had to be admitted to the hospital.
The general sense I gleaned from many of the legislators is that they were familiar with ACP and the efforts we are making to support the patients we see. These legislators recognize that we, as internists, see patients affected by current legislation on the front lines of clinics and hospitals, and that ACP's positions represent the voice of a significant portion of our nation's doctors. My involvement in Leadership Day made it easy to see how we can make a difference as physician advocates by taking these steps to inform legislators of issues we see affecting our patients and the health care system.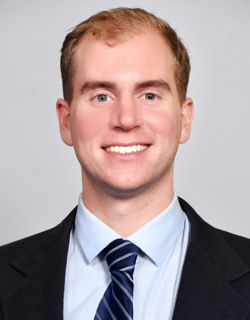 Renato Guerrieri
McGovern Medical School/MD Anderson Cancer Center–Medical Scientist Training Program
Fourth-Year Student (GS1)
Council of Student Members, American College of Physicians
Education Committee, American College of Physicians
---
At Leadership Day, I found that the opportunity to network with other medical students was extremely valuable in understanding the different challenges each state faces for medical education and health care legislation. ACP is able to advocate on a federal level for many important issues, like increasing NIH and affiliate research funding and expanding graduate medical education funding for residency. As a student, I got the opportunity to speak with senators and legislative aides from Nebraska about the direct impact GME funding and federal loan repayment contracts have on specialty selection for medical students. I established good relationships and was able to showcase the daily life of a medical student in a brief conversation with each Congressperson's office. I'm looking forward to returning in May 2020!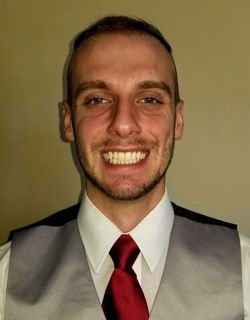 Bradley Pfeifer
Creighton University
M2–School of Medicine 2022
Graduate School of Business Administration 2021
Council of Student Members, American College of Physicians
---
Compiled and edited by
Steven X. Chen
Vice Chair, Council of Student Members, American College of Physicians
Back to the July 2019 issue of ACP IMpact