Having the opportunity to study medicine has been a gratifying experience, knowing I would be able to one day put this knowledge into practice with my own patients. Yet as a medical student, I am bound to my study schedule and review textbooks. I spend much of my time learning intricate pathways involved in ACE inhibitor side effects, indications for diabetes medication, and management of congestive heart failure.
At first, my impression of medicine was taking care of the critically ill, sprinting from floor to floor and making executive decisions for care. However, as I completed my basic sciences and board exam prior to clinical rotations, I began to consider the people, not the patients, I would be learning from. It was not until my internal medicine rotation at Medstar Harbor Hospital that I saw this come to fruition. I began to learn that being a physician was more than just nursing the ill back to functional health. It was also about keeping people healthy and working within our resources to benefit the greater community.
I'll never forget the words of the program director and attending physicians when they told us to take care of patients as if they were our own. I vividly recall the patient encounter that ignited my consideration for the community. The patient had recently been admitted for acute pancreatitis. The standard protocol was to place the patient nil per os with intravenous hydration and pain management. I monitored vital signs and laboratory values to ensure that he was recovering. I found that his triglycerides, blood sugar, and hemoglobin A1c were significantly higher than reference range and likely contributed to his current condition. I became curious about the patient's risk factors leading to this condition. Could he have had a familial condition predisposing him? More important, what resources could I provide him prior to discharge?
I built a rapport with the patient during the hospitalization and learned about his family's struggle to maintain a healthy lifestyle due to a scarcity of healthy choices at local food pantries. This was the first time a patient had ever mentioned this to me. I reached out to the staff nutritionist and learned that, indeed, many local food pantries had limited availability. I was able to discuss and craft a pseudo-diet for the patient that may help prevent future complications and improve his quality of life. Although I did not understand insulin dosing at the time, I discussed his discharge management and disposition with the resident. My patient was eventually discharged with insulin, the tools for injection, and blood sugar measurement. I spent time with the patient explaining the procedure and had him recite back to me what he understood. I realized that for a patient who had never had to follow such a strict regimen, it would be difficult to maintain. However, I tried my best to have him understand its importance. I also set up follow-up appointments with his primary care physician as well as an endocrinologist to manage his diabetes.
As interested as I was in the medical management of his presenting condition, I was curious about the social aspects that led him to our emergency room. I felt the desire to utilize my resources at Medstar Harbor Hospital to coordinate a canned and dry foods drive at the hospital to benefit the local community's food pantry. I worked with other medical students and recruited the support of members of the hospital community to help spread the word. I was ecstatic knowing I would be able to make an impact on the lives of others and provide resources for them to remain healthy. I have continued this effort by programming a winter necessities drive to help stock local clothing closet organizations and the Medstar Harbor hospital emergency room to provide warm clothing for those who may need it upon discharge.
My internal medicine rotation taught me the importance of truly knowing who my patients are as people and community members. Service and volunteerism sometimes get lost in the midst of chaotic study schedules and board examinations. I have to remember it is the community that allows me to learn and perfect my physical examination and critical thinking abilities. I must do my part to support them as they support me. Throughout my studies, I have made a conscious effort to assist the community beyond their medical needs. I believe this is an area that medical students should pay close attention to during their clinical rotations not only to the community, but also themselves. This patient left a lasting impact on my training and has prepared me to holistically approach patients to provide comprehensive care.
Billy Zhang, MSIV
University of Medicine and Health Sciences (UMHS), St. Kitts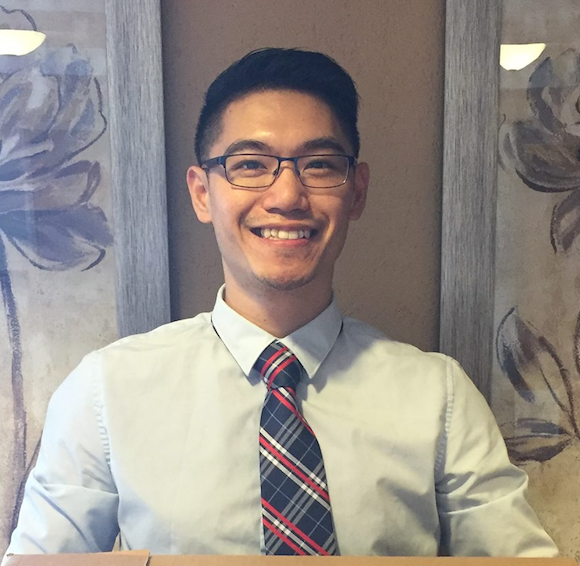 Back to the July 2017 issue of ACP IMpact