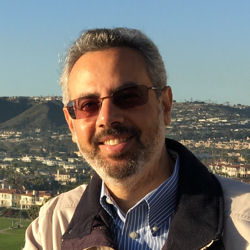 Maher Roman, MD, MBA, MACP, FRCP
— OCCUPATION —
Health Sciences Associate Clinical Professor of Medicine, University of California, Riverside, School of Medicine, and Attending Physician, Pacific Grove Hospital, Riverside, CA

— MEDICAL SCHOOL —
Cairo University School of Medicine, Cairo, Egypt

— RESIDENCY —
Loma Linda University Medical Center, Loma Linda, CA

What is your current position?
Health Sciences Associate Clinical Professor of Medicine, University of California, Riverside, and Attending Physician, Pacific Grove Hospital, Riverside, CA
Where did you attend medical school and postgrad training?
Medical School: Cairo University School of Medicine, Cairo, Egypt
Residency: Loma Linda University Medical Center, Loma Linda, CA
Why did you choose to become a physician?
To serve health care in an influential position.
What field of internal medicine did you select and why?
General internal medicine in the areas of primary care, hospital medicine, and academic medicine. I thought that I wanted to be a surgeon, and then internal medicine happened. I found that my passion was truly for internal medicine because of its intriguing cognitive nature and patient–physician relationship.
Please describe a typical day in your practice.
I currently work in a psychiatric hospital caring for the medical conditions of admitted patients. A typical day starts with seeing new patients and then following up on previously admitted patients who have urgent or ongoing medical problems.
What are some of your special interests professionally?
Well-being, access to care, and safety and quality.
What are your interests and hobbies outside of medicine?
Traveling with family and watching interesting movies and comedy talk shows.
What advice would you like to share with medical students, or what do you wish someone would have told you while you were in medical school?
Do what you love, because you have probably heard, "If you do what you love, you never work a day in your life." Learn how to focus on your well-being at the physical, mental, and social levels to avoid burnout with its inefficacy, cynicism, and emotional exhaustion—which you can remember as ICE.
Plan for your retirement now!
Which living person do you most admire?
Sir Magdi Yacoub, who is an Egyptian British cardiothoracic surgeon. He reportedly performed more than 20,000 heart and lung operations, including approximately 2,500 transplants—the most done by a single surgeon. He also performed the first combined heart–lung transplant in England. After a long and fruitful career in the United States and England, he returned to Egypt to serve the needy there and all over world by establishing the Aswan Heart Center and his charity, Chain of Hope.
What do you consider your greatest achievement?
Participating in caring for and developing others around me.
What is your most treasured possession?
My faith, family, and friends.
What is your motto?
In life: Do as you would be done by.
In medicine: What is good for our patients is good for us.
Back to the January 2021 issue of ACP IMpact
More I.M. Internal Medicine Profiles