Authors
May Kyaw; Cindy Ma; Angela Pham; Alexander Phan; Annica Stull-Lane; Sara Toulouie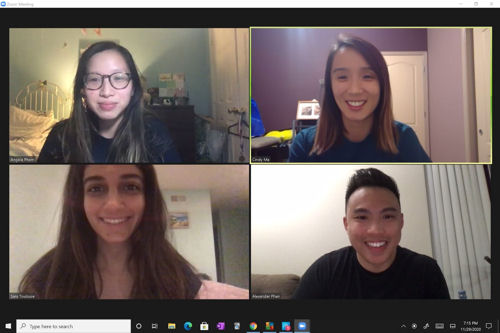 By the end of MS2 year, medical students have probably watched the 3-minute video about coronaviruses on SketchyMicro, a USMLE preparation resource that covers high-yield microbes through cartoon mnemonics. We can tell you that coronavirus is a positive-sense, single-stranded RNA virus with a helical capsid from simple symbol recall. However, we did not anticipate that the same virus family would be responsible for the pandemic that has been claiming the lives of many while exposing inequalities across the world. It is unclear when we will see the end of this pandemic. Among those who are impacted are our own: medical students, the future generation of physicians stricken by this pandemic in unexpected measures.
Preclinical Years Perspective
Although the preclinical years have curricula that are arguably malleable for a virtual platform, they have posed challenges. MS1s had the unique challenge of starting medical school without meeting their peers. Some even lost their rite of passage: their white coat ceremonies. MS2s are approaching the peak of their studies during a more isolated time with USMLE Step 1 looming around the corner. Especially at the beginning of the pandemic, many students struggled to gather up motivation to repeat the monotonous daily cycle of waking up, studying, and going to sleep—all while confined to the same room. Many diagnosed themselves with "Zoom fatigue" after enduring weeks of online classes and meetings.
Although many schools offered wellness resources, numerous students quickly realized they needed more. They adapted in many ways, including breaking up the long days through Zoom study sessions with friends and online workouts. As classes continued online, many students moved back in with their families and learned to create conducive study spaces for productive learning at home. However, some also recognized shifts in responsibilities as they became sources of assistance for elderly family members.
In addition to adapting to an online curriculum and work-from-home environments, many students recognized that extracurricular activities—such as volunteering in student-run homeless clinics—were increasingly valuable during this time. These student-run clinics were one of the remaining ways preclinical students could interact safely with their peers again while also serving their communities. These clinics benefited through a transition to telemedicine platforms, because they increased patient contact with health care providers by removing transportation barriers for patients (especially those of lower socioeconomic status). Caring for those who are especially vulnerable during COVID-19 has reminded us of our purpose in learning the vast amount of material allotted to us and fueled our motivation to practice medicine. We feel empowered and prepared to take on the clinical years.
Clinical Years Perspective
Medical students in their clinical years are also afflicted in unique ways. MS3s and MS4s were initially pulled from their clinical rotations to minimize COVID-19 exposure and preserve PPE for professional medical staff; however, there were concerns that this may affect readiness to practice independently in the future. As hospitals gathered more PPE, students were slowly reintroduced into clinical settings. However, this renewed privilege of practicing patient care is double-edged. Unlike their preclinical counterparts, rotating students are torn between wanting to see family members back home and socially isolating for fear of inadvertently exposing family members to the virus. Many student doctors have witnessed the consequences of the pandemic firsthand, seeing how a patient's clinical status can rapidly deteriorate and loved ones are unable to see ailing family members in the hospital. With these jarring experiences, we crave comfort and the support of others to navigate these tragic patient encounters yet solemnly understand the need to self-isolate.
In addition, residency interviews have moved to virtual platforms and the probability of having in-person match days and commencement ceremonies is slim. Students have had to discover new modalities in engaging program directors and have readjusted to performing residency interviews via Zoom. Many have resorted to using "ring lights" and better webcams and microphones to improve their virtual perceptions, because they are restricted from meeting in person. Candidates are missing out on live hospital tours and getting to know residents, all of which are important components to consider when ranking residency programs. To complicate things, some competitive students are holding onto and attending interviews they would not otherwise have during "normal" residency match cycles. This makes the playing field more competitive than previous years and choosing a residency program more challenging, because students are not offered a realistic representation of the program without a true in-person visit.
As we, the Wellness Committee of the ACP California Council of Student Members, reflected on our own experiences, we wanted to understand how other students were coping. As such, we conducted a survey on California medical student well-being during this pandemic. Responses were received across 9 different institutions. The wellness services that the largest numbers of students said were available to them included mental health services (92.6%), followed by academic support services (87.8%) and stress-reducing events (86.5%). Notably, as learning continues to be remote, only 57.4% of students reported accessible online wellness resources. In terms of COVID-19–related student wellness resources, the results were more split, with 20.3% of students indicating they had no resources and 33.1% who were unsure. The survey results emphasize the need to increase connectivity among students and expand the availability of programs online to promote wellness.
Overall, this pandemic has disrupted the medical school way of life just as it has the rest of our community and world. While medical schools offer an abundance of wellness resources, we must remember to be mindful of connecting with our classmates and welcome help from one another—this is critical to maintaining our mental well-being. We must remember that we have been resilient in our journey through medical school in the midst of the pandemic. Let us be comforted by the privilege of being in medicine as ambassadors of science and advocates for our patients as we look toward a solution for the pandemic.
Back to the January 2021 issue of ACP IMpact