ACP membership dues are based on your member class and years since medical school graduation (if applicable). Your dues are allocated to several specific entities: primarily to ACP, secondarily to your local chapter (where applicable), and tertiarily to ACP Services. Full payment of dues is required to maintain ACP membership in good standing. Total dues owed are subject to change annually.
A majority of your ACP national dues is tax-deductible* as a business expense.
Select your member segment below to view the breakdown that applies to you:
FACP, MACP, Member or Physician Affiliate >9 Years Post-Medical School
FACP, MACP, Member or Physician Affiliate <9 Years Post-Medical School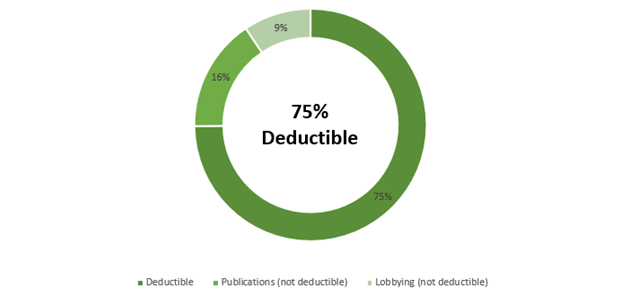 Resident/Fellow
Non-Physician Affiliate
Transitional Medical Graduate
Please note:
ACP is a 501(c)(3) organization. The majority of your total dues allocated is earmarked for education, information, and publications, all of which support the College's mission. In addition, a subscription price for members who receive ACP print publications is a component of your national dues. Subscriptions cannot be deducted from dues.

If you reside in an area where there is an ACP chapter, or if you are a member of the military, a portion of your dues is allocated to your local or military chapter.

ACP Services is a 501(c)(6) organization. The smaller portion of your total dues allocated belong to ACP Services. These are earmarked for lobbying and advocacy as well as other business and noncharitable functions and are not deductible as a charitable contribution for U.S. federal income tax purposes. For information on the activities that fall within ACP Services, please visit www.acpservices.org.

Members living outside of the United States pay discounted dues and may choose to receive online-only access to ACP publications. For information on dues rates for international members, please visit www.acponline.org/dues.
Credits, Fees, and Discounts
Any dues credits reflected on your invoice may stem from a prior payment.

ACP recognizes that members may have special circumstances that require a reduction in their dues (e.g., physicians who are disabled).

Fellowship Initiation Fee: A one-time fee of $175 is charged upon election to Fellowship.

Professional Association Discount: If applicable, your ACP national dues may reflect a 10% discount in recognition of a joint arrangement that the College has with your other professional medical association.
Get additional details about membership dues and fees. If you have further questions, contact ACP Member & Product Support at help@acponline.org or call (800) ACP-1915 (M-F, 9 a.m. – 5 p.m. ET).
*ACP does not provide tax or legal advice. Please consult your tax and/or legal advisor for guidance on the tax implications associated with your dues.