POCUS: Foundational Skills for Internists*
This hands-on 2-day course is designed to teach core POCUS skills to internal medicine physicians, centering on the needed skills to use ultrasound as a patient assessment tool in a variety of settings.
If you are interested in the potential for POCUS to expand your clinical reasoning skills, join this course taught by internationally acclaimed faculty. Online pre-learning assignments and live lectures will provide a comprehensive foundation of core ultrasound knowledge. Utilizing a small-group, hands-on format, attendees will practice ultrasound scanning on live models to support the development of bedside image acquisition skills.
April 25-26, 2023 at Internal Medicine Meeting 2023
Ultrasound-Guided Procedures*
Hear from national experts on ultrasound-guided procedures and learn evidence-based approaches and techniques. Topics include ultrasound-guided thoracentesis, paracentesis, lumbar puncture, and vascular access.
April 25, 2023 at Internal Medicine Meeting 2023
POCUS: Advanced Skills for Outpatient Practice*
Continue your POCUS training and expand your outpatient clinical assessment skills with advanced, hands-on POCUS training from expert faculty. Topics include a PEARLS approach to a multisystem ultrasound physical, AAA screening, skin and soft tissue, and musculoskeletal ultrasound.
April 26, 2023 at Internal Medicine Meeting 2023
---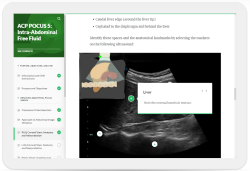 *Registrants of POCUS courses receive full access to ACP's self-paced online multimedia POCUS Module Library, including advanced activities to strengthen and reinforce your ultrasound knowledge.
---
Ultrasound Alley at Internal Medicine Meeting 2023
Located in the Clinical Skills Center, Ultrasound Alley is the ideal destination for both beginners to Point-of-Care Ultrasound (POCUS) education and those with ultrasound experience. Sessions cover a wide variety of topics to help you improve your knowledge and practice, from building your ultrasound portfolio to ultrasound-guided procedures. Don't miss all-new topics for 2023:
NEW

Dialysis Access Evaluation by Physical Exam and Ultrasound

NEW

Ultrasound-Guided Peripheral IV Placement
Tickets for activities in Ultrasound Alley must be purchased in advance. Clinical Skills Center activities fill up quickly. Ensure your place in the activities you want to attend by purchasing a reserved ticket ($25 per activity) to secure your spot at your desired time. Tickets will be on sale until midnight on Tuesday, April 25, 2023. Onsite registration is not available for the Clinical Skills Center.