You are here
In-Person Courses for Physicians
In-Person Courses for Physicians
Registration for these courses closes on October 27, 2022
November 10-11 and November 12-13, 2022
POCUS: Foundational Skills for Internists
This hands-on 2-day course is designed to teach core POCUS skills to internal medicine physicians, centering on the needed skills to use ultrasound as a patient assessment tool in a variety of settings.
If you are interested in the potential for POCUS to expand your clinical reasoning skills, join this course taught by internationally acclaimed faculty. Online pre-learning assignments and live lectures will provide a comprehensive foundation of core ultrasound knowledge. Utilizing a small-group, hands-on format, attendees will practice ultrasound scanning on live models to support the development of bedside image acquisition skills.
November 12, 2022
Ultrasound-Guided Procedures
Hear from national experts on ultrasound-guided procedures and learn evidence-based approaches and techniques. Topics include ultrasound-guided thoracentesis, paracentesis, lumbar puncture, and vascular access.
November 14, 2022
POCUS: Advanced Skills for Outpatient Practice
Continue your POCUS training and expand your outpatient clinical assessment skills with advanced, hands-on POCUS training from expert faculty. Topics include a PEARLS approach to a multisystem ultrasound physical, AAA screening, skin and soft tissue, and musculoskeletal ultrasound.
---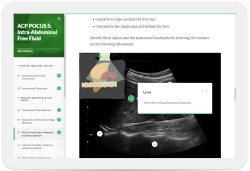 Registrants of POCUS courses receive full access to ACP's self-paced online multimedia POCUS Module Library, including advanced activities to strengthen and reinforce your ultrasound knowledge.