You are here
Books from ACP
Books from ACP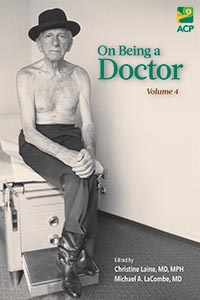 Featured
On Being a Doctor, Volume 4
These selections bring to light the humanity of medicine in all its joys, pain and irony. We guarantee that you will be inspired, haunted and deeply moved as you read its finely-written content.
List Price $31.00/small>
Member Price $ 24.95
Order Now
List Price $31.00
Members, log in to see discounted price
Order Now
All ACP Books
Looking for a specific publication? Browse the full catalog of internal medicine books in the ACP Store.
Permission Requests
To request permission to copy or republish ACP material, visit ACP's permissions page.