You are here
ACP Hospitalist®
ACP Hospitalist®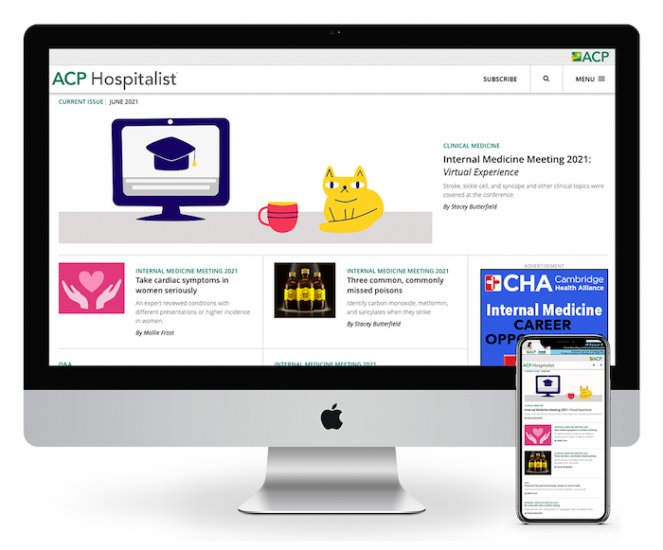 Publisher: American College of Physicians
Executive Editor: Jennifer Kearney-Strouse
Editor-in-Chief: Stacey Butterfield
Established: 2007
Issues Published in 2021: July, September and November
www.acphospitalist.org
ACP Hospitalist provides news and information for for ACP members who are hospitalists and hospital-based physicians, including subspecialists, third-year internal medicine residents, and residency program directors. In-depth feature articles focus on topics such as advances in health care technology, clinical controversies, staffing and scheduling innovations, salary trends, and patient safety and quality improvement issues. Regular departments include Success Stories, Coding Corner, FDA Update, and The Brief Case.
ACP Hospitalist Weekly
ACP Hospitalist Weekly is an affiliated email newsletter developed by the staff of ACP Hospitalist and published on Wednesdays. It keeps members up to date on the latest research and news relevant to hospitalists, gathered from top academic journals, Medicare, and the FDA.
---
ACP's advertising opportunities enable pharmaceutical and non-pharmaceutical advertisers to place their key messages in front of their targeted physician audiences. Learn more about how you can advertise in one of ACP's medical journals.