Support Internal Medicine
Your gift today will help ACP support internal medicine physicians to serve and lead in today's complex healthcare environment. ACP's philanthropic initiatives leverage internal medicine physicians' unique perspectives to innovate solutions for optimal health for patients, the profession, and populations across the globe.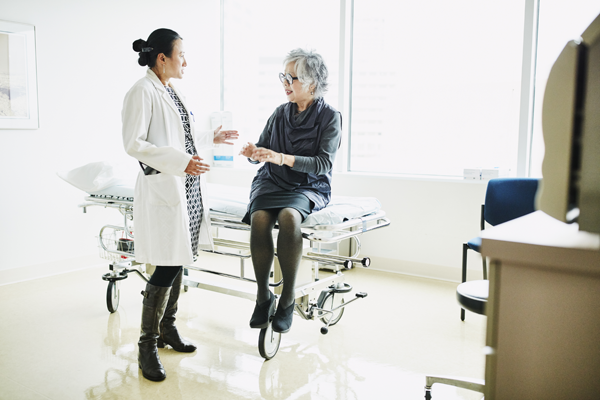 The Foundation of Clinical Care
ACP is the professional home for internal medicine physicians, the cornerstone of comprehensive health care. Internal Medicine physicians serve, and lead, in many diverse roles and settings, advancing health care in public and private sectors. They optimize patient care, lead teams of medical professionals, and hold leadership positions in clinical, business, technology, and government settings. They are problem-solvers who excel in dynamic environments and connect the dots to care for their patients. Their expertise makes them vital for patients, medical professionals, and the health care system every day.
Your contribution supports ACP's efforts to elevate the collective voice of internal medicine, improve health outcomes, advance health equity and inspire the next generation of internal medicine physicians.
---
ACP Strategic Funding Priorities
ACP is committed to supporting the profession of internal medicine and empowering the collective impact of internal medicine physicians on the health of their patients and their communities across the globe.
ACP's philanthropic efforts are focused on developing and sustaining the internal medicine workforce, helping elevate the nation's health outcomes, and advancing quality, effectiveness, and equity of care to all.
Corporate Sponsorship
ACP's Healthcare Roundtable provides a forum for ACP and corporate leaders to discuss urgent issues affecting today's healthcare and patient care systems. Join us to support programs that improve practice management, the delivery of healthcare, and patient health outcomes.
Celebrate Our 2022-23 Officers with a Gift Honoring Their Leadership
Learn more about how your gift can honor these individual's tenure.
Special Recognition for Donors - ACP Leaders Circle Giving Society
Learn more about how you can become a member of ACP Leaders Circle.
---
Tribute Fundraising
Learn about our current tribute campaigns that celebrate ACP members.
Thank You, Donors!
We are so grateful for all our donors who contributed to the 2021 ACP Leaders Circle and ACP Education Fund campaigns.
ACP Leaders Circle Giving Society
Membership in the Leaders Circle Giving Society runs on an annual basis following ACP's fiscal year (July 1-June 30). Contributions totaling a minimum of $1,000 must be made by the end of each fiscal year on June 30 to be part of this recognition society.
As a Leaders Circle member, you will maintain a close connection to ACP through a series of briefings and events. You will be:
Acknowledged as part of the ACP Leaders Circle Giving Society in an issue of the ACP Internist.
Recognized on a Wall of Honor plaque at the ACP Headquarters building.
Included as a recipient of an exclusive quarterly e-newsletter, called the Pulse, created just for Leaders Circle members.
Invited to a private annual recognition event at our Internal Medicine Meeting.
Please contact giving@acponline.org for further information on this giving society.