---
---

Robert M. Monger, MD, FACP, ACP Governor
---
Governor's Message
I served as the Doctor of the Day for the Wyoming legislature last Thursday, and I was joined by three Wyoming WWAMI medical students, which was great. If you have never volunteered to be the Doc of the Day, it's organized through the Wyoming Medical Society and you spend the day at the capitol carrying around a medical aid backpack, hoping that no one gets sick! I am happy to report that on my day there were no emergencies, and I didn't open the backpack once.
One of the great things about being the Doc of the Day is that you get an ID badge that grants you backstage access around the capitol. For example, you can hang out in the back of the House and Senate chambers, where the public doesn't get to go, which affords you a great opportunity to have lots of spontaneous conversations with legislators. As a group, they are very appreciative of a doctor taking the time to volunteer to be at the capitol and many of them will stop and say hello. This year Representative Steve Harshman from Casper took our group on a great tour of the Capitol over the noon hour, including going up into the dome where we got to sign our names, which was super fun.
If you can find the time, I absolutely recommend volunteering to be the Doctor of the Day at the legislature. It's a fun and interesting day and is a great opportunity to develop relationships with legislators.
This year's National ACP Meeting will be held April 27-29 in sunny San Diego, and it looks to be amazing. Dr. Sierra Gross, our chapter's Governor elect, and I will be attending, and I hope that there will be many others from Wyoming there too. If you are planning on being there, please let me know and we'll organize a Wyoming social event or two.
Also, Dr. Gross and I are planning on attending the ACP 2023 Leadership Day May 23-24 in Washington D.C. and we'd love to have as many as possible of our chapter members join us there too. If you've never been to an ACP Leadership Day, it's a great way to hear from ACP's Washington staff about what's going on and to talk directly with our national representatives about issues important to physicians. Being from our small state, we often get to meet with our actual senators and representative. If you're interested in attending Leadership Day, please contact me and I'll fill you in on the details.
Many of you know that I am the Clinical Dean for the Wyoming WWAMI program, which means that I get to spend time with medical students on a regular basis, and I can tell you that there are a group of Wyoming medical students right now who are very interested in going into internal medicine. The 2023 Wyoming Medical Society Annual Meeting will be in Laramie at the Gateway Center September 15-16 and one idea that I've kicked around with the medical students is to organize a session during that meeting with members of our chapter where we can talk to students about a career in internal medicine. Stay tuned for more information, but if you're going to be at the WMS meeting this fall, I may ask you to come and meet with a group of medical students.
Thanks for being Wyoming ACP Chapter members and please let me know if you have comments or suggestions for our small but mighty organization!
Rob Monger, M.D., F.A.C.P.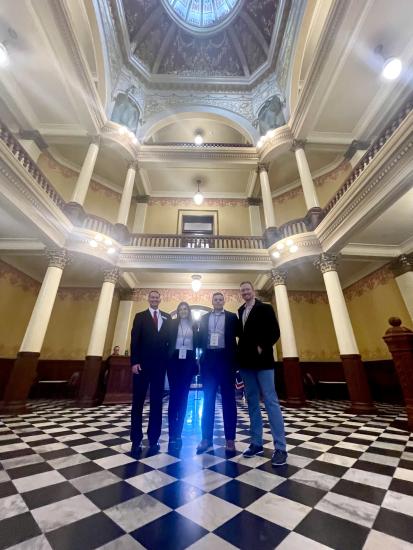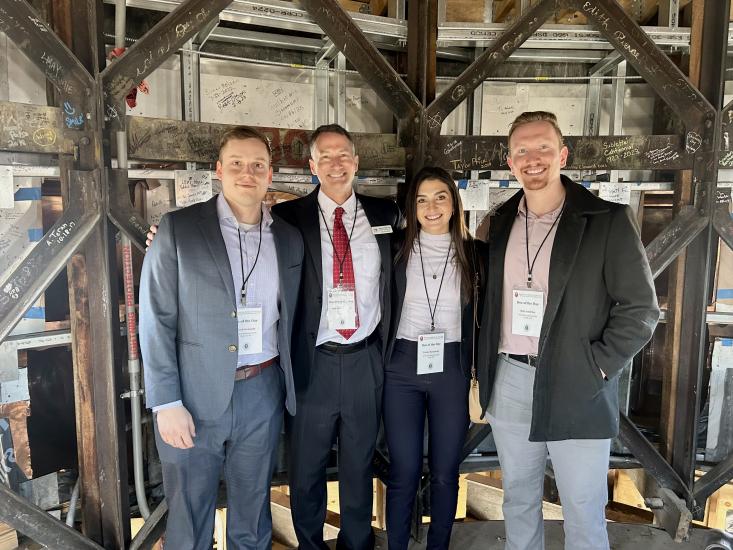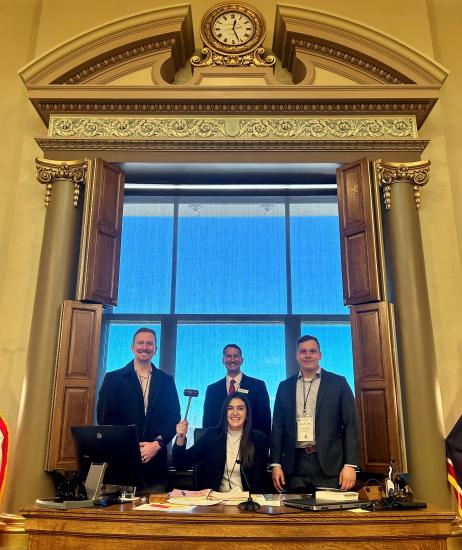 ---
Wyoming Chapter Awards
Michael D. Tracy, MD, FACP, has been named Laureate of the Wyoming Chapter. The Laureate Award honors Fellows and Masters of the College who have demonstrated by their example and conduct an abiding commitment to excellence in medical care, education, or research and in service to their community, their chapter, and ACP.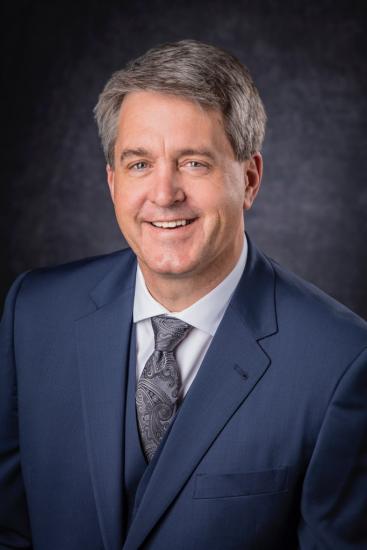 Robert Neuwirth, MD, FACP, recipient of the 2022 Wyoming Chapter Hospitalist of the Year Award
Visit the chapter website to view additional information about the awardees.
---
Congratulations to the Wyoming Chapter poster winners!
Mat Rorke, Carter Eckhardt, Sam Britz, and Hanna Ahuja
---
Congratulations on Advancement to Fellowship!
Fellowship is an honor achieved by those recognized for personal integrity, superior competence in internal medicine, professional accomplishment, and demonstrated scholarship. We are proud to have you in our chapter.
Congratulations to Alicia Gray, MD, FACP
---
Welcome to the American College of Physicians and the Wyoming Chapter!
Hanna P Ahuja
Hoo Feng Choo, MD
Ross F Cook
Alicia M Gray, MD FACP
Caleb Hoopes
Marcia Lux, MD
Hannah Mills
Vera L Nelson, MD
Casey Pikla
McKenzie Stampfli
Kristina Stefka, MD
Israel M Stewart, DO
Bailey S Stuart
Wyoming Chapter Financial Report
As of February 2023, the financial reports for the Wyoming Chapter show an income of $7,165.50, expenses totaling $2,908.55 with a net income of $4,256.95 for this fiscal year and a bank balance of $44,599.24.
A detailed statement is available by contacting the Wyoming Chapter treasurer, Robert Stuart, MD FACP.
---
I.M. Emotional Support Hub
Take care of your well-being with comprehensive resources available on ACP Online.
24/7 Crisis Line: Dial 988 or 1-800-273-8255 or text 741741
Crisis Counseling Helpline: 1-800-985-5990
---
Become an ACP Fellow
Fellowship in the American College of Physicians is a peer-reviewed and peer-supported credential that is a public reflection of excellence within the internal medicine profession. FACP signifies an ongoing dedication to the profession of internal medicine, the patients we care for, and the communities we serve.
Additional information available
If you have any questions about completing the Fellowship application, feel free to call ACP at 800-523-1546 ext. 2709

April 27-29, 2023, San Diego, CA
Internal Medicine Meeting Website
---
Advocacy
ACP advocates for policies that improve patients' health care and well-being along with a persistent push for better reimbursement for internists and the elimination of unnecessary administrative tasks that hinder your practice of medicine. We press legislators and regulators for changes that can successfully improve your daily work experience and free you up to focus on the care you were trained to provide.
Please let us know if you have any special ties, connections, or relationships with elected officials, by emailing Carrie at creisig33@gmail.com. Providing information about these relationships will help expand ACP National advocacy efforts.

Join more than 15,000 colleagues in the Advocates for Internal Medicine Network (AIMn) in advocating for the interests of internal medicine in Washington, D.C. The AIMn program is for ACP members interested in participating in federal advocacy. It is designed to help members engage with their federal lawmakers on policy issues important to ACP and internal medicine.
---
Save the Date: Leadership Day 2023, May 23-24
For more information - https://www.acpservices.org/leadership-day/what-leadership-day