You are here
Chapter News
Chapter News
Congratulations New Wyoming Chapter Fellows
Benjamin B Widener, MD FACP
(March 2022) Congratulations to the Wyoming Chapter's newest Fellows. Fellowship in the College is an honor. Being an FACP® is a distinction earned from colleagues who recognize your accomplishments and achievements over and above the practice of medicine. The most important considerations for ACP Fellowship are excellence and contributions made to both medicine and to the broader community in which the internist lives and practices.
---
Potential ACP Governor-elect Candidates Wyoming
Nominations Due by April 14, 2022
(March 2022) As you know, the ACP national office is conducting a Governor-elect election for our chapter this year. The Local Nominations Committees will be responsible for identifying up to two candidates who are willing and able to serve a four-year term (April 2024 - April 2028), in addition to a year of training as Governor-elect (April 2023 - April 2024).
We are looking for a dynamic leader who exhibits integrity, shows commitment to the College and demonstrates dedication to the Chapter and the medical community. The successful candidate will work with Chapter members and with leaders in internal medicine at the national level. A Governor typically spends several hours per week on College Business with the support of executive administrative staff. Serving as an ACP Governor can be an extremely rewarding and life changing experience.
Click here to view the Governor Job Responsibilities.
Only ACP MACPs and FACPs are eligible for consideration. If you would like to submit the name of a colleague or self-nominate, contact Chapter Staff.
All potential candidate information must be submitted by Wednesday April 14, 2022.
---
Support our Local Speakers at Internal Medicine 2022

Join ACP and your colleagues as we reconvene to meet our personal and professional goals. World-renowned faculty will present important topics and the latest evidenced-based clinical and practice information that invite you to discover new ways to improve your own techniques and patient care. Internal Medicine Meeting 2022 will also introduce a refreshed schedule and two plenary gatherings featuring must-see speakers.
---
Congratulations to the following award winners from the Wyoming WWAMI Medical Student Research Symposium Poster Competition at Ivinson Hospital in Laramie!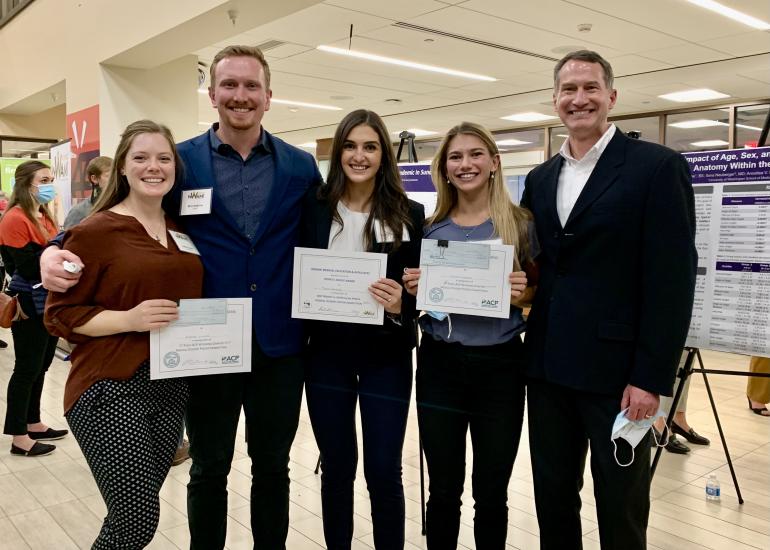 Audrey Lucas: "Using Behavior Change Models to Help Healthcare Workers Discuss COVID-19 Vaccines with Patients to Increase Community Vaccinations Numbers"
Bret Andrew: "Sequential Intraarticular Corticosteroid and Hyaluronic Acid Provides Significant Knee Injury Osteoarthritis Symptom Relief"
Taylor Kennedy: "Strategies to Reduce the Incidence of Skin Cancer in Cody, Wyoming"
Sierra Levene: "Impact of Age, Sex, and Race on Velopharyngeal Anatomy Within the First Two Years of Life"
---
BOR Action on Fall '21 BOG Resolutions
(December 2021) A summary of Board of Regents (BOR) actions on resolutions debated at the Fall 2021 Board of Governors (BOG) virtual meeting is now available. Resolutions initiated by ACP members and endorsed by a chapter council and the BOG become ACP policy when adopted by the BOR.
If you have an idea you'd like to suggest to ACP, consider submitting a resolution to our chapter.
---
ACP's Online CME & MOC Learning Center adds information on state-specific CME requirements
(June 2021) Wondering about Wyoming's CME requirements? You can now visit the Online CME & MOC Learning Center and click on the "State CME Requirements" tab to learn all about what you need to do. Note: You must be logged into your ACP Online account to access this information.
---
Wyoming Chapter Financial Report
(January 2021) As of January 2021, the financial statements for the Wyoming Chapter show an Income of $12,255.00, expenses of $8,734.67, with a net income of $3,520.33, for fiscal year 2020-2021. A detailed statement is available by contacting the Wyoming Chapter treasurer, Robert Stuart, MD FACP.