Chapter Members Elected to ACP Fellowship
(March 2023) We would like to congratulate our chapter members on election to Fellow of the American College of Physicians. The distinction recognizes achievements in internal medicine.
Alicia M Gray, MD FACP
Fellowship is elected upon the recommendation of peers and the review of ACP's Credentials Subcommittee. They may now use the letters "FACP" after their name in recognition of this honor. Please join me in congratulations!
---
Member Feedback is Requested on Spring 2023 Resolutions
(March 2023) Fourteen (14) resolutions will be considered at the Spring 2023 Board of Governors (BOG) Meeting. Please review each resolution and then indicate your support or opposition by completing the electronic response form by the deadline your ACP Chapter Governor has requested or by March 22, whichever comes first.
Your comments will be forwarded to the Chapter Governor to be used as part of their testimony on behalf of the chapter. If you have any questions, please contact Mary Giampietro, BOG Administrator, at chapter@acpmembership.org. Thank you for your input.
(NOTE: Proposed resolutions should be considered confidential information and are intended to be viewed by ACP members only. Under no circumstances should proposed resolutions be shared with the news media or social networking media, nor should they be shared with other individuals and organizations. Proposed resolutions do not represent ACP policy.)
---
Call for Fall 2023 Resolutions
(February 2023) Are you concerned about a practice or clinical issue or have an idea you'd like to suggest? If so, you might consider submitting a resolution to your Governor or chapter council.
Initiating a resolution provides ACP members an opportunity to focus attention at the ACP national level on a particular issue or topic that concerns them. Participating in the Board of Governors resolutions process provides the ACP grassroots member a voice and allows you to shape College policy that impacts the practice of internal medicine.
Not sure how to begin drafting a resolution? Researching the College's position on an issue can give you a start. The just released ACP Board of Governors Resolutions Guide for ACP Members is now available to download and will help, too. The Guide was created to provide members a short overview of the resolutions process essentials and highlights critical ACP online resources you must use.
Once drafted, members must submit resolutions to their Governor and/or chapter council. Chapter council approval to move resolutions forward to ACP national is required. A resolution becomes a resolution of the chapter once the chapter council approves forwarding it to national. If effecting change interests you, the deadline for submitting new resolutions to be heard at the Fall 2023 Board of Governors Meeting is March 30, 2023.
Share your good idea with us. Draft a resolution.
---
Board of Regents Action on Fall 2022 BOG Resolutions
(November 2022) A summary of Board of Regents (BOR) actions on resolutions debated at the Fall 2022 Board of Governors (BOG) meeting is now available. Resolutions initiated by ACP members and endorsed by a chapter council and the BOG become ACP policy when adopted by the BOR.
If you have an idea you'd like to suggest to ACP, consider submitting a resolution to your Governor or local ACP chapter. Visit your ACP chapter website for more information on how to contact your Governor or chapter staff about proposing a resolution.
---
Chapter Excellence Award – Silver Winner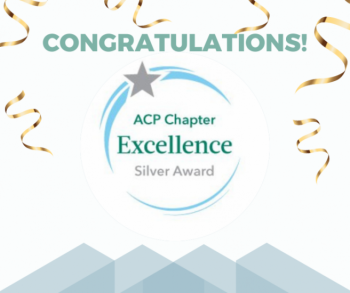 (September 2022) I am pleased to announce that our chapter is in receipt of the Silver Level of the 2022 Chapter Excellence Award! Only 14 chapters received the Silver Award. The award recognizes chapters that achieve excellence in chapter management. In order to achieve the Chapter Excellence Award, chapters must meet twenty Bronze criteria and seventeen Silver criteria. Criteria include such activities as undertaking efforts to increase advocacy efforts, collaborating with stakeholders to increase visibility of the ACP, holding competitions for members, providing chapter financial reports to members, having Medical Student and Resident/Fellow members on the Governor's Advisory council, retaining transitional and unpaid members, giving awards to chapter members. I would like to extend a special thanks to those chapter members who assisted us in all of these endeavors! For their hard work and dedication, we received this award.
---
New Advocacy Resources Available to ACP Members and Chapters
(August 2022) We would like to make you aware of two new advocacy resources available to ACP members and chapters.
Understanding Advocacy and Why We Do It - A Comprehensive Toolkit for Chapters
ACP has created an advocacy best practices toolkit to support engagement in and the efficacy of chapter-level advocacy at the state and federal level. This comprehensive toolkit breaks down the different methods and mediums for advocacy engagement and highlights all the programs and resources offered by ACP to make the most of chapters' advocacy efforts. This toolkit is only accessible to ACP members.
Reproductive Health Toolkit Now Updated
ACP's toolkit for chapters to utilize in navigating issues surrounding abortion rights and related policies in their states following the overturning of Roe v. Wade has been updated. The toolkit now includes sample letters that chapters can use to advocate with state officials and information on recent federal activity.
For questions regarding these toolkits, please submit all requests through this questionnaire to ensure we can track inquiries and respond in the most timely and efficient manner."
Are you a member of the Advocates for Internal Medicine Network (AIMn)? Learn more here.
---
Congratulations to the following award winners from the Wyoming WWAMI Medical Student Research Symposium Poster Competition at Ivinson Hospital in Laramie!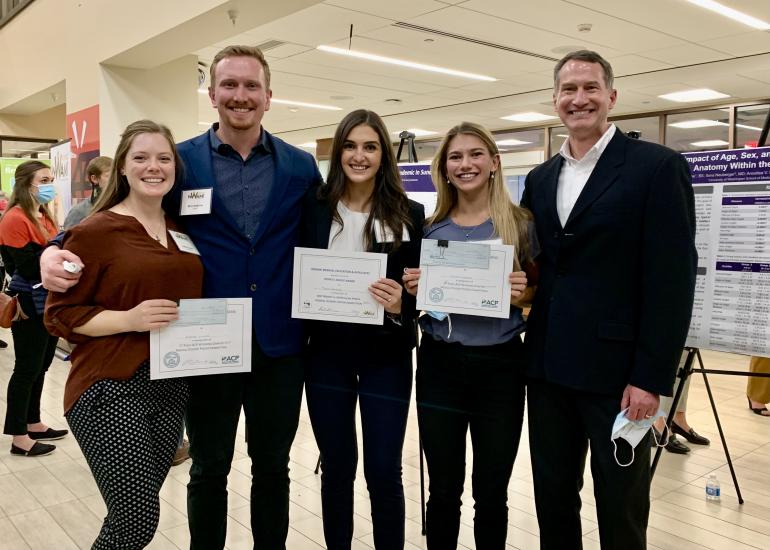 Audrey Lucas: "Using Behavior Change Models to Help Healthcare Workers Discuss COVID-19 Vaccines with Patients to Increase Community Vaccinations Numbers"
Bret Andrew: "Sequential Intraarticular Corticosteroid and Hyaluronic Acid Provides Significant Knee Injury Osteoarthritis Symptom Relief"
Taylor Kennedy: "Strategies to Reduce the Incidence of Skin Cancer in Cody, Wyoming"
Sierra Levene: "Impact of Age, Sex, and Race on Velopharyngeal Anatomy Within the First Two Years of Life"
---
ACP's Online CME & MOC Learning Center adds information on state-specific CME requirements
(June 2021) Wondering about Wyoming's CME requirements? You can now visit the Online CME & MOC Learning Center and click on the "State CME Requirements" tab to learn all about what you need to do. Note: You must be logged into your ACP Online account to access this information.