---
---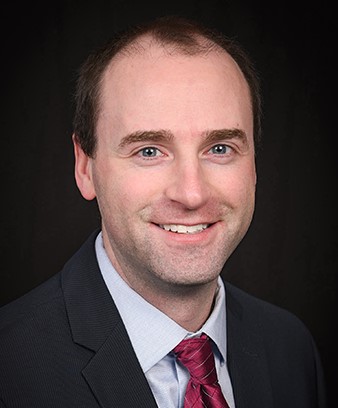 Joshua C. Ranum, MD, FACP, ACP Governor
Greetings!
I am excited to begin my term as your chapter governor. First of all, I would like to thank my predecessor, Dr. Fadel Nammour, for all of his guidance, support, and friendship during my time with ACP and especially during the last year of transition. Dr. Nammour had the unfortunate timing of being chapter governor during the pandemic, which meant all of the usual ACP work in addition to the new challenges organizations like ours faced. One of the challenges was not being able to meet in person with other ACP leaders. The most enjoyable aspect of ACP, to me, is the professional collegiality and many of the outgoing ACP governors lamented their zoom existence during their terms. Whatever you do, do not ask Dr. Nammour about Savannah, GA - he had two ACP meetings scheduled there canceled during his term. Thank you, Fadel, for your steady hand during difficult times.
I would also like to thank Carla Beach for all of her help. She keeps the organization running and has been a valuable resource for me as I start in this role.
What does the next four years look like for the North Dakota ACP chapter? I don't know, but I do have some ideas. Most organizations like professional societies, churches, community organizations/clubs have been struggling with stagnant or declining membership, even before the pandemic. The ACP and its chapters have been no exception. There are a number of conversations happening about what ACP should look like in the modern era. Where the ACP used to be a primary source of CME (and still is for many), CME is now so ubiquitous that we need to find other ways of maintaining relevance for internal medicine physicians. My primary aim as governor is to make the chapter into a professional home for the state's internal medicine physicians. All of us are busy and a large majority of us are employed physicians. Gone are the days of the physician lounge and other times to interact with our colleagues but our chapter will be working to provide more opportunities for interaction with colleagues from other health systems and from across the state. These won't be meetings for meetings' sake, they will be opportunities to foster relationships, discuss shared successes and challenges, and improve wellbeing.
Stay tuned for more information on our upcoming offerings. The chapter, like the rest of us, is coming out of pandemic survival mode. Our council is working to plan the annual meeting, expanded wellbeing resources, as well as other sessions throughout the year. There is a great lineup planned for the annual meeting in October. Please make plans to attend the meeting in Grand Forks on October 6. It's homecoming weekend at UND so make sure to register and book your hotels early.
Finally, a big thank you to all of our members. ACP is a membership driven organization and we could not exist without you. For those of you interested in exploring a larger role within the chapter, there are plenty of opportunities. Please feel free to reach out to me at any time with questions, suggestions, or thoughts via email at acpnd1@gmail.com or cell (701) 928-0987.
---
Member attendance at Internal Medicine Meeting 2023 in San Diego
The North Dakota Chapter had 26 members registered for the IM 2023 annual meeting in San Diego, CA.
Dr. Chenelle Joseph participated in the Convocation Ceremony with Dr. Fadel Nammour - Governor and Dr. Josh Ranum - Governor Elect
A team of three residents represented North Dakota for Doctor's Dilemma - Dr. Shannon Chamberlain, Dr. Mitchell Keena, and Dr. Alex Spacek
The Chapter hosted a dinner at Cerveza Jack's Gaslamp
Winners from our local poster competition presented at the national meeting:
Dr. Dre Steinwehr, PGY1, presented his poster "Rare Breast Pathology with Cylindroma of Breast on Surgical Resection"
Lauren Johnson, MS3, presented her poster "Third Degree Heart Block: A Case of Temporary Pacing in a Gravid Patient"
Sean Keup, MS3 and Tom Baker, MS3 presented their poster "Association of Vaccination Status and Severity of SARS-CoV-2 Infections"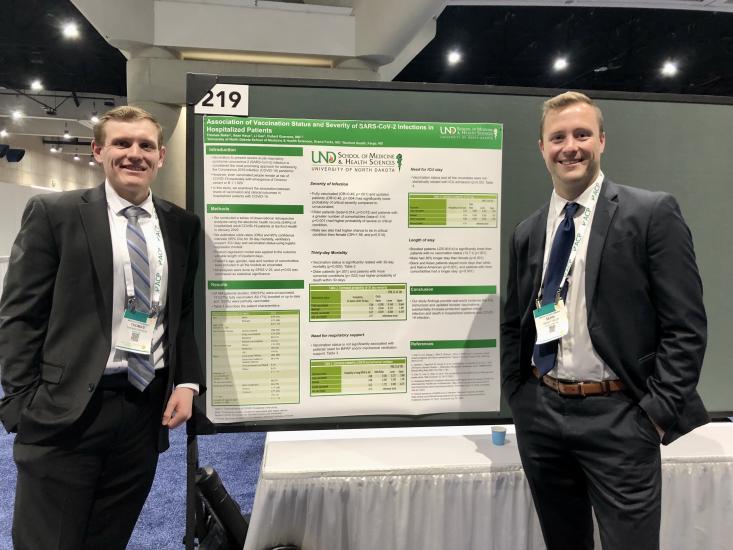 Thanks to everyone that participated at IM 2023!
---
Save the Date! 2023 North Dakota Chapter Annual Scientific Meeting
The 2023 North Dakota Chapter Annual Scientific meeting will be in Grand Forks on October 6. The poster competition and Doctor's Dilemma competition will be on Wednesday, October 4 and Thursday, October 5. We will again collaborate with the Society of Hospital Medicine (SHM) and join the North Dakota Medical Association for their meeting and luncheon.
If you are interested in volunteering as a poster judge, please sign up here.
---
Call for Awards Nominations
Do you have a mentor, colleague, or peer deserving recognition?
The North Dakota Chapter Awards Committee would appreciate your assistance in recognizing our chapter members that have made outstanding contributions in the practice of medicine, research, public service, leadership, and medical volunteerism.
The recipients will be honored during the North Dakota Chapter Scientific Meeting, October 6, 2023.
Please review the list of chapter awards below and submit your nomination to Carla Beach - Chapter Staff. If possible, please include the nominee's CV.
Laureate Award
The Laureate Award is designed to honor those Fellows and Masters of the College who have demonstrated, by their example and conduct, an abiding commitment to excellence in medical care, education, and research, and service to their community, their chapter, and the ACP.
Fostering Diversity Award
The award is given to an individual with outstanding accomplishments in advancing diversity in clinical medicine or research, and/or access to care in relation to diverse populations. "Diverse populations" are understood to include: 1) economically or socially disadvantaged patient populations, for example, minorities, immigrant groups, or the homeless; and 2) groups underrepresented in the healthcare workforce.
Volunteerism & Community Service Award
The award is given to an individual who has distinguished themselves in voluntary service in the area of medicine. Recipients of this award have distinguished themselves as true humanitarians to be honored for their voluntary contributions in medicine. Nominees could be non-physicians.
Woman Physician of the Year
Honors an outstanding woman physician with a distinguished career in areas of exceptional patient care, medical education and/or research.
---
30 Days! Don't lose access to your amazing ACP benefits valued at over $3,300!
Time to renew your membership now! Continue your complimentary access to JournalWise, DynaMedex, and enjoy exclusively deep member discounts for MKSAP, Resolve (Physician Compensation services), Group insurance plans through AGIA, and so much more. Did you know your dues are also tax deductible? So do not delay! The deadline to renew your membership is June 30, 2023. Otherwise, you'll lose access beginning July 1 to these and many more valuable member resources. Renew today so you won't miss out!
---
New Ethics Case Study Examines Implications of Resuscitation Approaches
A new ethics case study that examines the ethical implications of "slow" or "show" codes is now available for CME/MOC credit. Physicians and care teams should not knowingly perform resuscitation in ways that are slower, less aggressive, or without certain parts of standard resuscitation procedures in anticipation of unsuccessful resuscitation of patients—known as a "slow" or "show" code--because families want "everything done." The study highlights the importance of communicating with the patients and their families about what is in their best interest and the importance of advance care planning. The case addresses the ethical issues associated with "slow" or "show codes:" patient autonomy, the patient-physician relationship, and professional integrity.
This ethics case study was developed by ACP's Ethics, Professionalism, and Human Rights Committee and the Center for Ethics and Professionalism. To learn more about ethics and professionalism activities at ACP, visit https://www.acponline.org/node/290311.
---
ACP's New Firearms Resources Include an Online Hub and Video Content
As part of our ongoing commitment to addressing the public health issue of firearms-related deaths and injuries, ACP has released new resources for members. Our new online hub , Preventing Firearm-Related Deaths and Injuries, features Annals of Internal Medicine articles and content; ACP policies and recommendations, information on collaborations; and multimedia resources including:
A new Physician to Physician Conversations video from Dr. Sue Bornstein, immediate past Chair of ACP's Board of Regents, providing practical tips and strategies on talking to patients about firearm safety.
Videos . from the ACP and Annals of Internal Medicine Story Slam, Gun Injury: Stories of Hurt, Hope, and Resilience featuring storytellers sharing moving stories of their firsthand experiences related to firearm injury.
A summary and recording . of ACP and Annals of Internal Medicine virtual forum discussing the firearm health crisis.
The hub also includes ACP's recent advocacy efforts which include joining the Healthcare Coalition for Firearm Injury Prevention to advance firearm injury prevention and supporting the passage of the Bipartisan Communities Act, the first new law in decades designed to reduce firearm violence. To help members advocate for policy changes within their state, ACP has developed a Toolkit: Reducing Firearm-Related Injuries and Deaths.