---
---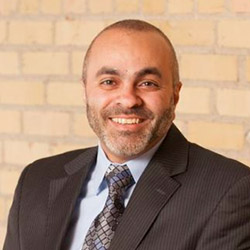 Fadel Nammour, MD, FACP, ACP Governor
---
Message from the Governor:
Greetings to all of my fellow colleagues,
I cannot believe how fast 2022 has gone by, but again every year feels like this and time has become a rare commodity at my age. I hope you all enjoyed the holidays with your families and friends. We had a great year with our first in-person meeting after two years hiatus and a great award ceremony to celebrate some outstanding people. We also elected our new governor, Dr. Josh Ranum. He was the recipient of the ACP North Dakota Laureate Award. If you have not done so, please congratulate him and offer him your support. Our next national meeting will be in San Diego on April 27-29, 2023. I encourage all of you to register to create some great memories with your colleagues and families.
Again, thank you for all you do for your patients and communities. Happy New Year!
---
2022 Annual Meeting and Awards
This year we had a joint meeting with the North Dakota Medical Association in Fargo. We had great speakers and award ceremony.
During our meeting, we had the pleasure of presenting awards to the people from our state who distinguished themselves as effective leaders, advocates and volunteers serving our communities and improving the health and the profession of medicine in the state of North Dakota. Thank you to Dr. Joshua Wynne for assisting with selection of our awards!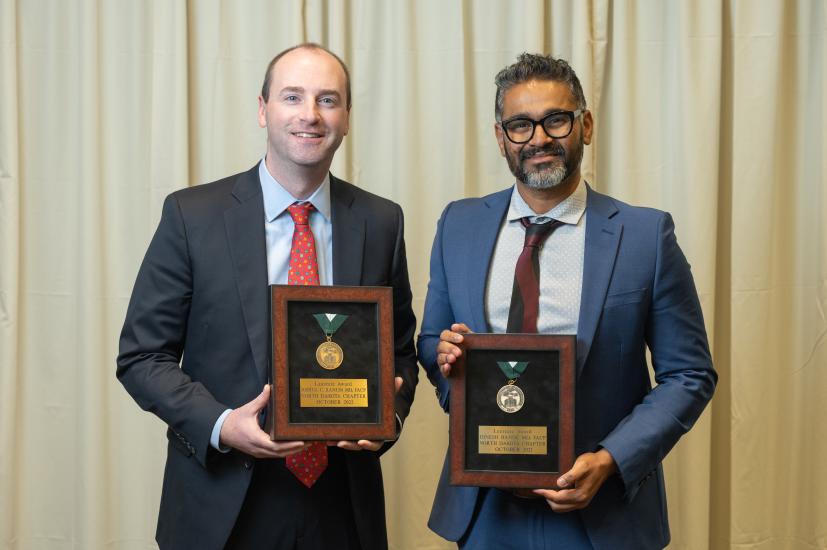 ACP Laureate Award: Dr. Josh Ranum
*Also pictured is the 2021 Laureate Award Winner: Dr. Dinesh Bande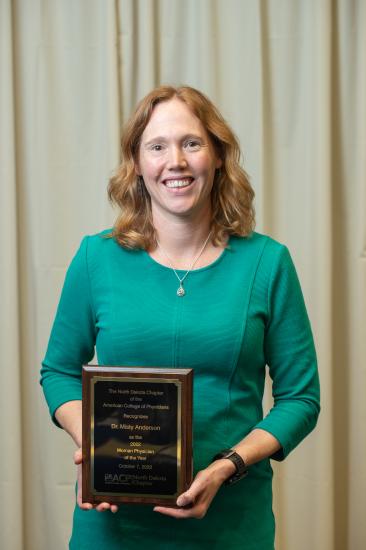 ACP Woman Physician of the Year Award: Dr. Misty Anderson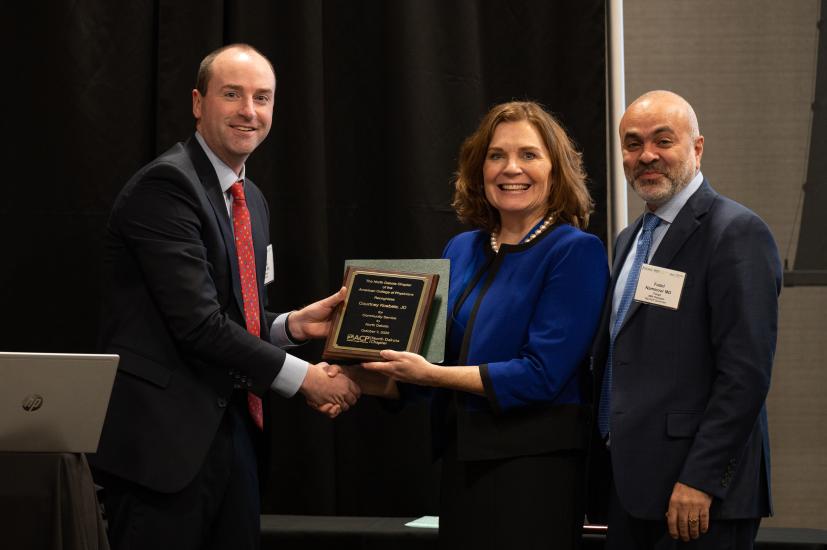 ACP Volunteerism and Community Service Award: Courtney Koebele
ACP Fostering Diversity in Medicine Award: Dr. Allison Kelliher "(not pictured)"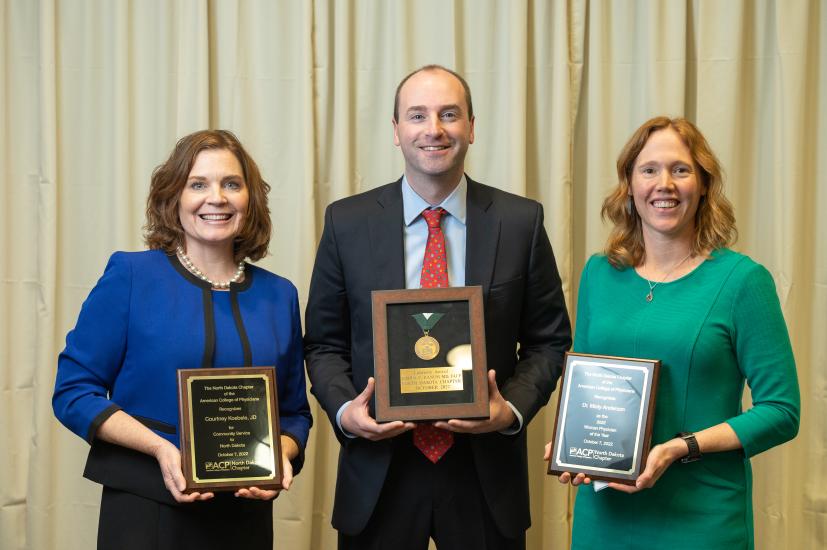 ---
2022 ND Chapter Poster Competition Winners
We had a successful poster competition for UND medical students and residents on October 5-6, 2022. Thanks to all judges and participants for making this event a success.
Thanks to our judges for volunteering their time and expertise!
Dr. Kristopher Holaday
Dr. Tze Shien Lo
Dr. Siddharth Singhal
Dr. Ejioma Gbujie
Dr. Saurabh Limani
Dr. Gwen Thompson
Dr. Kim Hammer
Dr. Ahmed Maraey
The winners in each category were:
ACP Research
First Place – #3 Association of Vaccination Status and Severity of SARS-CoV-2 Infections, Thomas Baker and Sean Keup
Second Place - #2 Computed Tomography Scan Characteristics of Patients with COVID-19 Associated Pulmonary Aspergillosis, Wyatt Lautt
ACP Clinical Vignette – Medical Students
First Place – #3 Third Degree Heart Block: A Case of Temporary Pacing in a Gravid Patient, Lauren Johnson
Second Place – #5 Pneumocystis jirovecii Pneumonia After COVID-19 Infection in an Immunocompetent Host, Stacy Ploom
ACP Clinical Vignette – Residents
First Place – #4 Rare Breast Pathology with Cylindroma of Breast on Surgical Resection, Dre Steinwehr
Second Place - #1 Anaplasmosis: A Colostrum of Vague Symptoms Often Leading to a Delayed Diagnosis, Guneet Sidhu
*ACP First Place Winners will be eligible to participate in the national abstract competition in April 2023 in San Diego, CA.
---
2021 ND Chapter Doctor's Dilemma Winners
The UND Internal Medicine residents participated in our local Doctor's Dilemma competition. The winning team will advance to the national Doctor's Dilemma competition at the Internal Medicine 2023 Meeting. The annual ACP Doctor's Dilemma® competition is a hallmark program for the College. Held each year at the annual Internal Medicine Meeting, it brings together some of the brightest residents from around the world in a friendly but highly competitive environment. The competition tests the medical knowledge of up to 60 teams, each representing an ACP chapter. After three days of competition, the winning team is awarded the coveted "Osler Cup" and is granted a place in ACP history.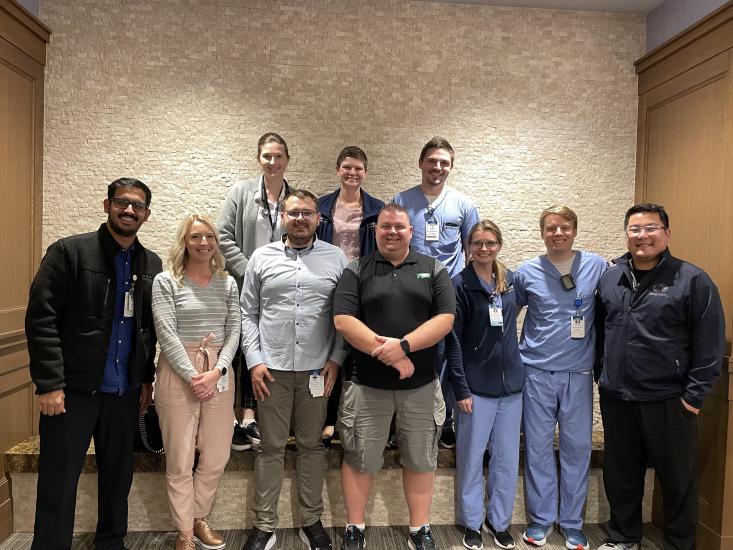 Special thanks to Dr. Chris Pribula for hosting and Dr. Shannon Chamberlain/Dr. Dre Steinwehr for organizing the competition!
The Doctor's Dilemma winning team is:
Shannon Chamberlain – PGY3
Alex Spacek – PGY3
Mitchell Keena – PGY1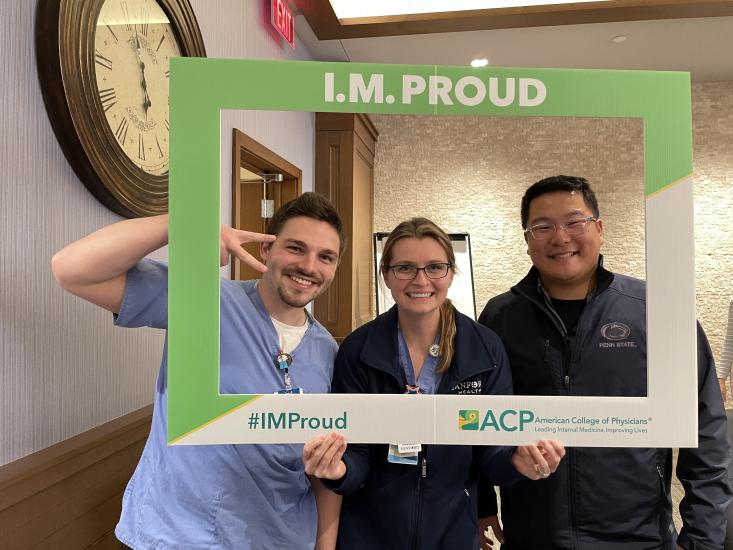 Congratulations to everyone! Thank you again for participating!
---
2022 Chapter Excellence Award – Bronze Level Winner
We are pleased to announce that our chapter is in receipt of the Bronze Level of the 2022 Chapter Excellence Award! The award recognizes chapters that achieve basics in chapter management. In order to achieve the Chapter Excellence Award, chapters must meet twenty-one Bronze criteria. Criteria include such activities as being involved in advocacy activities, communicating with members, having a chapter/regional scientific meeting along with a planning committee, having a sound financial structure in place, recruiting and advancing members and having an awards committee that identifies candidates for local or national awards. We would like to extend a special thanks to those chapter members who assisted us in all of these endeavors! For their hard work and dedication, we received this award.
---
2023 Annual Meeting Plans – feedback requested
As we prepare to begin planning our Annual Meeting for October 2023 we request your input on meeting format, topics of interest, etc. Please complete this survey to share your thoughts or suggestions!