---
---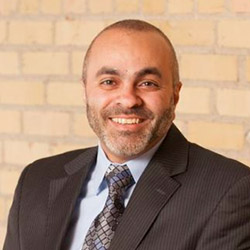 Fadel Nammour, MD, FACP, ACP Governor
---
Message from the Governor
Another year into the pandemic and the same resilience and commitment from all of you at the front lines, taking care of patients and dealing with all the politics surrounding this pandemic from vaccine hesitancy to conspiracy theory which highlighted the fragility of our healthcare system. In that regard, ACP leadership invited Dr Shantan Nundy to the BOG meeting last fall to talk about his recent book Care After Covid: What the Pademic Revealed is Broken in Healthcare and How to Reinvent It . A worthwhile read.
I am so grateful for all our members and their engagement with the chapter! In collaboration with SHM once again, we were able to put up another successful meeting with the help of amazing speakers and continue with our posters and doctor's dilemma competitions.
As my term is nearing its end, Dr. Josh Ranum will join me as our Governor-Elect at our next Spring ACP national annual meeting (hopefully in-person) and will become our new governor starting in 2023. I have no doubts Dr. Ranum, who currently serves as president of North Dakota Medical Association, will be a great asset to our chapter and will do a great job in his role as governor. Please reach out to him to congratulate him and offer your support.
Wishing everyone a Happy Holiday season. Again, thank you all for what you do on a daily basis and remember to always take care of yourselves, stay healthy and safe. We all need you!
---
2021 Annual Meeting recording
We had four speakers for our afternoon virtual meeting:
Dr. Jeremy Cauwels is Chief Physician at Sanford Health in Sioux Falls, SD. He shared an Overview of Pandemic - Response, Recovery, and the Path Ahead
Dr. Douglas Griffin is Chief Medical Officer at Sanford Health in Fargo, ND. He shared Reflections on a high reliability organization (HRO) Journey.
Dr. Kim Kolkhorst and Dr. Ross Meidinger shared about Proton Pump Inhibitors: the good, the bad, and the final verdict. Dr. Kolkhorst is Gastroenterologist and Department Chair at Essentia Health in Fargo, ND. Dr. Meidinger is a Gastroenterologist and Department chair at Sanford Health in Fargo, ND.
Dr. Dubert Guerrero is in Infectious Disease at Sanford Health, Fargo. Associate Program Director of Internal Medicine Residency Program at UND and Associate Director of Research & Scholarly Activity at UND. He shared about Post-COVID Conditions: What Clinicians Need to Know.
The meeting recording is available here
You may still claim CME credit from the recorded meeting. More information is available here.
---
2021 ND Chapter Poster Competition Winners
We had a successful poster competition for UND medical students and residents on October 7, 2021. There were a total of 40 posters presented! Thanks to all judges and participants for making this event a success.
Thanks to our judges for volunteering their time and expertise!
Dr. Ron Ottenbacher
Dr. Siddharth Singhal
Dr. Mahammed Khan Suheb
Dr. Tze Shien Lo
Dr. Kim Hammer
Dr. Nayan Desai
The winners in each category were:
ACP Research
First Place – #6 Asymptomatic Preoperative COVID-19 Screening: A Single Center Study, Stacy Ploom
Second Place - #3 Outcomes in Malignant Pleural Effusion Treatments: An investigation into length of stay, survival rates, and dyspnea scores in patients receiving indwelling pleural catheters, talc pleurodesis, or both, Megan DeVillers, Zachary Mohs, Stephanie Ziegler
ACP Clinical Vignette – Medical Students
First Place – #10 Fatal Case of Liver and Brain Abscesses due to Fusobacterium nucleatum, Nadia Toumeh & Megha Mudireddy
Second Place - #14 Scurvy, Presenting with Geographic Tongue, Matthew Kretschmar & Erika Mojika
ACP Clinical Vignette – Residents
First Place – #5 Giant Cell Arteritis and Mesenteric Ischemia, Katrina Lybeck
Second Place - #2 A Case of Missing Pill-Iron Pill Aspiration, Vinita Vaidya
*ACP First Place Winners will be eligible to participate in the national abstract competition in April in Chicago, IL. Only first authors may present at National ACP.
All posters can be viewed here.
---
2021 ND Chapter Doctor's Dilemma Winners
The UND Internal Medicine and Transitional Year residents participated in our local Doctor's Dilemma competition. The winning team will advance to the national Doctor's Dilemma competition at the Internal Medicine 2022 Meeting. The annual ACP Doctor's Dilemma® competition is a hallmark program for the College. Held each year at the annual Internal Medicine Meeting, it brings together some of the brightest residents from around the world in a friendly but highly competitive environment. The competition tests the medical knowledge of up to 60 teams, each representing an ACP chapter. After three days of competition, the winning team is awarded the coveted "Osler Cup" and is granted a place in ACP history.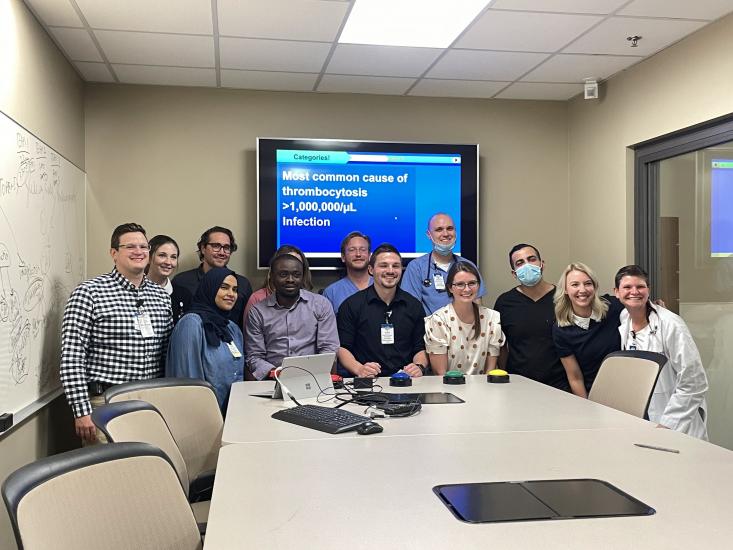 Special thanks to Dr. Riley Clark for hosting and Dr. Emmanuel Fohle for organizing the competition!
The Doctor's Dilemma winning team is:
Umama Zareen PGY3 Internal Medicine
Mathew Gerving PGY2 Internal Medicine
Logan Schmaltz PGY1 Internal Medicine
Jenna Gassman PGY2 Internal Medicine
Andrew Sefain PGY1 Transitional Year
*Three players from the winning team will be eligible to compete at the national ACP Doctor's Dilemma competition.
Congratulations to everyone! Thank you again for participating!
---
2021 Chapter Awards
We recognize Dr. Dinesh Bande for the Laureate Award.
Dinesh Bande, MD, FACP, is Clinical Associate Professor of Internal Medicine and Chair of Internal Medicine at University of North Dakota School of Medicine & Health Sciences. He graduated from Kurnool Medical College and completed residency training at UND Internal Medicine residency program. He started as a Hospitalist at Sanford Health in 2011. His current roles are Hospitalist and Physician Advisor in Utilization Management at Sanford Health, Long-Term Acute Care Physician at Vibra Hospital, and Medical Director at Sanford Hospice. He served as the Statewide Internal Medicine Clerkship Director from 2015-2017 and was named Chair of the department in October 2017.
Dr. Bande is Vice President of the North Dakota Chapter Society of Hospital Medicine. He is a member of the ND ACP Governor's Advisory Council and has participated in the Planning Committee for the annual chapter meeting for several years. He is enthusiastic about teaching medicine. He has been a mentor to many medical students and residents. He is very active in getting medical students and residents involved in local and national research opportunities. He has contributed to over 40 poster presentations and has over 20 peer-reviewed publications.
The Laureate Award honors Fellows and Masters of the College who have demonstrated an abiding commitment to excellence in medical care, education, or research and service to their community, their Chapter, and the American College of Physicians.
---
2021 Chapter Excellence Award – Bronze Level Winner
We are pleased to announce that our chapter is in receipt of the Bronze Level of the 2021 Chapter Excellence Award! The award recognizes chapters that achieve basics in chapter management. In order to achieve the Chapter Excellence Award, chapters must meet twenty-one Bronze criteria. Criteria include such activities as being involved in advocacy activities, communicating with members, having a chapter/regional scientific meeting along with a planning committee, having a sound financial structure in place, recruiting and advancing members and having an awards committee that identifies candidates for local or national awards. We would like to extend a special thanks to those chapter members who assisted us in all of these endeavors! For their hard work and dedication, we received this award.