You are here
Montana Laureate Award American College of Physicians Kenneth V. Eden MD, FACP
Montana Laureate Award
American College of Physicians
Kenneth V. Eden MD, FACP
The Laureate Award honors those Fellows and Masters of the American College of Physicians in Montana who have demonstrated by their example and conduct an abiding commitment to excellence in medical care, education, and/or research, and in service to their community and the ACP.
Recipients of this award shall bear the title Laureate of the Montana Chapter.
This award shall be presented at the Annual Scientific Meeting. The awardee should accept the recognition in person, unless excused by the Governor. The awardee is to be nominated by a process that may originate from the Awards Committee or from any member of the Chapter. The nomination must document the attributes and accomplishments of the nominee.
The awardee should be a senior physician and Fellow or Master of long-standing, with acknowledged excellence and peer approval in the field of internal medicine. In addition, the awardee should have served the Chapter with distinction.
It is with distinct pleasure that this year, the Montana Chapter presents the Laureate Award to Kenneth V. Eden MD, FACP. Dr. Eden is a long-standing and loyal supporter of the College, has rendered distinguished service to the Chapter, and has upheld the high ideals and professional standards for which the College is known.
Robert G. Byron, MD, MPH, FACP
Governor ACP, Montana Chapter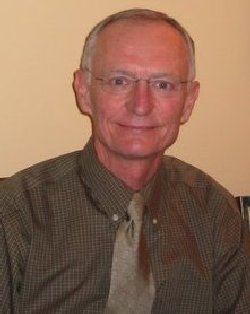 Kenneth V. Eden MD, FACP
Dr. Kenneth V. Eden received a BA from Franklin & Marshall College in Lancaster, Pennsylvania in 1967. He received his M.D. degree in 1971 from the University of Maryland. He was an intern and resident in internal medicine at the University Hospital Baltimore, Maryland from June 1971 to June 1973. He received the Cohen Award for outstanding resident in medicine in 1973. From 1975 to 1977 he was a Fellow in gastroenterology at the University of Colorado Medical Center, Denver, Colorado. Between his residency and fellowship Dr. Eden served in the U.S. Public Health Service as an Epidemic Intelligence Service officer assigned to the Montana State Health Department, Helena, Montana. During this time he had a temporary assignment to the World Health Organization, Begemedir, Ethiopia as Supervisor, Smallpox Eradication Program.
After spending a year as an instructor in Medicine, University of Washington School of Medicine at the Boise Veterans Administration Hospital, he returned to Helena, Montana where he practiced Internal Medicine and Gastroenterology from 1978 to 1999. He moved his private practice to the Maria Dean Medical Specialists in Helena in 1999 where he continues to practice gastroenterology. For many years he was the solo gastroenterologist in the Helena area. He is well known as an excellent clinician as well as a skilled endoscopist.
Dr. Eden has been an active member of St. Peter's Hospital in Helena. He has been member and chair of many hospital staff committees including Credentials, Risk Management and Emergency Department. He has been chair of the Department of Medicine. He served as medical staff secretary, Chief of Staff elect and Chief of Staff. He has been a member of the St. Peter's Hospital Board of Trustees from 1989 to 1993 and 1997 to 2003. He was Vice-President, Medical Staff Affairs from 1996 to 2003. He became the Acting CEO from June 1999 to January 2000.
Dr. Eden is a long- standing member of the American College of Physicians. He has been very active in the Montana Chapter. He was a member of the Governor's Advisory Council. He became Governor Elect in 1995 and served as Montana Governor from 1996 to 2000. While Governor he was a Member of the American College of Physicians Ethics Committee which produced the ACP Ethics Manual:Fourth Edition. Dr. Eden has been the longstanding Chapter monitor of the Montana legislature and has represented physicians well before this body.
Dr. Eden was the Secretary Treasurer and later President of the Montana Foundation for Medical Care. He as served as Chairman of the Montana Medical Association Committee on legislation and was a member of Montana Health Benefits Committee, State Auditor's office. He was the first Medical Director of Hospice of Helena.
Dr. Eden has made great contributions to the care of patients, his profession and his community. The Montana Chapter of the American College of Physicians is pleased to honor Dr. Kenneth V. Eden as its Laureate for 2007.