You are here
Chapter News
Chapter News
Let's Celebrate our Local National Abstract Competition Winners
(May 2022) The Indiana Chapter would like to congratulate the following chapter members on their accomplishments at the 2022 Internal Medicine Meeting National Abstract Competition.
Early Career Physician Poster Winner - Clinical Vignette
A case report of tumor induced osteomalacia: an elusive and often delayed diagnosis.
Iryna Kulyk, MD FACP
Resident Fellow Poster Winner
Efficient HIT Antibody testing to promote high value care
Azka Tasleem, MBBS
View the complete list of podium presenters and poster winners at Internal Medicine Meeting 2022.
---
Photos from IMM 2022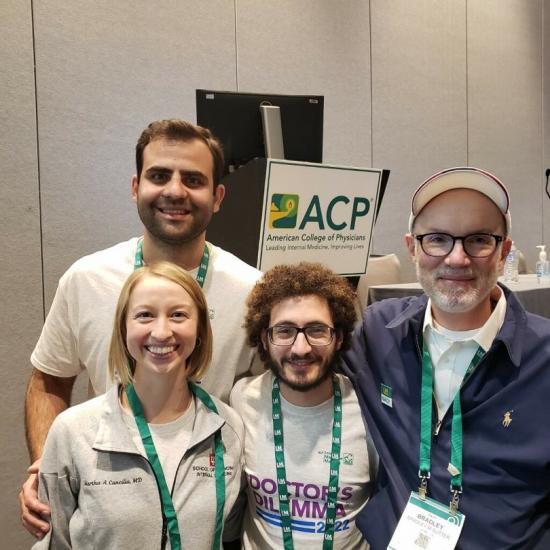 ACP IN Doctor's Dilemma Team 2022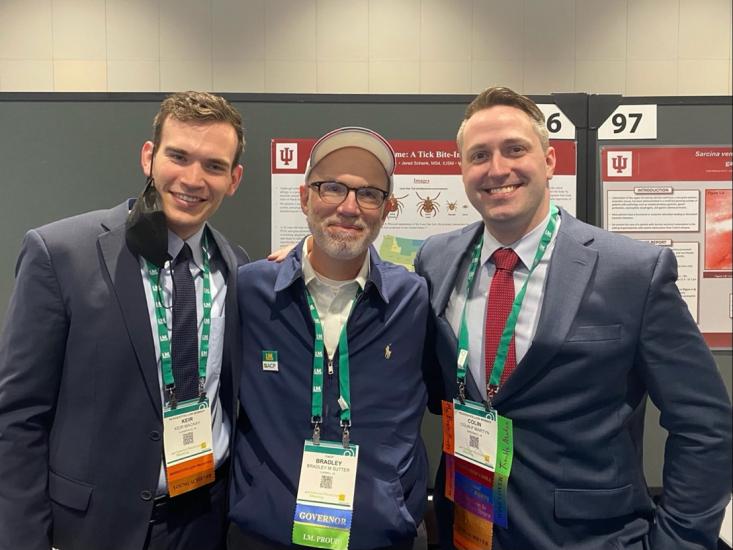 ACP Indiana SW Residents at IM 2022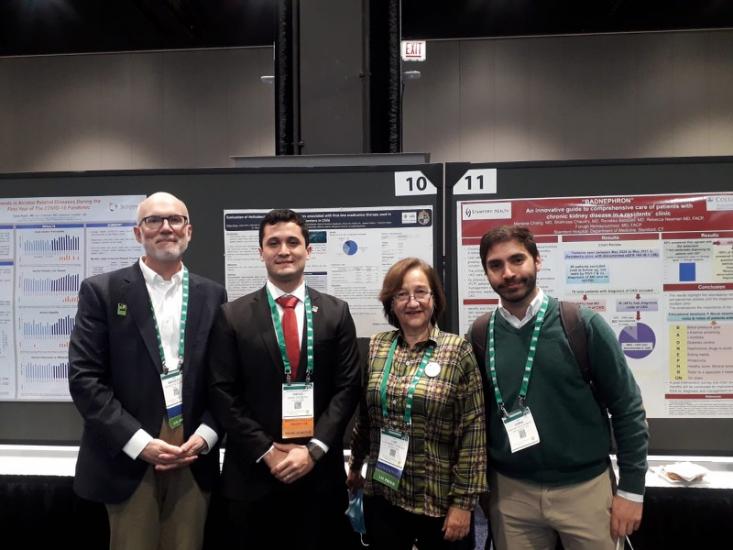 IU Southwest, St. Vincent, and IU Ball Poster Presenters 2022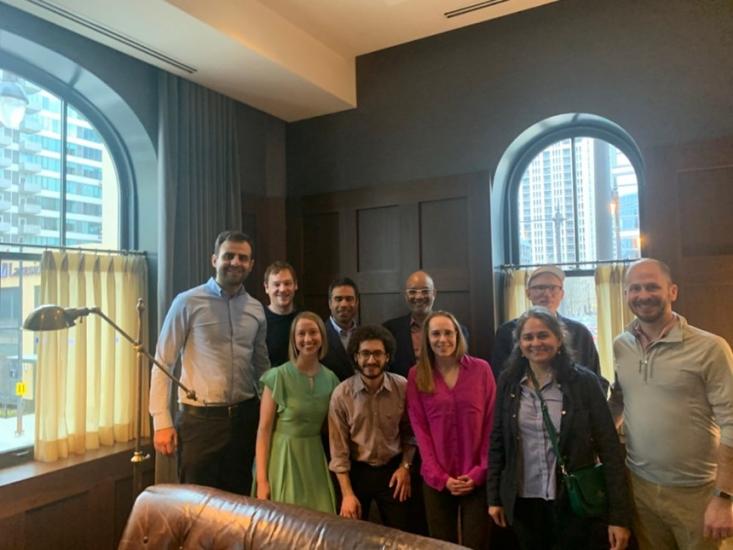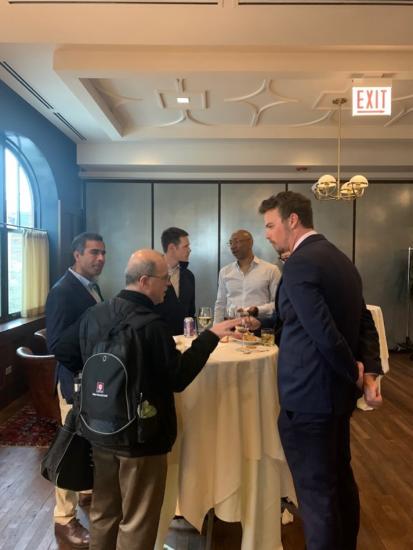 Reception IM 2022 at the Chicago Firehouse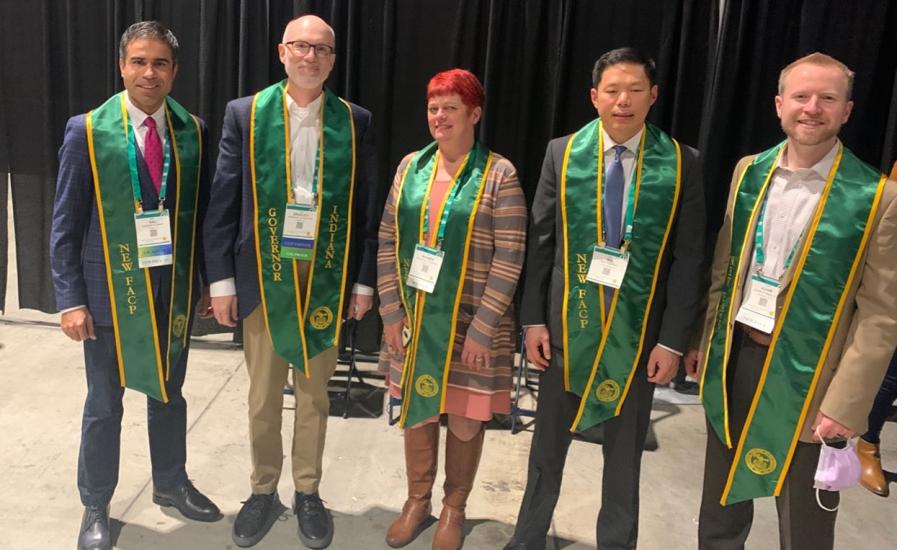 New Fellows IM 2022
Dr. Rajesh Kumar, Dr. Brad Sutter, Dr. Rhonda Eubanks, Dr. Nyi T Naing, Dr. Adam Smalley
Congratulations New Indiana Chapter Fellows
Ramesh Adhikari, MD, FACP
Sirshendu Banerjee, MD, FACP
Venu Chippa, MD, FACP
Muniza Masleh, MD, FACP
J David Mossler, MD, FACP
(March 2022) Congratulations to the Indiana Chapter's newest Fellows. Fellowship in the College is an honor. Being an FACP® is a distinction earned from colleagues who recognize your accomplishments and achievements over and above the practice of medicine. The most important considerations for ACP Fellowship are excellence and contributions made to both medicine and to the broader community in which the internist lives and practices.
---
Potential ACP Governor-Elect Candidates
Nominations Due by April 14, 2022
(March 2022) As you know, the ACP national office is conducting a Governor-Elect election for our chapter this year. The Local Nominations Committees will be responsible for identifying up to two candidates who are willing and able to serve a four-year term (April 2024 - April 2028), in addition to a year of training as Governor-elect (April 2023 - April 2024).
We are looking for a dynamic leader who exhibits integrity, shows commitment to the College and demonstrates dedication to the Chapter and the medical community. The successful candidate will work with Chapter members and with leaders in internal medicine at the national level. A Governor typically spends several hours per week on College Business with the support of executive administrative staff. Serving as an ACP Governor can be an extremely rewarding and life changing experience.
Click here to view the Governor Job Responsibilities.
Only ACP MACPs and FACPs are eligible for consideration. If you would like to submit the name of a colleague or self-nominate, contact Chapter Staff.
All potential candidate information must be submitted by Wednesday April 14, 2022.
---
ACP Indiana 2021 Award Ceremony
Winners:
Laureate: Bradley Allen, MD FACP
Physician Hero Award: Warren Gavin, MD
---
Support our Local Speakers at Internal Medicine 2022

Join ACP and your colleagues as we reconvene to meet our personal and professional goals. World-renowned faculty will present important topics and the latest evidenced-based clinical and practice information that invite you to discover new ways to improve your own techniques and patient care. Internal Medicine Meeting 2022 will also introduce a refreshed schedule and two plenary gatherings featuring must-see speakers.
We wanted to take a moment to shine a spotlight on this year's Indiana Chapter Members who are serving as faculty:
Malaz Boustani, MD, MPH - Dementia: Evidence for the Practicing Internist - Friday, April 29
---
ACP Indiana Chapter 2021 Poster Winners
Resident Clinical Vignette:
Hinduja Nallamala, Ascension St. Vincent: "Hypoglycemia with an uncommon cause: Doege-Potter Syndrome"
Zachary Williams, IU Health Ball Memorial: "Chronic Opioid Induced Secondary Adrenal Insufficiency"
Adel Yazji, IU Health Ball Memorial: "A rare cause of adult-onset pancytopenia: Non-cirrhotic portal hypertension and massive splenomegaly caused by downstream effects of azygos vein continuation"
Resident Research:
Anthony El Khoury, IU School of Medicine-Southwest: "Hypothermia as a sign of terminal illness in patients with severe COVID-19"
Resident Quality Improvement/Patient Safety:
Hinduja Nallamala, Ascension St. Vincent: "A Checklist Intervention to Improve Safety and Quality for Non-Invasive Ventilation for Acute Respiratory Failure in a Progressive Care Unit"
Ibrahim Shah, IU Health Ball Memorial: "Use of Inpatient Intravenous anti-hypertensives (IVAH) for asymptomatic hypertensive urgency - a change is needed"
Alvin Hu, IU Health Ball Memorial: "Call Waiting Times in IMRC – an Exploratory Study"
Resident High-Value Care:
Azka Tasleem, IU Health Ball Memorial: "Efficient HIT Antibody Testing to Promote High Value Care"
Medical Student Research:
Rachna Chaudhari, Marian University: "Utility of Classroom Subject Performance Outcomes in Preparation for the Comprehensive Osteopathic Medical Licensing Examination (COMLEX)"
Medical Student Patient Safety:
Adam Hoehn, Marian University: "Influence of Medications on Falls at a Community Hospital"
Early Career Physician:
Stephen Hon, Ascension St. Vincent: "Wellens' Syndrome: When the EKG looks worse than the patient!"
Samantha Loeser, Ascension St. Vincent: "A Rare Cause of Weakness"
Khawaja Omar: "MPO vasculitis and Diffuse Alveolar hemorrhage in a patient with Chronic Respiratory Failure secondary to COPD"
BOR Action on Fall '21 BOG Resolutions
(December 2021) A summary of Board of Regents (BOR) actions on resolutions debated at the Fall 2021 Board of Governors (BOG) virtual meeting is now available. Resolutions initiated by ACP members and endorsed by a chapter council and the BOG become ACP policy when adopted by the BOR.
If you have an idea you'd like to suggest to ACP, consider submitting a resolution to our chapter.
---
Congratulations New Indiana Chapter Fellows
Ahsan Aslam, MD, FACP
Quanri Jin, MD, FACP
Samantha Loeser, MD, FACP
Adam Edward Mikolajczyk, MD, FACP
Nyi T. Naing, MBBS, FACP
Muhammad Qasim, MD, FACP
Emily R. Young, MD, FACP
(December 2021) Congratulations to the Indiana Chapter's newest Fellows. Fellowship in the College is an honor. Being an FACP® is a distinction earned from colleagues who recognize your accomplishments and achievements over and above the practice of medicine. The most important considerations for ACP Fellowship are excellence and contributions made to both medicine and to the broader community in which the internist lives and practices.
---
Congratulations to the New Chapter Fellows
Congratulations to the following Indiana Chapter members who were elected Fellows of the College:
Sidney Allison, MD FACP
Saira Butt, MD FACP
Amir Habib, MD FACP
Jennifer Hur, MD FACP
Patrick F McQuillan, MD FACP
Nicholas R Newsom, MD FACP
James E Ong, MD FACP
James R Porter, MD FACP
Sivagama Valli Ramasundaram, MD FACP
Md Salahuddin Siddiqui, MD FACP
Adam R Smalley, MD FACP
Susan L Steffy, MD FACP
---
Do you know an Indiana ACP member deserving of recognition?
The ACP Indiana Awards Committee would like your help identifying members for the following awards in 2021:
(June 2021)
ACP IN Laureate Award
Honors those Fellows and Masters of the American College of Physicians who have demonstrated by their example and conduct an abiding commitment to excellence in medical care, education, or research, and in service to their community, their Chapter, and the American College of Physicians.
ACP IN Physician Hero Award

ACP IN invites members to nominate members who have gone above and beyond to ensure safe, high-quality, high-value health care during the pandemic. These heroes have shown an extraordinary commitment to their patients, healthcare research, or their community during the COVID-19 crisis.
ACP IN Women Physician of the Year
Honors an outstanding woman physician IN ACP Member with a distinguished career in areas of exceptional patient care, medical education and/or research.
Outstanding Early Career Physician Award
Honors an IN ACP Early Career Physician (16 years within graduation of medical school) who demonstrates leadership and excellence in the field of internal medicine.
Teaching and Mentorship Award
Honors a IN ACP member in good standing who exemplifies commitment to and involvement in the mentoring of young faculty/fellows/residents/students while enhancing their career development through advising, counseling, and serving as a professional role model.
Volunteerism and Community Service Award
Honors a IN ACP member who demonstrates a significant and sustained commitment to the service of others at a local, state, national, or international level. This award is bestowed upon an ACP Medical Student Member, Resident, Member, Fellow, or Master who has initiated or has been involved in volunteer programs or has provided volunteer service post-training. The service must have been performed on a completely voluntary basis and not for the completion of training or position requirements. Volunteer work must have been done as a physician or medical trainee and be medically related.
Lifetime Achievement Award
The Lifetime Achievement Award is presented to a IN member who has demonstrated a lifetime commitment to internal medicine. The award is a mark of honor and recognition for achievement of a senior physician who has been a faithful member of the chapter and who has made major contributions to medicine in internal medicine in the State of Indiana.

To nominate please send a short nomination letter for presentation to the IN Awards Committee. Please send nominations to Colleen Keeku by July 16th, 2021. Awards will be announced and an award ceremony will take place in October 2021.
---
ACP's Online CME & MOC Learning Center adds information on state-specific CME requirements
(June 2021) Wondering about Indiana's CME requirements? You can now visit the Online CME & MOC Learning Center and click on the "State CME Requirements" tab to learn all about what you need to do. Note: You must be logged into your ACP Online account to access this information.
---
Looking to expand your knowledge? View Indiana Chapter webinar playbacks
(Spring 2021) The Indiana Chapter has a Vimeo channel where you can view videos of past webinars. Visit the site today!
---
Statement by Chapter Governor, Bradley Sutter, MD, FACP
(6/5/20) I/we want to take this important, poignant moment in our nation's history of racial inequality and injustice, to highlight our Indiana ACP Chapter's commitment to the health, safety, and well-being of all African-American citizens. We are all reminded of the unacceptable, long-term, and visible toll endemic racism, combined with the lack of real economic and healthcare reform, is taking on the everyday lives of our African American communities, and other communities of color.
The disparities in the health and economic impacts on our citizens of color from the COVID19 pandemic also highlight the need for comprehensive healthcare reform in our country. As such, our Chapter is pleased to support the ACP's important proposals on this topic, which can be found HERE.
As a physician who believes we should always attempt to "first, do no harm", and should seek to alleviate pain and suffering, it was shocking to watch the events unfold surrounding the needless death of George Floyd in Minneapolis. This, sadly, was yet another vivid demonstration of the systemic injustice and inequality suffered by African Americans – and other peoples of color -- on a daily basis in the country we love. It must stop. The solutions must begin with all of us.
I express my sincere sympathy and support to our African American physician colleagues and citizens, who are visibly and understandably suffering at this time.
Our ACP Chapter, and its leadership, are united in rejecting all forms of discrimination, intolerance, and harassment against anyone related to their race, skin color, age, gender, religion, sexual orientation, or other unique characteristic. Please take time to review ACP's stance on this issue via the following LINK.
Sincerely,
Bradley M. Sutter, MD, FACP
Governor, Indiana Chapter, ACP