---
---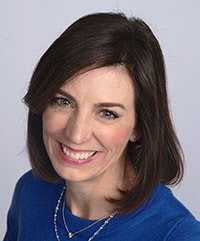 Anne Furey Schultz, MD, FACP , ACP Governor, Illinois Northern
---
Governors Message
A patient of mine brought this note to her Annual Medicare Wellness Visit 2/28/2022. Used with permission: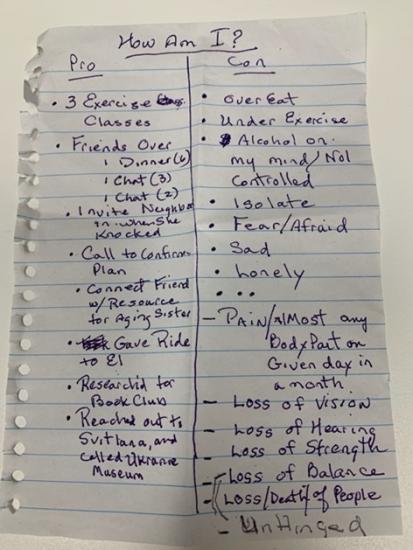 "How are you holding up?" I ask patients as I launch Epic in the exam room these days - they in their gown, me in my unbuttoned lab coat - knees to knees, mask to mask. My patient's response helps me set the tone for the visit. I mentally note the blood pressure and weight - they are both up - and I've learned not to say anything until I know where they are at - what's happened to them this year.
I've had the privilege of knowing most of my patients for a very long time. Some were my father's patients before me, or their parents were. So, when my patient tells me she lost her brother, I usually know his name. I know many of the names of important people in my patients' lives - an unexpected gift of the EPIC sticky note and family history fields. Doing Annual Preventive Visits this year means listening to a lot of loss and change. And yet, still, my patients want to please. Promises not kept from the last time we were together so they could avoid a med - to lose weight, drink less, or exercise more - just compounds their shame. "This a judgement free zone," I remind them, "And you are here today trying to take care of yourself. I'm really proud of you," And I mean it. And they know I mean it. Before bringing up the weight or blood pressure I ask them to tell me about the brother they lost, the divorce they finally filed for, the "good kid" in serious trouble. I ask about the fall they had when drinking "more than I should" for which I am removing stitches from their forehead.
Being present in times of grief is the reset button we seem to need right now. Therapeutic. Somehow for both of us: "What do we live for if not to make life less difficult for one another?" asked George Elliot, and I agree. Listening, coming together, that is our way back.
As Omicron recedes, and I write this on a fifty-degree morning on the first day of March in Chicago, I am filled with optimism - and dare I say - excitement for spring. March is my favorite month. My dad and I share a birthday, my Irish Furey ancestors get celebrated, and I am making plans to see my amazing colleagues in person this year at the April annual meeting in my Sweet Home Chicago. Consider joining us. Clear your calendar now, and come be rejuvenated by ACPs outstanding programming and the comradery of your colleagues.
On the ACP Northern Illinois front, we are full of gratitude for terrific programming done by our Well-being and DEI Committees. We expand our focus now to our three key initiatives for 2022-2024 and the second half of my term as your Governor: 1) The newly formed Entrepreneurship and Innovation Committee, 2) a reboot of the Women in Medicine Committee, and 3) Membership. Check out the details below!
Happy Spring,
Anne
---
Entrepreneurship and Innovation Committee
Dr. Anwar Jebran and Dr. Rajan Shah co-chair the new ACP IL Committee's. ACP ILN Entrepreneurship and Innovation Committee's mission and vision is to enhance the physicians' awareness & involvement in healthcare technologies and innovation in order to position ACP ILN Chapter at the intersection of medicine & technology. If you are interested in participating in the committee, please contact Colleen Keeku.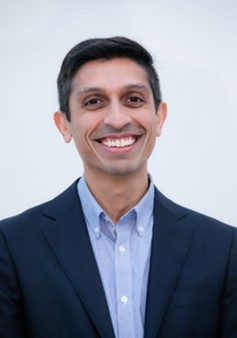 Dr. Rajan Shah, MD

Dr. Anwar Jebran, MD
---
Women in Medicine Committee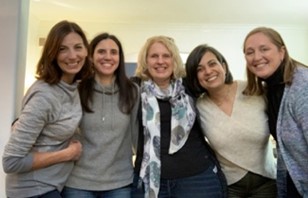 Caption: (left to right):
Dr. Anne Schultz, ACP ILN Governor
Dr. Jordi Friedman, Northwestern (Central Region)
Dr. Christine Amstadt, Northwestern (Western Region)
Dr. Christiana Shoushtari, Oak Street Health
Dr. Julie Oyler, University of Chicago
Calling all Women in Medicine Story Slammers! Save the Date to join your ACP and SGIM colleagues on Friday, April 29 for cocktails and dinner in the city after IM2022.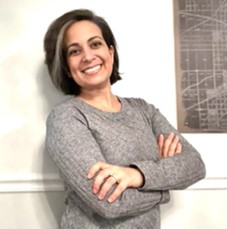 Meet our new Chair of Women in Medicine, Dr. Christiana Shoushtari. Dr. Shoushtari is a current physician provider with Oak Street Health, providing primary care health service to the Garfield Park neighborhood of Chicago. She is also a recent Internal Medicine graduate at Advocate Lutheran General Hospital.
If you are interested in participating in the committee, please contact Colleen Keeku .
---
Membership
Our Membership Committee, headed by co-chairs Dr. Steve Potts and Dr. Patrick Towne, have been hard at work creating the ACP ILN Ambassador Program. In order to enhance and serve our members the committee has created the Ambassador Program with the aim to have a member Ambassador at every institution in ACP ILN. The program's mission is to link ACP Illinois local programming, events, and opportunities to all ILN physicians and residents.
If you are interested in participating in the committee or as an Ambassador please contact Colleen Keeku .
---
Join the Illinois Chapter at Leadership Day 2022 in Washington, DC, May 17-18, 2022, at the Mandarin Oriental Hotel
This event provides an opportunity for ACP and our members to increase our presence in Washington and bring visibility to issues of common concern. Participants receive a comprehensive orientation and briefing on ACP's top legislative priorities and then have an opportunity to meet with legislators and the staff on Capitol Hill.
The Illinois Northern Chapter is again sponsoring members to attend. Attendees will receive $1,000 travel stipends for up to four attendees from the following member categories: student, resident/fellow, early career physician (less than 10 years out of training).
To enter please submit your response (500 words or less) to the following: "Why is physician advocacy important to you? What do you hope to accomplish by attending ACP Leadership Day?"
Essays should be submitted no later than Wed, March 30, 2022.
General information regarding Leadership Day 2022 can be found here
---
I Raise the Rates! Newsletter
The February edition , includes an opportunity to participate in ACP Quality Improvement initiative and Dr. Sandra Adamson Fryhofer, MD, MACP explains the ACIP's 2022 adult immunization recommendations
---
Project Firstline
Infection control training for all healthcare workers as a part of Project Firstline. If you are interested, please fill out this survey .
---
New Advocacy Toolkits
Advocacy Toolkit: Period Poverty
New Advocacy toolkit: Enables you to advocate for improved access to necessary menstrual hygiene products. The kit includes background information, relevant ACP policy, and sample letters that you can send to your state governors:
Advocacy Toolkit: Revising License and Credentialing Applications to Not Ask About Mental Health
New Advocacy toolkit: Enables you to advocate with organizations and state medical boards to change or remove inappropriate medical licensing and application questions regarding mental health.
---
Call for Fall 2022 Board of Governors Resolutions
Are you concerned about a practice or clinical issue or have an idea you'd like to suggest? If so, you might consider submitting a resolution to your Governor or chapter council.
Not sure how to begin drafting a resolution? Researching the College's position on an issue can give you a start. Visit the ACP Online homepage click the "Advocacy" link in the right-hand, top margin to access ACP policy positions, read about recent ACP advocacy activities, or search ACP's library of policies and recommendations.
Members must submit resolutions to their Governor and/or chapter council. A resolution becomes a resolution of the chapter once the chapter council approves it. If effecting change interests you, the deadline for submitting new resolutions to be heard at the Fall 2022 Board of Governors is March 30, 2022.