---
---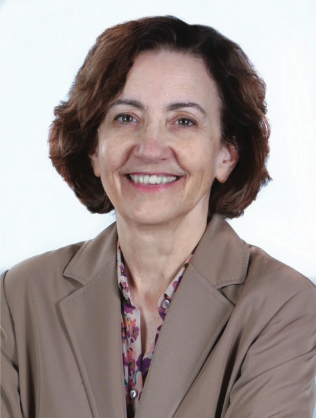 Ruth E. Weissberger, MD, FACP, ACP Governor
---
Governor's Message
Dear CTACP Colleagues,
It's a pleasure to share with you a snapshot of our chapter happenings in this edition of my quarterly newsletter, and to highlight the various opportunities to get involved in CTACP.
I'm excited to bring you the update on the chapter's work in developing an International Medical Graduate Council. By way of background, in 2022 we were awarded an ACP Chapter Development Fund to support the creation of an IMG Council in the CT Chapter. We undertook this initiative in recognition that 42% of our members are IMGs, and a Council would provide a mechanism to focus on concerns and challenges of particular interest to IMGs. We began the process at the October 2022 CTACP Annual Scientific Meeting with an IMG interest booth where meeting attendees signed up for focus groups to gauge interest in establishing the Council and identify priorities relevant to IMG physicians at different career stages. The first focus group, consisting of IMG early career physicians and residents, was held in December. A second, of mid- and advanced-career physicians, will be held in March. If you are an IMG interested in participating, please contact us at lisa@grassrootsct.com and stay tuned for more developments.
The CT Chapter was also successful in securing grant funding to participate in the "I Raise the Rates" campaign in 2023. This is a national ACP program designed to improve vaccination uptake and share information to help educate patients on the importance of vaccines—more about this below.
On the health policy and advocacy front, the CTACP Chapter Health & Public Policy Committee is engaged in environmental justice efforts in Connecticut (details below). HPPC, along with the Early Career Physicians Council and the DEI Committee are hosting a meeting for chapter members with State Sen. Saud Anwar, Chair of the CT General Assembly Public Health Committee, and a practicing physician. The meeting will be an in-person opportunity to discuss health policy and internal medicine practice in Connecticut with Dr. Anwar, along with his insights on leadership. See registration information below.
Planning for the 2023 Scientific Meeting, which will take place on Friday, October 20th, is underway. Stay tuned for more information as we identify speakers and topics.
Finally, I had the chance to attend the ACP Board of Regents Strategic Planning Retreat at ACP headquarters in Philadelphia last month. It was a terrific opportunity to meet with colleagues from other states as well as national ACP leaders working to better support internal medicine physicians and patients through policy development, advocacy, education, and promoting diversity, equity, and inclusion in all arenas, among other issues.
I hope you'll review this edition of our newsletter and check out the many ways that CTACP is engaged on your behalf and serving as a voice for our profession.
Sincerely,
Ruth
---
ADVOCACY:
The Chapter's Health and Public Policy Committee hit the ground running with the kick-off of the 2023 legislative session. The committee is monitoring a host of proposals including gun control, truth in advertising, reproductive rights and environmental proposals.
Last year, CT ACP joined an alliance on climate change to improve air quality and health outcomes in Connecticut. During this legislative session, that same group is focused on environmental justice. CTACP joined a host of community leaders, elected officials, other medical professionals and business leaders, calling on the Governor and CT General Assembly to do all we can to promote solutions that center on residents' rights to a safe and healthy environment. See the letter here and coverage here.
---
EARLY CAREER PHYSICIANS/INTERNATIONAL MEDICAL GRADUATES/HEALTH AND PUBLIC POLICY:
Register Today!…CTACP is excited to host a joint meeting with Sen. Saud Anwar on Tuesday, February 21st from 6-7pm at the Legislative Office Building in Hartford to discuss the importance of engaging in the legislative process and being a strong voice for patients and the physician community. Sen. Anwar is Co-chair of the Public Health Committee, a practicing physician in Connecticut, and an international medical graduate. For more information, click here for his bio. Space is limited so please email lisa@grassrootsct.com to register.
---
DIVERSITY, EQUITY, AND INCLUSION/IMG FOCUS GROUPS:
CTACP received a special grant to help fund the planning and implementation of a new International Medical Graduate Council in the chapter. As part of the initiative, CTACP is hosting focus groups with IMGs to discuss the role CTACP can play in assisting our members on a variety of pertinent issues.
We held the first event on December 6th and invited a targeted and diverse group of early career physicians and internal medicine residents, both ACP members and non-members, to participate in our first facilitated conversation. Key take aways included highlighting immigration issues (resources, letters, process, information), website resources, education around bias experienced by IMGs, support for career advancement, and Program Director support.
Our next focus group will be held in March and will gather feedback from mid-career and advanced-career IMGs. For more information, or to participate in this discussion, please contact Amir Mohammad amir.mohammad@yale.edu or Lisa Winkler at lisa@grassrootsct.com
---
ANNUAL MEETING UPDATE:
Mark your calendar….The CT ACP Annual Scientific Meeting 2023 will be held in person on Oct. 20th at the Aqua Turf in Southington, CT. We're looking forward to a great day of CME sessions, the resident and student abstract competition, and networking opportunities. Stay tuned for more information.
---
EDUCATION/I RAISE THE RATES:
CTACP is participating in ACP's I Raise the Rates Initiative to increase adult immunization rates in primary care. This ACP Quality Improvement program is a collaborative, data-driven campaign to support patients, physicians, health care teams, systems, and communities in raising adult immunization rates and reducing vaccine preventable diseases. The program seeks to assist internists and other primary care providers in both understanding the immunization rates of their patients and making practice changes that promote immunizations. ACP has also developed a High-Value Immunization Referral Toolkit, designed to facilitate more effective and collaborative immunization referrals. Access ACP's NEW High-Value Immunization Referral Toolkit here. The January IRTR newsletter can also be found here.
In April CTACP will collaborate with the ACP Southern Illinois and New York Long Island Region Chapters on a Medical Grand Rounds vaccine update and discussion of best practices for patient conversations around vaccines that will be available to members as a webinar. More to come on accessing this resource.
---
SOCIA MEDIA AND CTACP:
CTACP continues to enhance and improve our social media presence under the leadership of Dr. Varun Jain. Please be sure to like the chapter's Facebook page @ACPConnecticutChapter, share your Facebook page and twitter handle with Dr. Jain and let us know if you are interested in getting more involved with the Social Media Committee. If you have current news to share or potential posts, you can also email Dr. Jain at varunjainafmc@outlook.com
---
HOT TOPICS:
President's Message in January 2023 ACP Internist 
"The More You Know ... The More You Know" is now available online.