You are here
Chapter News
Chapter News
Contracts: Everything You Wanted to Never and Never Thought to Ask
Here is the recording of our recent Zoom meeting on contracts.
---
Applications Now Open to Apply for the Million Hearts® 2022 Hypertension Control Challenge
(August 2022) The Million Hearts® 2022 initiative is now accepting applications for the Hypertension Control Challenge and encourages ACP members to apply. ACP is a partner in the Million Hearts Campaign, a national initiative that aims to prevent a million heart attacks and strokes by reducing hypertension and implementing evidence-based strategies to improve cardiovascular health.
The Hypertension Control Challenge identifies and spotlights health care professionals, practices, both solo and group, and health care systems that have achieved nationally laudable hypertension control rates. Applicants that have achieved hypertension control rates of at least 80% over a 12 month period are eligible to enter for possible recognition as a Champion. To learn more about the rules and eligibility requirements to become a 2022 Million Hearts ® Hypertension Control Challenge Champion, please visit https://millionhearts.hhs.gov/partners-progress/champions/rules.html. All prospective Champions are required to complete the application form https://hypertension.millionhearts.hhs.gov/.
The submission deadline is September 7, 2022.
---
New Advocacy Resources Available to ACP Members and Chapters
(August 2022) We would like to make you aware of two new advocacy resources available to ACP members and chapters.
Understanding Advocacy and Why We Do It - A Comprehensive Toolkit for Chapters
ACP has created an advocacy best practices toolkit to support engagement in and the efficacy of chapter-level advocacy at the state and federal level. This comprehensive toolkit breaks down the different methods and mediums for advocacy engagement and highlights all the programs and resources offered by ACP to make the most of chapters' advocacy efforts. This toolkit is only accessible to ACP members.
Reproductive Health Toolkit Now Updated
ACP's toolkit for chapters to utilize in navigating issues surrounding abortion rights and related policies in their states following the overturning of Roe v. Wade has been updated. The toolkit now includes sample letters that chapters can use to advocate with state officials and information on recent federal activity.
For questions regarding these toolkits, please submit all requests through this questionnaire to ensure we can track inquiries and respond in the most timely and efficient manner."
Are you a member of the Advocates for Internal Medicine Network (AIMn)? Learn more here.
---
Congratulations New California Chapter Fellows
Northern California
Ye K Aung, MD, FACP
Sally M. Daganzo, MD, FACP
Vinay Krishna Pulusu, MBBS, MD, FACP
Rachel B. Wagman, MD, FACP
Southern California Region I
Mukul Gupta, MD, FACP
Jeanette Sison Ilarde, MD, FACP
Aldo A Ilarde, MD, FACP
Southern California Region II
Southern California Region III
Shreya Parikh Chandra, MD, FACP
Sandry Chendra, MD, FACP
Shelese Newmark, MD, FACP
(July 2022) Congratulations to the California Chapters' newest Fellows. Fellowship in the College is an honor. Being an FACP® is a distinction earned from colleagues who recognize your accomplishments and achievements over and above the practice of medicine. The most important considerations for ACP Fellowship are excellence and contributions made to both medicine and to the broader community in which the internist lives and practices.
---
BOR Action on Spring '22 BOG Resolutions
(June 2022) A summary of Board of Regents (BOR) actions on resolutions debated at the Spring 2022 Board of Governors (BOG) meeting is now available. Resolutions initiated by ACP members and endorsed by a chapter council and the BOG become ACP policy when adopted by the BOR.
If you have an idea you'd like to suggest to ACP, consider submitting a resolution to our chapter.
---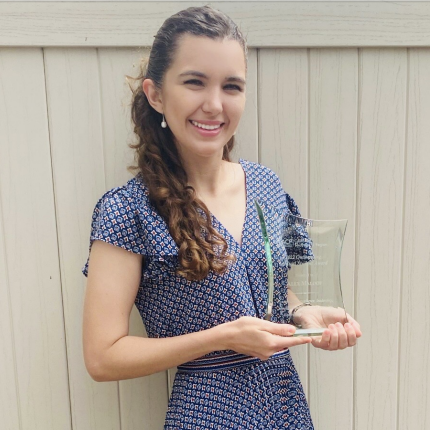 Congratulations Alex Maloof
ACP California Southern Region III Chapter is pleased to announce that Alex Maloof, a fourth-year medical student at the UCSD School of Medicine, is the recipient of the 2022 Outstanding Medical Student Award for academic excellence, leadership, service, and dedication to pursuing a career in Internal Medicine.
Ms. Maloof served as the 2021-2022 Chair of the California Southern Region III Chapter's Council of Medical Students and led an energetic team of students in creating the Wellness Wave initiative designed to optimize wellness and garner career advice for the doctors of tomorrow.
Ms. Maloof is the recipient of the Gold Humanism Honor for leadership in the compassionate care of patients, has founded or co-founded several organizations dedicated to increasing inclusivity and mentorship for underrepresented students including the Minority Association of Premedical Students (MAPS) and Med Mindset. She has also served as past President of the UCSD Internal Medicine Interest Group (IMIG) and Director of the UCSD School of Medicine Mentors
---
Statement on Anti-Asian Racism, Violence, and Bias
In light of increasing anti-Asian attacks, violence, and hate crimes, the ACP California Southern Region I, California Southern Region II, California Southern Region III, California Northern, North Dakota, Hawaii, Montana, Idaho and Massachusetts Chapters condemn and denounce all forms of racism, violence, and bias against all races and ethnic groups in the strongest possible terms. We stand in solidarity with all victims of violence and their families as well as any fellow Pan Asian1 community members facing anti-Asian attacks or discrimination.
---
ACP's Online CME & MOC Learning Center adds information on state-specific CME requirements
(Spring 2021) Wondering about California's CME requirements? You can now visit the Online CME & MOC Learning Center and click on the "State CME Requirements" tab to learn all about what you need to do. Note: You must be logged into your ACP Online account to access this information.