---
---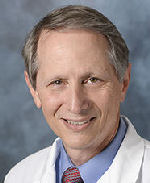 Mark S. Noah, MD, FACP, ACP Governor
---
A Message from the Governor
Dear Colleagues,
I hope all have had a happy and fulfilling first half of 2019. This Spring was a typical very busy time for our chapter of the ACP and I will touch base on some of our activities in this newsletter.
In March, our chapter sent a large contingent of physician, resident and student members to Sacramento to meet with our local legislators. The five areas of legislative efforts the group focused on were:
maintaining and improving access to medical care as challenges continue in this important area
improving funding for graduate medical education to help provide the primary care physicians needed to improve patient care access
balancing the problem of inappropriate opioid prescribing while not penalizing those physicians who are correctly prescribing these medications for indicated medical conditions
improving firearm safety and injury prevention
addressing high pharmaceutical cost impact on patient care
In early April, the ACP Board of Governor's meeting was held in Philadelphia in conjunction with the national ACP Internal Medicine Meeting. As always, the educational content of the annual meeting was exceptional. Vivek Murthy, MD, MBA, the 19th Surgeon General of the United States, was the keynote speaker of the meeting. He gave a powerful and deeply personal perspective on the importance of access to health care, the importance of physician wellbeing and the tremendous impact the personal connection between patients and their physicians have on the overall healing process. Our UCLA resident team that won the ACP Southern California Doctor's Dilemma Championship (Medical Jeopardy) participated in the national competition, and over 200 ACP members physicians came to the California, Hawaii, and Arizona reception that was held in the Downtown Philadelphia Marriott Hotel. I know many of our members took some time off from the Internal Medicine meetings to visit Independence Hall, the Liberty Bell, and to sample a famous Philly Cheese Steak sandwich with "wiz".
Toward the end of May, California ACP was in Washington, DC meeting with all our congressional and senate representatives on issues of importance to our membership. California again sent the largest delegation of physician, resident and student ACP members to this important leadership meeting. A day of detailed educational sessions on the skills needed to be a successful advocate and on the ACP major policy objectives preceded the actual meetings with our elected officials or their congressional staff. The California ACP contingent visited the offices of all congresspersons and both senators from our state and encouraged support of legislation that:
expands patient medical coverage and helps stabilize the insurance market
reduces unnecessary administrative tasks on physicians and patients
Reduces prescription drug costs
Supports funding for workforce, medical and health services research, and public health initiatives
Promotes continued action to address the epidemic of opioid use
Reduces firearms-related injury and death
Makes Graduate Medical Education (GME) funding more effective
Finally, you will shortly receive an announcement and full agenda for our ACP Southern California Regional Educational Meeting that will be on Saturday, October 12, 2019, at the Westin Carlsbad Resort (near Legoland).
I hope everyone has a great summer and I hope to see you at our meeting in October.
Mark S. Noah, MD, FACP
Governor, ACP Southern California Region 1
---
Meet the California Southern 1 Governor-elect
Congratulations to the California Southern 1 Chapter Governor-elect, Michael E. Lazarus, MBBCh, FACP. Our Governor-elect (GE) will complete a year of training as a Governor-elect and then will start his four-year term as Governor in the Spring of 2020. As Governor, Dr. Lazarus will serve as the official representative of the College for the California Southern 1 Chapter, providing a link between members at the local level and leadership at the national level. In the meantime, Dr. Lazarus will be working closely with Dr. Noah (the current Governor) and College staff to learn about the College and his duties as Governor.
---
Advocacy
Sacramento Leadership Day, March 2019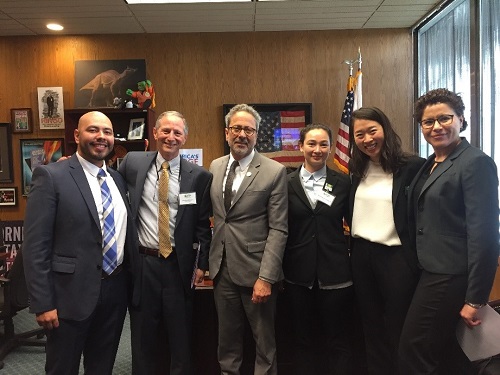 ACP California representatives meeting with Assembly-member Richard Bloom, who represents the 50th Assembly District
2019 Washington Leadership Day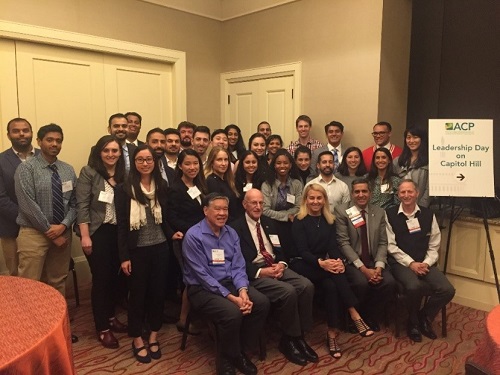 ACP California contingent who attended the 2019 Washington Leadership Day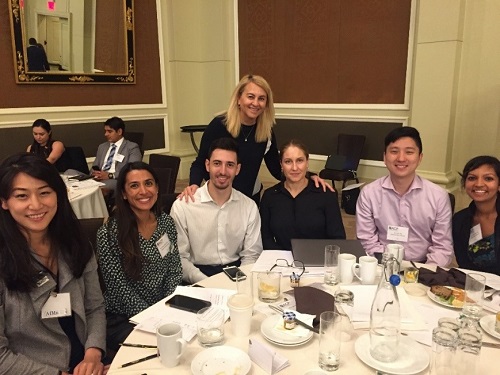 Soma Wali, MD, MACP and some of the ACP California Chapters Resident and Medical Student Members who attended 2019 Washington Leadership Day
---
ACP Internal Medicine Meeting 2019 in Philadelphia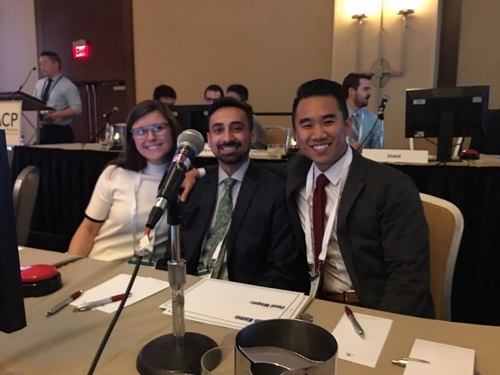 UCLA Residents Lauren Sullivan, David Oveisi and Evan Shih at the Doctor's Dilemma® competition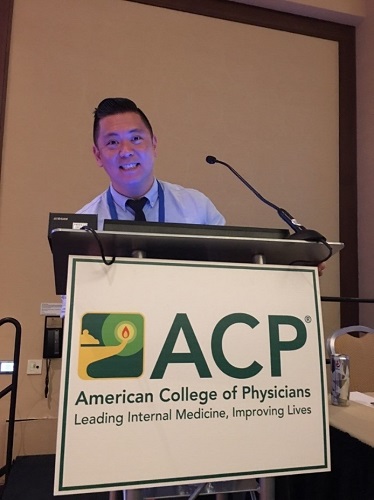 Jason Bahk, MD, ACP Southern California Region 1 Member serving as a moderator for a Doctor's Dilemma session
---
Convocation Ceremony

Governor Dr. Mark Noah, with new ACP Fellows at the Convocation Ceremony
---
New ACP Southern California Region 1 Fellows Over the Last 6 Months
Stratos Christianakis, MD, FACP
Sonia Lin, MD, FACP
Sabita Malla, MD, FACP
Elizabeth H W Ricanati, MD, FACP
---
California, Hawaii, and Arizona Chapters Reception During Internal Medicine Meeting 2019 in Philadelphia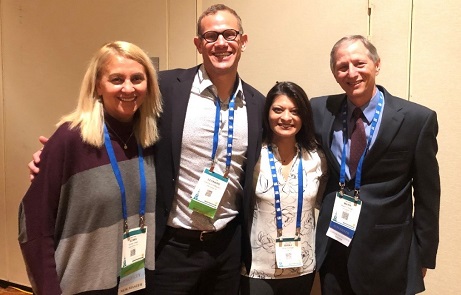 Dr. Soma Wali, President of California ACP Services, and Southern California Region I Governor Dr. Mark Noah with two ACP members at the reception in Philadelphia
---
ACP Medical Student Award Winners
Each year ACP honors a medical student from the DGSOM at UCLA and one from Keck SOM at USC with an award as the top student going into Internal Medicine residency training.
This year's recipient from UCLA was Rachel Ohman, MD, and from USC was Zoe Memel, MD. These two students demonstrated the clinical and interpersonal skills that are aspirational and serve as a model for all medical school graduates.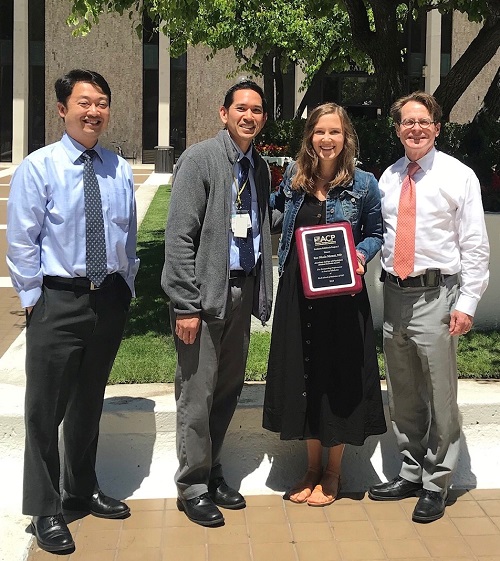 Eric Hsieh, MD, FACP, Jeffrey Canceko, MD, and Ron Ben-Ari, MD, FACP presenting ACP Student Internist Award to Zoe Memel, MD (Drs. Ben-Ari and Hsieh are members of the Governor's Advisory Committee for ACP Southern California Region 1)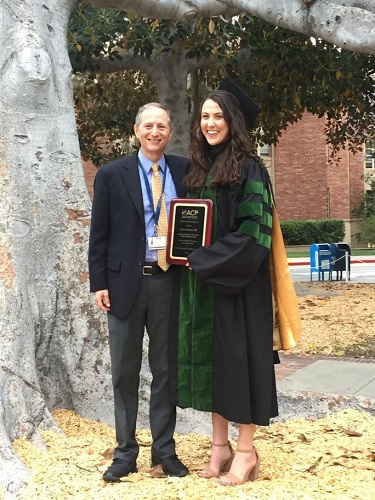 Mark Noah, MD, FACP presenting Rachel Ohman, MD the ACP Student Internist of the Year Award at UCLA